How can I compare iPhone 13 deals?
The Apple iPhone 13 has a number of exciting improvements from the iPhone 12, including a brighter screen, better battery life and improved camera technology.
Now the iPhone 14 is out, it's not the latest iPhone on the market. But that does mean it's now slightly cheaper than when it was first launched.
So if you're looking for a top-quality iPhone deal at a slightly lower price than the latest version, the iPhone 13 could be right for you.
Not sure which phone is best? Here's our guide on the best smartphones you can buy in 2022.
iPhone 13: features and specifications
6.1-inch screen
Super Retina XDR OLED display
1170 x 2532-pixel resolution
Weight: 173g
Dimensions: 146.7mm x 71.5mm x 7.65mm
12MP Wide and 12MP Ultra Wide rear cameras
Available with 128GB, 256GB or 512GB storage
Battery life lasts up to 2 hours more than the iPhone 12
Colours: Midnight Black, Blue, Product Red, Pink, Starlight White,
Variants: iPhone 13 Mini, iPhone 13 Pro, iPhone 13 Pro Max
The iPhone 13 is packing the powerful A15 bionic chip – Apple's fastest processor of 2021. Its 4 GB of RAM and a hexa-core CPU adds additional heft.
Along with these spec enhancements, the iPhone 13 also delivers more improvements on the camera and battery front.
There's wireless charging too, the handset is IP68-rated water resistance, and it works with MagSafe charging accessories.
iPhone 13: availability and price
SIM free, the iPhone 13 currently costs £749 for the 128GB model, £859 for the 256GB model, and £1,079 for the 512GB model. But you don't have to pay a big chunk outright if you opt for a pay monthly plan instead! Check out our deals tables above to find a price plan that suits your needs.
How good is the iPhone 13 display?
The iPhone 13 display has a 6.1-inch super retina XDR display, which is up to 28% brighter than the previous iPhone 12 model. This makes the screen clearer and brighter even when you're outside.
With a max HDR brightness of 1200 nits, True Tone, Haptic Touch and HDR Dolby Vision, the iPhone 13 screen is clear and bright.
It also features the exclusive ceramic shield casing, which makes it much more durable than previous iPhones, and comes with industry-leading water resistance.
The aerospace grade aluminium frame is available in five striking colours: pink, blue, midnight, starlight and product red.
How good is the iPhone 13 camera?
The iPhone 13 features the same dual-camera setup as the previous model but with some significant improvements to match the new sleek diagonal placement of the back cameras.
Powered by the new A15 Bionic chip, the main iPhone 13 camera is the 12MP Wide camera which gathers 47% more light and with an f/1.6 aperture. This will make sure all your photos are clear and crisp even in low light. It has a 26mm focal length, seven-element lens and 100% Focus Pixels.
The iPhone 13 camera also includes similar technology to the previous year's iPhone 12 Pro Max, with sensor optical image stablisation that will ensure you're always able to snap crisp photos, even when on the move.
The second camera is a 12MP Ultra Wide camera with a new sensor. It has an f/2.4 aperture that captures more light in ultra wide mode. This brings life and depth to the dark areas of your photos with less noise. It has a 13mm focal length and a brilliant 120 degree field of view, so you'll be able to capture cool and creative photos.
How good is the iPhone 13 for video?
The iPhone 13 includes Apple's newest video tool, Cinematic Mode. It allows you to change focus points and create stunning cinematic footage with a blurred background, all just on your iPhone.
How long does the iPhone 13 battery last?
The iPhone 13 provides 2.5 hours longer battery life than the iPhone 12, giving you impressive all-day battery life.
What is the difference between iPhone 13 and iPhone 12?
They may look the same, but there are some firm differences between the iPhone 13 and the iPhone 12.
For starters, the iPhone 13 has a better battery. It lasts up to two hours longer than the iPhone 12. In fact, it also has a more powerful processor which generally leads to a smoother, more efficient iPhone experience.
The iPhone 13 also has an upgraded camera system. You can look forward to improved low-light imagery, richer colours and photo-enhancing features, including Cinematic Mode.
Uswitch Expert's review of iPhone 13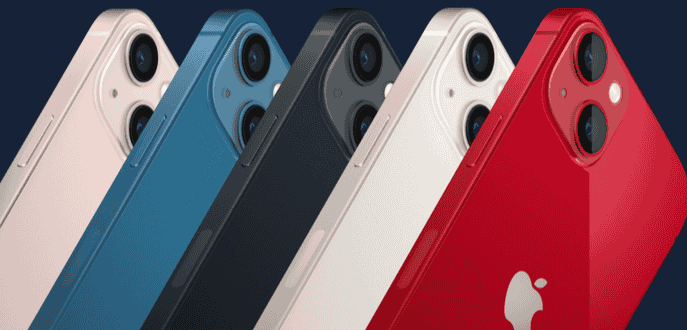 The iPhone 13 is a strong all-rounder. It's bigger than the iPhone 13 Mini, and smaller than the iPhone 13 Pro Max – it's certainly in the 'perfect size' category. It's also cheaper than the iPhone 13 Pro.
There's more to love too – like its bold, bright display, sensational camera and all-day battery life.
Want to take a deep dive into features and specs? Check out our full iPhone 13 review.
iPhone 13: contract options
If you're looking for the iPhone 13 on a pay monthly mobile phone contract, there are plenty of options available.
Can I get an iPhone 13 with no upfront cost?
Yes, there are a selection of iPhone 13 deals that don't include an upfront cost. Since new deals are always being introduced, the best way to locate the ideal zero upfront cost price plan is by taking a look at our comparison tables above.
Just click the no upfront cost button to filter the deals accordingly.
Can I get the iPhone 13 with unlimited data?
Yes, there are plenty of unlimited data deals available for the iPhone 13. Whether you want to get the iPhone 13 on Vodafone, Three, O2, or any of the other major networks, just filter to the highest data setting in the deals tables above to compare all the available price plans.
What's the cheapest way to get the iPhone 13?
The cheapest iPhone 13 available to buy is likely a refurbished handset. If you're unsure of buying a refurbished phone, don't be. Reputable refurbished handsets will always be rigorously quality checked, clearly graded, and sold with a warranty.
Can I get the iPhone 13 with poor credit?
The iPhone 13 is one of Apple's more recent handsets, so getting it on a contract deal without having to run a credit check may be tough.
Some networks – like VOXI, giffgaff, Lebara, Smarty and Lebara – often bypass credit checks so keep a lookout and see if you can find the iPhone 13 amongst their deals. You could also buy the iphone 13 SIM free and opt for a SIM only deal.
Compare handsets across a number of brands with our detailed handset league table.
Author: Ray Ali
Last updated: 9 June 2023