How to compare iPhone 13 mini deals
The Apple iPhone 13 mini has received a number of great upgrades, including a brighter screen, better battery life and improved camera technology.
As it stands, the iPhone 13 mini will also be the last mini version of an iPhone to be produced. So if you like your iPhones compact, don't miss out on the iPhone 13 mini
Unsure which iPhone to buy? See our tell-all guide on the best smartphones available to buy in 2022.
iPhone 13 mini features and specifications
5.4-inch Super Retina XDR OLED display
2340 x 1080 resolution
Weight: 140g
Dimensions: 131.5mm x 64.2mm x 7.65mm
Dual rear camera with 12MP Wide and Ultra Wide lenses
Storage: 128GB, 256GB and 512GB
Battery: 2406mAh
Five colours: Product Red, Blue, Pink, Starlight White, Midnight Black
Variants: iPhone 13, iPhone 13 Pro, iPhone 13 Pro Max
The iPhone 13 Mini is the smallest (and cheapest) model in theiPhone 13 family. But don't think small means low spec, it's got all the same features as the iPhone 13 but in a more compact form. So you get 5G, the A15 Bionic chip, and the same dual rear camera array. H2 - Availability and Price
The iPhone 14, SIM free, is currently available for £849 for the 128GB model, £959 for the 256GB model, or £1,179 for the 512GB handset. Remember, you can avoid the big upfront cost by signing up for a pay monthly deal! Compare offers on our deals tables and you'll be able to find a package that suits your needs.
How good is the iPhone 13 mini display
The iPhone 13 mini provides all the power and technology included in the iPhone 13, in a smaller handset. The iPhone 13 mini has a 5.4-inch super retina XDR display. Like the iPhone 13, it is up to 28% brighter than the iPhone 12 mini, ensuring your screen is always clear and bright even outside.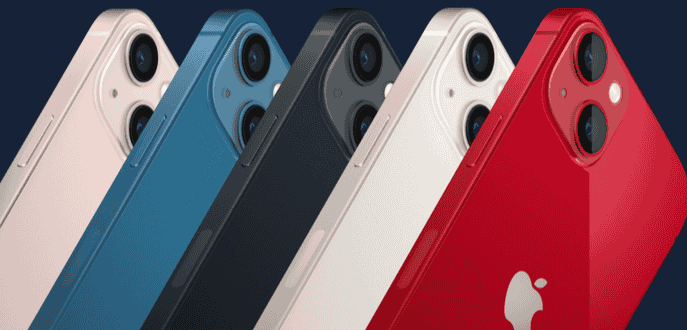 The iPhone 13 mini includes a number of impressive display features, including True Tone, Haptic Touch and a max HDR brightness of 1200 nits. This powerful little screen is protected by Apple's exclusive ceramic shield front with industry-leading water resistance.
You can get the iPhone 13 mini in five colours: pink, blue, midnight, starlight and product red.
How good is the iPhone 13 mini Camera
The iPhone 13 mini doesn't sacrifice anything when it comes to its dual-camera setup. It has the same wide and ultra-wide cameras as the iPhone 13, powered by the same impressive A15 Bionic chip.
The iPhone 13 mini's main camera is a 12MP wide camera with an f1.6 aperture that gathers 47% more light so that you'll always capture rich colours and great detail whenever you snap a pic. It has a 26mm focal length, seven-element lens and 100% Focus Pixels.
The iPhone 13 mini also has a 12MP ultra-wide camera to capture more detail in your landscapes and group photos. It has a new, faster sensor, and an f2/4 aperture that captures more light which brings depth and detail to the dark areas of your photos with less noise. It has a 13mm focal length and a brilliant 120 degree field of view so you'll be able to capture cool and creative photos.
How good is the iPhone 13 mini for Video
The iPhone 13 mini, like the main iPhone 13, includes Apple's newest video tool, cinematic mode. This means that, despite its smaller size, you won't have to sacrifice your artistic vision when filming. Cinematic mode allows you to change focus points and create stunning cinematic footage all on your iPhone.
How long does the iPhone 13 mini battery last
The iPhone 13 mini provides 1.5 hours longer battery life than the iPhone 12 mini, giving you impressive all-day battery life.
What is the difference between iPhone 13 mini and 12 mini?
Not a great deal on first look, but there are some improvements to be found. awful lot. Sure, both sport a 5.4-inch Super Retina XDR display and an overall similar design. But theiPhone 13 Mini has a better camera with features like Cinematic Mode and Photographic Styles - previously found only on Pro iPhones..
The iPhone 13 Mini also boasts a better battery capacity – you'll get around 1.5 hours more than with the iPhone 12 Mini.
And don't forget the new A15 chip gives you more processing power.
iPhone 13 mini contract options
There are lots of attractive iPhone 13 mini deals available for you to compare.
Can I get an iPhone 13 mini with no upfront cost?
Yes, the iPhone 13 Mini is the cheapest smartphone in the family of iPhone 13 handsets, which makes it simpler to get a deal without an upfront cost.
Can I get the iPhone 14 with unlimited data?
Of course, there are plenty of deals offering the iPhone 13 mini with unlimited data. You can pretty much take your pick from every major UK network.
Can I get the iphone 14 with poor credit?
Most UK networks will require a credit check for the latest iPhones. So it might be difficult to pick up the iPhone 13 mini without one.
If you're concerned about your credit rating, you may be better suited to an older iphone model, or even a no-commitment SIM only deal.
Author: Ray Ali Last updated: 14 December 2022