Why should I open a child savings account?
Saving for your children can help pay for university fees, a down-payment on a car or a deposit for their first house or flat. Starting to save for your children as early as possible means there is lots of time for your savings and investments to grow and flourish.
You could consider a simple cash savings account that gives you instant access to your money in case you need it. But if you're saving for kids long term, or investing for your grandchildren's future, you could consider a long-term child saving plan such as a Junior ISA.
It is even possible to open a pension for a child and save with tax relief into the pension. This would give your child - or grandchild - a healthy pension pot before they even start work.
Whatever plans you have in terms of an investment for your child's future, you might also consider ways to teach them about budgeting and managing money, bank accounts and saving. There are several bank accounts and spending cards aimed at children that give parents a degree of control over how children spend.
What types of children's savings and bank accounts are available?
If you want an account for your child to save up their pocket money and spend it whenever they wish, while all the time learning about money, banking and saving, you could opt for a simple child bank account.
If your child is under 13 you'll need to set it up with you as a trustee, though you can hand over control to your child once they reach 11. You will probably only be able to set up an account with your own bank. Some banks, such as First Direct, still refuse to offer child accounts so you might have to open an adult account elsewhere too.
Child bank accounts
Santander, for example, has a 123 Mini account. There's no minimum age but if the child is under 13 the parent must open the account in trust and already have a personal 123 bank account with Santander. At 13 the child can open the account on their own. From the age of 11 they can be given full control of their money.
There's no maximum amount that can be paid in, but the bank will only pay interest on the first £2,000. The child can have either a cash card (with pre-paid amounts on it) or a debit card that gives them access to their entire account. There's a banking app, with the trustee able to control the account until responsibility is handed to the child.
Child pre-paid cards/pocket money apps
Another option is a pocket money app or pre-paid card for children. These have flourished in the past few years with several similar but slightly different products on the market, such as Osper, Rooster, nimbl and Go Henry.
Osper is a parent-managed pre-paid debit card for children, letting kids safely and securely spend their own money both online and in shops using a contactless debit card. The Osper app gives parents full control over all spending. Osper provides security features that prevent payments at age-restricted merchants and also gives parents the controls to block functions such as online spending, contactless payments, and ATM withdrawals.
The system works on a monthly subscription basis of £2.50 per child, per month - with the first 30 days free. Cash can be gifted directly into an Osper account by relatives and friends, as you would with an adult bank account.
RoosterMoney is a pocket money app designed to help parents teach their children about money in a digital age. From as young as four years old, you can award Stars in the app as a first introduction to the concept of earning and rewards. When your child is ready, you can move them onto the Pocket Money Tracker that lets children keep track of their earnings, save towards goals, and develop good money habits. As the kids get older you can move them to a Rooster Card, still giving parental control, but providing them with a level of independence to make considered choices about saving and spending.
nimbl allows parents to put money on their child's spending card, either through occasional top-ups or by setting up regular payments (digital pocket money). Children can then use the funds as they wish, be it spending every week or saving for a specific item or event. It is aimed at promoting good money habits for 6 to 18 year olds.
nimbl comes with two accounts: one for the parents and one for the child. The spending card is linked to the child's account, so adults cannot use nimbl to purchase items directly. They can top up the child's account through the app and will receive real-time notifications every time the child buys something with the card. Parents can set daily or monthly spending limits, as well as set up spending blocks (it is automatically blocked for pubs, off-licences and online casinos).
The child's card can be used to purchase items in physical stores, online and to withdraw cash at ATMs. It also has contactless features and is backed by Mastercard. nimbl allows up to four child accounts (and four cards) for every parent account.
Go Henry was launched in 2012 with interactive money management lessons, called Money Missions, integrated into the platform. These are linked to national financial education guidelines and produced by teachers and experts. They cover not just the basics but earning, saving, responsible spending, borrowing and credit, investing and money safety.
A second parent can be added for joint oversight and the child can set savings goals and even autosave a set amount from pocket money. Spending limits on amounts per week, where money can be spent and types of purchases can all be set and lost or stolen cards can be blocked instantly from the app. Children can also choose a customised card for a small fee and cards are now compostable and not plastic.
It is also possible to manage a Junior ISA for the child within the app.
Long-term investment
If you want to save seriously for the long term, you could consider an investment that allows your child or grandchild's money to grow tax-free, such as a Junior ISA (Individual Savings Account). Many providers offer them so there is plenty of choice.
Increasingly these are being linked to apps to simplify and modernise ISAs. For example, Beanstalk is an app-based child savings and investment account that lets the whole family put money aside for their kids' futures. It allows parents to open and manage Junior ISA accounts (cash or stocks & shares) for all their children from a single app (it claims you can do this in just two minutes).
There are no visits to a physical bank branch or separate paperwork for each child and there are no minimum contributions. It also allows parents to invite grandparents and other friends and family members to link to the children's accounts and send/receive gift messages. Linked family and friends can use their own apps to contribute with either ad hoc top-ups or regular contributions. The fee is 0.5%.
Are you earning enough interest?
It could be time to find a new savings account, find and compare ISAs with our partner money.co.uk
How do I set up a savings account for a child and should it be in their name?
You can set up a child savings account or child bank account in the name of your child, with a parent or guardian nominated to run it for them (sometimes as a trustee).
You may have to have a personal bank account in your own name with the same bank to set up an account for a child under 13. You have more freedom to choose a Junior ISA from any provider.
You can choose different providers with differing set-up procedures, choosing to complete online, via apps or in person. You may go into a bank or the office of a financial adviser or apply remotely, depending on the product and provider you choose.
What is the best savings account for my child?
Children's savings accounts work similarly to adult savings accounts. There are various types available:
Easy access children's savings account 
An easy-access child savings account allows you to deposit and withdraw money when you wish, making it like a children's bank account. The account is opened in the child's name but is usually administered by the parent or guardian until the child is old enough to operate it themselves.
These accounts are ideal for saving birthday and Christmas money and for encouraging the habit of saving. However, you may be able to get a higher interest rate with other types of children's savings accounts.
Notice children's savings account
With a notice children's savings account you have to give the bank or building society notice - typically one or three months in advance - that you want to take money out of the account.
Notice children's savings accounts may offer higher interest than easy-access accounts. If you want to withdraw money quicker than the notice period you may lose some of the interest you would have earned for that year.
Term children's savings account
A term children's savings account is an account where you tie up your child's savings for a fixed time, typically between one and three years.
The advantage of these accounts is that they generally pay a higher rate of interest, provided you don't need to withdraw any money during that time. Again, if you withdraw the money early, you may have to pay a penalty in the form of lost interest.
Regular savings account for children
If you're able to make regular payments into a savings account, then you may find that a regular savings child account pays a slightly higher rate of interest, compared with an easy-access or instant access child savings account.
Most regular savings accounts require you to make monthly payments into the account over a 12-month period. If you miss a payment, you may lose out on some of the interest. Usually, you won't be able to withdraw the money until the end of the 12-month period. However, you are likely to get a higher rate of interest than on an instant access or easy access account.
National Savings Children's Bonus Bond 
A National Savings Children's Bonus Bond is a lump sum children's savings investment that is no longer available (withdrawn September 2017). It was made for a child by a parent, grandparent or friend, and was designed to be held for five years.
They are no longer on sale, so if you have an existing Bond, you will not be able to renew it when it matures.
If you are interested in saving with National Savings & Investments, it now offers Premium Bonds, an Investment Account and a Junior ISA as alternatives to Children's Bonds.
Junior ISA
A Junior ISA (Individual Savings Account) allows parents and family members to contribute each year into a tax-free ISA account. This can be accessed when the child is 18 years old.
Like the adult ISA, there are two different types of Junior ISA: a Cash Junior ISA or a Stocks & Shares Junior ISA. For the 2022-23 tax year, the Junior ISA allowance is £9,000, the same as the previous year. Your child must be under 18 and living in the UK in order to qualify.
You can choose one type of Junior ISA, or you can divide your investments between cash and shares ISAs. Once your child reaches 16, they can take charge of the account, and when they are 18 they are allowed to withdraw their money.
Read our guide, for more information about Junior ISAs.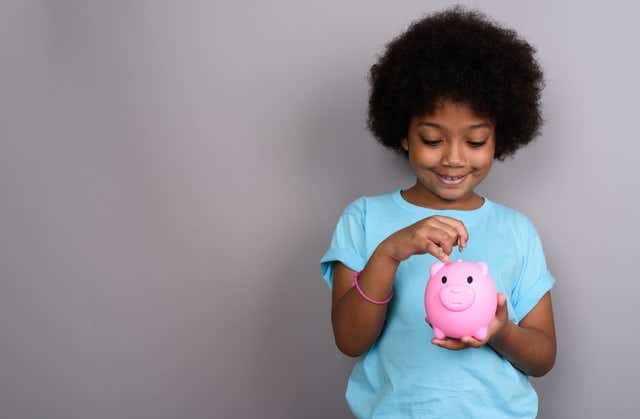 Where do I find the best savings accounts for children?
Young children – those opening a bank account under 13 – need a parent to act as trustee. That often ties you to opening a child account with your own bank. Once 13 years old, children can open an account with whichever bank they choose.
Children's savings accounts are a good place to put birthday and Christmas money and even regular pocket money. They can help to encourage children and young people to learn to spend wisely and even to save. 
Many children's savings accounts have better interest rates than adult accounts, so your children can see their savings grow.
Junior ISAs tie up the money until your child reaches 18 but provide a tax-free way to save. You can also choose between a cash Junior ISA or a stocks & shares Junior ISA.
What are the best investments for children and young people?
Getting your child into the savings habit early can reap dividends. Choosing the best investment for your child in the form of a child savings account, a Junior ISA or a child bank account can give them the best financial start in life.
It is also possible to open a pension for a child and save with tax relief into the pension. This would give your child - or grandchild - a healthy pension pot before they even started work.
Do children have to pay tax on their savings interest?
Like adults, children have an annual personal tax allowance. This means a child can earn up to this amount in interest from their children's savings account each year without incurring tax. In the tax year 2022-23 the personal tax allowance for both adults and children is £12,570.
In practice, most children won't have to pay any tax on their savings or child bank account as they will not generally use their allowance up.
Are you earning enough interest?
It could be time to find a new savings account, find and compare ISAs with our partner money.co.uk