The UK's telecoms regulator, Ofcom, has announced the latest complaints rankings for broadband providers.
Looking at the period of January-March 2022, the report looks at complaints made against broadband and pay-TV services — highlighting which providers performed the best and worst in that period.
If you're looking to switch to a new broadband, TV or mobile provider, these rankings from Ofcom provide a clear view of which brands are currently more in favour with customers than others.
Take a look at the latest data to see where your current provider sits, and find out which ones seem to offer a smoother customer experience.
Compare broadband deals
Browse hundreds of broadband deals on Uswitch to find the right plan for you.
Broadband complaints increased in early 2022
The first part of 2022 saw Ofcom complaints about broadband increase slightly. However, despite all the announcements of price increases that providers sent out in this time, complaints about billing, pricing and charges remained relatively the same (14%).
Instead, the biggest cause for complaint was still issues like faults, service and provisioning (37%) and complaints handling (31%). We may see an increase of complaints about billing and pricing in the next report, which covers the time that customers' prices did increase.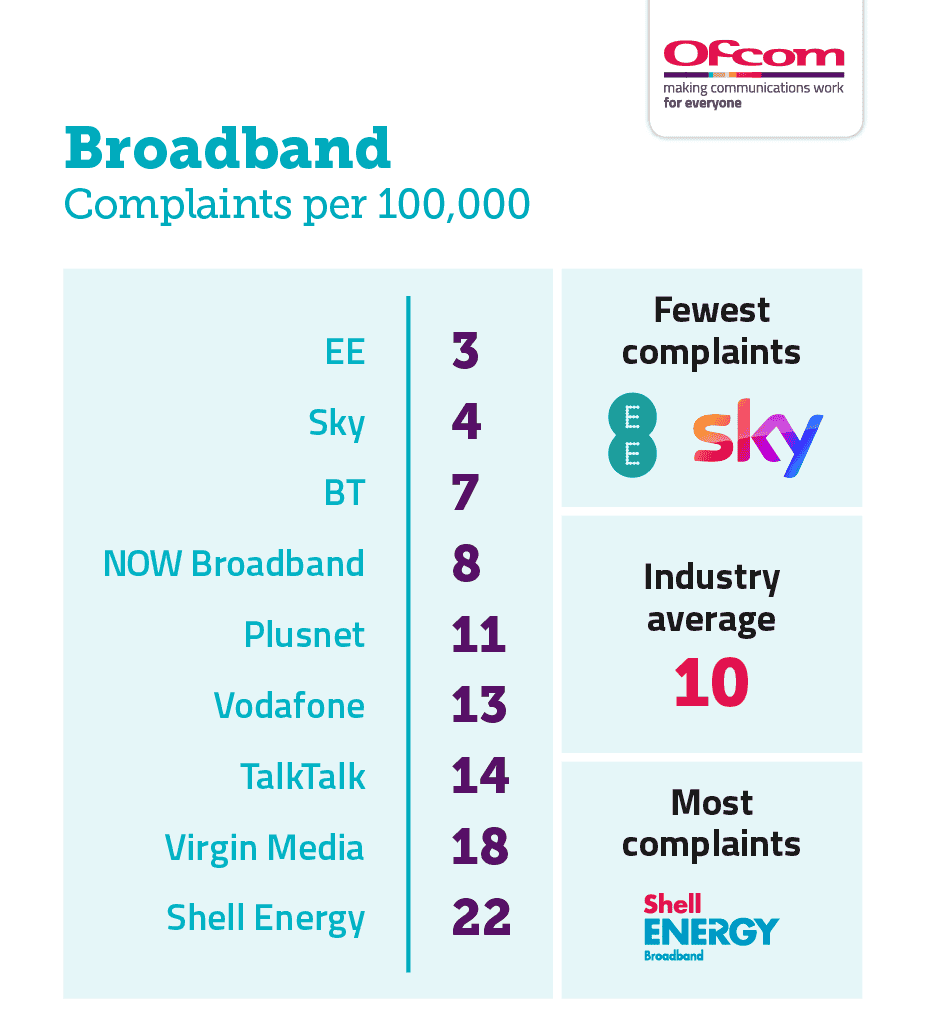 EE, Sky and BT had the least complaints
As has been the case for well over a year, BT, Sky and EE performed the best in the complaints rankings for broadband.
Once again receiving well below the average number of complaints for the industry (which was 10 per 100,000 customers), they have consistently proven to cause their customers fewer reasons to complain than other providers.
EE received three complaints per 100,000 customers, Sky received four, and BT received seven. One other provider — NOW Broadband — had fewer complaints than the industry average at eight.
Complaints increased quite significantly for the worst-performers in Ofcom's rankings. Shell Energy remained the most complained-about provider, with 22 complaints per 100,000 customers. That's an increase of seven compared to its previous score of 15.
Virgin Media returned to the lower-end of the ranking in this quarter, surpassing TalkTalk and Vodafone with complaints rising from 13 to 18 since the end of 2021.
Plusnet, Vodafone and TalkTalk also received higher than average complaints for the period, with 11, 13 and 14 complaints per 100,000 customers respectively.
See our fibre deals
Take a look at our fibre broadband packages if you're looking to upgrade your speed.
Pay-TV complaints also slightly increased
Pay-TV companies also saw a higher number of complaints between January and March of 2022. But rather than faults and connection issues (which are relatively less common with TV services), the main cause was complaints handling at 44%.
Interestingly, complaints about billing, pricing and changes fell by 9% since the last report, accounting for just 19% of complaints. Faults received even fewer, at just 15%. Again, we might expect a higher proportion of complaints about billing in the next report, which looks at when customers' prices actually increased.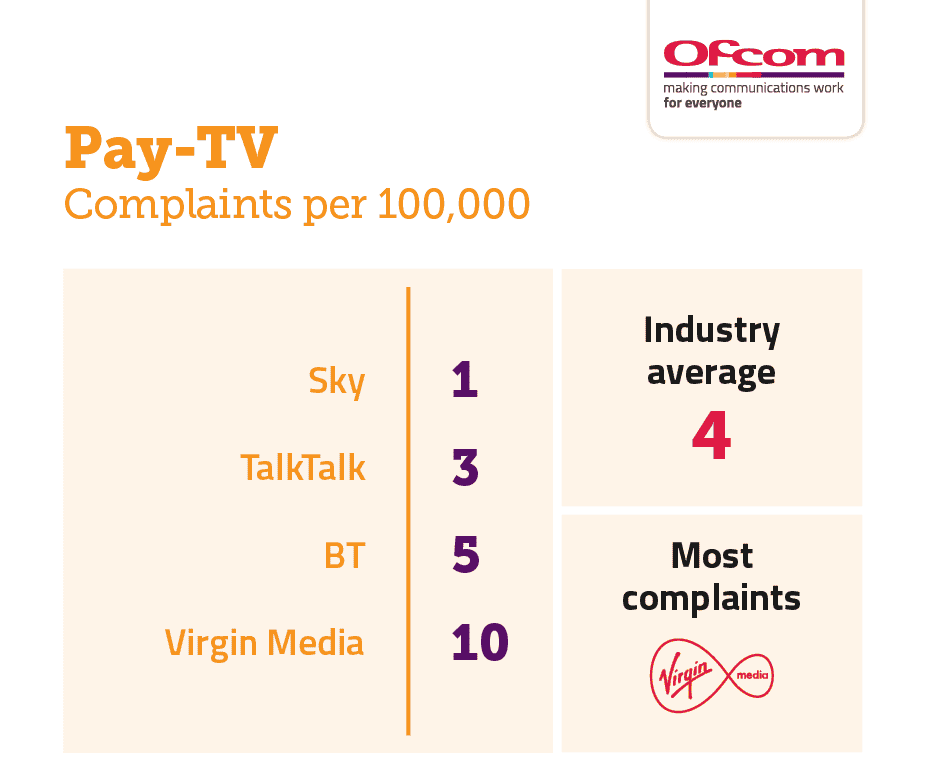 Sky and TalkTalk received fewer than the average number of complaints in the industry for the first quarter of 2022. TalkTalk received just three per 100,000, and Sky received just one.
BT just edged over the industry average at five complaints per 100,000, but Virgin Media received ten — the highest number by a large margin.
What to do if you're unhappy with your broadband provider
If you're not happy with your broadband service, or your contract is ending soon and you're looking for a cheaper deal, you should consider switching broadband.
Latest broadband statistics from 2022 show that six in 10 (64%) broadband users have changed their broadband provider at least once (Uswitch survey of 2,003 broadband users, August 2022).
There are hundreds of deals to choose from, which means that there are bound to be options that will suit what you need. For example, if your current speed isn't handling your household's demand — like if more than one person wants to stream Netflix or work from home at the same time — a faster deal might be what you need.
Our fibre broadband page could have the fast broadband connection you are after.
And if you're just looking to cut down on costs right now, you could find an internet deal that offers the same speed you have right now, but for a cheaper monthly price.
Take a look at our cheap broadband deals to find one that suits you best.
How to switch broadband
Switching is easier and simpler than you think. Learn how to find a cheaper or faster tariff (or both!) with our step-by-step guide.