The Most Popular UK Road Trips, According To Google
If you're preparing to pack up the car and head out on your final road trip of the summer this weekend, you aren't the only one.
Over 32,690 Google searches on UK road trips and driving holidays were made by Brits in June and July alone, suggesting we're all looking for some staycation inspiration.
With so many of us keen to hit the open road, we wanted to find out which UK destinations we're longing to drive to, whilst hopefully enjoying the ride along the way.
We analysed an extensive list of UK cities, coastal, and countryside holiday destinations, to discover which are being Googled the most in relation to road trips. We then compared the number of searches from June and July 2020, to June and July 2019, highlighting which locations have seen the biggest spikes.

The UK's most popular road trip destinations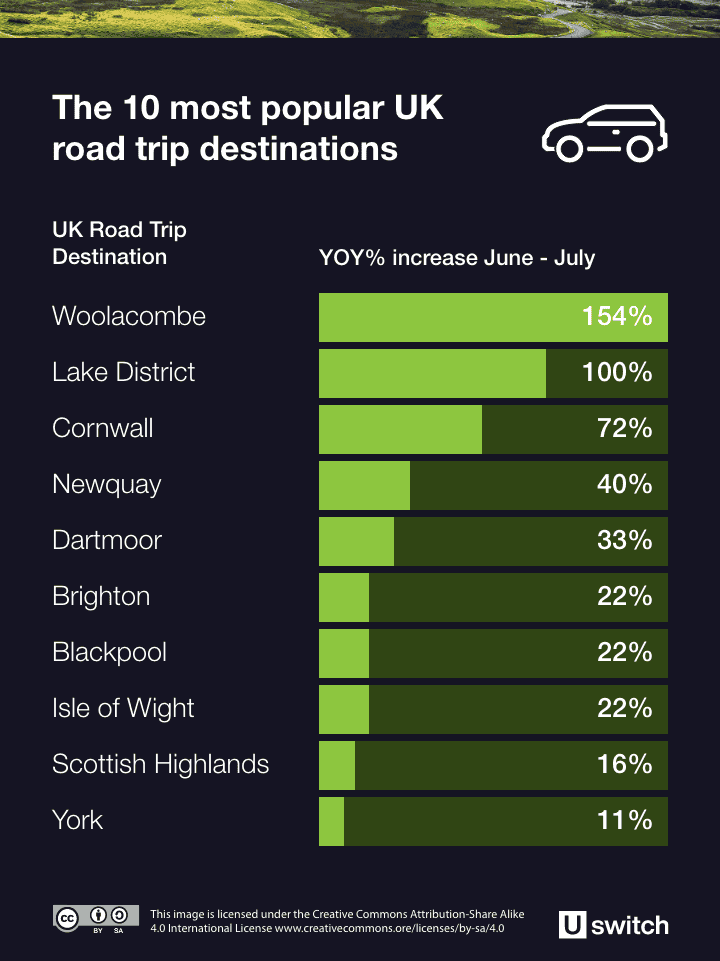 Although you can never guarantee sunshine in the UK, it seems most of us are keen to pop on our swimsuits and head to the beach this year. Woolacombe, the iconic seaside resort on the coast of North Devon, proves to be the most Googled road trip destination in the last two months. It featured in over 1,500 average monthly searches, and had a 154% increase when compared to the same time last year.
Close by, Cornwall and Newquay have also seen a staggering increase in search volume, which is no surprise considering they are home to some of the UK's most beautiful beaches. Interestingly, the term 'Cornwall road trip' is receiving a notable amount of attention right now, with over 6,100 searches – that's 125% more than in 2019.

However, it seems those who don't fancy a drive to the beach are heading out to score some scenery in the Lake District. Famous for its stunning peaks and traditional country pubs, many drivers are looking to explore the Cumbrian villages of Windermere, Grasmere, and Keswick as part of their holiday in the hills. Searches for queries on scenic Lake District drives and road trips have doubled this summer, with an exact increase of 100%.

Going a little further up north, the Scottish Highlands are also seeing a peak in interest this year, with over 3020 Brits keen to find out how to drive there. Alongside this, the Isle of Wight has also seen 22% more interest than last summer, despite drivers having to take a ferry to get there.

For those in search of some sugar dummies, Blackpool and Brighton are the most popular locations, both yielding an increase of 22%. With beaches and bright lights, not to mention nightlife, both families and friends could take a trip to these seaside towns.

When it comes to city breaks, York takes the top spot, as our data shows searches on driving to the city are up by 11%. With its Roman roots and Viking past, visitors can walk the ancient walls and explore the city's famous Gothic cathedral.

If you're venturing out on a road trip, or you're driving to your staycation destination, planning in advance is important. Uswitch car insurance expert, Florence Codjoe, says:

"Before you set off, make sure you're prepared by checking your tyres, water, and engine oil levels. Be mindful not to overload your car and ensure the weight is distributed evenly where possible. If you're on a long drive, find a safe place to stop and rest at least every two hours. Lastly, don't forget your driving snacks"

It's also a good idea to check your car is insured and your MOT is valid before heading out on a long journey.