The new Google Pixel 7 Pro and Pixel Watch just launched and they have been some of the most interesting releases in modern times – with the creators of Android really pulling out all the stops to make uncompromising flagship smartphones.
While the phones themselves aren't markedly different from their predecessors at first glance, there are some notable innovations worth making these new devices worthy of consideration.
So let's talk about everything you need to know about the Google Pixel 7 Pro and the Google Pixel Watch.
Pixel 7 Pro Design
Once again, Google introduces an incredibly bold design, and compared to the Pixel 6, it fits just that bit better in the flagship smartphone stable.
It comes in two-tone coloring with an iconic camera bar. In other words, the design looks exciting enough to make you want to hold the device.
The camera bar on the back is housed in a stainless-steel casing instead of last year's glass, making for a more luxurious lines and appealing frame for the Pixel 7 Pro.
It looks both cool and immediately recognisable, but to the bold cutouts of individual camera sensors.
Design-wise, the Google Pixel 7 Pro certainly delivers the 'wow' factor. Google has also returned to a curved display, with the device feeling both more expansive in the hand, yet seemingly thinner and lighter than last year's effort.
An interesting ergonomic point to note is that the button placements are uncharacteristacally low on the devices, making for the occasional finger gynmastics to reach the volume rocker or power button at times.
Pixel 7 Pro Screen and Display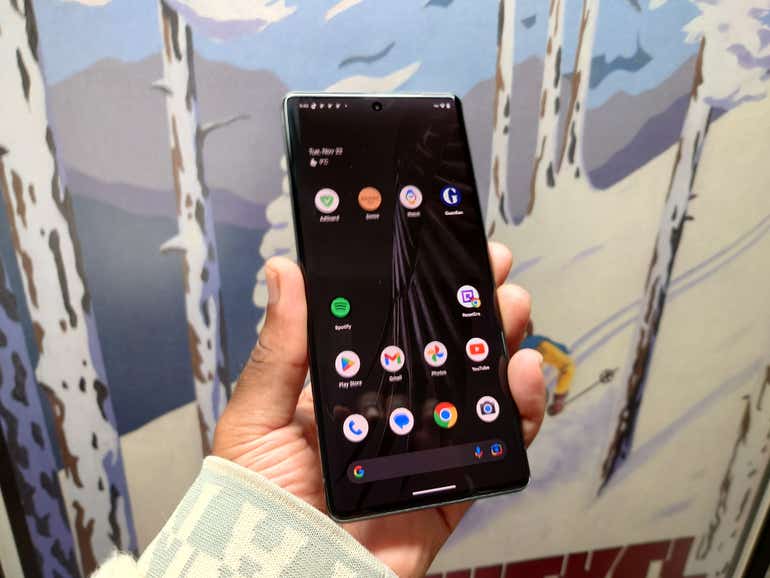 The Pixel 7 Pro has a 6.7-inch OLED display at an amazing 1440p resolution, a 120Hz refresh rate, and a peak brightness of up to 1500 nits. It also comes with Gorilla Glass Victus which is claimed to withstand all manner of everday bumps and potential opportunities for scratches and cracks.
The display quality is stellar thanks to the 1440p display and the power of AMOLED.
Sharp text, great colour balance, and amazing viewing angles will let you experience movies and even simply browsing the web or standard use is immediately impressive in both richness of detail and cripsness.
Moreover, the 120Hz experience is also useful in gaming, media consumption, and day-to-day fluid usage. The screen is slightly curved but far less so when compared to its predecessor, the Pixel 6 Pro. Google took a lot of good steps in the display department, listening to complaints leveled at previous efforts to truly deliver best-in-class performance here.
Pixel 7 Pro Camera Specs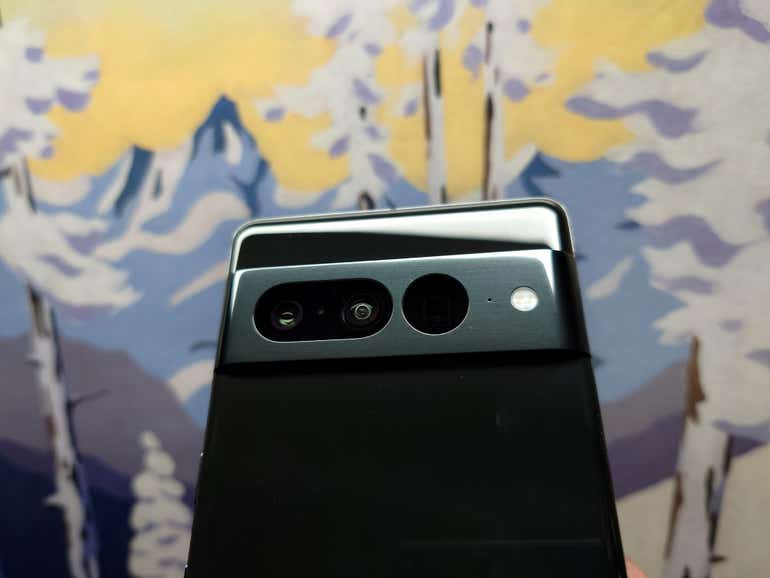 When it comes to Pixel devices, you know that cameras are going to be stratospheric –and the marriage of hardware and software optimisation makes for something almost magical with the Pixel 7 Pro.
Well, the 7 Pro comes with a whopping 50-megapixel main camera with laser autofocus. It also has a 12MP ultrawide camera with a 126-degree FOV. And in addition to all this, there's a 48MP telephoto camera with 5x optical zoom and a 30x Google's Super Rest Zoom as well. The front camera is a 10.8MP selfie shooter.
All in all, the device is packing some serious heat for you to enjoy. Photos from the Pixel 7 Pro look amazing and they have beautiful coloring, vividness, and post-processing that makes it one of the best cameras available right now. The HDR can be quite heavy sometimes, but the overall photo quality of the Pixel 7 Pro just surprises without end.
The 30x zoom is also going to surprise the most and the ultra-wide camera is just as good as one might would expect, capturing vast expanses without a discernible drop in detail and clarity. In the camera department Google simply continues to amaze, especially capturing beautiful, accurate and crystal-clear images – even of moving subjects - in low light.
Pixel 7 Pro Battery Performance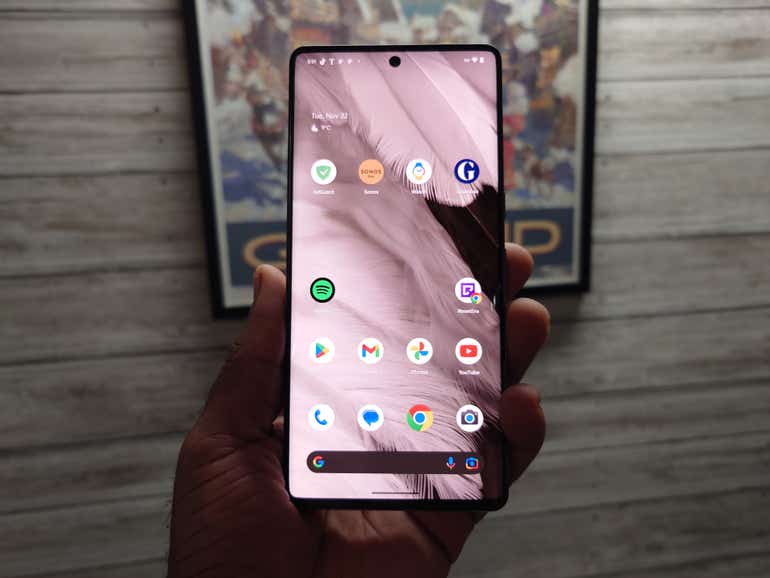 One significant drawback of the Pixel 6 and 6 Pro devices was one of battery life. This is one which has been directly addressed with aplomb for the Pixel 7 Pro, resulting in a massive 5,000 mAh non-removable battery.
Moreover, it supports speedy 23 Watt wired charging, wireless charging as well as reverse wireless charging capabilities for assisting the less fortunate smartphone owner…
Pixel 7 Pro Performance
The most exciting part of the Google Pixel 7 Pro is the all-new Tensor G2 chip. The second generation of Google's latest chip, they claim that it is not only 60% faster than the first Tensor chip found inside Google Pixel 6 Pro, it is also 20% more power efficient than its predecessor – an essential consumer consideration for those eternally assessing the tradeoff between performance and longevity.
With 8GB of RAM as standard, the performance is just perfect with the 7 Pro when married to the obvious choice of stock Android.
Pixel 7 Pro Software and Pricing
The new Pixel 7 Pro comes with Android 13 out of the box, and it will get 3 major OS updates along with 5 years of security updates. The overall software experience is entirely familiar to those who fell in love with the Pixel 6 Pro.
The Material You theme engine allows you to customize all the aspects of your phone, a nice addition.
The real magic of Pixel 7 Pro is in its simplicity and other unique features like Magic Eraser which lets you erase unwanted subjects from your photo. There's another feature called Unblur that removes blur and noise from your already-taken photos.
All in all, the 7 Pro is packed with exciting features for you to just enjoy, which Google showcasing their peerless software-side capabilities, but with a shrewd and confident refinement of the hardware which impressed (and won our Handset of the Year award) in the Pixel 6 Pro.
When we talk about pricing, the Pixel 7 Pro comes at £799.99 which is a hair cheaper than today's leading competition in today's smartphone world. But for a device so packed with cutting edge features across both hardware and software, Google's Pixel 7 Pro makes for a compelling smartphone package. The Google Pixel Watch
A welcome – and long awaited addition – to Google's line up finally arrives in the form of the Pixel Watch.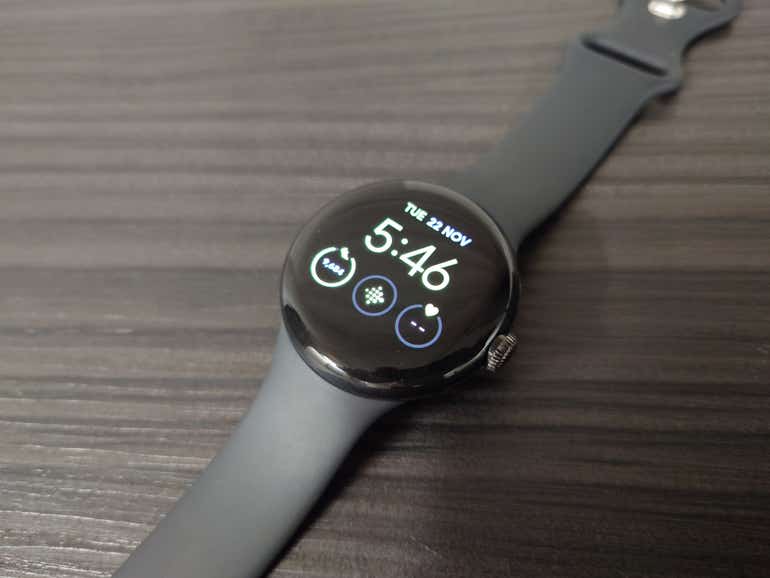 An all-new competitor to the Apple Watch and Samsung and starting at £339, the Pixel Watch is the search giant's first foray into the wearables space, inheriting many of the features and health tracking flourishes of recent acquisition Fitbit – down to a free six-month premium subscription to the service.
It sports Google's own 'Wear' operating system, boasts striking circular styling at odds with a fruity competitor, and has a dainty 41mm face housing a rounded 384 x 384 30Hz touchscreen and a physical bezel for navigation on its side, as well as a physical button for quick and easy menu access.
Boasting customisable watch faces, seamless integration to your Android devices notifications, and a subtle, pleasant haptic sensation for alerts, it's a bold – if slightly anodyne – initial effort.
On the other hand, its understated elegance and slender form does make it less awkward and immediately takes it to a frontrunner in the wearables space – it was a brief and painless transition to go from a mechanical watch to this svelte digital affair.
One unanticipated novelty was the need to charge it – battery life is a single day and so finding the time to charge it, often before popping it back on for nighttime sleep tracking, was a regular occurrence.
A magnetic charging cable connects with a confident clunk, and within half an hour, you're back up to more than 85% charge however, so boosting it back up is rarely an inconvenience.
The Pixel Watch also comes with 32GB of storage and 2GB RAM, making it a smooth and responsive experience – a non-negotiable element of a device whose prerequisite function is for infrequent glances throughout the day. It works best when you need it and can retreat to the background as an effective timepiece when required.
In the style stakes, a proprietary connector which takes a little fiddle enables the switching of wrist bands, making for a smoother curvature on the design, but a bit restricting in the types of replacement bands one can opt for. Thankfully, Google's selection at present is a range of elegant woven, leather and plastic bands which can still ensure this makes for a style statement on one's wrist.
Step, exercise, ECG and sleep tracking all come as standard, and whilst slightly less accurate on occasion when compared to a dedicated effort from a competitor, it blows them away in terms of seamless integration with smartphone functionality and ease of use with an intuitive interface and simple, effective app support.
Final Verdict
Both the Pixel 7 Pro and Pixel Watch are clear statements to the world that Google are taking this facet of their hardware business incredibly seriously – delivering efforts on both fronts which will make all device and wearables makers sit up and take even more notice.
Between the Tensor chip in the Pixel 7 Pro making for a flagship device which wows on all fronts and a bold confident first effort in the smartwatch arena in the Pixel Watch, it makes us entirely excited for their potential as a genuine competitor in the space with Google firing on all cylinders – exciting times ahead!
Was this article helpful?