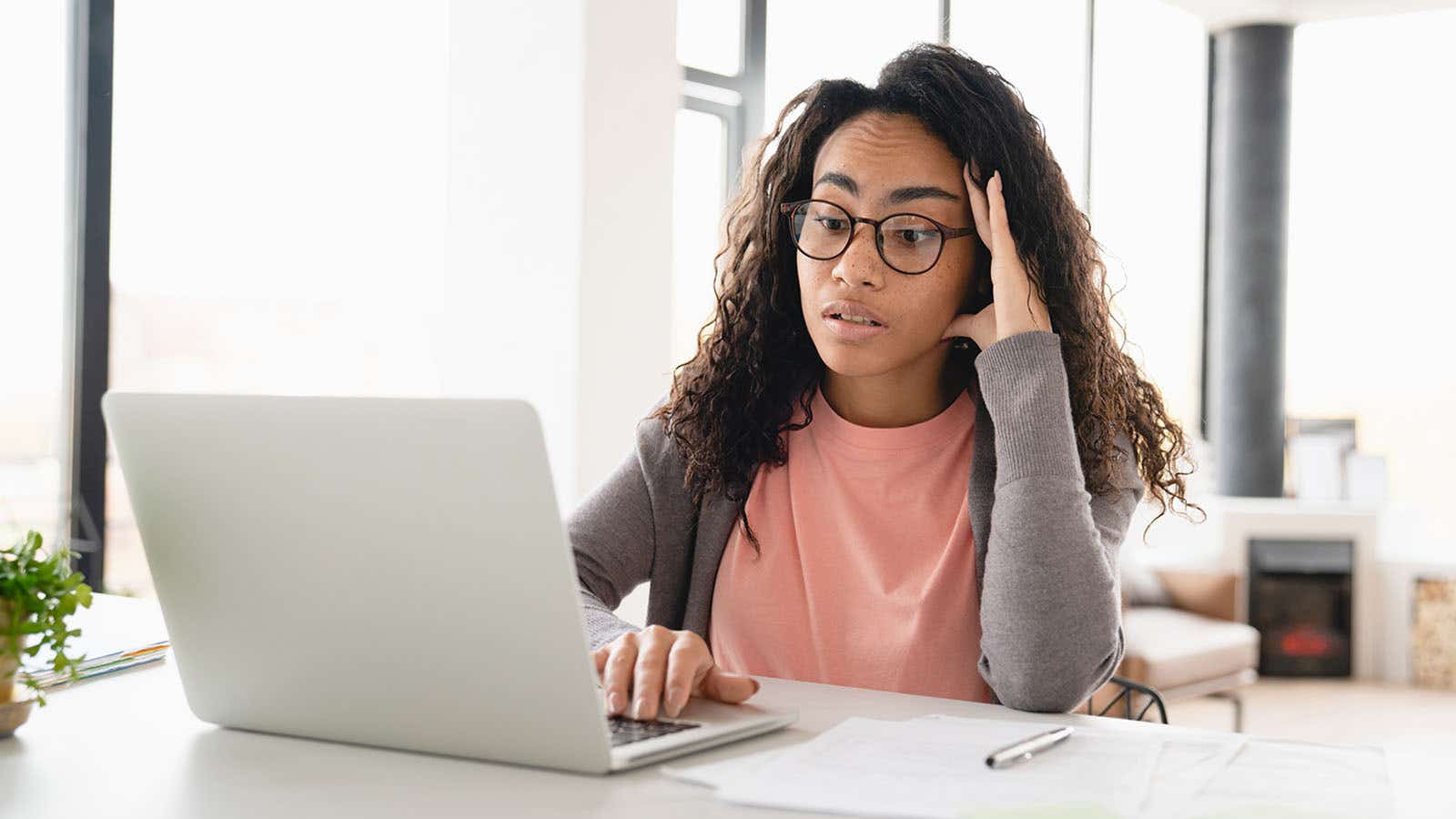 The most recent Ofcom broadband complaints ranking is here.
Every few months, the UK telecoms regulator reveals the most and least complained-about broadband providers from several months prior. And for the first time in a long while, there is a new provider at the top of the list.
Total complaints saw a slight increase in the period between January-March 2023, compared to Ofcom's previous report which looked at October-December 2022. This rise in complaints was seen across all of its areas - broadband, mobiles, landline and TV.
And while this quarter was where most providers announced mid-contract price rises, there wasn't a big increase in the number of complaints about pricing during this period. This is something we might see in the next report, which looks at the period after these providers' prices rose.
Our focus for this report will be complaints to Ofcom about broadband and pay-TV. Here's how each of the big UK providers fared: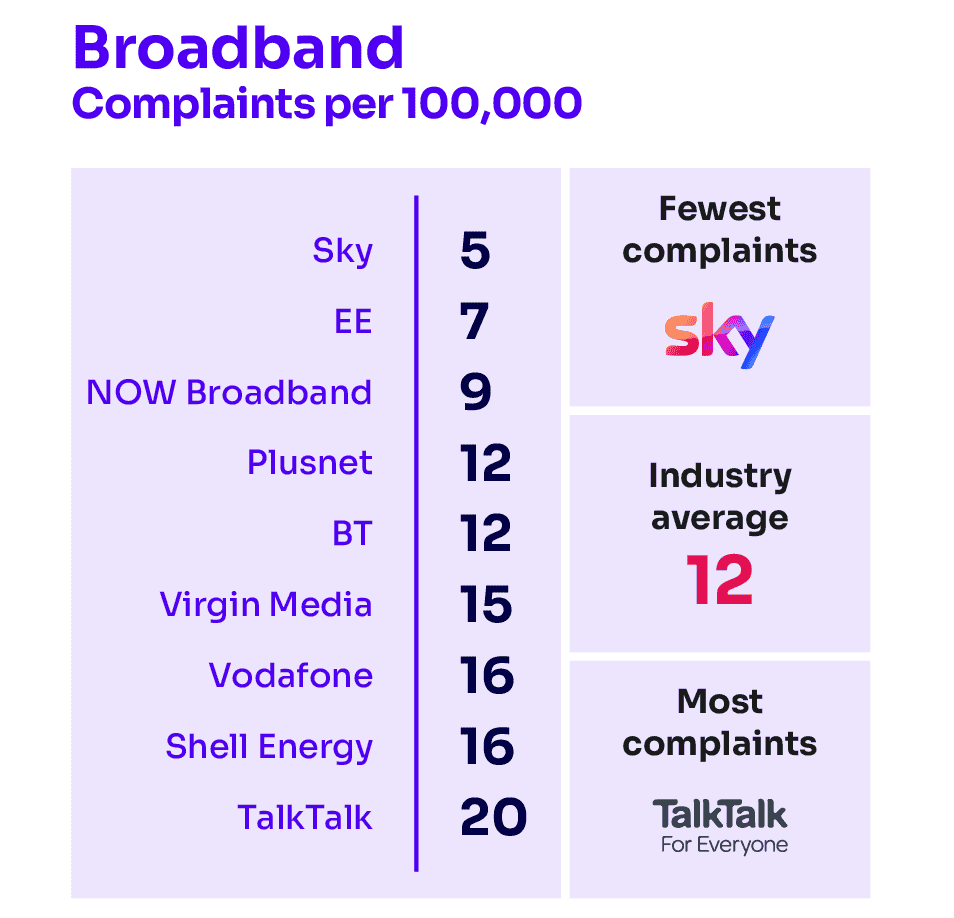 As of the latest report, TalkTalk was the most complained-about UK broadband provider for the beginning of 2023.
While it only received two more complaints per 100,000 customers than it did in April's report, both Shell Energy Broadband and Vodafone saw a sizeable drop in their Ofcom complaints. So they have both dropped below TalkTalk into joint-second place.
On its position in the latest Ofcom complaints rankings, a TalkTalk spokesperson said:
"We have seen an ongoing trend of material improvement in customer satisfaction due to a series of major initiatives. Complaints are down 31% over the past five years. A large number of copper to fibre installations resulted in a small uplift this quarter."
Shell in particular saw a huge drop in its complaints over this three-month period, from 27 per 100,000 to just 16. This is still among the highest number of complaints out of all providers, but it's a noticeable improvement from previous months.
Ofcom complaints rankings are a good insight into which providers tend to cause customer the most (and least) amount of grief. So if you're looking to switch to a supplier that has better customer service, you can compare all of these providers in our Uswitch deals tables.
Our best broadband deals
Search on Uswitch to find the right broadband package for you.
Sky, EE and NOW are (once again) least complained about
As has been the case for at least a couple of years, the providers that received the least Ofcom complaints were Sky, EE and NOW Broadband. Receving
While the total number of complaints for these brands is a little higher than a year ago, these providers' complaints either stayed the same or slightly improved compare to last quarter's report.
Sky once again received five complaints per 100,000 customers and EE received only seven. But NOW Broadband actually showed an improvement in this report despite overall complaints rising - with just nine complaints compared to the previous ten.
The rest of the providers in the ranking - Plusnet, BT and Virgin Media - all received slightly closer to the average number of complaints per provider, which sits at 12 per 100,000.
All pay-TV providers' complaints increased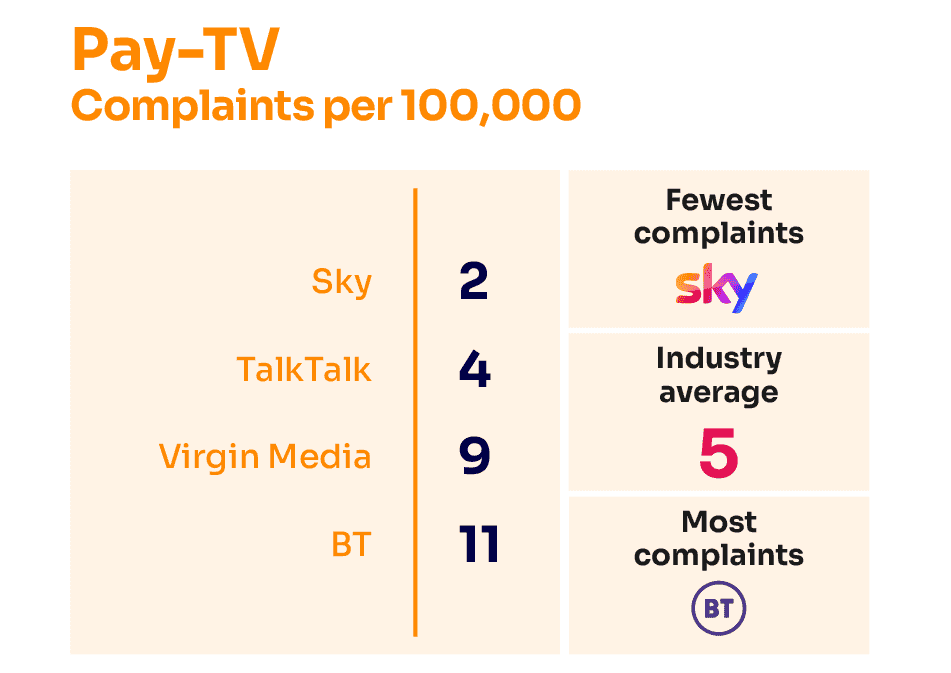 All four of the major UK pay-TV providers saw their Ofcom complaints increase in the period of January-March 2023.
Sky TV still saw the fewest complaints, though climbed from one per 100,000 customers to just two. TalkTalk also saw an increase of one complaint per 100,000, but remains below the industry average at a new score of four.
And while Virgin Media also saw a slight increase in complaints, BT overtook it to become the most complained about pay-TV provider - with a sizeable increase from eight to eleven complaints per 100,000.
If you currently have separate providers for your broadband and pay-TV, you could save money by combining them both with the same provider. Take a look at our broadband and TV bundles to see if you could benefit from paying for both services in a single monthly bill.
Broadband and TV deals
Take a look at the latest TV and broadband packages on Uswitch.
Which provider should I choose?
There are lots of things to consider when choosing a new provider, and while complaints can be a good indicator, it's worth thinking of other factors too.
Broadband providers in the UK are known for a wide range of things. Some are considered faster then others, some have a more reliable connection, some have better customer service and some offer great value for money.
Our broadband provider reviews tell all about how a provider performs with every one of these aspects, and more. So if there are certain parts of a service that you care about more than others, you can find out which provider might be right for you by reading our verdict on each supplier.
Uswitch broadband provider reviews
Read our expert reviews of all of the UK's biggest broadband providers.