Car insurance isn't just for qualified drivers – if you're preparing to take your driving test, you may need to consider taking out a provisional insurance policy.
Find out whether you need to get insured, how to go about it, and what else you need to do before you can get on the road.
Get a car insurance quote
See a range of car insurance quotes in just a few minutes when you compare with Uswitch
Do I need insurance to drive on a learner licence?
Learning to drive can be a long and intensive process. Some experts recommend you take around 45 hours of professional driving lessons before you take your test, and the cost of these can add up. Many learner drivers choose to keep costs down and improve their driving skills by practicing in a friend's or parent's car.
Like all drivers, learners are legally required to be insured while driving on a provisional licence. When taking lessons with a registered ADI (Approved Driving Instructor) you will be automatically insured as part of the cost of your lessons. However, you will need to take care of your own insurance if you decide to top up your experience by driving outside of your paid-for lessons.
How do I get insured as a learner driver?
If you're going to drive a friend's or parent's car on a provisional licence, there are two ways of ensuring you are covered.
If someone else is allowing you to drive their car, they may choose to add you to their insurance policy as a named driver. It's likely this will increase their premiums, as learner drivers are seen as a higher risk than experienced drivers. It's important to bear in mind that the policyholder may also lose their no claims bonus if you have an accident, making this a fairly risky and costly option. To find out more about getting a learner driver added to an existing insurance policy, click here to read our guide.
Alternatively, you can take out a temporary learner driver insurance policy to cover you until you've passed your test. This is the best way to get covered without affecting the car owner's insurance policy.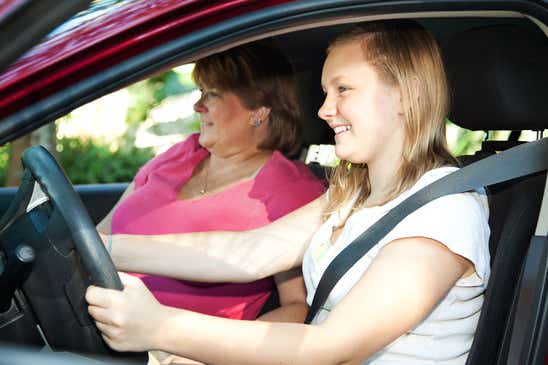 What does provisional insurance cover?
If you're lucky enough to have your own car and want to get insured as a learner driver, you can simply take out an insurance policy as normal, making sure to inform your provider that you are yet to gain your full licence. This will cover you for up to 12 months while you prepare to take your test. If you pass within this time you will need to inform your insurer as they will amend your policy to reflect this.
Most learner driver insurance policies are equivalent to a fully comprehensive insurance policy, which will cover driving accidents as well as theft, fire and malicious damage. You may even be able to build up your own no claims bonus while driving on a provisional licence.
What you need to know before you get on the road
On top of getting insured, there are some other requirements for driving as a learner.
When driving on a provisional licence, you need to be accompanied by a qualified and experienced driver. The accompanying driver must be at least 21 years of age and have held a full driving licence for at least three years. They are required to sit in the front passenger seat and they must be fit to drive and attentive at all times while you are driving – they must not be over the drink drive limit or distracted by their mobile phone, for example.
You must also display 'L' plates on both the front and back of the vehicle at all times when you are driving, and these should be removed when the car is not being driven by a learner driver.
Learner drivers are also unable to drive on the motorway before passing their test, even when accompanied by a qualified driving instructor.
Get a car insurance quote
See a range of car insurance quotes in just a few minutes when you compare with Uswitch