In 2013 the 'switch guarantee' was introduced to make it quick and easy to change your bank in the hope to break up the dominance of the 'big four' (RBS, HSBC, Lloyds and Barclays) and get better deals.
Switch to a better current account
With the switch guarantee scheme it has never been easier to move to a bank that works for you.
The switch guarantee means that to shift over all your money, payments and even close the old account all you need to do is fill out a form when you apply for a new bank account. Your new bank will do all the legwork of moving everything.
Your switching options - Who's challenging the big four?
It's still early days to see how much the switch guarantee has shaken up the current account market for the better, but in the year after the scheme was introduced there was a 276% increase in current account switches, meaning millions of people changed banks to get better deals.
But who is offering these better deals and what's now available in the more competitive current account market?
Supermarkets
Supermarkets have entered into the personal banking sector with gusto, our research found that consumers are increasingly happy to trust supermarkets and department stores with their banking needs.
Tesco Bank offer some highly competitive credit cards and Sainsbury's Bank offer some market leading loans.
Smaller independent banks
Smaller banks and former building societies that are independent of the four giant banking groups such as Nationwide or the Co-operative Bank offer some of the most competitive current deals, to entice customers away from the traditional banks.
However, smaller banks that are owned or backed by the bigger banks still offer a competitive service. First Direct (backed by HSBC) have award-winning customer service and have consistently led the banking sector in customer satisfaction surveys.
Having a Nationwide current account can also give you access to their best deals on their credit cards and mortgages.
What is the Switch Guarantee?
The switch guarantee was created by the payments council to encourage competition in the personal banking sector, which was (and still is) dominated by the big four banks: RBS, HSBC, Barclays and Lloyds Banking Group.
It's hoped that by making it easier for bank customers to change accounts the sector would start offering better deals and new challengers would come into the market bringing better customer service and more competitive deals.
The Payments Council outline what the guarantee entails below. Or you can read more about it in our guide on the switch guarantee.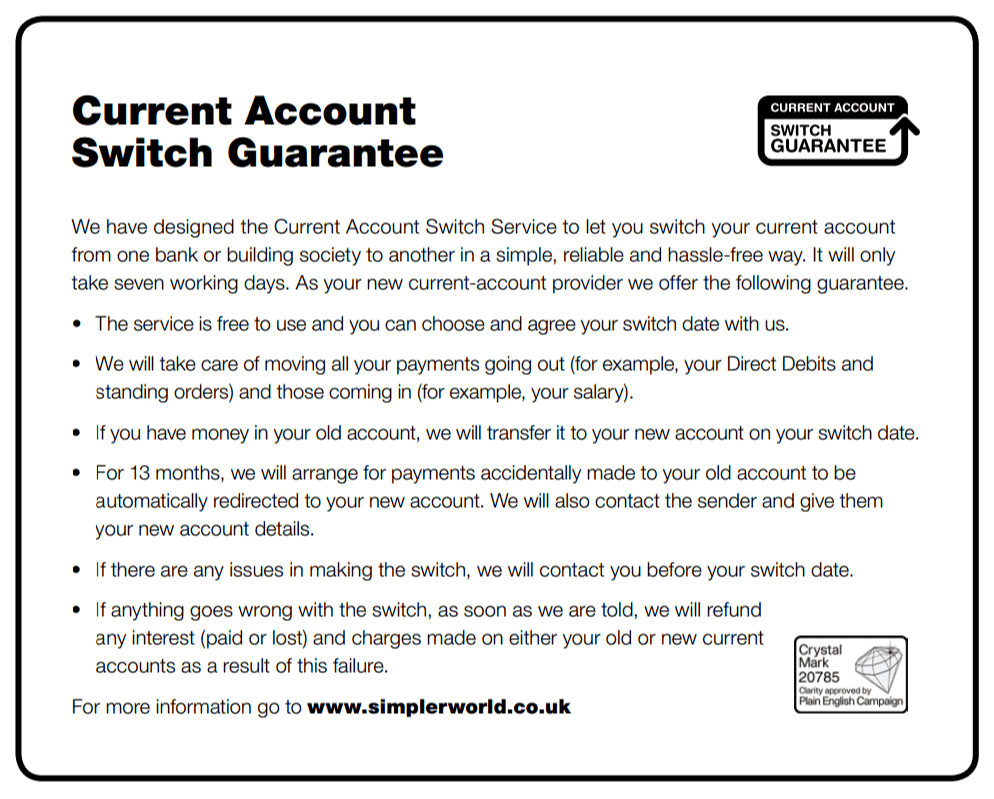 How to switch your bank account
The process is simple with the switch guarantee all will need to do is apply for a new account and fill out a form confirming the details of your old account.
1. Find a new current account
Apply for a new account, if you're unsure your new bank can tell you that they offer the current account switch guarantee.
2. Fill out the switching form
When your new account has opened you will need to fill out a Current Account Switch Agreement form and a Current Account Switch Service - Account Closure form and submit this to your new bank
3. Choose a switching date
Choose a date that is convenient to switch your current account, this needs a minimum of seven working days after you open your new bank account. You can keep using your old current account until the switch date. Your new bank will confirm the details and date.
4. Your current account is switched
Once you've switched any money in your old account will be transferred to your new account, as will all incoming and outgoing payments. Finally, you your old account will be closed and you will receive confirmation that the process is complete.
Your new bank is responsible for the entire process and if anything goes wrong they're liable for any lost interest or charges.
Find a better current account
Compare currents accounts to find a better deal and  read our current account guides to find out more about what to look out for.
Switch to a better current account
With the switch guarantee scheme it has never been easier to move to a bank that works for you.