Compare life insurance
Compare life insurance with Uswitch and get cover from just £5.25 per month*
After the death of a loved one, it can be an expensive, painful and frustrating process of having to put together a funeral to say farewell.
With life insurance and funeral insurance plans it's possible to have the cost of a funeral covered in advance to save your family from having to pay for it.
In this guide we explain pre-paid funeral plans, how to use life insurance to cover funeral costs and what kind of costs you should expect to pay.
How much does a funeral cost?
According to SunLife's 2020 Cost of Dying Report, the average cost of a funeral in the UK is £4,417, an increase of £146 within on year. The industry is worth hundreds of millions of pounds and the cost of a funeral has more than doubled since SunLife's first report in 2004, so it's no surprise that many families now struggle to cover the costs for a loved one's funeral.
Funeral costs and expenses
Prices can vary significantly dependent on location, with the cost of a funeral in London 42% higher than the national average. Even at the average cost it's likely that you will only be able to afford the bare minimum — the most basic requirements for a funeral, with extra 'send-off' costs, such as funeral limousines, catering, flowers and the headstone or urn not included.
Firstly, the average cost of a public cremation alone can cost somewhere between £600 and £800, and burials are anywhere between £1,500 and £2,500. However, the fees can skyrocket by thousands if you carry out a burial or cremation using a funeral director.
The funeral director is usually the most expensive part of a funeral, so you would need to make a decision about whether or not you need one. In 2019, according to Sunlife's report, funeral directors' fees had risen by 3.5%, coming in at a total of £2,687.
A funeral director will be able to handle all of the administration relating to a cremation or burial, and will often arrange a simple ceremony. This can be a comfort for families dealing with the aftermath of a death, but it's also a hefty price to pay.
Once you factor in the other fees for the optional extras, a funeral's total cost can quickly far exceed the average basic cost.
For example, if you want a memorial plaque or headstone for the deceased, this will often cost between £700 and £1,200. Catering, depending on how many people attend the ceremony, could be anywhere between £350 and £1,000. Flowers can cost anywhere between £150 and £300, or possibly higher depending on how many you buy and the quality.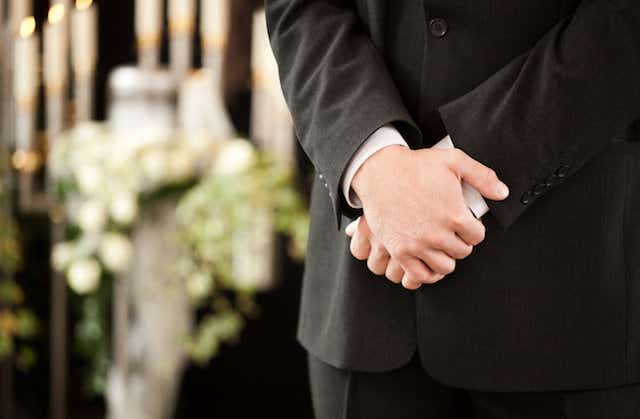 While it may be an unpleasant task, it's important to shop around for the best price on a funeral. After all, this is a major industry in the UK and you can still cut back on the costs of a very expensive ceremony by comparing prices with different funeral directors, or by arranging aspects yourself, whether you are arranging the funeral of a loved one or planning for your own in the future.
There's a very real financial problem in the UK when it comes to covering the cost of a funeral, and many families do struggle with it, especially if there's an untimely death. Many reports have suggested that family members will pay for a funeral on a credit card or take out a loan and struggle to repay the debt.
However, there are other ways to cover funeral costs with or without advanced planning, such as specialist life insurance, funeral insurance plans or with government help.
Funeral plans and what they cover
Funeral insurance policies, also known as funeral plans, are one of the most common ways to cover funeral costs. You can take out a funeral plan from a specialist provider or a funeral director, so make sure to compare policies to find one that suits your needs.
These types of plans often promise to pay for a funeral director and the associated fees. However, the cover is usually tiered, depending on how much you pay in premiums and what extras you want to include.
For example, you may receive a basic funeral insurance policy that covers the costs of the funeral director, burial or cremation and any other necessary administration and paperwork. However, any other costs after that, such as flowers and catering, will be left to you.
Some policies will cover the costs of the optional extras, but premiums will likely be much higher. If you decide you want to pay your premiums monthly, to spread the cost of the policy, you will often have to pay extra in the long term.
You can instead pay a lump sum upfront to make your funeral insurance payments cheaper.
Over 50s life insurance with funeral cover
Many life insurance companies offer specific funeral cover as part of their 'over 50s' packages. The funeral benefit option gives you the choice of having a lump sum of money from your over 50s life insurance automatically paid towards the cost of your funeral.
As the funeral benefit is an add-on feature to a life insurance policy, your beneficiaries will also receive a lump sum (which you decide when taking out the cover) on top of the cost of the funeral. The lump sum can be used to settle bills, pay off your debts or simply provide your loved ones with some support. You can learn more about life insurance here or compare policies below:
Compare life insurance
Compare life insurance with Uswitch and get cover from just £5.25 per month*
Government support and state benefits for funeral costs
There is a government Funeral Payment scheme available to help cover funeral costs if you're already living off certain benefits, or are in financial hardship. This does not typically cover the full cost of the funeral and you must meet certain eligibility criteria.
The scheme can cover the necessities of a funeral as well as provide a few hundred pounds to cover extra expenses for the ceremony.
However, the money is usually repayable, meaning the money paid for the funeral will be reclaimed via the deceased's estate, if they have one.
The definition of the 'estate' according to the scheme includes any money or property, excluding a house or personal things left to a widow, widower or surviving civil partner.
*Based on £150,000 of level-term cover for 25 years for a 30-year-old non-smoking male with no pre-existing medical conditions (March 2023)
The life insurance comparison service is provided by Direct Life & Pension Services Ltd who are authorised and regulated by the Financial Conduct Authority (155312). Registered Office; Friars House, 52A East Street, Chichester, West Sussex PO21 2PJ. By using this system you are also agreeing to our Terms and Conditions and Privacy Policy 
Read more …