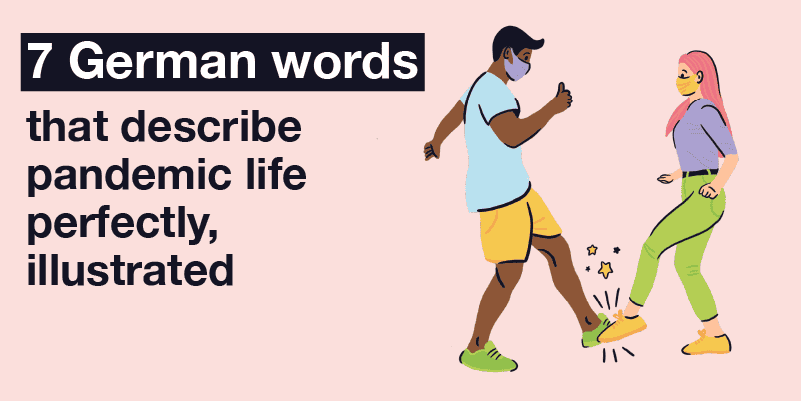 German Language Illustration - header
These are just some of the 1,200 new German words created over the last year to help describe the radically different way we've all been living through the Coronavirus pandemic.  From social distancing to panic buying - there's a German word for everything we've felt and experienced during 2020. 
The new words have been catalogued by the Leibniz Institute for the German Language in Mannheim. They collect the words used in the press, on social media and on the internet, adding the most-used words and phrases to the German dictionary.  
The Institute says they recorded six times as many new words in 2020 as in any previous year, proving that the world we live in has a massive impact on the language we speak and how we communicate. 
From emojis to help express how we feel when texting, to under-used words becoming extinct as we don't have a use for them anymore; these new words tell the story of the last twelve months. 
Narrowing it down to just a handful of these new expressions, the mobiles experts at Uswitch have illustrated seven of these wonderful words with some heartbreaking and hilarious results. 
Coronafußgruß
'Corona foot greeting'
A socially-distanced greeting replacing the traditional handshake.  
Coronafußgruß - corona foot greeting
Schnutenpulli
'Snout Sweater'
To cover your nose and mouth with a comfortable face mask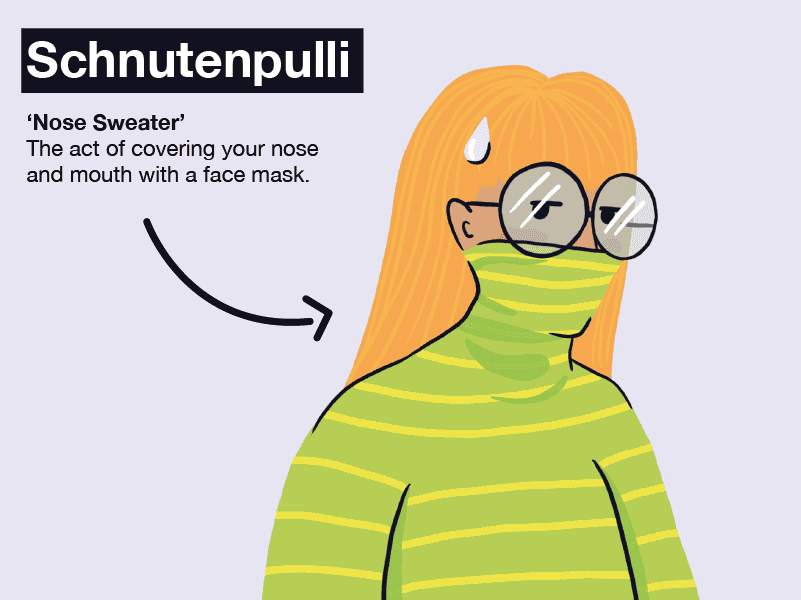 Schnutenpulli - nose sweater
Abstandsbier
'Socially distanced beer' 
Enjoying a socially distanced beer with your friends.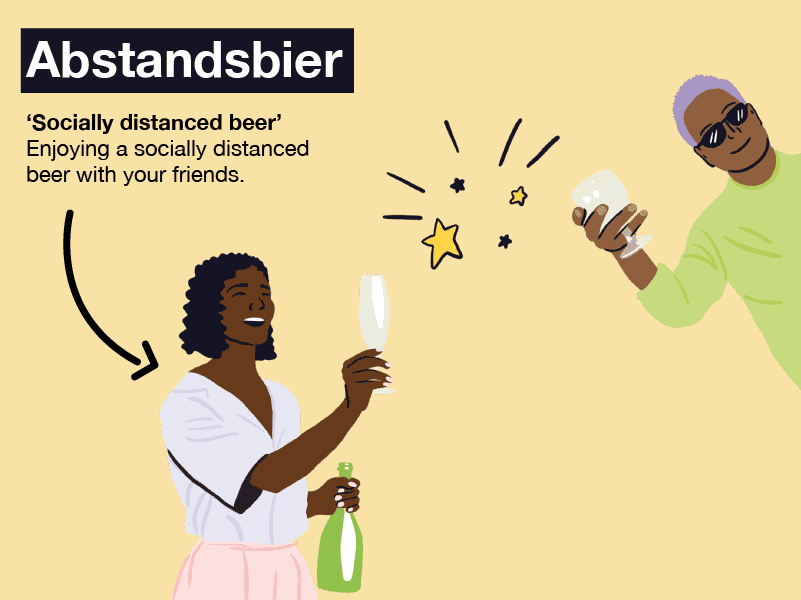 Abstandsbier - socially distanced beer
Gesicht­s­kondom
'Face Condom'
A facemask to protect you and others from the virus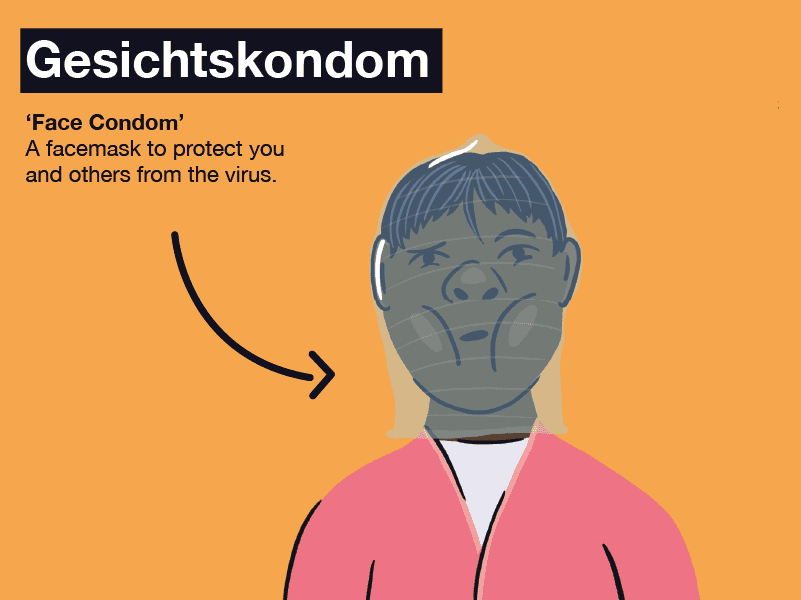 Gesichtskondom - face condom
Hamsteritis
'Panic buying'
People acting like hamsters by stuffing their cheeks with flour, pasta and toilet paper for later use.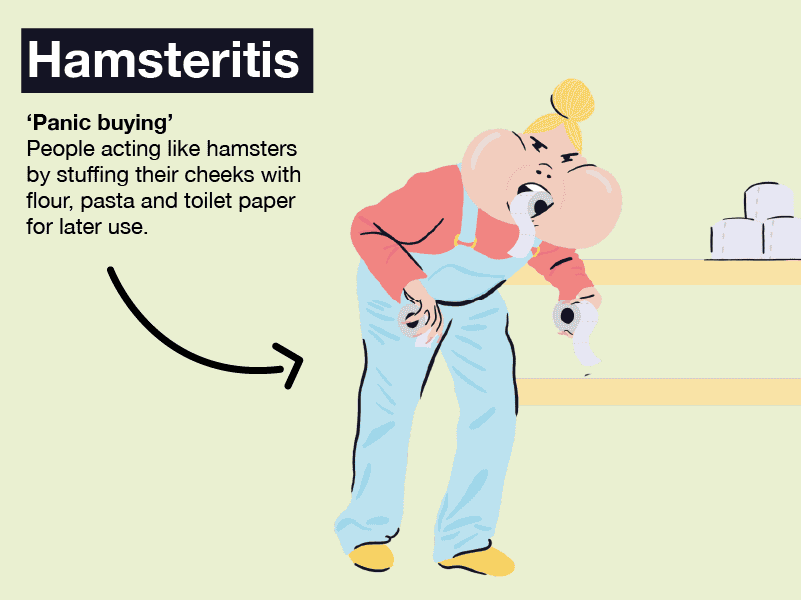 Hamsteritis - panic buying
Coronafrisur
'Lockdown hairstyle'
With many hair salons temporarily closed, this word refers to messy and unkempt hairdos.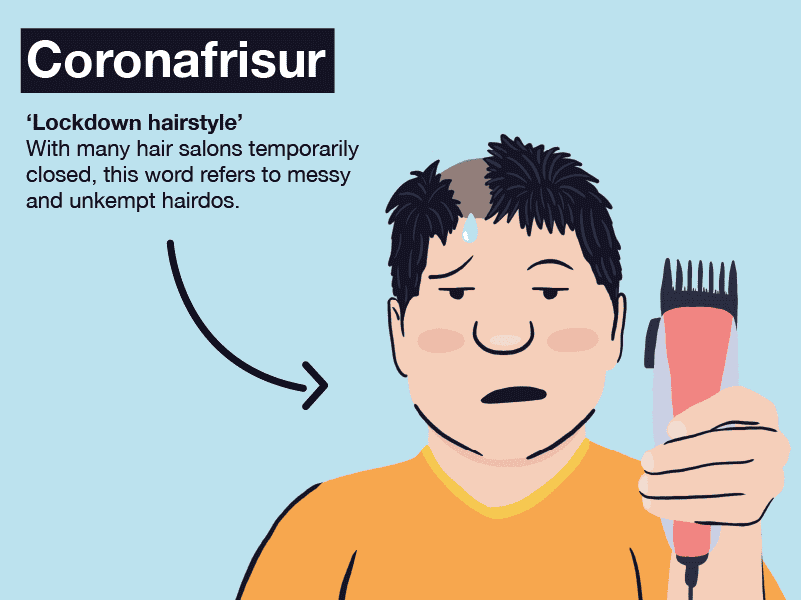 Coronafrisur - lockdown hairstyle
Coronaangst
'Corona anxiety'
The anxious feeling of worry about Coronavirus and the pandemic.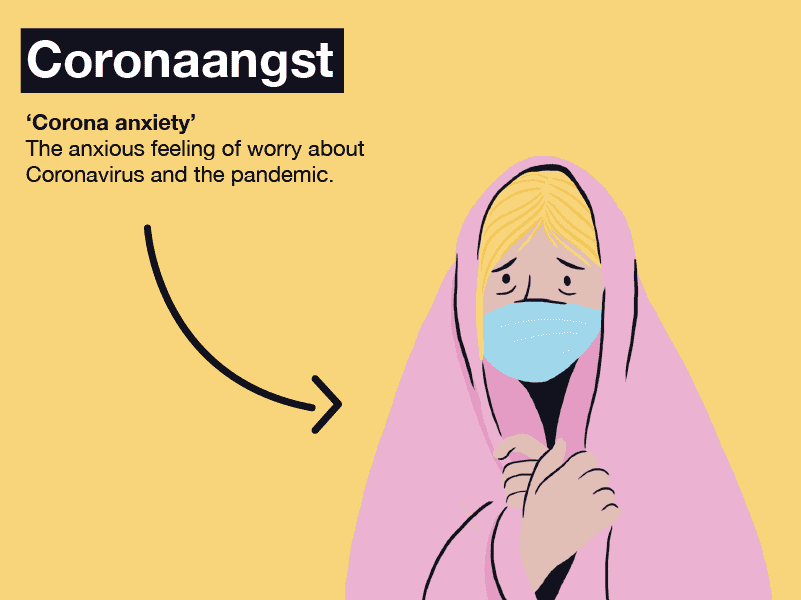 Coronaangst - corona anxiety
And as for some of the other untranslatable words...
Kuschelkontakt
'Cuddle contact'
A word for the specific person you were allowed to break the social distancing rules with.
Impfdrängler
'Vaccine queue-jumper'
A word for a person who has been vaccinated before others with a higher priority.
Hustenetikette
'Coughing etiquette'
Describing the correct etiquette for coughing in public such as coughing into your elbow
Klopapierhysterie
'Toilet paper hysteria' 
Panic-buying toilet paper in case the supermarket runs out 
Impfneid
'Vaccine Envy'
Feeling resentful of people who already have their COVID-19 vaccination
Frischluftquote
'The fresh air quota' 
The proportion of air within a room that has to be fresh to maintain hygiene standards
Trikini
'Matching mask and bikini'
A bikini worn with a carefully-matched mouth and nose covering. 
Keeping in touch
After a year of not being able to connect in person, technology and social media platforms have been more important than ever. No matter what social media platform you use to keep in touch with friends, family and colleagues, getting a great phone deal can help you send as many messages as you like without having to worry about using up your data. 
Opting for a contract or SIM only deal with a high data usage allowance will allow you to send as many emojis as you want! To check out our best deals, look at Uswitch's mobile phone deals comparison tool.

Creative Commons