The iPhone 14 Pro was officially revealed at the annual Apple launch event on Tuesday 7 September 2022.
But does it have a new design? Has it improved from the iPhone 13 Pro? What other phones are in the range? Are the cameras better than before? Is it super expensive?
Here is everything you need to know about the Apple iPhone 14 Pro in terms of specs, price, cameras, design and more.
How do I compare iPhone 14 Pro deals?
The iPhone 14 Pro is the latest flagship phone from Apple. Along with the iPhone 14 Pro Max, it's one of the most powerful, most advanced iPhones you can get.
With top-of-the-line specs, an incredible camera and brand new features only available on the Pro and Pro Max models, this is the iPhone to get if you want the best of the best in the smartphone world.
iPhone 14 Pro: features and specifications
Weight: 206g
Dimensions: 147.5mm x 71.5mm x 7.85mm
Triple lens rear-camera setup with 48MP Main, 12MP Ultra Wide and 12MP 2x Telephoto cameras
Four storage options: 128GB, 256GB, 512GB and 1TB storage
6.1-inch Super Retina XDR OLED display, with2556x1179-pixel resolution at 460 ppi
Battery life from 75 hours audio playback to 20 hours streamed video playback
Four colours available: Space Black, Silver, Gold and Deep Purple
More products in the range: iPhone 14, iPhone 14 Pro Max and iPhone 14 Plus
The iPhone 14 Pro features an A16 Bionic chip with 6‑core CPU, 5‑core GPU and 16‑core Neural Engine.
iPhone 14 Pro: availability and price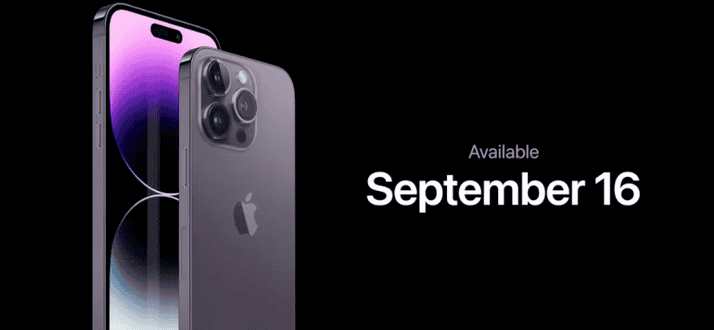 Apple has officially revealed the new iPhone 14 range of smartphones, including the iPhone 14 Pro, at its big Apple event in September 2022.
Since it's the premium handset of the range, the iPhone 14 Pro's cost reflects its quality. Prices for the iPhone 14 Pro start off at £1,099 for the 128GB model. It's available in four new colours, including an attractive purple that stands out as the flagship colourway.
How good is the iPhone 14 Pro display?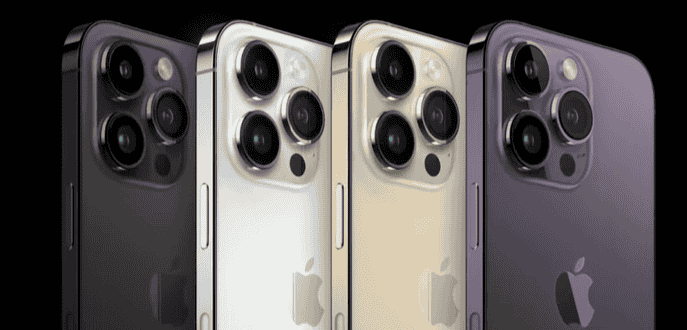 The Apple iPhone 14 Pro comes with a 6.1-inch display. And the big new feature is the Dynamic Island. The regular notch at the top of the screen has been replaced by a pill-shaped notch that holds the Face ID sensor and front camera.
Best of all, it's alive. Well, it's animated. So it moves around to display notifications, alerts, calls, music and more. It brings widgets and apps to life in a way that's never been seen on a smartphone before.
The iPhone 14 Pro also now includes an always-on display that shows info like your calendar events, weather, time and reminders.
How good is the iPhone 14 Pro camera?
The iPhone 14 Pro has an upgraded 48MP main camera to deliver clearer, sharper photos, with low-light images now twice as good as on previous iPhones. You also get a telephoto lens with 2x optical zoom and a 12MP ultrawide shooter. The flash has been enhanced too, it's now twice as bright for bolder imagery.
The iPhone 14 Pro has also seen a significant improvement to its video recording capabilities, with cinematic mode now able to shoot 4K at 30fps.
How good is the iPhone 14 Pro for video?
With an improved camera setup, it's no surprise that the iPhone 14 Pro shoots great video. Apple's Cinematic mode is capable of filming in 4K at 24fps. And the introduction of a new dual optical image stabilisation means that footage looks smooth no matter how bumpy you are while filming.
When filming video you can toggle on Action Mode to achieve this smooth and slick look. You will have to sacrifice a few pixels around the edge so bear that in mind when you hit record. An added bonus is Action mode works across all three rear-facing cameras.
This kind of technology was already available in other flagship phones like the Samsung Galaxy S22 Ultra, so Apple are finally upping their video offerings to match.
How long does the iPhone 14 Pro battery last?
The iPhone 14 Pro has a 3,200mAh battery, which Apple claims will give you up to 75 hours of audio playback and up to 20 hours of streamed video playback.
What is the difference between iPhone 14 Pro and iPhone 14?
While both are excellent smartphones, the biggest difference between the iPhone 14 Pro and the iPhone 14 are the camera upgrades and the new display features.
As you'd expect, the top-end iPhones have a more advanced camera setup, with the iPhone 14 Pro's main camera finally seeing that jump up from 12MP to 48MP. This, accompanied by the new computational photography features, will give your photos a huge boost in quality.
The new display features, the Digital Island and Always-On display will make the iPhone 14 Pro look and feel like a completely different smartphone. It adds ease, functionality and a cool new look.
Uswitch Expert reviews the iPhone 14 Pro
Mobiles and tech expert Carly Page reviewed the iPhone 14 Pro when it first came out. And she found that the upgrades made it feel like a totally different phone.
"With the addition of the Dynamic Island and Always On display, it feels like Apple has made some significant changes that will likely change how you interact with your iPhone for good - and for the better.
"The animated interface makes the phone feel more reactive and alive, and the Always On display when combined with the redesigned lock screen from iOS 16 feels similar with its live notifications and widgets."
Read the full iPhone 14 Pro review to see how the specs and the features stack up.
iPhone 14 Pro contract options
Probably the most convenient way to get a new iPhone 14 Pro is to take out a handset contract with one of the UK's many mobile phone networks. You can check and compare deals above and filter results by network, cost and included data.
Can I get an iPhone 14 Pro with no upfront cost?
You can get an iPhone 14 Pro with no upfront cost from some of the major UK networks like Three and Vodafone. This option will typically be available on 24 month contracts and will make the monthly costs higher to offset the full cost of the handset.
Can I get the iPhone 14 Pro with unlimited data?
There are a number of iPhone 14 Pro deals that come with unlimited data, with some of the most popular being deals from Three, O2 and Vodafone.
Unlimited data will of course increase your monthly costs. So it's a good idea to check if you actually need to pay for all that data and would you use it.
What's the cheapest iPhone 14 Pro deal?
The cheapest way to get an iPhone 14 Pro deal is to reduce the amount of data you sign up for. You can use our free mobile data calculator to figure out just how much data you really need each month. You might be surprised to find out you're paying for data you rarely need.
Author: Ray Ali Last updated: 24 March 2023