It may come as no surprise, but using comparison services can help you find the best deals on life insurance.
Compare life insurance
Compare life insurance with Uswitch and get cover from just £5.25 per month*
You might have thought that life insurance is an expensive product reserved for the wealthy, but depending on where you are looking, what kind of cover you want and your individual circumstances, it can sometimes work out to be very cheap.
Use our guide to learn more about what to look for when comparing life insurance, and see if you can get a deal that's not only good value for money but that provides you with the level of cover you need.
How much life insurance do I need?
A big factor in determining how much you will need to pay for life insurance will be deciding how much life insurance you need.
This includes the length of time you need to be covered for. For example, if you have a lot of bills to pay over the next 15 years, including your mortgage, but your family would not be able to keep up your credit repayments if they lost your income after you died, then you would probably want your new life insurance policy to protect you for those 15 years.
Similarly, if you wanted to simply leave some money behind for your family after you die without it being taxed, you might want to go for a policy that covers you for as long as you live. See our guide to life insurance and tax to see how you can protect your life insurance payout from being counted as inheritance tax.
Another important factor is the payout. With life insurance policies, you are investing in the payout. Generally speaking, the higher your premiums the more likely it will be that the payout will be higher. A more balanced premium payment plan will mean you pay a consistent amount for the length of your policy but your payout could be lower than if you were to go for higher premiums. But it all depends on what your family needs. With many level term life insurance policies (read more about this below: 'What kind of life insurance policy should I get?'), the payout can be agreed up front, so you know exactly what you get for the amount of premiums you pay.
You don't want to risk taking out too much insurance. Don't forget, that money you are spending on life insurance premiums could be used right now to enjoy with your family. So weigh up how much they will need after you die against how much you can afford each month. But it's important not to put your financial needs second to price, so be sure to compare the wider market.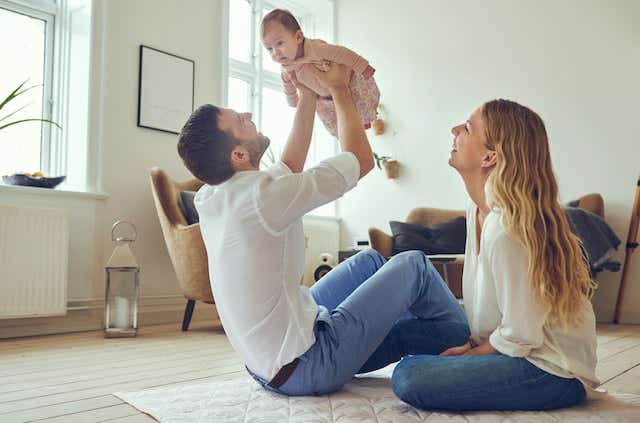 What kind of life insurance should I get?
The price can vary depending on what kind of life insurance you take out. Ultimately, it depends on what works best for you and your family.
There are two main types of life insurance but there are several types out there designed for all kinds of individuals and circumstances.
Firstly, there's whole of life insurance, or life assurance, which pays out when you die, with no time limit on the cover. Read our guide to whole of life insurance to learn more.
Secondly, there's term life insurance, which as the name suggests, provides life insurance cover for a specific period of time. If you continue to live beyond that time then your policy is no longer valid and you won't be protected. Within term life insurance you can choose between a few types of life insurance such as level term, decreasing term and critical illness cover.
With level term life insurance you get the same amount of pay whenever you die during the term of the policy's cover. You pay the same amount each month too. You can also find level term critical illness cover, which works the same way but if you get ill and are no longer able to work.
Decreasing term life insurance, sometimes known as mortgage protection cover, is a policy where the payout decreases as you get nearer to the end of the term. This makes it ideal for aligning directly with a mortgage payment plan. As you get nearer and nearer to completing paying for your mortgage, the risk of you being unable to pay it off if you die goes down, therefore your premiums go down and your payout does too.
Like with level term insurance, you can find critical illness cover that works on a decreasing term basis, so if you were to fall ill and were unable to work to pay off your mortgage, your insurance policy would work in a similar way.
What else can I do to get cheap life insurance?
When you fill out your application online for life insurance you will need to include information about your health. As you might expect, smokers are likely to pay more. The same goes if you are overweight and if your alcohol intake is considered to be high.
If you want to get cheap life insurance, the best steps you can take are to stay in shape, quit smoking and reduce how much you drink. Some life insurance companies will ask to carry out a medical, and if you lie on your application your policy could be invalidated.
Your medical history as well as your family's is a key factor to consider for the insurer, so if you have recently been ill then you might find it harder to find cheap life insurance. However, when you compare the wider insurance market you might be able to find a deal that works for you.
Compare life insurance
Compare life insurance with Uswitch and get cover from just £5.25 per month*
Learn more about life insurance
Read our free and impartial guides about life insurance to learn more and find the right cover for you:
*Based on £150,000 of level-term cover for 25 years for a 30-year-old non-smoking male with no pre-existing medical conditions (March 2023)
The life insurance comparison service is provided by Direct Life & Pension Services Ltd who are authorised and regulated by the Financial Conduct Authority (155312). Registered Office; Friars House, 52A East Street, Chichester, West Sussex PO21 2PJ. By using this system you are also agreeing to our Terms and Conditions and Privacy Policy