Broadband connections are getting faster each year and the next step in home broadband is the jump to gigabit speeds.
With superfast speeds available to 96% of the UK, the majority of UK households can now receive broadband speeds over 60Mbps. But if you're lucky enough to live in a location with full fibre broadband, you could access speeds of 1,000Mbps or more with gigabit internet.
What is gigabit internet?
Gigabit internet delivers download speeds of up to 1Gbps, the equivalent of 1,000Mbps. These kinds of speeds are typically only available in locations with fibre-to-the-premises (FTTP), commonly known as 'full fibre' connections. This is when the connection between your provider, the network and your home is completed entirely using fibre-optic cables rather than copper phone lines.
Read our guide on full fibre to learn more.
You can also get access to gigabit speeds via specially adapted cable broadband connections from Virgin Media. DOCSIS 3.1 technology means that gigabit speeds are available over the coaxial cables used in Virgin Media's cable broadband networks in specific locations.
However, the biggest difference between FTTP gigabit internet and cable gigabit internet is the significant disparity between upload and download speeds, with uploads often limited to just 35Mbps.
Can I get gigabit broadband?
Gigabit-capable broadband connections are continually increasing across the UK, with nearly 19.3 million homes (66% of all UK homes) now able to access these top-end speeds.
| Access to gigabit-capable services | May 2021 | September 2021 | January 2022 |
| --- | --- | --- | --- |
| UK | 40% | 47% | 66% |
| England | 38% | 46% | 67% |
| Northern Ireland | 73% | 76% | 82% |
| Scotland | 47% | 51% | 60% |
| Wales | 30% | 36% | 46% |
You can see more stats and information about internet access across the UK on our broadband statistics page.
What can I do with gigabit internet speeds?
Obviously the higher your download speed, the faster you can download files and the better quality you can stream smoothly, and gigabit internet offers speeds ten times faster than average superfast broadband.
There are a few key instances when this incredible speed can be incredibly useful.
Is gigabit broadband worth it?
Gigabit speeds are impressive and the thought of downloading files in seconds can be tempting, but there are times when gigabit internet isn't worth the additional cost.
If you have a slow home network
Gigabit internet is great, but if your home network isn't capable of handling those speeds then you won't see the benefit. You should receive a gigabit-capable router and modem from your provider when you switch, but it's worth double-checking.
If you have old technology
If you're using old devices, you won't see the benefit of gigabit internet speeds. This is especially true with wireless broadband, where devices connected over Wi-Fi tend to top out at 300Mbps.
Do a quick inventory of your home technology — if everything is brand-new then you'll be fine, but if you're using slightly older tech then you might want to upgrade your gadgets before you upgrade your broadband.
If you don't have a wired connection
Possibly the biggest twist is that gigabit internet speeds are only really achieved with wired connections. Even with a mesh network, if the devices are connected to each other wirelessly it will cut your effective speed in half. If all your devices connect to the internet via Wi-Fi then you probably won't notice any difference between 500Mbps and gigabit speeds.
If you don't need it
Gigabit broadband deals are the most expensive ones on the market. So if you need to keep your costs low, a cheaper broadband deal that offers slower speeds would probably be a more sensible decision.
That doesn't mean you'll be stuck with a slow speed — superfast fibre broadband deals now come almost as cheap as copper ADSL ones — but it will mean you can be a lot more comfortable with your monthly outgoings.
Which providers offer gigabit internet?
Several of the best internet providers are investing in their fibre networks, meaning gigabit internet will slowly become more available in the months and years to come. However, at the moment, 1Gbps speeds are limited to a few key locations, and each of these locations is usually supplied by just one provider at the moment.
For instance, Hyperoptic has some gigabit internet availability within London postcodes but is planning to expand to Sheffield, Newcastle, Birmingham and Nottingham. Meanwhile, TalkTalk has launched a gigabit internet service under the name UFO (ultrafibreoptic) which is only available in parts of York at the moment. Gigabit internet is even available in some rural areas from providers like Gigaclear.
Virgin Media began rolling out gigabit internet to several locations in 2020, with 1Gbps speeds currently available in Birmingham, Coventry, Manchester, Reading, and Southampton.
Recently, Virgin Media O2 overtook BT Openreach as the UK's largest gigabit internet provider. Its Gig1 service has average speeds of 1,130Mbps which could be accessed by roughly 3.6 million homes in Leeds, Bradford, Glasgow and surrounding areas.
Get the latest news, insights and deals
Find out the latest information about price rises, browse the latest deals and get expert advice on your bills from Uswitch.
What is Project Gigabit?
The phrase 'Project Gigabit' is new, but the plan has existed for quite a while.
Initially announced in the Spring 2020 Budget but held back by delays and revisions, it's based on the government's pledge to ensure 85% of UK properties have access to gigabit broadband by 2025. Though it has changed somewhat since it was first announced.
Aimed at providing rural and remote properties with future-proofing broadband speeds, Project Gigabit will allow full fibre providers and other gigabit technologies to connect the hardest-to-reach areas of the country for a very low cost.
An extra £210m of the funding will also go to boosting the government's Gigabit Broadband Voucher Scheme.
This initiative makes it easier for rural residents and businesses to afford the installation of gigabit broadband at their property, without having to wait for Project Gigabit-funded providers to lay cables in the local area first. Vouchers will be worth up to £1,500 for residents and £3,500 for businesses.
Project Gigabit is one of many projects currently underway to ensure full fibre (also known as fibre-to-the-premises) and other gigabit broadband connections can be accessed by every property in the UK this decade.
However, the particular focus it has on giving access to people in hard-to-reach areas who have very few options available will hopefully ensure that no household is left behind.
See our guide to gigabit broadband to learn how it works and what its speeds can do for you and your household.
You can also learn more about the different types of fibre broadband available in the UK here.
How is Project Gigabit different from other full fibre rollouts?
There are many network providers already building their own full fibre broadband infrastructure and expanding them across the country.
However, since these rollouts rely more on providers' own budgets, there's a limit to the areas where they can afford to supply and install fibre-optic broadband cables. Some neighbourhoods are so remote that it actually costs more for a provider to lay cables there than they could make back in revenue.
To combat this, Project Gigabit's funding will go directly towards helping providers perform these very rural installations. This will allow providers to expand their networks to all possible homes, regardless of commercial interests or economic viability.
There's also a plan for locations that fixed-line broadband has no chance of ever reaching, such as fully isolated properties in very remote locations. The team behind Project Gigabit is looking into supplying ultrafast 5G mobile broadband and satellite broadband connections to these areas, so they can still access very fast internet speeds through the UK's mobile networks.
When and where will Project Gigabit be rolled out?
The scheme will take a phased approach to connect rural and remote areas of the UK. It's important to note that the Project Gigabit rollout plan is for a proportion of properties in each area, not every property.
Phase One
The first phase will see over a million home and business owners have full fibre broadband made available to their property. Nearly half of these properties will see installations in the area start in the first half of 2022, and the rest will follow shortly afterwards.
Here are the locations currently set to benefit from Phase 1a of Project Gigabit. Roughly 500,000 properties within these areas will expect to see installations in the next year:
Cambridgeshire (and parts of Hertfordshire, Essex, Northamptonshire and Rutland)

Durham, Tees Valley, South Tyneside

Northumberland, Cumbria & the Lake District

Cornwall & the Isles of Scilly
Parts of Essex and Dorset are also expected to be involved in this phase, but they will be organised by local suppliers rather than rural ones.
Phase 1b will see an additional 640,000 properties added to the UK's gigabit rollout:
Phase Two
According to its delivery plan, the government intends to conduct a market review in the next three months to start preparing for the next phase of Project Gigabit's rollout.
While it hasn't officially confirmed the regions for Phase Two, it outlined a number of areas that it intends to include. Once again, bear in mind that these will be for select locations within these regions:
Areas of Scotland, Wales and Northern Ireland

Bedfordshire, Northamptonshire and Milton Keynes

Buckinghamshire, Hertfordshire and East of Berkshire

Derbyshire

Sussex

Kent

Lancashire

Leicestershire and Warwickshire

Nottinghamshire and West of Lincolnshire

Oxfordshire and West Berkshire

South Yorkshire

Staffordshire

Surrey

West Yorkshire and parts of North Yorkshire

Wiltshire and South Gloucestershire
Phase Three and future phases
The locations in the final phases of Project Gigabit will already have a substantial presence of gigabit broadband in the area.
While not every property will have access to these speeds, providers are well underway with their own network expansions in these areas, so government intervention could actually do more harm than good to their progress so far. Having a sudden influx of public funding could potentially disrupt the commercial investment already made in these areas.
As a result, specific parts of the following locations are still included in the plan, but they will be addressed last in order to allow providers' nearby commercial operations to take place first:
Birmingham and the Black Country

Cheshire

Herefordshire & Gloucestershire

Dorset

Essex

Lincolnshire

Greater London

Merseyside and Greater Manchester

Newcastle and North Tyneside

Northern North Yorkshire
Scotland, Wales and Northern Ireland
Contracts for the devolved nations have only recently been let, so funding is starting to be allocated and regions are beginning to be set out for the rollout.
Each nation already has its own full fibre broadband rollout project that is somewhat underway, but the additional funding from Project Gigabit will aim to accelerate this.
Gigabit wireless broadband with zero cables
A new type of wireless internet is now emerging in the UK, which provides gigabit broadband speeds without the need for cables to connect to your home or even your street for that matter.
This new type of connection would let you benefit from some of the fastest internet speeds available, without needing to install a fixed-line connection on your property. There's no official name for it yet, so we're calling it fibre broadband network routing.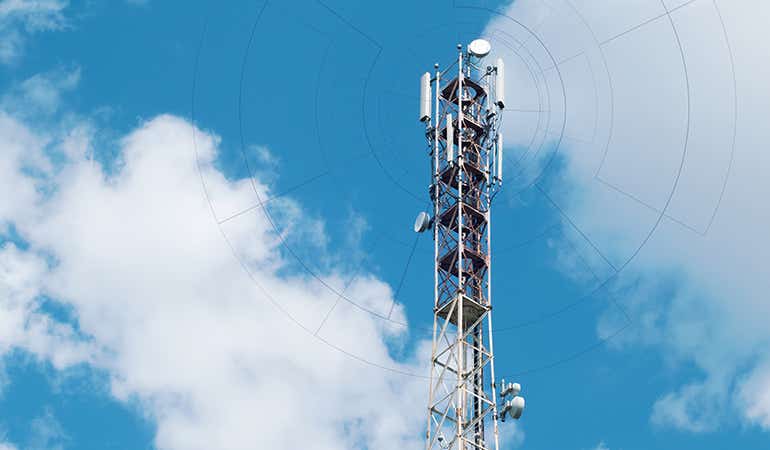 How does fibre broadband network routing work?
Fibre broadband network routing still partially relies on fibre-optic cables, but it only uses them until it reaches a local transmitter in your area. The connection to your home, to your whole neighbourhood, in fact, is completely wireless.
With network routing, a fibre-optic cable is run to a nearby transmitter, which then sends out a range of very high frequency signals to a select number of homes in the neighbourhood. These homes are called 'anchors'. The signal is then repeated by those homes to further spread the signal to the rest of the homes in that area. So the more anchors there are, the wider the network coverage.
It's worth noting that these connections still make use of Wi-Fi to actually get you online. Your home will need a receiver installed on the outside of the property, which will transmit the signal to a router that you can then connect to your devices. So you'd be accessing the internet just like you do now, but without any cables being installed at your property.
Can I get gigabit network routing broadband?
This is a very new technology that's still mostly in development, but there are trials running in certain locations for a select number of households.
One such pilot is currently taking place in Edinburgh, with communications company WeLink. Households and businesses are participating in this trial before a much wider deployment takes place across the country, under the Scottish Broadband Voucher Scheme.
WeLink is already established in certain parts of the USA, but this is the first time it's branching into the UK broadband market. The provider offers three ultrafast broadband packages: Wireless Fibre 100Mbps, Wireless Fibre 300Mbps and Wireless Fibre 1Gb.
Each of these speeds is way above the average broadband speed in the UK, which currently sits at around 80Mbps.
It's unclear right now when WeLink's trial will extend into England, Wales and Northern Ireland, as the technology is still very new. But it's likely we'll see more companies attempt this type of broadband connection in the coming years.
Don't waste time and money waiting for full fibre
If your area hasn't yet had full fibre installed, you might be able to switch to a faster deal while you wait. And if you've been using your current broadband package for at least a couple of years, you're likely paying much higher prices than you should be for the internet speed you're getting.
Compare broadband deals with Uswitch to find a package that suits the needs of your household.