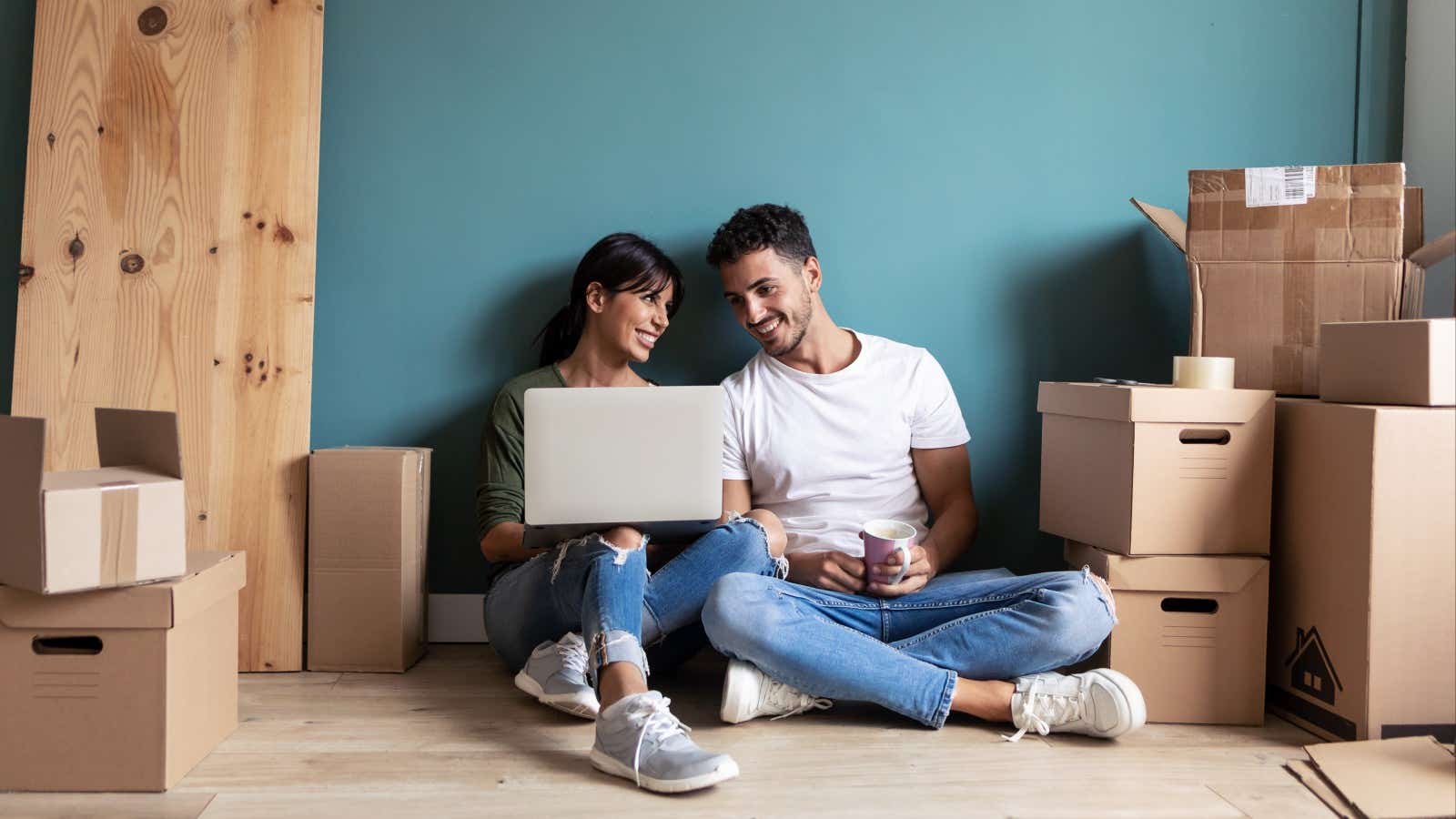 When moving home you'll probably have a long list of things to do. There are boxes to pack, moving vans to hire and a load of bills and paperwork that you need to get organised before moving day.
While sorting your broadband and moving house at the same time might seem stressful, in most cases it's actually fairly straightforward.
This guide will help you decide whether it's best to transfer your existing broadband package to your new property or change to something new so you can easily tick it off your checklist.
Things to consider about your broadband
When moving house, broadband isn't always the first thing you put on your to-do list. But organising all the services, bills and subscriptions you'll need is something that's better sorted before moving in.
Our research revealed that the one million Britons who moved home in 2020 waited an average of eight days for their broadband to be connected. Additionally, one in three were forced to use up all their mobile data allowance while they waited to be connected.
There are a few things you should find out about your broadband contract when you're moving home:
Are you under contract with your current provider? Is the fixed-term ending soon?

Has your provider raised prices above the rate of inflation while you're in contract with them? If so, you could be free to leave without penalty.

Are you happy with your current package and broadband provider?

Does your current provider operate in the area you are moving to?

If so, does your current provider service the specific property you're moving to? (this is especially important when moving into a flat)

If your current provider doesn't have coverage in the area you're moving to, which providers do?

Can your current provider bundle products like TV, landline and broadband together into one seamless monthly payment?
If you think any of these issues need addressing, use the Uswitch broadband postcode checker to see which broadband packages are on offer in the area you're moving to.
Take a look at our moving house checklist to make sure you've got everything you need in the lead up to your move.
Broadband and moving home: what are your options?
Most broadband providers will allow you to take your broadband service with you when you move, as long as they have coverage in that area too — although a small charge may apply.
Some providers might also require you to start a new contract with them, which would mean committing to another 12, 18 or 24 months with that specific broadband provider once you move to your new address.
This isn't always a bad thing, because securing a low monthly rate from your provider is ideal. However, if they're unable to secure you a good price, or indicate that there will be price jumps, it would definitely be worth looking at other broadband deals for your new home.
Transferring your internet from house to house
It may not always make sense to change. It might be worth staying with your current provider and simply transferring your broadband if:
They have coverage in your area

You are happy with your broadband package

You are still under contract with them and don't want to pay any termination or cancellation costs
Cancelling or switching your broadband
This is where it gets a little more complicated. When moving house, you might want to switch to a new broadband provider if your current service isn't available in the area you're moving to.
If you want to switch, you should first compare broadband deals to find out what services and deals are available in the area you're moving to. And then by following the steps with your new provider, you can notify your old one that you're moving house and switching from them.
You can also compare cheap broadband deals in particular if you're looking for a low-cost internet service.
But unfortunately, it's not always that simple.
If you're still within your initial contract period, you would have to pay an early termination fee to cancel, even if you aren't able to continue that service in your new address.
The amount you would need to pay to cancel varies depending on your provider, the length of time remaining in your contract and any subscription services.
Sign up for our latest broadband offers and expert advice
Get more expert insights, browse our latest exclusive offers and find money-saving deals from Uswitch.
How to move your current broadband connection to a new house
If your current provider is available in your new property, then they will do most of the work for you (although often for a fee).
Most providers will have dedicated teams to make it easy for you to transfer your broadband to your new home. You will need to contact customer services in advance to arrange the transfer. Just be aware that some providers require 30 days notice while others require two weeks.
Planning ahead will help minimise waiting times at your new property and allow you to get your internet connection up and running as quickly as possible. Different providers will have different processes to get you connected when you move, and they range in how long they take to complete. But if you're as prepared as you can be beforehand, then you needn't wait any longer than you need to.
Learn which broadband connections you can self-install without an engineer visit.
Moving home with different providers
Depending on which broadband provider you're with, your process for moving house with them might be different. Here's a rundown of the process each of the UK's most popular broadband providers have for moving your connection over.
Which broadband provider has the fastest installation?
According to our recent research, nearly all of the major broadband providers had customers waiting at least a week to be connected. Plusnet took the longest time, at almost ten days, while Virgin Media customers had to wait just under seven.
| Provider | Days* |
| --- | --- |
| Plusnet | 9.9 |
| TalkTalk | 9.4 |
| BT | 8.6 |
| EE | 8.1 |
| Sky Broadband | 7.7 |
| Vodafone | 7.3 |
| Virgin Media | 6.6 |
*Average days without a connection
Uswitch broadband provider reviews
Read our expert reviews of all of the UK's biggest broadband providers.
How to switch broadband providers
If you're out of contract with your provider when you plan to move home, it's likely to be much cheaper to switch to a new broadband service than to pay the transfer charges to stay with your current broadband provider.
In addition, broadband prices are almost always cheaper for new customers than when you re-contract as an existing customer, so switching broadband when moving home could be the way to go.
One exception to the above is if you're a Virgin Media customer. If you're in the middle of a Virgin Media broadband contract and you're moving to a property that isn't on its network, the provider will no longer charge you an early disconnection fee.
If you think switching is the way to do, you can compare a range of different broadband speeds and prices on Uswitch. Just input your postcode on one of our deals pages and filter your results to the requirements you need.
How to switch broadband
Switching is easier and simpler than you think. Learn how to find a cheaper or faster tariff (or both!) with our step-by-step guide.
Here's a quick taster of some of the broadband deals on offer on our site:
Setting up broadband in your new home
If you're getting a new broadband connection installed at you new property, it can sometimes take a bit of time to organise an engineer visit and set the equipment up — especially if you've changed your provider during your move.
Here's some helpful advice on what to do when waiting for your broadband to be connected at your new home.
How long does it take to set up internet in a new home?
It usually takes around two weeks to set up internet access in a new house. If there's a working broadband line already installed in the property, getting internet access could be as simple as plugging in your new router when you arrive.
If you do need a new line installed, however – either for a new provider or new service such as fibre or cable broadband – an engineer visit can take up to two weeks to arrange. If this is the case, it's worth noting that you may need to pay installation fees to connect your new home to the internet. Our latest broadband statistics reveal one in six (15%) broadband users paid between £20 to £29.99 for line installation in 2022 (Uswitch survey of 2,003 broadband users, August 2022).
| Region | No installation fees | Up to £19.99 | £20 - £29.99 | £30 - £39.99 | £40 or more |
| --- | --- | --- | --- | --- | --- |
| UK | 74% | 1% | 15% | 9% | 1% |
| East Midlands | 78% | 1% | 16% | 6% | 0% |
| South West | 80% | 2% | 13% | 6% | 0% |
| North East | 76% | 1% | 16% | 7% | 0% |
| Greater London | 56% | 1% | 29% | 12% | 1% |
| Scotland | 78% | 1% | 15% | 6% | 1% |
| Northern Ireland | 58% | 3% | 21% | 18% | 0% |
| East of England | 75% | 1% | 14% | 9% | 1% |
| South East | 79% | 2% | 11% | 7% | 1% |
| West Midlands | 68% | 1% | 15% | 15% | 0% |
| Yorkshire and the Humber | 76% | 1% | 12% | 11% | 1% |
| Wales | 80% | 0% | 16% | 1% | 3% |
| North West | 78% | 1% | 11% | 9% | 1% |
How do I get internet while waiting for installation?
If you're confident you have enough mobile data allowance on your phone contract, you might be able to temporarily rely on your smartphone for more online activities, such as sending emails or watching a TV show.

Likewise, if you need to use a bigger device like a laptop in that time, you can tether it to your smartphone to get online via a mobile internet connection. But once again, this uses up a lot of mobile data. So only rely on this option if you know you won't have to pay an expensive fee for going over your limit.

The most effective (but also most expensive) option is to sign up for a monthly rolling mobile broadband contract. This will provide you with a mobile dongle that will connect to the mobile internet available in your area, and act like a router for your devices. All you'll need to do is plug them into a normal socket in your home, and cancel the contract for free when your installation date eventually rolls around.
View 30-day mobile broadband deals from Vodafone and Three on Uswitch.
How to get internet in a new build
The process to get internet access in a new build is much the same as with other properties.
However, in some new-build flats and neighbourhoods there are what's known as 'micro-monopolies' in place. This is where broadband services for the entire building or street are exclusively provided by one provider.
While this does limit your choice, these are often high-end broadband services which will give you access to ultrafast or even full fibre broadband.
For example, Hyperoptic is often an exclusive broadband provider for new-build flats in urban areas. Hyperoptic full fibre broadband speeds can reach up to 1Gbps, which is over 15x the national average broadband speed of 64Mbps.
Hopefully, switching broadband when you move will be quick and simple, leaving you plenty of time to stress about all the other things you need to get done before moving day. Good luck.
Broadband and moving home FAQs