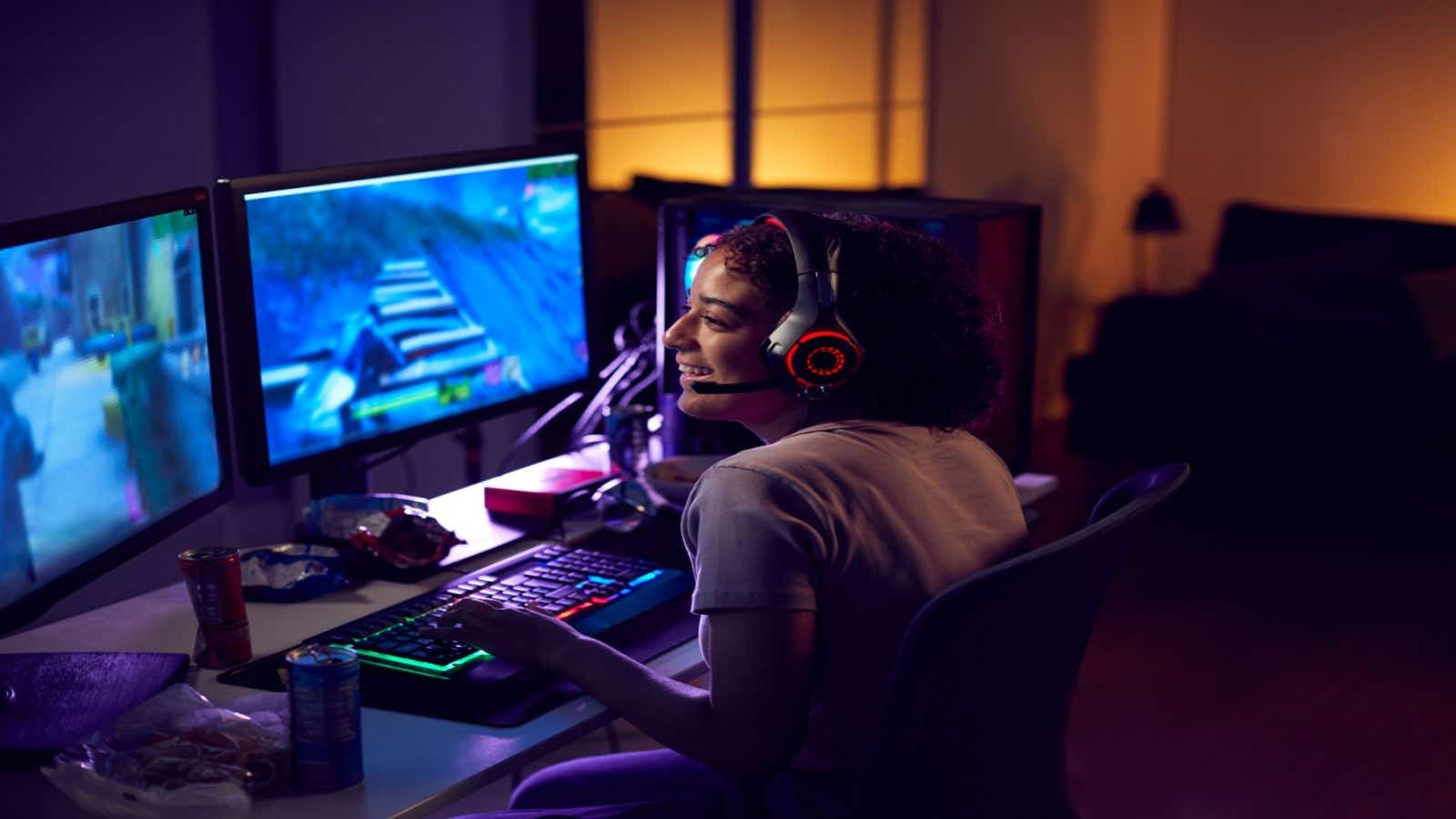 Downloading video games can put a real strain on your broadband, especially if you don't have a fast broadband package. If your internet is slowing your gaming down, try out our console download tips or switch to a better broadband deal for your gaming.
Game download time calculator
Check out the Uswitch game download time calculator below to see how long you can expect the latest video game release to download on your console.
Average video game download speed around the world
Depending on where you live, your internet download speed can make all the difference to your gaming experience. But where in the world can you download video games the quickest?
Chile takes the top global download speed spot, with download speeds of around 212.98 Mbps. This is so fast that you could download Gran Turismo 7 (97GB) in just 1 hour 1 minute in Chile! 
UK gamers may be disappointed to note that it would take over three times longer to download the same game in the UK.
The UK currently ranks in 54th place, below the global average download speed of 67.25 Mbps, with a median download speed of only 65.68 Mbps. It would take 3 hours 16 minutes to download Gran Turismo 7 in a British home.
The average UK internet speed has improved from just 36 Mbps in 2017 and should continue to improve as more of the country gains access to ultrafast and full fibre broadband.
Top 10 countries with the best broadband download speeds
Updated 24 August 2022
| World rank | Country | Median download Mbps (median) |
| --- | --- | --- |
| 1 | Chile | 212.98 |
| 2 | Singapore | 211.36 |
| 3 | Thailand | 189.14 |
| 4 | China | 176.93 |
| 5 | Hong Kong (SAR) | 176.59 |
| 6 | Macau (SAR) | 160.32 |
| 7 | United States | 159.31 |
| 8 | Denmark | 150.52 |
| 9 | Japan | 131.49 |
| 10 | New Zealand | 127.88 |
This data is sourced from the Speedtest Global Index, taking the median download speed in Mbps for July 2022. Data accurate as of 23rd of August 2022.
The fastest and slowest games to download
Using the UK's average download speed of 65.68 Mbps, these are some of the fastest and slowest popular games to download right now.
Updated 23 August 2022
| Game | GB | Time |
| --- | --- | --- |
| Call of Duty: Black Ops Cold War | 133 | 4 hours 29 mins |
| Tom Clancy's The Division® 2 | 115 | 3 hours 52 mins |
| NBA 2K22 | 109 | 3 hours 40 mins |
| Cyberpunk 2077 | 100 | 3 hours 22 mins |
| Horizon Forbidden West | 98 | 3 hours 18 mins |
| Gran Turismo 7 | 97 | 3 hours 16 mins |
| Grand Theft Auto V | 87 | 2 hours 56 mins |
| Minecraft | 84 | 2 hours 50 mins |
| WWE 2K22 | 47 | 1 hour 25 mins |
| FIFA 22 | 30 | 1 hour 1 min |
| Fortnite | 18 | 36 mins |
| Evil Dead: The Game | 5 | 10 mins |
| Rust Console Edition | 3 | 6 mins |
| Rocket League® | 1 | 2 mins |
| Slay the Spire | 1 | 2 mins |
This data was collected by the Uswitch game download tool.
On average, Call of Duty: Black Ops Cold War will take a whooping 4 hours 29 minutes to download in the UK! While popular Grand Theft Auto V for PlayStation 5 will take just under 3 hours.
For quicker download times, try out Fortnite - you can expect it to take just over 30 minutes.
However, you may be able to get faster broadband for gaming, check out what fibre broadband is available in your area to improve your game download times.
How to make downloads faster
There are a few things you can do to make downloads faster, and if you regularly download new games or updates, it could save you a significant amount of time and bandwidth.
Upgrade your broadband package
Use an ethernet cable
If you already have fantastic broadband speeds, you could still be limited by the strength and speed of your Wi-Fi. While connecting your console or PC to the internet via Wi-Fi is easier and tidier, it can prevent you from accessing your internet's top speeds.
Most modern Wi-Fi routers can deliver speeds up to around 400Mbps, which despite being very fast is comparatively slow compared to the 1000Mbps+ speeds available via a direct ethernet connection to ultrafast broadband.
A hardwired connection via ethernet cable is also more stable and by-passes any problems you might have with weak Wi-Fi signal or problems with your router.
Make sure you have a strong Wi-Fi connection
If you are using a Wi-Fi connection, a simple way to make your downloads faster is to ensure you've got a strong, stable Wi-Fi connection. Can you move your router closer to your console or PC? And if not, can you make sure that it isn't blocked by any large pieces of furniture or other electrical equipment, all of which could seriously interrupt your Wi-Fi signal.
If your router lives in a cupboard or behind the TV, try moving it to a new location to see if it improves your signal.
Don't play games while downloading
Whichever device you're using, playing games while simultaneously downloading a new one will use up both bandwidth and processor power. So not only will your game take longer to download, your gaming experience will suffer too.
How to make PS5 games download faster
If you're a PS5 user, there are a few things you can do to speed up your downloads in addition to those mentioned above.
1. Download in rest mode
Setting your PS5 for Rest Mode means that most of its tasks are disabled. Therefore, more bandwidth and processing power will be dedicated to downloading your game. 
Putting your PS5 into Rest Mode when you're not playing means that you can be downloading while you're not even at your console.
How to set up downloading in Rest Mode on your PS5
Go to Settings -> System -> Power Saving

Go to Features Available in Rest Mode and toggle on Stay Connected To The Internet

Downloads should continue as normal even when you're not using your console.
2. Enable automatic updates
If you find yourself spending too much time downloading and installing updates, a simple fix is to enable automatic updates on your PS5. That way you won't be faced with the frustration of booting up a game only to find out there's an update you need to install.
The good news is that setting up Rest Mode as detailed above will automatically download updates while your console isn't in use, hopefully taking care of the process without you even needing to think about it.
3. Change your DNS settings
Without going into too much technical detail about what a Domain Name System (DNS) is, the simple act of changing your connection's DNS can have a significant impact on your download speeds, particularly if you use Google's lightning-fast DNS servers.
How to change your PS5 DNS settings
Go to Settings -> Network -> Settings

Select Set Up Internet Connection

Highlight the network you're currently connected to and press the Options button on your controller.

Select Advanced Settings

Change DNS Settings from Automatic to Manual

Set the Primary DNS to 8.8.8.8 and the Secondary DNS to 8.8.4.4.

Save your settings and then restart your PS5 to initialise them.
How to speed up PS4 downloads
If you're using the previous version of the PlayStation you can still tweak your system settings to make things faster. You can speed up PS4 downloads by using the methods listed above – including connecting via ethernet cable, changing your DNS settings and downloading games in Rest Mode.
Update Your PlayStation 4
One setting that's especially important for PS4 users is to make sure you have the latest version of the PlayStation operating system.
Regular operating system updates will help to fix any bugs or problems with your console and can fix security flaws as well as improving download speeds.
How to update your PS4
- Go to Settings
- Select System Software Update
- If an update is available you'll be able to start it from here, otherwise it will confirm your system is up-to-date.
Pause and resume downloads
Sometimes when you're downloading a title, the download can stall or seem to get stuck. If your internet connection drops or weaked, your PlayStation will throttle the download. This can mean that, even when your connection returns to normal, your console will continue to download the game or update at the lower, throttled speed. In this case, you can give the download a "kick-start" by pausing and resuming the download.
- Select the download and then select Pause. 
- Then select the now paused download and select Resume.
This should force your PS4 to reconnect to the download server which could increase the speed of that specific download to the optimal speed available.
How to speed up Xbox downloads
The newest range of Xbox consoles are incredibly powerful pieces of technology, but the gaming experience can still be affected by download speeds, especially in the case of the Xbox Series S which doesn't feature an optical disc drive.
As with both models of PlayStation, you can speed up Xbox downloads by upgrading your broadband package, connecting to your internet via ethernet cable or ensuring automatic updates are enabled.
In addition to this, Microsoft introduced a feature in March 2021 that allowed Xbox users to speed up their downloads by suspending their current game – a feature that's especially useful for Xbox Series X and S thanks to their Quick Resume function in which you can jump back into the exact moment you left off.
How to speed up Xbox downloads by suspending your game 
If you decide you want to speed up your downloads while playing a game, you can easily suspend play and come back to the same point by following the following steps.
Press the Xbox button on your gamepad. 

Select My games & apps and then choose See all.

Select Manage Queue at the bottom of the list on the left.

Select Queue to see everything that's being downloaded.

Your Xbox will then give you the option to exit your game and boost download speeds. 

Press Suspend my game 
This should speed up your Xbox downloads, and when you're ready to get back to your game, your exact position should be stored for the next time you load it up. 
How to speed up Xbox downloads by prioritising your downloads
You may be downloading multiple games or updates at the same time, so if you want to speed up the download of one game in particular you could simply pause all the others.
Follow the steps above to navigate to  the Manage Queue section of your downloads. From there, select each item that you don't want to prioritise and press Pause Installation.
That way, all your bandwidth and processing power will be focused on the download you want first. Of course, you'll need to remember to unpause them later.
How to speed up downloads on PC
In many ways, speeding up PC downloads can be a little trickier, especially if you use your gaming PC for things other than just gaming. As when downloading games to a console, you'll want to make sure you:
Have the best broadband for gaming available

Have a strong Wi-Fi connection or are connected via ethernet cable

Pause or disable apps, downloads or other programs that use up bandwidth and processing power

Use a custom DNS server

Enable automatic updates so that they can take place overnight or whenever you're not using your PC

Restart your device and/or router if your connection is slow
But there are a few extra steps you can take to speed up downloads on your PC that might get you gaming much quicker.
Run Troubleshooter and a virus scan
Your PC probably functions as more than just a gaming console (probably) and so there's a lot more that could go wrong which could be slowing down your download speed.
Regularly running Network troubleshooter and a thorough virus scan can help identify any potential issues with your system that could be causing problems and slowing down your download speeds.
Clear your cache and cookies
With each website you visit you store temporary images in your computer's cache memory. After enough time this can clog up your system and your browser won't have sufficient space to store cache files and so could slow down your downloads.
Every now and then, go to your browser settings and click on Clear browsing data to free up some space.
Disable metered connection
If your PC has a metered connection set up to allow you to keep track of your data usage, this could be slowing your system down. 
Go to your settings and click Network and Internet

Click on Change connection properties

At the bottom of the page, you'll see the option Set as metered connection. Make sure that's toggled off.
Video game downloads FAQs