The iPhone 13 Pro Max is the top handset in Apple's iPhone 13 range. At the time of its release in September 2021, it was the biggest iPhone ever released, with the best camera and longest battery life.
Now the iPhone 14 family is on sale, the 13 Pro Max might not be the highest-spec smartphone in Apple's roster. But it's now a little cheaper, so it's a great option for those not looking to get the latest, greatest handset.
How do I compare deals for the iPhone 13 Pro Max?
There are a number of things you should keep in mind when comparing iPhone deals. Before you make any purchase, you need to consider the price (both the monthly fee and the upfront cost), the contract length and the monthly data cap that the contract has.
It might also be worth doing a bit of research into each network that offers iPhone 13 Pro Max deals, because they all offer different incentives and perks that you might find useful to use during your contract with them.
Just be mindful that, if you choose an iPhone tariff with a high monthly data cap and low upfront cost, you might be paying a lot of money per month. So make sure whatever plan you opt for suits your budget.
What are the iPhone 13 Pro Max specifications?
When it was initially launched in September 2021, the 13 Pro Max was the highest-spec iPhone ever. And even though it's not the latest iPhone anymore, it still boasts more impressive features than many smartphones released in 2022.
6.7-inch Super Retina XDR OLED screen
Up to 120Hz adaptive refresh rate
12MP main camera, 12MP selfie camera - 2160p video quality
Apple A15 Bionic chip with 6GB RAM
4352mAh battery - up to 15W MagSafe wireless charging
IP68 water and dust resistance - up to 6m underwater for 30 mins
Colours: Graphite, Silver, Gold, Sierra Blue, Alpine Green
What does the iPhone 13 Pro Max look like?
The iPhone 13 Pro Max is the biggest member of the iPhone 13 family, with a 6.7-inch Super Retina XDR screen that's amped up with a more protective ceramic shield. This is Apple's new screen protecting technology which the company claims makes it the toughest screen found on any smartphone.
Apple has also stepped up the refresh rate with its new ProMotion feature. This means the iPhone 13 Pro Max's display can go up to 120Hz. And it adapts depending on what you're doing on your phone, literally as you swipe. It's an incredibly intuitive experience that takes scrolling, swiping and gaming to the next level.
How good is the iPhone 13 Pro Max camera?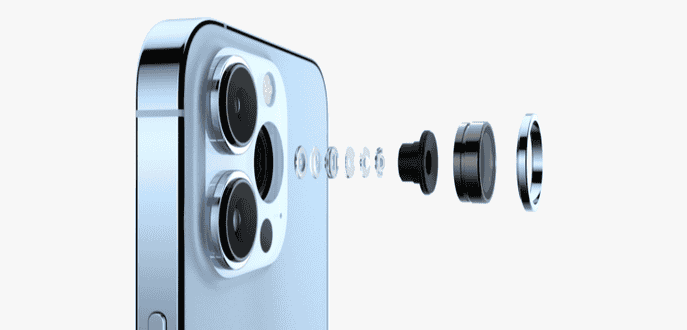 The iPhone 13 Pro Max's three-camera setup boasts an improved ultrawide lens, and a better-than-ever 6x optical zoom. Excitingly, Apple's excellent night mode is now available on all its lenses, too.
Best of all is the macro setting, which means you can take incredibly sharp photos from just 2cm away - a great plus for nature photography! From enticing raindrops to zoomed in bugs, the natural world never looked so amazing.
If you're big on recording videos you're going to love the iPhone 13 Pro Max. Apple's cinematic mode helps you make movie-like recordings by allowing you to choose whatever you want to focus on. You can manually lock onto your chosen subject or just let the iPhone 13 Pro Max intuitively take control.
The new macro feature that's on the camera is on video too! As well as time-lapse and slo-mo to help you get creative with your videos.
How long does the iPhone 13 Pro Max battery last?
Battery life is one of the most important features we look for, and the iPhone 13 Pro Max has the best battery on an iPhone, according to Apple. Apple says the iPhone 13 Pro Max will last up to 1.5 hours longer than the iPhone 12 Pro Max.
What's the iPhone 13 Pro Max price and availability?
The iPhone 13 Pro Max has been officially discontinued by Apple after the release of the iPhone 14, but it's still widely available from resellers and on comparison sites like Uswitch.
We have plenty of pay-monthly contracts with it on our site, where you can get a brand-new iPhone 13 Pro Max for between £32-£67 a month, depending if you're able to pay anything upfront and the data allowance you choose.
And if you want to buy the iPhone 13 Pro Max outright, you should be able to find a range of refurbished options for a considerably cheaper price than the initial launch cost.
You can also browse deals for the other iPhone 13 phones, right here on Uswitch:
What's the difference between the four iPhone 13 phones?
iPhone 13 Pro Max types of contract
There are a range of contract types you can choose from for the iPhone 13 Pro Max. Whether you want unlimited mobile data or no upfront cost, there is an 13 Pro Max deal for you.
Can I get an iPhone 13 Pro Max with a poor credit rating?
The 13 Pro Max is no longer the most expensive iPhone available, which increases your chances of getting it if you have bad credit.
And while many people with a credit rating can still get flagship iPhones, you could also look for deals from mobile networks that don't do a credit check. Lebara, VOXI and giffgaff are good examples of networks who usually don't run credit checks on new customers.
Can I get any iPhone 13 Pro Max deals with unlimited data?
While there are lots of unlimited data optiosn for the 13 Pro Max, realistically most people won't ever use much more than 30GB in a week - unless you rely on tethering other devices to your phone every single day. Just make sure to select '30GB+' in the filters section to the left of our deals.
Unlimited data tariffs are certainly available for this ahndset from around £47 per month, but you could also opt for an astronomically high cap of 200GB per month for just above £30 per month instead.
Are there any iPhone 13 Pro Max offers with no upfront cost?
If you'd rather pay for your 13 Pro Max entirely on a monthly basis, you can opt for a no upfront cost tariff from around £57 per month.
However, this is a lot of money to pay on a monthly basis for any smartphone. So you should make sure you're happy to pay this amount regularly, as opposed to paying a single £150-250 upfront cost to reduce your monthly outgoing to £35-45 per month.
Not sure what smartphone is best? Read this guide and see what we think are the best phones currently on the market.
Author: Ray Ali Last updated: 17 March 2023