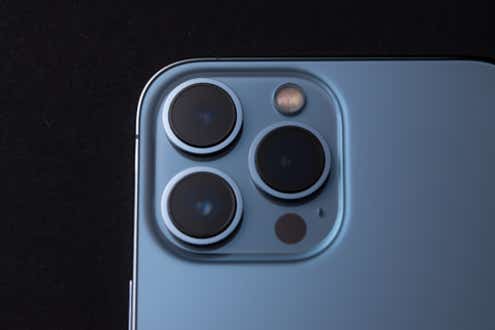 Apple's iPhone 13 Pro launched in September 2021, eleven months after the iPhone 12 range which was released a month later than normal. It's the smaller of the two iPhone 13 Pro models, but packs as much of a punch as its bigger sibling.
How can I compare the best iPhone 13 Pro deals?
The iPhone 13 Pro is one of the older iPhone Pro handsets on the market, after the recent launch of the iPhone 15 Pro. This means it's less expensive than when it launched, and noticibly cheaper than the iPhone 15 Pro.
That being said, there's still a wide range of tariffs, all with different price points and data limits, that you can choose from in order to find the right deal for you.
First and foremost, make sure you consider your budget before you buy, because there's no point in choosing an expensive plan filled with features you won't ever use.
But that doesn't mean you should necessarily go for the cheapest offer on the market either, because it might not have enough for what you need.
Check out our Uswitch mobile data calculator to see what allowance is best for you. It'll help you decide the right price for you.
You should also keep in mind upfront costs when choosing a mobile deal. Usually, the higher they are, the lower your monthly price will be. So if you prefer paying for your phone and contract in a particular way, you can find a balance that suits you on Uswitch.
iPhone 13 Pro: features and specs
iPhone Pro phones tend to have the best specifications of any Apple iPhone. They are Pro smartphones for Pro users, and usually feature a better camera, faster performance and bigger battery. Here's a short list of its main features:
6.1-inch Super Retina XDR OLED screen
Up to 120Hz adaptive refresh rate - the first iPhone range with 120Hz
12MP main camera with 2160p video quality, 12MP selfie camera
Apple A15 Bionic chip with 6GB RAM
3095mAh battery with 15W MagSafe wireless charging
IP68 water and dust resistance - can last submerged up to six metres for 30 mins
Colours: Silver, Gold, Graphite, Alpine Green, Sierra Blue
iPhone 13 Pro vs. iPhone 15 Pro: what are the differences?
Since Apple saves all of its best tech for its pro models, there's a fairly jump in features between the iPhone 13 Pro and the iPhone 15 Pro.
The iPhone 15 Pro has some flashy new features including a 48MP camera for higher resolution photos.
To support these top-tier specs, the iPhone 15 Pro runs on the A17 Bionic chip – a big jump in processing power from the A15 that runs the iPhone 13 Pro.
The iPhone 15 Pro also has the Dynamic Island and a USB-C connector instead of the old-fashioned lightning cable.
iPhone 13 Pro: price and availability
The iPhone 13 Pro originally retailed at £949, but is now slightly cheaper as a newer iPhone range is out.
While you can no longer buy it outright directly from Apple, there are plenty of great contract deals from various UK networks on Uswitch. You can choose from the following other iPhone 13 handsets from its 2021 range:
What does the iPhone 13 Pro design look like?
The iPhone 13 Pro has a 6.1-inch OLED screen which is boosted by Apple's sturdy Ceramic Shield, so it keeps your screen free from bumps and scrapes.
The 6.1-inch iPhone 13 Pro display comes with Apple's industry-leading Super Retina XDR tech with ProMotion, an adaptive refresh rate that goes up to 120Hz. The higher the refresh rate, the smoother the scrolling, the faster the action and the better the viewing experience.
How good is the iPhone 13 Pro camera?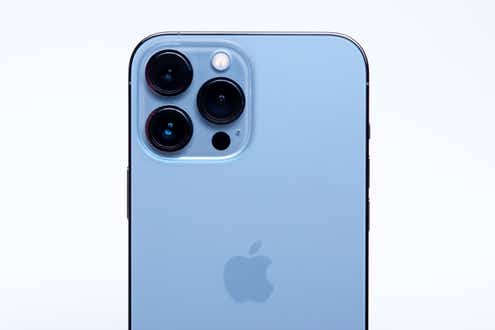 The iPhone 13 Pro has three cameras, including an ultrawide lens with improved low-light photography, a 3x optical zoom and night mode available to use on all three lenses.
It also features Macro mode which lets get really close to objects for stunning detail at just 2cm away. So if you like taking up-close photos of the natural world, you'll now get to experience them in magificent detail.
For video filmers, the iPhone 13 Pro has a cinematic mode, which changes focus mid-video to create movie-like videos. This setting shifts focus from people to backgrounds, you can manually lock the focus onto a subject too.
The macro feature is also included on video, joining slow motion and time-lapse to really enhance your clips.
The iPhone 13 Pro definitely has a great camera setup, easily competing with other handsets released at the same time.
How long does the iPhone 13 Pro battery last?
In our tests, the iPhone 13 Pro lasted 16 hours and 11 minutes when used at full brightness and streaming 4K video, making it one of the best phones for battery life of 2022.
Contract options for the iPhone 13 Pro
Our iPhone deals tables offer a wide choice of different contract options to give you the best tariff for your needs. You can use the Sort By option at the top, or our Filters section to the left of our deals to fine-tune your search to the offers you car about the most.
Can I get the iPhone 13 Pro with unlimited data?
Yes, the iPhone 13 Pro is available with some networks with either unlimited data or an extremely high data cap of 30GB+. However, you should keep in mind that this does significantly drive up the monthly cost of your contract.
On Uswitch, you can get the 13 Pro with unlimited data from around £50 per month for two years.
Can I get the iPhone 13 Pro if I have poor credit?
You should be able to get the iPhone 13 Pro if you have a bad credit history, but it might depend on the retailer you choose and the monthly cost of the contract you want.
You'll likely have to complete a credit check for an expense like this, but many people with a poor credit rating still get accepted for these deals. Plus, there are mobile networks like giffgaff, VOXI and Lebara who offer phone contracts without a credit check - so you might be best suited for choosing them.
Can I get the iPhone 13 Pro with no upfront cost?
You shouldn't have any trouble finding an iPhone 13 Pro deal with no upfront cost. But you should keep in mind that if you choose a deal like this, you'll have to be okay with paying a notably higher monthly fee.
Upfront costs are usually a way to take the edge off your monthly payments, so it's good to keep that in mind if you're looking to keep costs down.
iPhone 13 Pro: Uswitch expert review
Apple's iPhone 13 Pro has fantastic cameras, a long battery life, and a bright and detailed display. Carly Page, one of our Uswitch mobiles experts, reviewed it in a comparison with its smaller sibling, the standard iPhone 13.
Find out the difference between the iPhone 13 and iPhone 13 Pro, and which one could be best for you, with our detailed review.
Author: Ray Ali Last updated: 18 September 2023