Smartwatches have seen explosive growth in recent years – according to one estimate, sales will increase from 37 million in 2016 to 253 million by 2025. And when you see what they can do, it's easy to see why.
In the early days, they were mere portals to your phone, letting you read messages and access basic apps, on top of their health tracking skills. But the latest models can do a lot more than that. They can have their own data connection, doing away with the need for a phone. They also act as a digital wallet for all your contactless cards, show maps to help you find your way and have built-in voice assistants at your beck and call.
They even have super advanced health features like blood oxygen monitors, ECG apps, fall detectors and irregular heart rhythm notifications. They could save your life.
Naturally, all these features come at a high price, but that's where we come in. It's Black Friday, which means deals aplenty on all kinds of smartwatches. From the most advanced to the more stripped-back, here are the best deals on all kinds of models.
Black Friday Apple Watch deals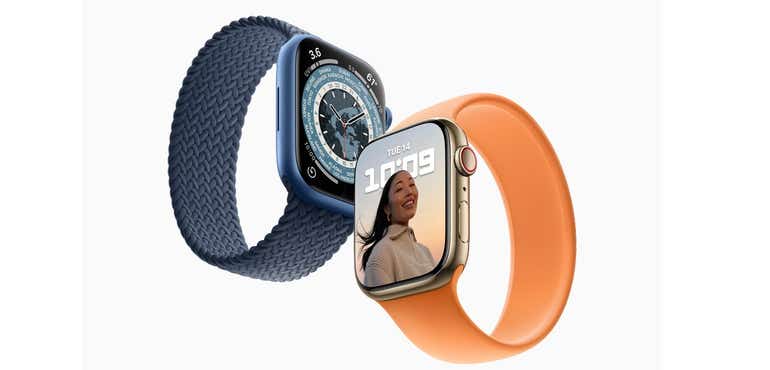 Apple Watch SE. Was 319, now £289
There's a tidy £30 saving on the 2020 Apple Watch SE over at Amazon right now. Just like the iPhone SE, the Apple Watch SE is a stripped-back version of Apple's wearable, but it's anything but basic.
It has a large Retina OLED screen, it's waterproof so you can take it swimming and it can track all kinds of sports and activities. It will also send you notifications if your heart rate is too high or low, or if your heart rhythm looks irregular, and it can stream all the usual music, podcasts and audiobooks.
This price is for the cellular model, which has its own data connection (that means no need to take your phone with you). Don't need that? The GPS-only model is also discounted – there's £20 off, taking it down to £249. Bargain.
Apple Watch Series 6. Was £479, now £379
The Apple Watch Series 6 was also released last year, but it's a bit more advanced than the Apple Watch SE. Its display is always on, which means no wriggling your wrist (or poking it with your nose when your hands are full) in order to see the time.
It also has the blood oxygen measuring feature and ECG app, helping you keep tabs on your ticker. And it comes in more colours and finishes than the SE.
This price is for the white model – the prices vary wildly depending on what colour and material you want.
Apple Watch Series 7. Was £369, now £349
The Series 7 is the best Apple Watch available. It launched this year, and so packs the most advanced tech Apple has ever put into a wearable.
For starters, the screen is much bigger without making the device itself larger. Apple has managed to reduce the size of the borders by 40 per cent, leaving room for 20 per cent more screen space. Which will make it much easier to read what's on screen.
It's harder wearing too, with a crack-resistant crystal display, and it's dustproof as well as swimproof.
Of course you get all the heart monitoring skills and blood oxygen app as standard, too. It's your ticket to a healthier life, and it looks pretty stylish to boot.
Black Friday smartwatch deals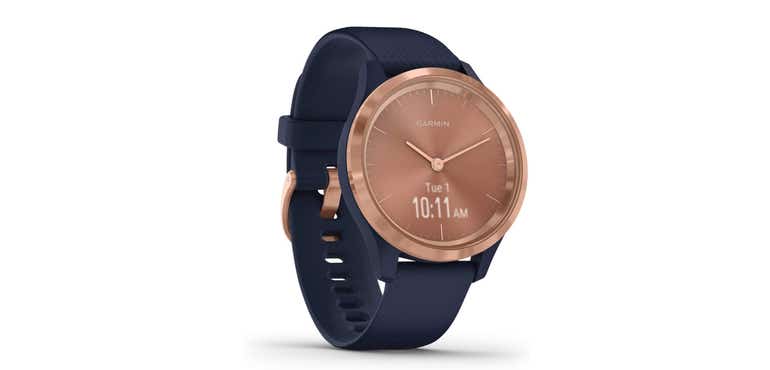 Garmin Vivomove 3S. Was £199, now £129
If you prefer your smartwatches a little more analogue, the Garmin Vivomove 3S is for you. It features real watch hands – not digital on-screen representations – to give you that authentic feel. But it has a secret, hidden touchscreen that only shows when you activate it. Clever.
And it does everything a smartwatch should do, including tracking your steps and activities and showing phone notifications like messages and calendar appointments. It's a smartwatch in smarter styling.
Garmin Instinct. Was £269, now £119
If, however, you want a smartwatch for rough and tumble outdoor activities, say hello to the Garmin Instinct. It's rugged enough to survive all kinds of sports, and it can monitor most of them too. It's built to U.S. military standard 810G for thermal, shock and water resistance up to 100 meters. If you can break this thing, you deserve a medal.
Fitbit Versa 2. Was £199.99, now £98.90
Here's £100 off a classic Fitbit. It has Alexa compatibility built in, so you can natter away to Amazon's smart assistant and have it do as you say. It monitors all your activities, including sleep, and shows your smartphone's notifications too, ensuring you'll always stay up to date.
Was this article helpful?