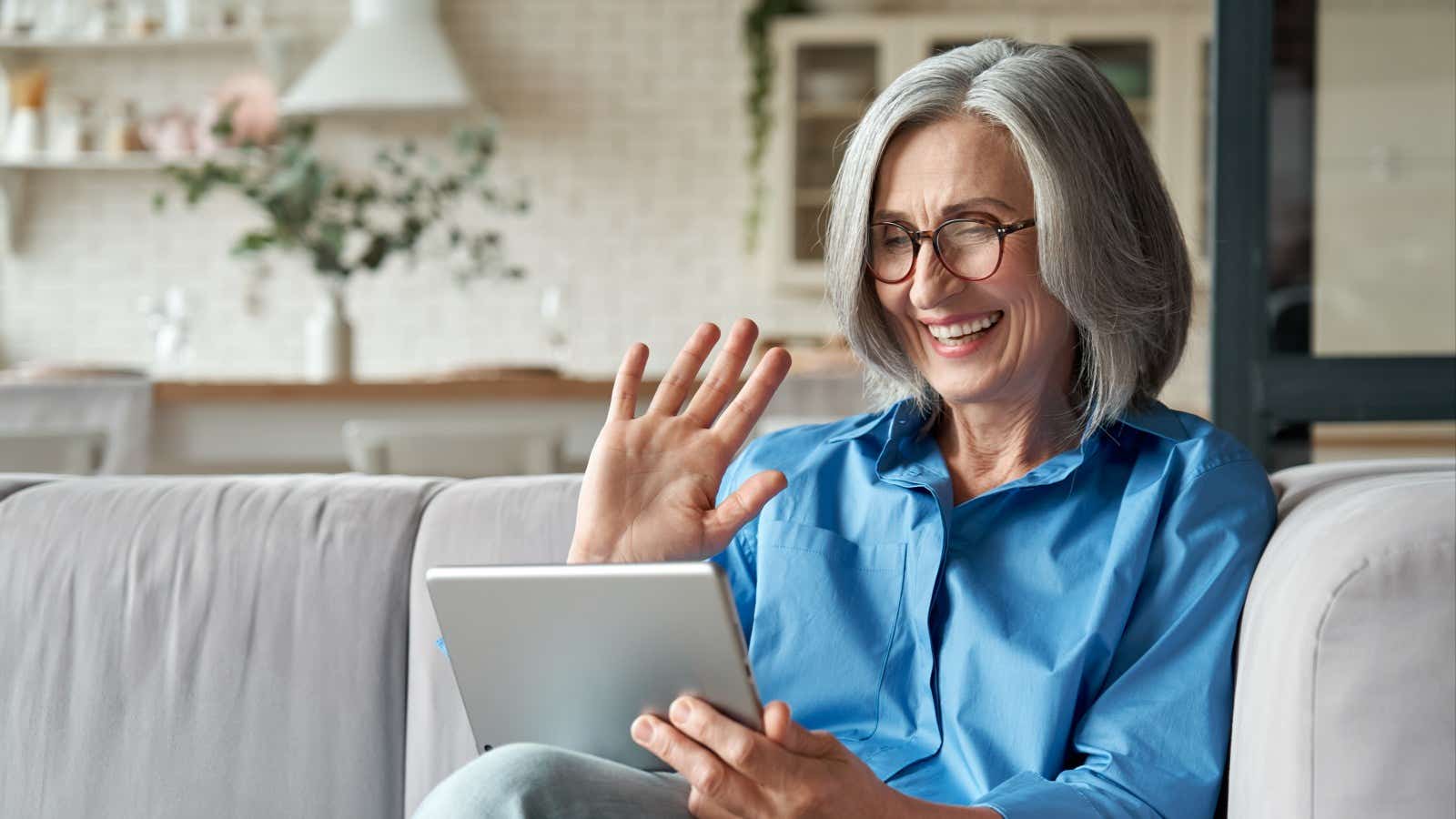 The UK has a number of different types of broadband connection that are available, and they vary significantly in terms of internet speed and the types of technology they use.
A broadband network can take the form of fibre-optic cables, copper phone lines, 5G mobile internet or even a satellite signal. However, it's unlikely that you will be able to access all of these at your home since they're operated by different companies across separate networks.
That said, the vast majority of homes can still enjoy decent internet speeds. So, if you're worried you can't get fast internet, you should still be able to find an option that covers your household's demand.
If you want to learn more about the basics of broadband, have a look at our 'What is broadband?' guide.
Or read on to learn about the range of ways that broadband can get to your home.
Types of broadband connection
There are lots of ways you can get broadband. Some types are more widely available than others, and they all vary quite significantly in internet speed.
You likely won't be able to get every type of broadband at your home. But you should still have a number of options to choose the right connection for you.
Here's a quick rundown of the main types of broadband available in the UK.
Fibre broadband
Fibre is the most popular way of getting broadband, offering an extremely wide range of internet speeds depending on what's available in your area. Contrary to popular belief, almost everyone can already get fibre broadband, but not necessarily the full fibre speeds that are currently rolling out across the country.
Superfast partial-fibre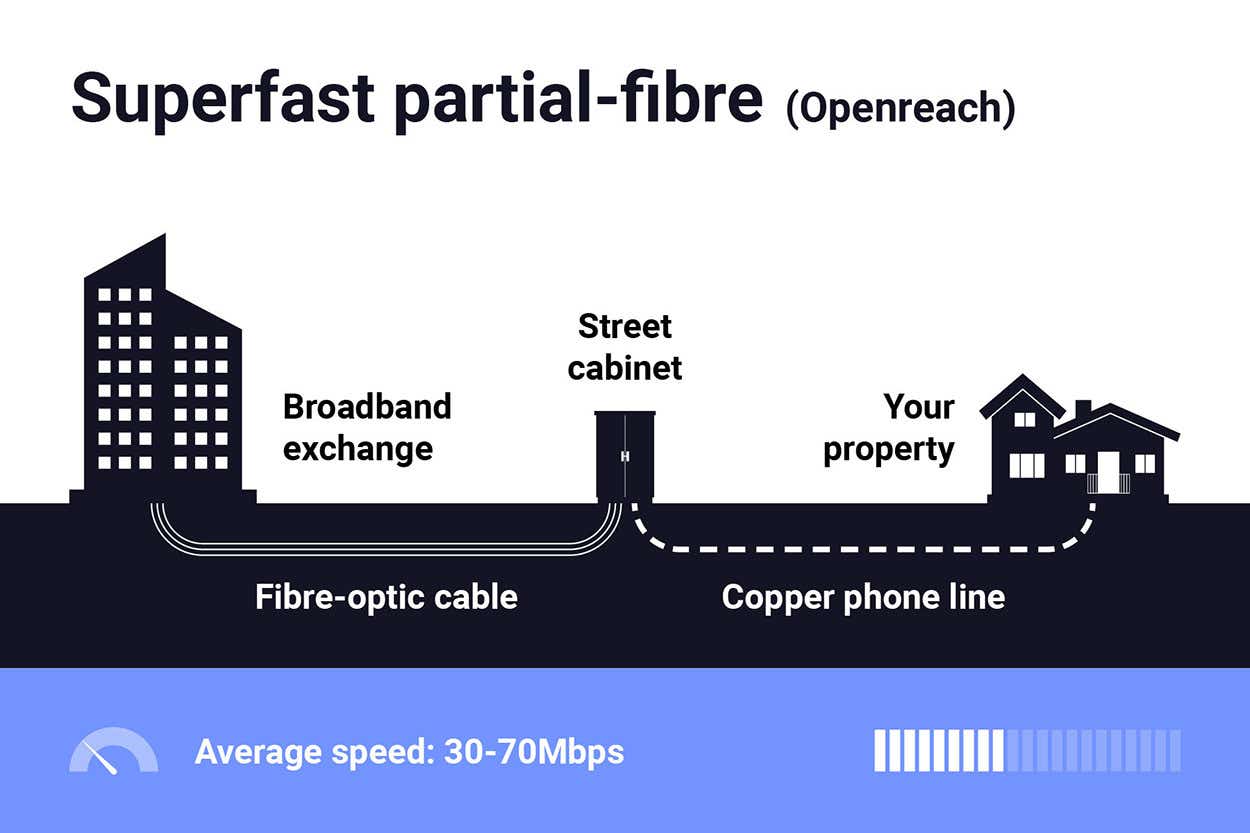 The type of fibre broadband most people can get is partial fibre which is often called fibre-to-the-cabinet. And it's available to 96% of homes in the UK.
This is where fibre cables are used all the way up to the local green cabinet on your street, and then copper phone lines make the final part of the connection to your home. It's faster than a purely copper connection, supplying speeds between 30 and 70Mbps. But it's nowhere near as fast as full fibre.
Full fibre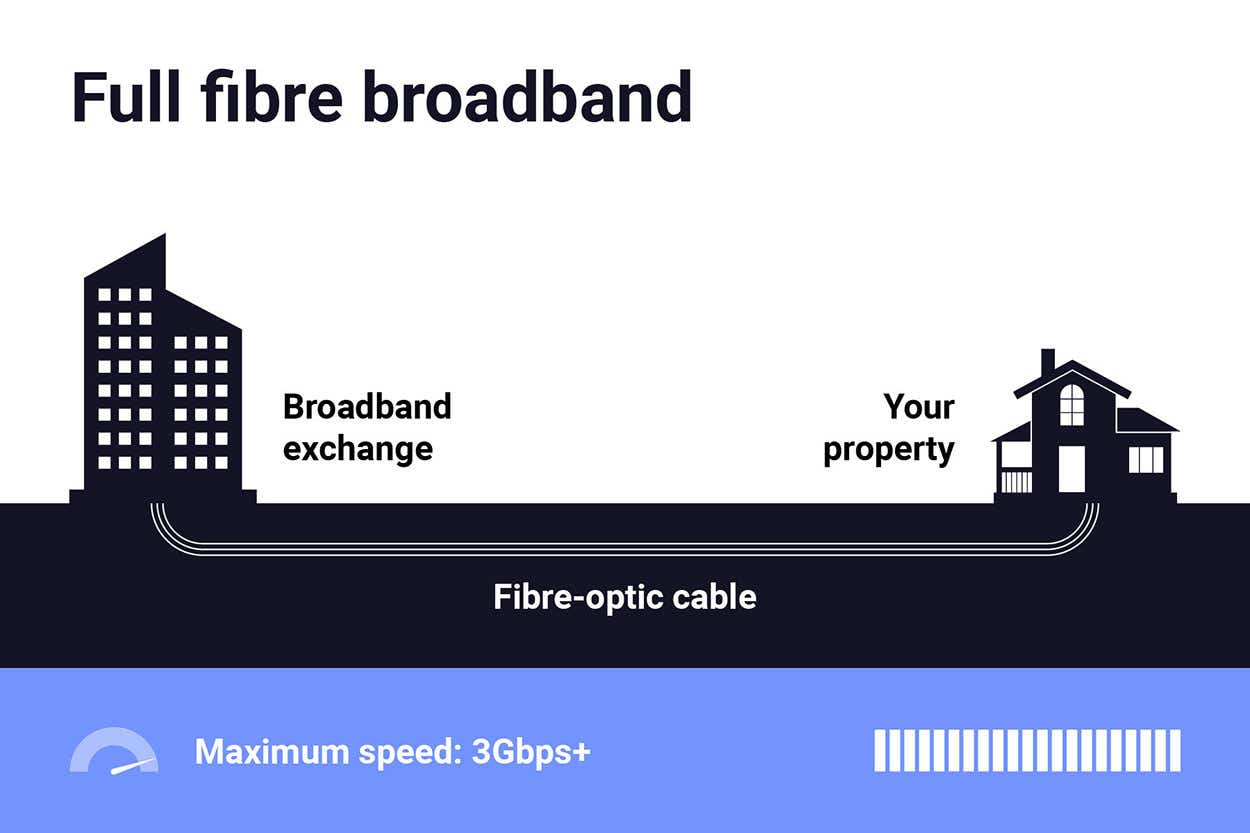 Full fibre does away with the copper cabling altogether, bringing fibre-optic right to your home. This provides a huge boost to internet speed, with many of the fastest full fibre connections supplying 1Gbps and above.
It also lets you access other telecoms services, such as your home phone and TV, through the same cables. So it essentially means you won't need a copper phone line or satellite dish to access many of the same services.
To put this into context, a massive 100GB video game would take almost eight hours to download on 30Mbps, and that's assuming there are no other connected devices in your home that'll be consuming internet data at the same time. On 1Gbps, it would take 14 minutes. That is a lot of time saved.
Full fibre broadband continues to increase year-on-year, with broadband statistics revealing that a third (33%) of homes had access to full fibre services at the beginning of 2022. As a result, full fibre coverage sits at just under 9.6 million, an increase from 8.2 million (28%) homes in December 2021.
Learn more about full fibre broadband with our guide.
Fibre-optic is the fastest technology when it comes to transferring any kind of data. It uses pulses of light to transmit information, meaning it sends it at lightspeed, which is the fastest anything can travel. So while speeds are currently maxing around 1Gbps, small tweaks to the technology in the future will eventually allow it to go even faster.
Sign up for our latest broadband offers and expert advice
Get more expert insights, browse our latest exclusive offers and find money-saving deals from Uswitch.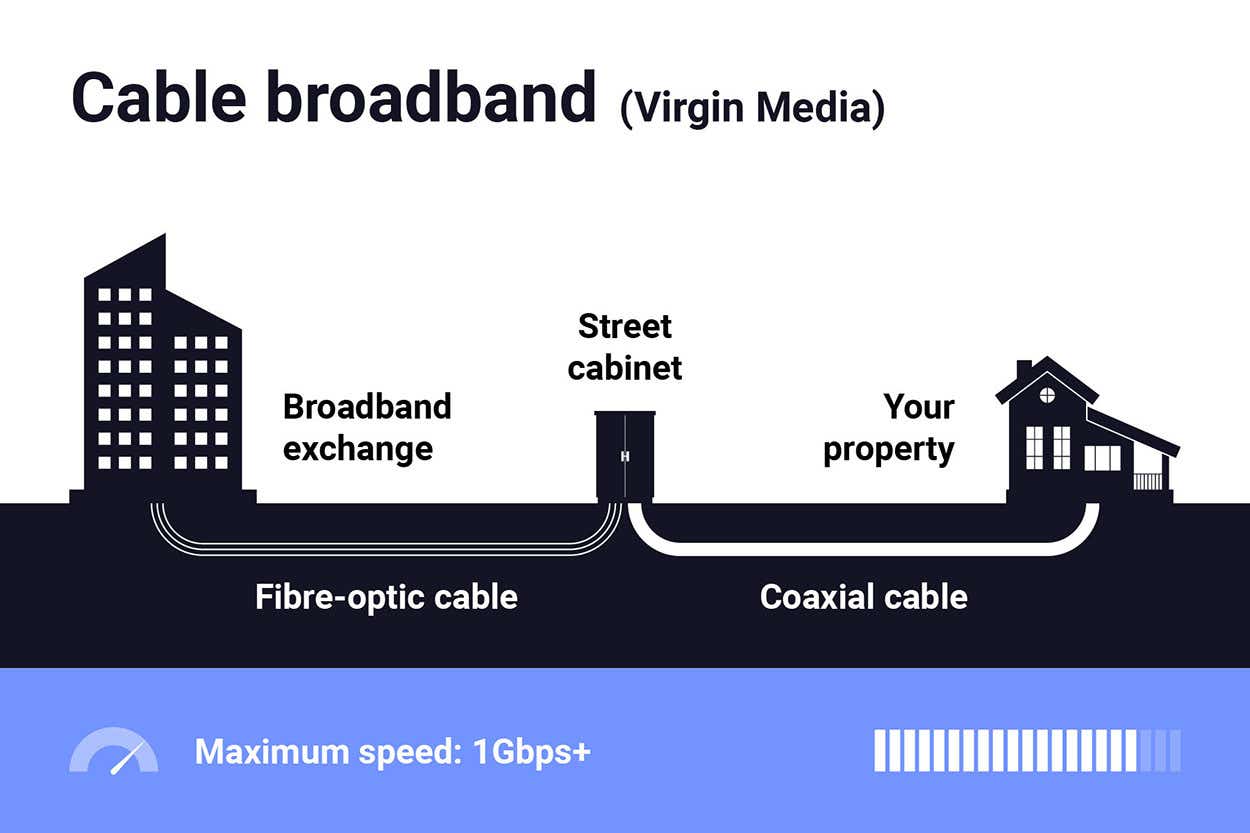 Cable broadband is a separate fixed-line broadband network provided by Virgin Media.
Like fibre-to-the-cabinet connections, it uses fibre cables all the way to a street cabinet near your home. But instead of phone lines for the last section, it uses Virgin Media's coaxial cables instead, which are part fibre and a lot faster. This means Virgin's network can reach speeds similar to full fibre at around 1Gbps.
Like with full fibre, cable broadband allows for the transmission of audio and visual signals. So you can also get your home phone and digital TV services from Virgin Media, helping you to bundle all of them for a single, and often cheaper, monthly rate.
To find out more read the Uswitch guide to cable broadband.
ADSL broadband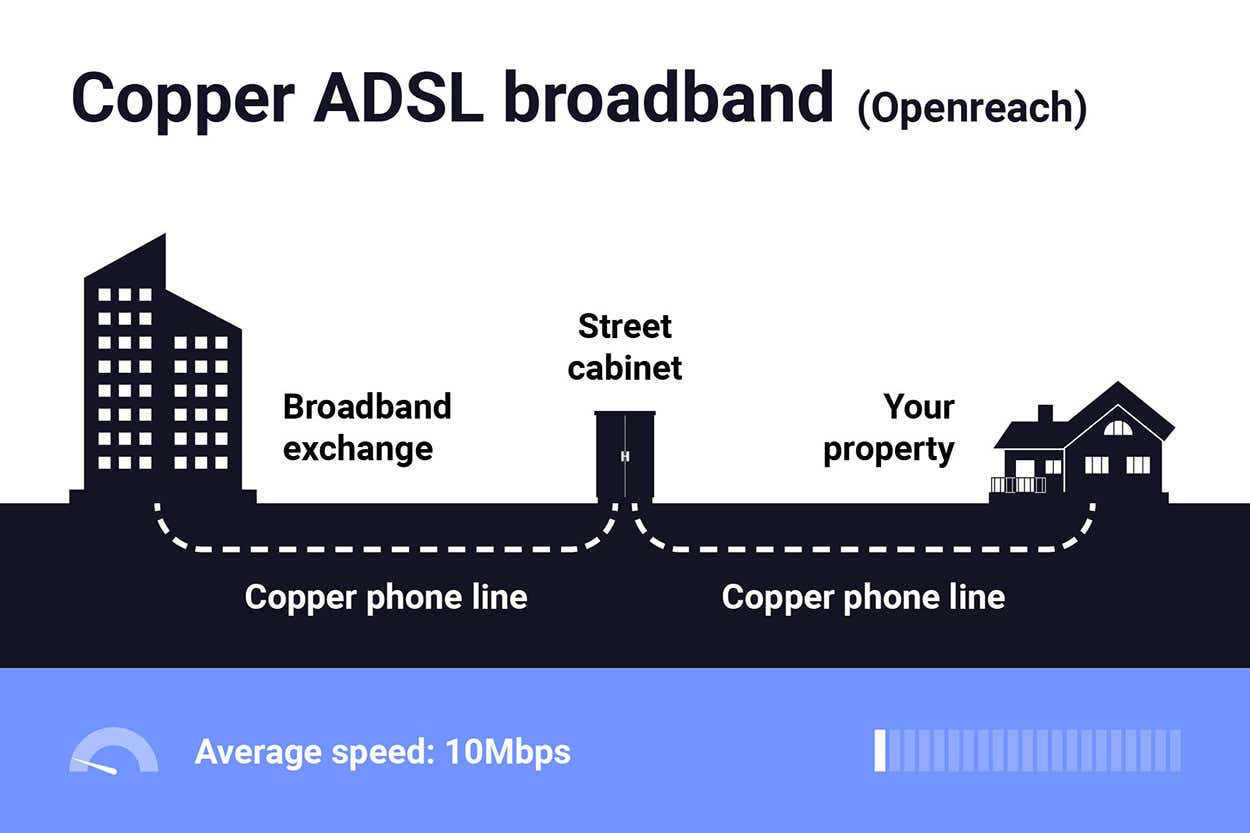 Asymmetric Digital Subscriber Line (ADSL) broadband is provided through existing BT phone lines and is the most widely available broadband connection on the market. ADSL broadband comes from your local telephone exchange, owned by BT, through a fixed line access network made out of copper wires. These are the telephone lines in the street.
The information that you receive is a series of digital signals that come through these lines. They are then split into phone and internet services by a microfilter, which is a small, plastic box that plugs into the main BT socket.
It's now the oldest and slowest type of broadband, due to the fact that it only runs on copper cables. Fibre deals are much faster and are even available for a similar price to ADSL nowadays.
The speed of ADSL broadband depends on your distance from the local telephone exchange. Signal deteriorates over distance, so the closer you are to your exchange, the higher your speed. The age or quality of the copper wires can also have an effect on your speed.
To find out more, read our guide to ADSL broadband.
Mobile broadband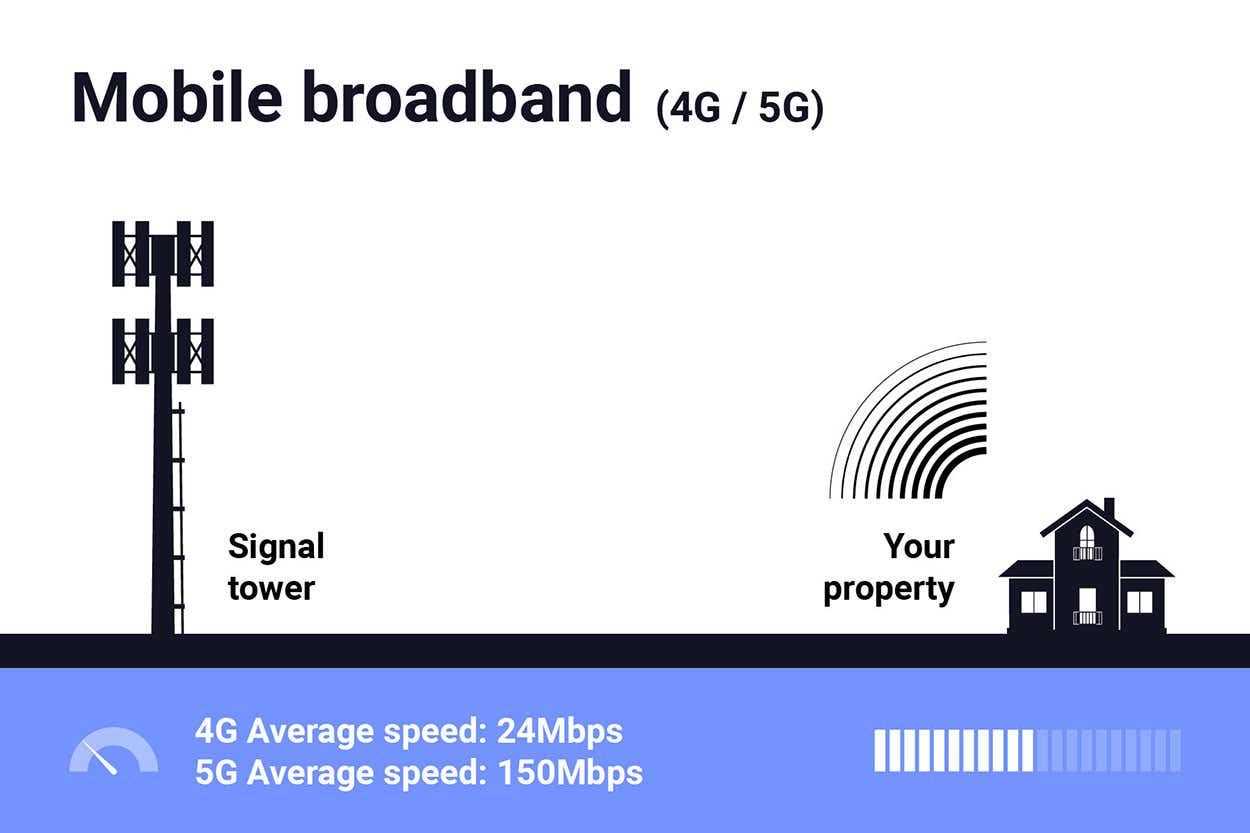 Mobile broadband is transmitted over mobile phone networks and requires no cabling to get to your home.
It comes in two types: a USB dongle, which you can take with you and connect with one device on the go, or a mobile broadband router, which you can connect all your devices to at home.
4G and 5G mobile broadband are offered through all the major mobile phone networks, including Three and Vodafone. 5G is still relatively new and isn't as available across the country as 4G. While you're likely to find it in many major cities, it may not be in your area just yet.
Before you make a purchase, it's worth checking with your chosen network about its coverage in your area. All the major networks have coverage maps where you can search for the signal strength in your postcode.
It's worth pointing out that you may be able to use your mobile phone's 4G or 5G data as a Wi-Fi hotspot. For example, if you're doing work on a laptop and need an instant connection, then you can use your phone to give your laptop Wi-Fi.
But be aware that this will eat into your data plan. It also may not be as fast as a regular Wi-Fi connection and it's only really an option for one device at a time.
Read more about mobile tethering with our guide.
You can also compare mobile broadband deals on our mobile broadband comparison page.
Satellite broadband
A type of broadband that's growing in popularity right now is satellite broadband. While it's existed in concept for well over a decade now, it's recently had a huge upgrade, thanks to companies like Starlink and OneWeb.
Previous versions of satellite broadband were quite slow, and only really useful for very remote properties that couldn't get a decent fixed-line connection or good mobile signal. But now, both the internet speed and coverage of satellite broadband have vastly improved.
The SpaceX satellite internet company Starlink has led the way with this industry-wide upgrade, launching hundreds of internet-beaming satellites into Low-Earth Orbit with a mission to provide ultrafast internet across the world.
Prices for this new type of satellite broadband are currently quite high, given how new the technology is and the lack of providers that offer it. But British company OneWeb isn't far behind Starlink in terms of rollout, and other companies are working on launching their first satellites too. So we're not a million miles away from some healthy competition and, eventually, some cost-effective satellite broadband deals.
Learn more about satellite broadband with our guide.
What's the difference between superfast, ultrafast and gigabit internet speed?
Superfast, ultrafast and gigabit may all sound like marketing buzzwords, but they actually have specific definitions referring to the speeds you're able to achieve.
A superfast connection means download speeds above 30Mbps. Ultrafast, according to most broadband providers, applies to speeds of 100Mbps and higher.
Gigabit broadband refers to the very fastest connections available — those of around 1Gbps or more — which can only be delivered by full fibre connections and Virgin Media's cable network right now.
While these are the official differences between each speed category, you might often hear 'superfast' used to describe full fibre broadband in the media or elsewhere. So just keep that in mind when you're looking for home broadband deals in your area.
It's currently very rare for 1Gbps to actually be reached through the Wi-Fi signal in the home — you'll have to plug an ethernet cable into the device you're using to reach that level. However, a wireless connection can still offer you several hundred megabits per second, which is more than enough for almost every household in the UK right now.
Wi-Fi routers will soon have the technical capability to support gigabit wireless speeds, thanks to the introduction of 'Wi-Fi 6' technology. So it won't be long before you can enjoy the fastest possible speeds without having to plug your device in.
Take a look at these examples to compare broadband download times:
One-hour standard definition TV programme
| Broadband connection | Broadband speed | Download time |
| --- | --- | --- |
| Copper ADSL | 11Mbps | 10m48s |
| Superfast | 36Mbps | 3m18s |
| Ultrafast | 108Mbps | 1m6s |
| Gigabit | 1Gbps | 7s |
Two-hour HD movie
| Broadband connection | Broadband speed | Download time |
| --- | --- | --- |
| Copper ADSL | 11Mbps | 58m34s |
| Superfast | 36Mbps | 17m53s |
| Ultrafast | 108Mbps | 1m6s |
| Gigabit | 1Gbps | 38s |
Large new-release PS4 or PS5 game
| Broadband connection | Broadband speed | Download time |
| --- | --- | --- |
| Copper ADSL | 11Mbps | 21h41m30s |
| Superfast | 36Mbps | 6h37m40s |
| Ultrafast | 108Mbps | 2h12m33s |
| Gigabit | 1Gbps | 14m18s |
What broadband speed can I get?
Depending on what types of broadband are available to your address, you could get speeds starting from 10Mbps, all the way up to 1Gbps (1000Mbps) and beyond.
Average download speed per region
| Region | Average download speed (%) |
| --- | --- |
| London | 93.6 |
| Yorkshire & Humberside | 90.81 |
| North East | 90.39 |
| South West | 90.17 |
| South East | 89.4 |
| Northern Ireland | 88.88 |
| East Midlands | 88.33 |
| West Midlands | 88.2 |
| Wales | 88.02 |
| East | 86.1 |
| North West | 86.08 |
| Scotland | 85.11 |
Currently, the average broadband speed in the UK is about 50Mbps, which still allows you to stream your favourite shows and work from home. But as our demand for the internet grows, so will the speeds we need. This is why faster connections are becoming more popular.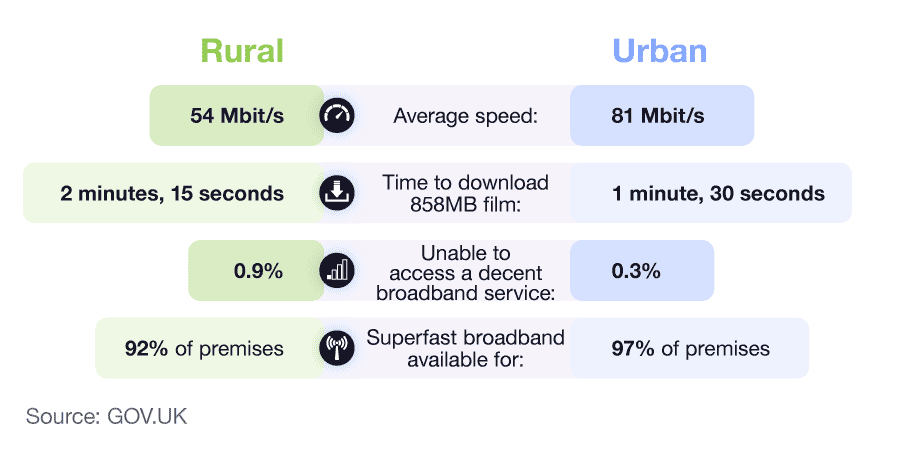 Find out more about broadband statistics here. 
The best way to find out how fast the broadband speed is in your area is to run a quick internet speed test every now and then. You'll be able to compare your current connection against the available deals in your area. You can then see if you're getting the speeds you're paying for.
Run a broadband speed test
Test your upload and download speed to find out whether you're getting the best connection for your area.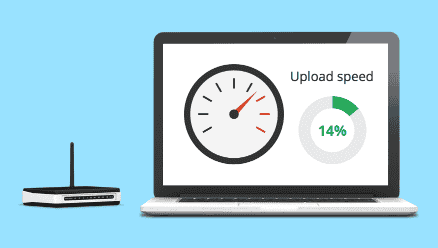 Speed test
Some out-of-contract customers on slower copper ADSL speeds might be paying more for their broadband than new customers with much faster fibre speeds, so it's always worth checking if you could save money, or just find a better deal if you switch broadband provider.
To find out what broadband is available to you, use the Uswitch broadband postcode checker to see which broadband packages and speeds are in operation in your area.