Get a car insurance quote
See a range of car insurance quotes in just a few minutes when you compare with Uswitch
More than 1.75 million used cars changed hands in the second quarter or 2022, due in part to a lack of new cars on the market as a result of the world shortage of semi-conductors, according to the Society of motor Manufacturers and Traders. 
According to HeyCar's Used Car Price Index, the average asking price of a three-year-old car was 6.67% higher than it was in July 2021, with the average asking price of a five-year-old car being £15,946.65 in July, 14.51% higher than a year before.
Spending you hard-earned cash on a new (to you) motor makes it worth getting the choice right. Here's what to look for.
What to look for when buying a used car
Buying a car - whether it's new, from a used car dealer or a private seller – is one of the most expensive things you will ever buy, next to buying a home.
The process can be  exciting, but many drivers just want to get it over and done with as soon as possible. However, if you do your research, it can also save you thousands of pounds, because without a little digging it's hard to be sure you know what's really under the bonnet and what the car is worth. 
When buying a second-hand car, you may also want to shop around for car insurance before you go ahead and buy it; a hefty insurance bill could wipe out any savings you hope to make.
What to check when buying a used car from a dealer 
You can buy a used car from a dealer or a private seller. Private sellers tend to want to offload their car as soon as possible in order to buy their next one – otherwise they are stuck paying insurance on two motors.
A used car dealer is a business specialising in selling cars. They're arguably under less pressure to sell, and must comply with the Consumer Rights Act 2015, which sets out how companies advertise, describe and sell their wares. This can mean buying from a professional can cost more, but there are some benefits, if you approach the right one. 
When buying from a dealer look for:
an established dealer with a good reputation

a dealer that is a member of a trade association such as the Retail Motor Industry Federation

a dealer who follows the Motor Ombudsman's code of practice and has their cars inspected by an independent engineer or a motoring organisation
What to check when buying a used car privately
This is one of the riskiest ways of buying a used car as you don't have as much legal protection as buying the car from a dealer. For this reason, it's even more important to be vigilant and keep the following in mind:
the car must match the seller's description; it must be roadworthy and the seller must have the legal right to sell it to you

you're responsible for making sure the car is "fit for purpose" before you buy it

some unscrupulous used car dealers pretend to be private owners to offload faulty or stolen cars
What to check when buying a used car from an auction
Auctions don't offer the same legal protection as buying from a dealer. However, the seller is legally bound to ensure the car is fit for purpose, as described and of satisfactory quality, as set down in the Sale of Goods Act 1979. 
Also, make sure you read the auction house's terms and conditions of business to get a sense of how seriously they take their responsibilities.
What to do when buying a used car
Wherever you buy your used car, you will need to do some simple checks to reduce your chances of ending up with a car that's being sold illegally, or has had major repairs. Take a look at the tips below to help:
1. Make sure you check the used car's history
Firstly, it's well worth paying for a private history check - also known as a 'data check'. This will cost up to £20 and will tell you whether:
the car has been reported stolen

the seller still owes money on the car; which means you may end up in debt if you buy the car

the car has previously been in a serious accident

the car's odometer is showing the correct mileage

the car has been written off, repaired and then returned to the road
You can get a car history check by searching online for websites, such as Checkcardetails and Car Dot Check that'll verify a vehicle's particulars.
2. Check your used car's details with the DVLA
To do this you will need the following information:
You can go online and used the DVLA's free online vehicle information checker 
The information the DVLA holds should match the dealer's/seller's information.
Used cars and MOTs
Vehicles need to pass an annual MOT test to make sure they are roadworthy. You can check the MOT history of a car for free on gov.uk.
If there are any gaps in the MOT history you may want to think twice about going ahead with the purchase. 
Remember though that a car might not have needed an MOT if it were uninsured because it had a Statutory Off Road Notification (SORN).
3. Check your used car's logbook
The car's V5C registration document gives details of the registered keeper and all the car's previous keepers. It's issued by the Driver and Vehicle Licensing Agency (DVLA). To ensure the one you're shown is legitimate you should: 
check that the registered keeper shown in the log book (V5C) is the same person as the seller

check whether it has a watermark and that there are no spelling mistakes

 If the log book - V5C registration certificate - doesn't match the car on the DVLA records you need to report this to the DVLA.
4. Check your used car's Vehicle Identification Number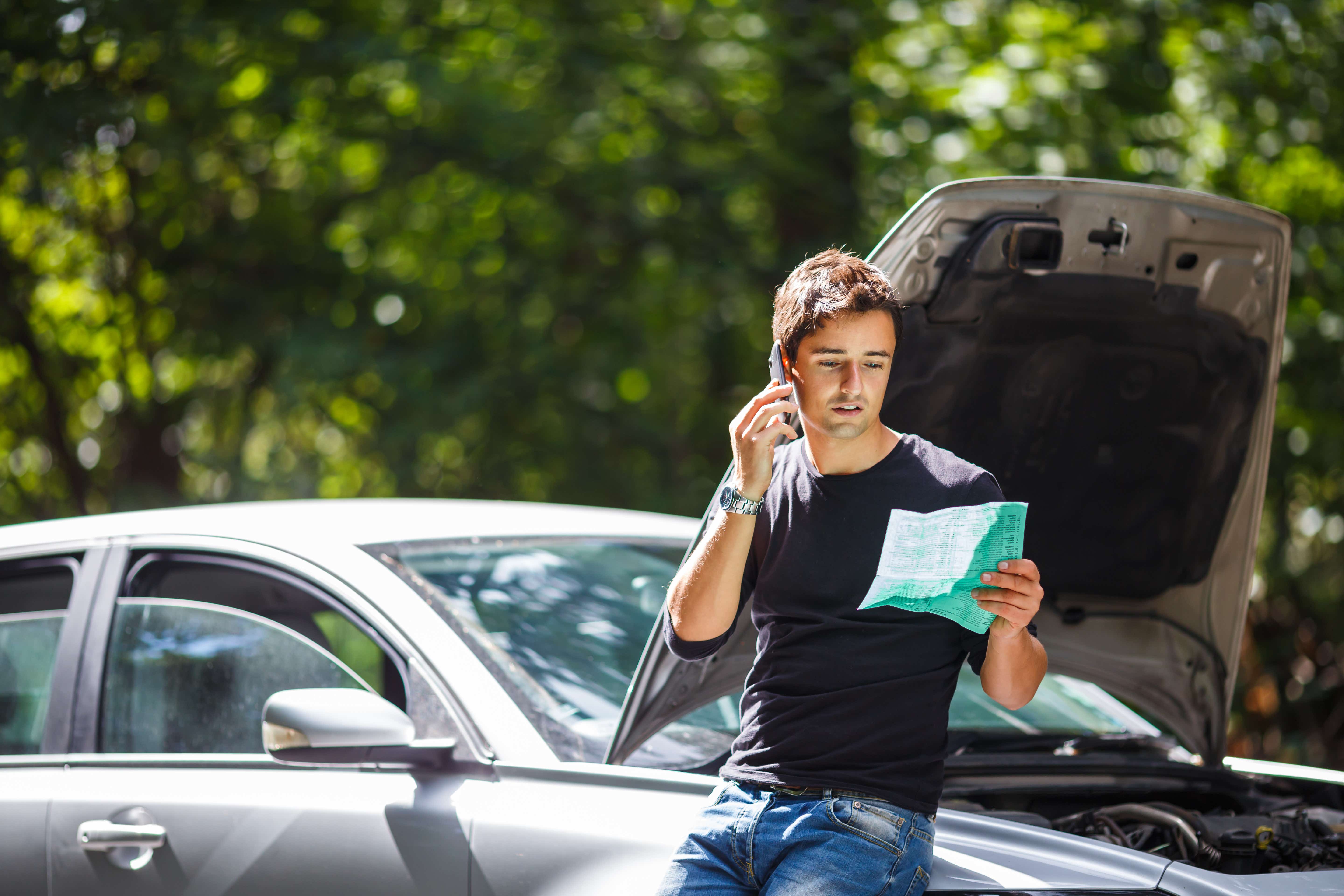 Uswitch guide to buying a used car
When viewing a used car, look for its VIN (Vehicle Identification Number), which can usually be found at the base of the windscreen, under the bonnet, and stamped into the framework under the carpet by the driver's seat. 
make sure the VIN matches the VIN found in the V5C registration document

check that the VIN plate has not been tampered with
5. Work out a used car's value 
Do your research by looking at price guides, such as Parkers and comparing similar used cars for sale online and in car magazines.
Arrange car viewings for the day, and at the seller's home if possible. Try not to go when it's dark or raining as this can hide defects, such as dents and scratches.
Check beneath the car and under the bonnet for rust and any signs that the car's been in an accident. Also check the tyres are in good condition. 
When not to buy a used car 
A simple inspection of a used car can help you pinpoint any obvious issues that mean you should avoid buying it.
For example:
the locks are different from one another, suggesting that the car's been broken into 

there are signs of forced entry - make sure all the windows, including any sunroof, open and close normally

if the mileage looks too low for the age and appearance of the car the odometer may have been tampered with, this is called known as 'clocking'
Cut-and-shuts
A 'cut-and-shut' is where pieces of two or more vehicles are welded together. This is illegal, but you need to watch out for this. You can check by pulling up carpets and trims for signs of hidden welds and look at paintwork that doesn't match.
6. Take a test drive of the used car
Always view the car in dry weather in the daylight. If you are buying from a private seller do so from their home so you have their address.
When taking the car for a test drive, keep the following in mind: 
drive for at least 15 minutes on different types of road and try and drive for an hour if you can

check that all warning lights operate normally 

check that the brakes work effectively and there are no unusual noises

make sure the steering doesn't vibrate or pull to one side

check the seatbelts operate correctly
You may also want to get an independent report to give you detailed information about the car's condition. This'll cost around £100 to £200 and the Motor Ombudsman will have advice on where to get an independent report in your area. 
The Motor Ombudsman is a government-backed self-regulatory body for the motoring industry. 
Insuring a used car
Before you take the car for a spin, you'll also need to make sure you are insured to drive the car. You may already be insured via your own car insurance but check with your insurance company first.
If you don't have insurance, a trader or private seller's insurance might cover you - you'll need to ask them.
Alternatively, you may want to search quotes for temporary car insurance. Cover can be for as little as an hour, making it ideal for a test drive. 
Whatever you do, don't test drive a car if you're not insured as you'll be liable for any damage you cause and you could get points on your licence.
Get a car insurance quote
See a range of car insurance quotes in just a few minutes when you compare with Uswitch
7. Your rights when paying for your used car
When agreeing on a price for your used car, don't be afraid to haggle. The Money Advice Service has useful guidance on negotiating when buying a car.
Documents you need when buying a used car
Make sure you get the original (not a photocopy) of:
the log book (the V5C registration certificate)

the valid MOT test document
Never buy a car without the log book.
You'll need to pay vehicle tax as soon as you buy the car as the seller cannot transfer any tax they have paid.
The cooling-off period when buying a used car
The phrase 'cooling-off period' is the period of time you have to change your mind about something you've purchased from a distance. 
The statutory minimum a professional seller must offer you is 14 days. 

If you have bought your car from a private seller there is no cooling-off period if you bought it in person

If you've bought your car from a used car dealer, the cooling-off period will only apply if you have bought it via finance, as financial products – such as loans – have to include a 14-day cooling off period

The cooling-off period only applies if the car is roadworthy and you have changed your mind
8. How to pay for your used car
There are several ways to pay for a new car, but each come with their own considerations.
Paying with cash
Paying with cash is the cheapest way to pay for a used car as there are no extra fees or interest and often you get a discount for paying cash.
But if something goes wrong with the car you won't have the protection that some credit arrangements offer.
Paying by debit or credit card
Paying via credit card means you can be flexible with making larger payments when you can afford them. It also means you'll get protection for goods costing over £100 and up to £30,000, even if you only paid for a small part of the cost on a credit card (this is called Section 75 protection). Should something go wrong with your purchase, the credit card provider and seller are jointly liable. 
The downside of using a credit card is that you may have to pay interest, making this more expensive than paying with cash.
Alternatively, if you pay with a debit card, you might have protection if your card provider has a chargeback scheme, and you won't be charged interest. 
Paying using an electronic transfer
Transferring the money using a bank transfer can be more preferable to carrying large amounts of cash.
You can pay with a CHAPS payment but there'll be a charge – and your bank may have an upper limit on the amount you can transfer.
Paying using finance arranged by a trader
With this option, you will have to pay interest, but you might also have extra protection. This is because not only do you get protection through the dealer, you also get protection via the finance company.
Buying a car through hire purchase
This is another form of loan but means you don't own the car until the last payment is made and the car can be repossessed if you can't keep up the payments.
Get a car insurance quote
See a range of car insurance quotes in just a few minutes when you compare with Uswitch
How to save on car insurance 
Used cars can be much cheaper to insure than brand new cars, but there are other steps you can take to reduce the cost of your car insurance. 
These include:
Black box car insurance
Having a black box fitted means your driver behaviour is monitored via a GPS device. The telematics box can report back to your insurer about how you accelerate, brake and negotiate sharp bends, as well as what time you drive and on what sorts of roads. 
The data is analysed, and if your scores are positive, your car insurance may be discounted over time.
Lowering mileage 
If you drive fewer miles in a year this could result in a lower car insurance premium, as there is less risk of you having an accident and making a claim.
Parking in a private driveway
If you can park on a private driveway or garage you may find it's cheaper than parking on the road, although check both options. Car insurers may take into account where you park, depending where you live.
A multi car insurance policy
If your driveway is cluttered with cars, you may want to consider a multi car insurance policy.
Choosing a car from a lower insurance group
The lower the value of the car and the cheaper it is to repair, the less you'll pay for car insurance.
Get a car insurance quote
See a range of car insurance quotes in just a few minutes when you compare with Uswitch