Insurance claims from cyclists against drivers for bodily injury are rising. Research from insurer More Than reckons such claims have doubled, from one in 10 to one in five. Lockdown UK is part of the reason. More of us are on the road on a bike, trying to stay fit and avoid bus and train virus risk.
No road user, though, has a monopoly on saintly road manners. Some cyclists also re-write the Highway Code from time to time. So, whose side is the law on?  
Car or bike: whose side is the law on?
The law errs on the side of cyclists. That's because they're physically more exposed. The potential harm anyone can cause on UK roads is linked to their basic duty of care. 
Everyone, says David Bott, a specialist cycling accident solicitor, is entitled to be on the road – and the duty of care owed by a driver to a cyclist is always greater.
"If it's cyclist versus car," says Bott, "the chances are the worst thing that will happen to a driver is they've got a repair bill. But if you're a cyclist, there's every chance there may be broken bones. Even long-term consequences." 
"Cyclists, along with pedestrians, children and horses are [classed as] vulnerable road users and rightly so, because the level of harm that can happen to you is intense." - David Bott
In that sense, road UK road law is cycle-friendly. The worst that can happen, in most circumstances, is that the cyclist can be partially to blame, says Bott.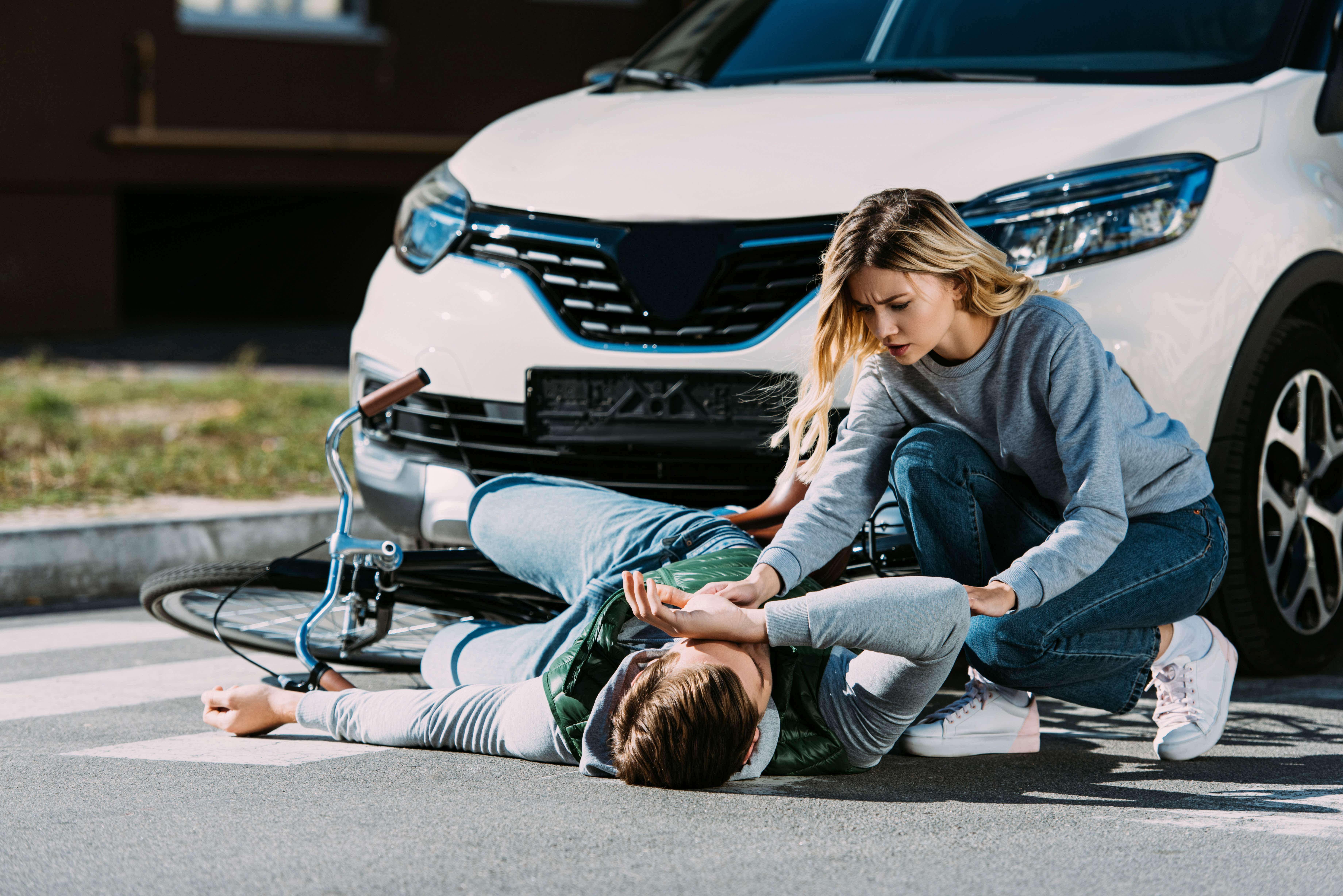 Bike accidents – the low down 
(source: Royal Society for Prevention of Accidents)
Why do accidents happen?
The vast majority of crashes happen due to human error.
What are three main reasons accidents happen?
The driver or rider failed to look properly (44% of cases) or failed to judge the other person's path or speed (23%), or was simply careless, reckless or in a hurry (18%).
When are cars most likely to collide with a cyclist?
Most crashes happen at:
How much room should you give a cyclist when overtaking?
As much room as you would give a car when overtaking
How is technology helping keep cyclists safer?
Through two key bike-friendly technologies, BLIS (Blind Spot Information Systems) and more powerful lighting systems.
When do crashes happen most often?
Answer: 80% of them are in the day time – but night time is when most serious accidents tend to happen.
Should cyclists be tested?
Some motorists complain that many cyclists have never driven and never taken a practical test or passed the Highway Code theory test. But Claire Beaumont of London's Condor Cycles, which sells 3,000 hand-built bikes a year, doesn't think tests are the way to go. 
"That would decrease people using their bicycles but the government, TFL and the government body British Cycling, should communicate more effectively the messaging about how to behave on the road." 
She adds: "A number of social media messages we get are from people asking if we know about cycle training, or how to ride with one hand for signalling." 
Beaumont says more schemes and better communication is needed for the urban cycling skillset and nervous riders. 
"Too many cyclists think it is acceptable to go through red lights," says Beaumont. "If car drivers decided they should do that we, as cyclists, would be outraged. Once we have these things covered I think we may see a decrease in incidents."
Accident basics –
always

get the driver's details
When you've had a bike knock, you might be in shock. You might have witnesses, or you might not. Whatever's happened says Ciaran Carleton, owner of Push, a bike shop in Hackney, North London, try and have the presence of mind to get the driver's details. 
"You might feel okay when, actually, you're not okay," says Carleton. "There might be blood coming out of your elbow you haven't noticed."  
If they're in the wrong, many car drivers realise their insurance will go up if there's a claim against them. So it's often best for a driver to settle quickly in cash with a cyclist.
"A lot of times a car driver will ring me up and pay me directly," says Carleton. "That happens nine times out of 10, if not more." 
How does Carleton think cyclists can improve their chances of getting justice after an accident? 
"I suppose it's about having the poise to do it. Even if the bike looks fine, it's best to say, 'hold on a minute, do you mind if I get your details?'. That's hard to do when the adrenalin's pumping."
As mentioned, 10% of car insurance claims for bodily injury involve cyclists, pedestrians and motorcyclists, claims insurer More Than – but this has doubled to 20% in 2020.
British bike lockdown – the five best things
Social distancing is more effective on a bike than a bus

Everyday cycling is fantastic exercise – 30 mins on the bike several times a week is more than the recommended aerobic activity 

Many tyres are far more puncture-resistant then in the past – and Lycra/Spandex isn't mandatory

Free bike rental for some NHS workers in some cities

A £175m boost for high quality cycling and walking infrastructure across England was announced November 2020
British bike lockdown – the five worst things
More cyclists on UK roads can mean more nervousness (veteran cyclists, please be patient)

Some drivers still treat cyclists as "trespassers"

There's less road space as e-scooters increase in popularity

Group riding is not allowed or numbers are tightly limited

Some new cyclists ignore basic safety imperative & essentials, like a helmet
Should cyclists be forced to buy insurance?
If car drivers have to buy compulsory cover, why not cyclists? Some argue it would go against Government efforts to cut congestion and pollution. 
"Making it more expensive and onerous to cycle would not encourage more people to take up cycling, including children, who presumably would also have to be covered by such a compulsory system," says Cycling UK, a charity that lobbies on behalf of cyclists. 
"We recommend regular cyclists take up a third party liability insurance scheme to protect themselves in the event that they cause an accident or damage and we offer this with our membership [£39 a year] package," says Richard Wevill, Cycling UK's spokesperson.
Another biking organisation, British Cycling, offers similar insurance for the same £39, including legal commuting support and discounted bike insurance. 
Easier not harder?
But British Cycling policy manager Nick Chamberlin told USwitch compulsory insurance would be impossible to enforce, "which is why there are hardly any countries in the world that have seriously entertained the idea. We should be striving to make it easier for people to get out on their bikes – not more difficult."
However, research by Admiral suggested that 75% of all road users believed cyclists should have mandatory insurance.  
How do the Dutch make every-day cycling safer? 
More than 500 people every year in England, Scotland and Wales are injured in 'car dooring' incidents, according to Cycling UK.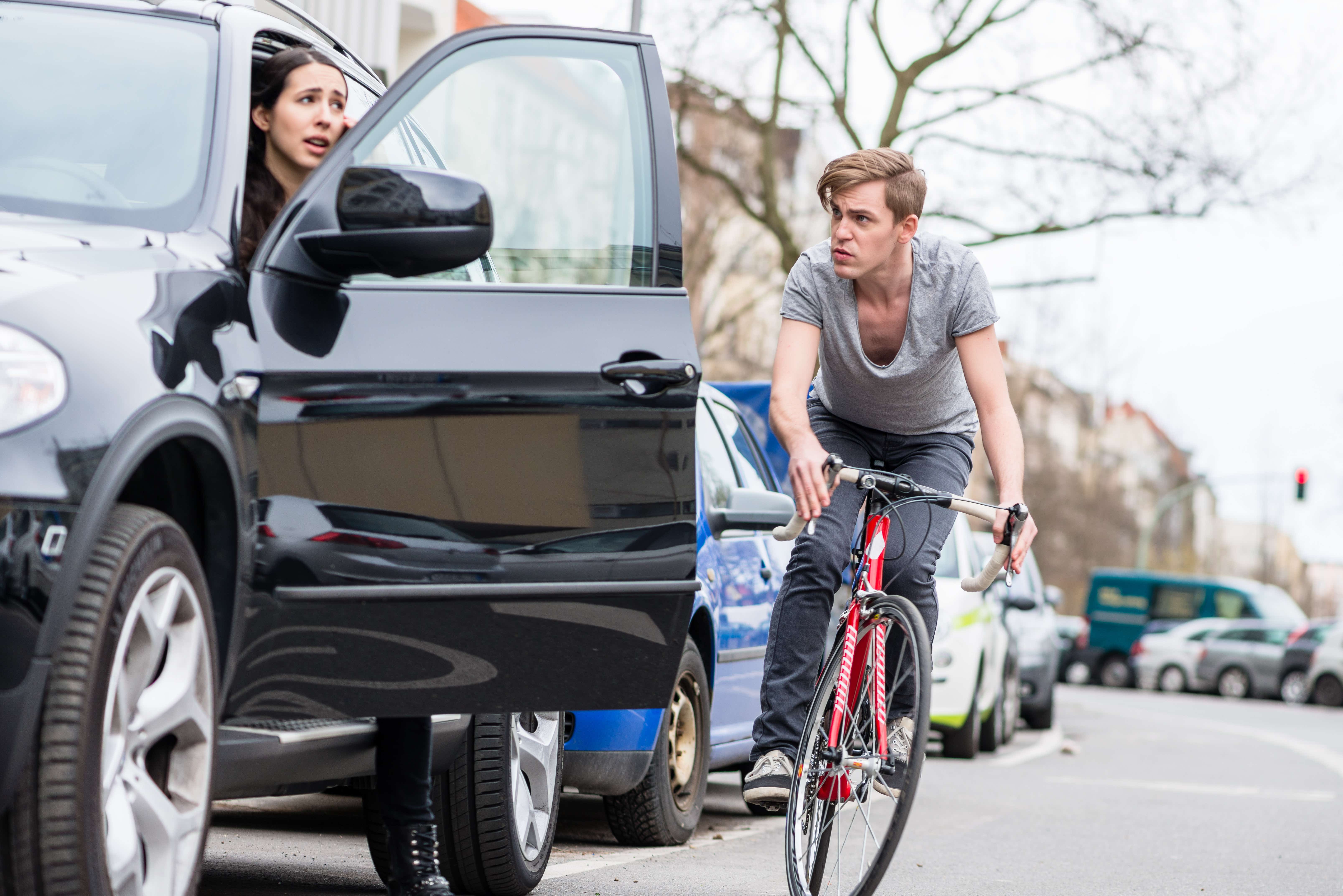 To cut this risk, try the The Dutch Reach says Cycling UK. Instead of using the hand – the right hand for most UK drivers – closest to the driver's door to open it, use the other hand – the left. "This naturally means you have to turn your body towards the window, helping you spot approaching cyclists," says the cycling charity. 
 'Car dooring' is when a car driver opens their car door into the path of a passing cyclist causing them to come off their bike. In reality, many more cyclists are affected as some instances are not reported to the police. 
"It's a near impossibility for the cyclist to found at fault in Holland," another road claims lawyer told USwitch. "The drivers know that so they're wary of cyclists. Here, even though case law is supportive of the cyclist, many drivers act as if cyclists are trespassers [of the road]." 
Best UK cities for cyclists?
To rate the best towns for UK cyclists, Newcastle-based True Solicitors analysed bicycle thefts, air pollution, cycling statistics, road accidents plus the cost of public transport.
1. Lancaster
Lancaster offers some of the best air quality and safest roads out of the 39 cities studied. In 2018/19, the city recorded one accident per 729 people.
2. Exeter
Exeter scores strongly for good air quality and cycling and walking statistics. In 2018, 21% of the city's population regularly cycled more than once a week.
3. Bradford
Bradford is one of the safest for travellers leaving their bikes with only one bike theft for every 1,934 people reported in the city. This is compared to a theft for one in every 81 people in Oxford, the highest recorded rate in the country.
Worst cities for cycling?
1. London
The capital was the worst city for cyclists with maximum theft and road accident statistics.
2. Manchester
Machester was rated second worst with bad theft and air pollution issues but scored better than London for cost of public transport.
3. Peterborough
Peterborough was judged third worst for cyclists with a high-level of bike theft, however local transport was considered fair value.

Better out of town?
Rural insurer NFU Mutual told USwitch it had 75 car and bike collisions on its books since the start of the first lockdown. 
The majority of bike collisions, NFU Mutual said, "were with private cars and fleet vehicles, followed by commercial vehicles like lorries and vans. Seven of the claims were cyclist collisions with agricultural vehicles." 
It went on: "The figures are proportionately higher than we would expect in a typical year and have been steadily increasing."
Three rural risks for all
Less experienced cyclists on the roads

Cyclists taking more risks expecting clearer roads

Motorists taking more risks expecting clearer roads
 "On average," NFU Mutual added, "our claims injury costs are at least double that of other road collision claims and more often than not, with life threatening or life changing injuries for cyclists involved."
UK Bike trips – on the up?
England: In 2018 cycling in England accounted for just 1.7% of all trips. This figure has hardly changed for at least the last 17 years

Scotland: In 2018 1.4% of all Scottish journeys were made by bicycle as the 'main mode'. This is a slight drop on 2017 (1.5%)

Northern Ireland: In 2018, cycles were the 'main mode' for just 1% of all journeys. This proportion has been about the same for the last decade
Above figures from CyclingUK
Are insurers treating cyclists better?
Not in cycling lawyer's David Bott's view. Not long ago Bott was thrown off his bike when a driver pulled out in front of him. His bike was a write-off. Bott had no broken bones but he was shaken up.
"When the insurance company got to looking at my bike," he says, "the form they used was the same as you'd use for a car. So when they showed me their report of what had happened to my bike, there was a picture of a car – and information indicating rear wheel car damage." 
Unbelievably, the insurer had also labelled his bike as a tricycle. 
Not a great experience, with no bespoke bike process. "I'm not aware of any company who's obviously better. It seems to be across the board." Bott said. 
Hi-vis, helmets and good lights
If you're dead or had a brain injury your potential to complain is limited or non-existent

The car driver may not incur an injury or cuts & bruises but you might

So invest in reflective bikewear, good lights and blaze away like a Christmas tree  
When in the year do most bike accidents happen?
According to claims data from insurer Admiral, July and June see the highest percentage of bike accidents. August, September and October take the second highest percentage. In other words, when the weather's better, accidents rise.
Autumn leaves and winter black ice change conditions dramatically – but there are also fewer cyclists on the road. Auto tyres maker Etyres told USwitch it predicts more accidents between cyclists and car drivers in cities and towns that remain Tier 3 in the early months of 2021, following research. 
They blame less familiarity on the road and less all-round driving confidence. 
Which may mean some struggle to remember basic safe driving habits: stalling, not checking mirrors or forgetting to indicate. The sort of every-day situations many urban cyclists are familiar with.
Read more ...