In a world of PS5s and Xbox Series Xs, the sometimes-overlooked gaming PC still offers gamers the ultimate gaming experience. And it has far more options available in terms of hardware and future upgrades. While you could find or build a gaming PC for a similar price as a new console, the real value of customising your gaming setup will often come with a higher price tag.
Therefore, it's important to take the time and figure out what you want from your device, both in terms of current gameplay and possible future upgrades.
Whether you choose to buy or build your gaming PC, it's still a significant investment. Depending on what your favourite games are and what your budget is, you can choose how you customise your gaming PC in order to get the best gaming experience for your money. An advantage of a gaming PC over a console like the PlayStation5 or the Xbox Series X, is your ability to upgrade components of your PC as they become available.
Another added advantage of investing in a new gaming PC is that, unlike a flashy new PS5, it can function as more than just a gaming rig. High-performance gaming PCs can be used for things like graphic design, video and animation work, as well as streaming TV and movies in 4K.
As long as you have a good broadband connection, you can use your gaming PC for almost anything.
What is a gaming PC?
In simple terms, a gaming PC is like any other computer, with a CPU (Central Processing Unit), RAM for temporary storage space and a hard drive/SSD for permanent storage space. It connects to a monitor, mouse, keyboard and speakers just like a regular computer, but there are of course a few key differences which are described in detail below.
What makes a good gaming PC?
1. Processing power
Gaming is one of the most resource-intensive uses for your computer. It not only requires rendering of high-quality video files but it must also have a fast response time, upload speed and latency in order to facilitate smooth gameplay.
2. Graphics card
Also known as a video card, video adapter, video board or display adapter, a graphics card is an additional component that can be added to your gaming PC's motherboard. Quite simply, a video card is a piece of hardware dedicated to processing video and images.
These are tasks that, in a regular computer, would be handled by the CPU, and give your gaming PC added processing power and video RAM in order to run PC games more efficiently.
3. RAM
RAM (Random Access Memory) stores short-term data that a PC requires in order to operate. RAM only stores this data when it has power, meaning it resets every time your gaming PC is rebooted.
A gaming PC, like all computers, needs access to temporary data in order to run programs and function properly.
PC games are temporarily loaded into RAM while in use, but then are stored on permanent storage until deleted. These games need to rapidly retrieve assets and to read and write data to RAM, as it's much faster than accessing data on the PC's permanent storage.
How much RAM do I need for gaming?
For PC gaming, 8GB of RAM is considered the baseline for more AAA titles, but there are plenty of games being released that require more and more RAM. For example, Red Dead Redemption 2 and Half-Life: Alyx both recommend 12GB of RAM for optimal performance. And it's probably not far-fetched to expect upcoming releases to require 16GB of RAM if you want the best experience from your gaming PC.
If you plan to use your gaming PC to multitask while gaming, such as live-streaming or group-chatting on Discord or running YouTube or Twitch while you game, you should consider opting for 32GB of RAM.
How to optimise your PC for gaming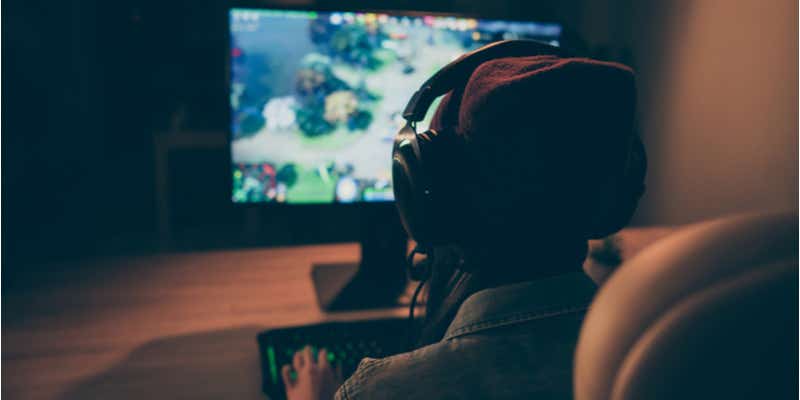 1. Update your video card/graphics driver
In order to optimise your gaming PC, you'll need to make sure your video card/graphics card is updated with the latest drivers. The visual aspects of your game will be significantly impacted by a graphics card that isn't updated. So this should be the first thing you do to optimise your PC for gaming and avoid slow-loading or unresponsive games.
Major manufacturers like Nvidia and AMD will regularly issue driver updates that can contain optimisations for the latest games. Therefore, installing and updating the manufacturer's drivers can give your gaming PC a significant boost in performance, especially when playing new titles.
2. Reduce the number of background programs
Check to see which programs you have running in the background and close any you don't need that could be using up precious RAM. This is especially important if you don't have a dedicated gaming PC or a lower-end model that struggles with limited CPU power.
Windows has a built-in 'Game Mode' which dedicates more of your system's resources to powering the game you're playing. Go to Settings -> Gaming -> Game Mode and toggle the switch to On. It's often just a small improvement but it could make all the difference.
3. Upgrade your broadband or connect via ethernet cable
If you have a top-of-the-line gaming PC running on ADSL broadband, there's no way you'll be getting your money's worth, as your gameplay is likely to be slow and lagging.
You'll need to get yourself a fibre broadband deal in order to have enough bandwidth and download/upload speed to play games online with any real efficiency.
If you're able to get full fibre broadband, you'll see a massive increase in both your download and upload speeds. These are equally important for fast response times and quick downloads of new levels and new games.
If you already have a decent broadband connection, you can still improve your speed and gaming experience by switching from a Wi-Fi connection to connecting via an ethernet cable.
This direct connection means you won't have to struggle with weak Wi-Fi signals and will be able to get the top speeds available from your broadband. If your gaming PC is set up in a fixed location, then running an ethernet cable from your computer to your router is well worth the effort.
4. Run optimisation software
In addition to the optimisation software that comes with your PC, there are plenty of other alternatives to consider. Razer Cortex is available to everyone, not just those with a Razer PC.
It's a free resource that will intelligently allocate system resources to your games as and when you need them. It will limit non-gaming apps when you don't need them and get you as high a frame rate as possible from your hardware setup.
The best cheap gaming PC
If you're ready to get into gaming but you're still a bit cautious, have a look for the best cheap gaming PC that will still meet your needs. However, it's worth bearing in mind that even the best budget gaming PC is unlikely to be less than £500.
So while we use the term loosely, here are some of the best cheap gaming PCs:
1. CyberPower Gamer Xtreme
Pros:
Exceptional performance for a reasonable price

Runs very cool out of the box

Great design
Cons:
If you're ready to get into gaming but you're still a bit cautious, have a look for the best cheap gaming PC that will still meet your needs. The CyberPower Gamer Xtreme is a great-value gaming PC, featuring an Intel Core i5-8400, Nvidia GTX 1060 3GB graphics card and 8GB of DDR4 RAM.
It's a great gaming PC that you can start using straight out of the box. And while it might be slightly less expensive if you built a gaming PC yourself, it means you can start gaming in minutes of unboxing.
The included 120GB SSD will need upgrading if you're planning on installing multiple games. But high capacity SSDs are fairly inexpensive and well worth the investment.
In terms of performance, the Gamer Xtreme has plenty of power for high-speed PC gaming at both 1080p and 1440p, with a mesh front panel that allows three pre-installed front fans to help keep it cool.
Plus all the fans have RGB lighting to give your new gaming PC a great look.
Check out the CyberPower Gamer Xtreme.
2. HP Pavilion Gaming Desktop
Pros:
Plenty of front panel connections

Great performance straight out of the box
Cons:
Though not really known for its gaming PCs, HP's Pavilion Gaming Desktop is a great starter PC for gaming. It ranges in price from around £779, depending on selected features, and offers a lot of bang for your buck.
The HP Pavilion Gaming Desktop features a six-core AMD Ryzen 5 4600G processor with a Nvidia GeForce GTX 1650 Super graphics card that is ideal for playing plenty of AAA titles in 1080p resolution.
Like the Gamer Xtreme, it doesn't have a particularly impressive SSD, and if you're planning on installing multiple games, its 256GB SSD will need upgrading fairly quickly. This of course is fairly easy and inexpensive to do, so it shouldn't be a dealbreaker.
Check out the HP Pavilion Gaming Desktop.
3. SkyTech Shadow 3.0 or Archangel
Pros:
Cons:
SkyTech is another brand that you might not instantly recognise as a gaming PC, but it offers some of the most affordable budget gaming PCs available. The Ryzen edition of the SkyTech Archangel desktop is an ideal choice for a starter gaming PC, running the majority of games in 1080p on high settings right out of the box.
In fact, the Archangel is so affordable you could probably get it for a similar price as building your own. However, as with many cheap gaming PCs, the SkyTech Archangel's biggest drawback is the lack of an SSD. So once you're ready to upgrade your new gaming PC, this would be an obvious place to start.
If you went for the SkyTech Shadow 3.0 instead, then you get the Nvidia RTX 3060 GPU (Graphics Processing Unit) as part of the package, which is notoriously difficult to purchase directly from retailers. The RTX 3060 will bump up your gaming experience to 1440p resolution. When paired with an AMD Ryzen 5 3600 CPU with 16GB of DDR4 memory, you'll be gaming with the best of them without having to break the bank to do so.
Should I be building a gaming PC rather than buying a prebuilt gaming PC?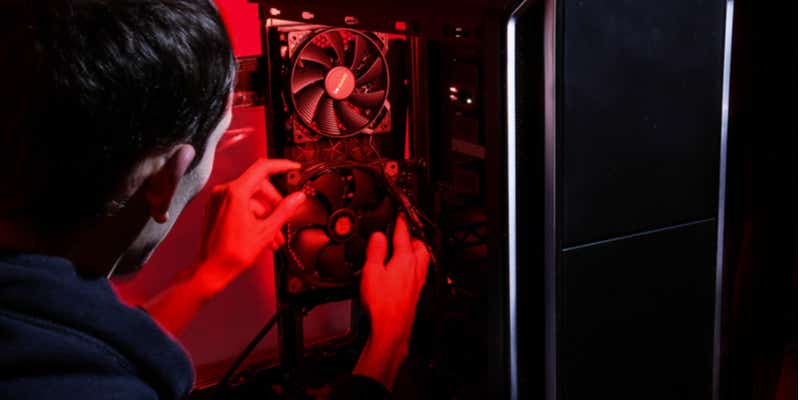 If you decide to build a gaming PC, you're able to customise every aspect of your setup, from the CPU to the graphics card and the memory to the design. Building a gaming PC is hard work, but not impossible, and will give you an incredible sense of satisfaction and pride and having assembled it all yourself.
The option to select each component can help to keep costs down and allow you to focus on the aspects that matter most to you. Also, if you're able to successfully build a gaming PC it's likely you'll also be able to upgrade your gaming PC as and when you want.
However, if you're not 100% confident in your ability to put together a custom gaming PC by yourself, buying a prebuilt model doesn't mean you'll be losing out.
Prebuilt gaming PCs, first and foremost, are much more convenient. You can be gaming within minutes of unboxing. And while you're not able to custom order every single aspect of your setup, there's so much choice that you'll likely be able to find a prebuilt gaming PC that manages to tick most, if not all of your boxes. You'll then have the option to upgrade certain features as and when you're ready.
There's also the cost. Building your own custom gaming PC might be seen as the cheaper option, giving you the freedom to pick and choose the most affordable parts. But manufacturers buy their parts in bulk, which keeps their costs lower, which is something most regular users won't be able to do. And some components, such as particularly elusive Nvidia graphics cards, aren't as freely available to individuals as they are to manufacturers.
Lastly, your prebuilt gaming PC will come with a warranty which covers every single part and the device as a whole. Custom parts will likely have individual warranties that may or may not be valid when used with other components.
If you are going to build a gaming PC, do it for the love of building your own setup, don't do it because you want to save money.