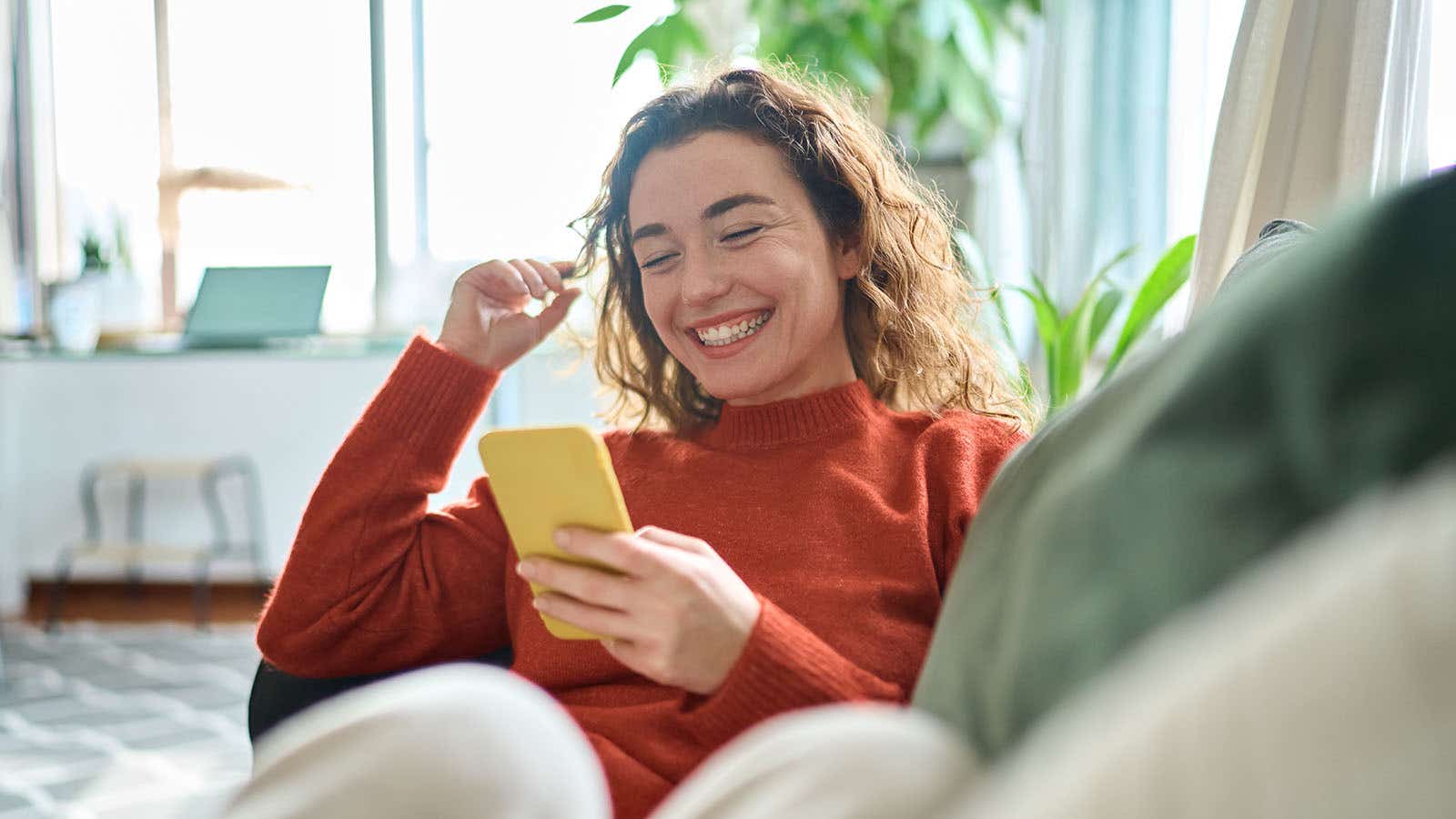 There has never been a better time to think about switching broadband.
If you've been with your old provider for a number of years, you might be able to find a much better value deal with a smaller full fibre provider - also known as an altnet. A huge number of altnet providers are popping up across the country, offering a local ultrafast broadband connection for a much lower price than the big brands charge.
And while it can seem daunting to switch away from your long-time provider, altnets could also be your best chance to avoid mid-contract price rises. So there are a number of ways you could benefit from moving to a smaller provider right now.
Read on to find out all you need to know about altnets and why they can be a great option for your next broadband provider. Plus, learn how to check which full fibre altnets are available to your home.
What is an altnet broadband provider?
Altnets are smaller broadband providers that either own their own broadband network or offer a broadband deal that isn't supplied by BT's Openreach or Virgin Media.
Over 85% of broadband customers in the UK are still with the 'big four' providers: Sky, Virgin Media, TalkTalk and BT Group (which also includes EE and Plusnet). These providers have dominated the market for a long time, boasting the widest coverage across the country and a range of extra services like pay-TV.
But in recent years, as our need for faster, more reliable internet continues to grow, smaller providers have started to offer a great alternative to the big brands. Many of them offer speedier and more consistent connections for cheaper prices, and unlike most large providers, some won't increase your bill in the middle of your contract either.
Their coverage isn't nationwide like the larger providers, but there are dozens of these providers offering similar services all across the country, in both rural and urban areas. So millions of UK customers will still have at least one altnet available in their area.
Broadband postcode checker
See what internet speeds are available and compare prices for any postcode in the UK.
Can I trust smaller providers?
Yes, you absolutely can. Despite their size, smaller broadband providers can still offer a reliable, trustworthy service with great customer care. For example, you'll often find that they have better customer scores than most of the big providers on review websites like Trustpilot.
Most of them are growing businesses, which means they are focused on providing the best service they can to gain more customers and improve their share in the market.
Plus, many region-specific altnets have a strong investment in providing a great service for customers in their local community, with employees and headquarters based right in the locations they're serving.
This customer-first approach is shown in both the products they sell and the pricing they charge for them:
Fast, reliable broadband
Firstly, alternative broadband providers have some of the most reliable internet connections available, because they offer full fibre - the strongest type of broadband you can get - as standard.
Full fibre is far less prone to outages and sluggish speeds than other types of broadband. For example, the most popular broadband deals on offer in the UK are currently part-fibre, which is more widely-available and still supplies decent speeds. But it's less consistent due to its use of older copper phone lines.
Customer reviews are better than the big providers
Because altnets have fewer customers, they're able to offer a more bespoke service than the broadband providers with millions of customers. And it's evident that their customers value this a lot, since their scores on review websites such as Trustpilot are a lot higher than the nationwide brands.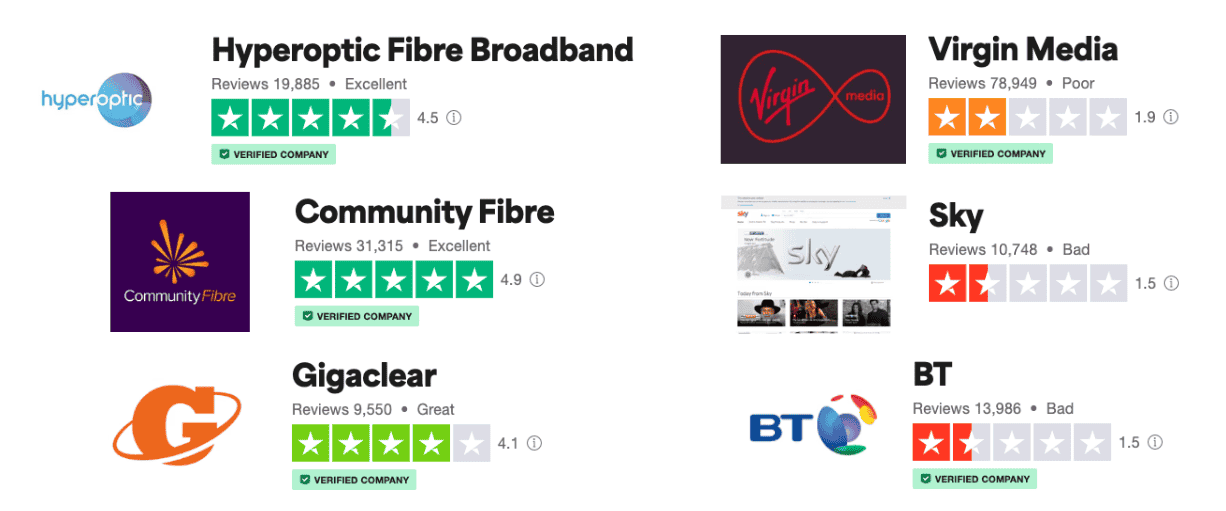 The clearest difference in the reviews recorded by customers was in how each provider handled customer queries and issues. Many of the positive ratings for smaller providers relate to a great experience they had with their customer service and engineering teams. Whereas this was a particular downside noted in the larger providers' reviews.
So if you're concerned about the quality of service you'll get from an altnet provider, be sure to search its name on Trustpilot to compare its reviews with other providers in your area.
You could also read our guide on broadband customer service to see which providers often get the most Ofcom complaints. Not only can you compare your provider to others, but you can also find out which issues cause customers the most grief with their service.
You could avoid mid-contract price rises
Another great trust signal from altnets is that many of them won't increase your monthly price in the middle of your contract - unlike most of the big brands.
As you may remember, most of the well-known providers raised their customers' bills mid-contract by up to 15% in Spring 2023, in line with the rate of inflation at the start of the year (plus their own fixed increase of 3-4%).
Not only was this the highest mid-contract increase ever issued for broadband, but it also shows how hard it is for customers to plan their finances for the future. Simply because there's no way of knowing what the inflation rate will be in a year's time, which makes it very difficult to know how much your bill may go up by.
The majority of altnet providers, however, won't increase your prices for the entire duration of your contract. This way, you should feel reassured knowing that whatever monthly price you choose when you sign up will be the same amount that you're paying by the end of your fixed term.
Take a look at our mid-contract price rises guide to find out which broadband providers increase their prices every year and which ones don't.
Altnet providers you should know: our top picks
There are already a great number of altnets providing a great experience for millions of customers and many more are emerging across the UK. Here's a selection of altnet providers currently available on Uswitch.
Hyperoptic
One of the larger altnets, Hyperoptic has been supplying full fibre to flat blocks and new build properties for a number of years. It now serves over a million properties across the UK, mainly servicing urban areas.
Hyperoptic provides ultrafast internet speeds for very reasonable prices and with flexible contracts. You can opt for 24-month, 12-month or 30-day rolling (or no contract) plans with the provider, depending on how much flexibility you'd prefer to pay for.
Its 24-month contracts come with the lowest prices, though, with 150Mbps speeds roughly for roughly £20 per month - much cheaper than what larger providers charge for this speed.
Plus, Hyperoptic will never increase your prices mid-contract. So you can be confident that what you choose to pay at the start of your term will be what you're paying by the end of it.
Community Fibre is a full fibre altnet that's available to over a million homes in London. As a London-based provider, its coverage doesn't stretch outside of the capital city. But for Londoners looking for cheap and fast broadband, Community Fibre is a fantastic option.
It offers a huge range of speeds, starting from 67Mbps (roughly the average UK broadband speed) and stretching all the way to 3Gbps, which is equal to 3000Mbps. You can also choose either a 12-month term or a 24-month contract with the provider, depending on how much flexibility you want.
What's more, is that Community Fibre is also very well-priced for the ultrafast speeds it offers. Its 150Mbps package is often on offer for just £18-20 per month if you opt for a 24-month contract. So, similar to Hyperoptic, its price compared to the speed it offers shows great value for a broadband deal.
Gigaclear
Gigaclear is much more well-known as a rural internet provider than some other altnets, which mainly focus on urban areas.
Many hard-to-reach rural properties can only access the slowest type of broadband - copper ADSL - which provides up to 11Mbps speeds. But with Gigaclear emerging in some of these areas, many homes could enjoy a near-100x broadband speed boost up to 920Mbps if the provider becomes available.
And as is usually the case with altnets, Gigaclear's prices for their ultrafast speeds are also very low compared to bigger providers. Its 200Mbps deal is usually available to buy for just £17-19 per month, which is cheaper (yet 20x faster) than most larger providers' slowest copper ADSL deals.
Faster broadband speeds for lower prices
Smaller providers often boast much better value for money for their services.
Most of the larger providers have broadband deals starting from £18-20 per month, but these prices are usually for broadband speeds between 10-30Mbps. This is the slowest range of broadband speed available.
Altnets' deals start for roughly the same price, but for much faster speeds. With one of these providers, £18-20 per month could get you between 150-200Mbps of internet speed - some 15-20 times faster.
Many altnets are able to do this because they own their own broadband network, which means they don't have to put up with the high costs that come with renting another network's connection.
Concerned about switching?
If it's been a while since you last switched providers (or if you've never switched broadband before), there's no need to be hesitant about the process.
Nowadays, it's usually very simple and straightforward. And switching is always worth it if you end up finding a much better broadband deal to what your current provider can offer.
Whether you're concerned about your internet being cut off, how long the process takes or the price of a faster deal, we've debunked the main myths about switching broadband.
Our best broadband deals
Search on Uswitch to find the right broadband package for you.