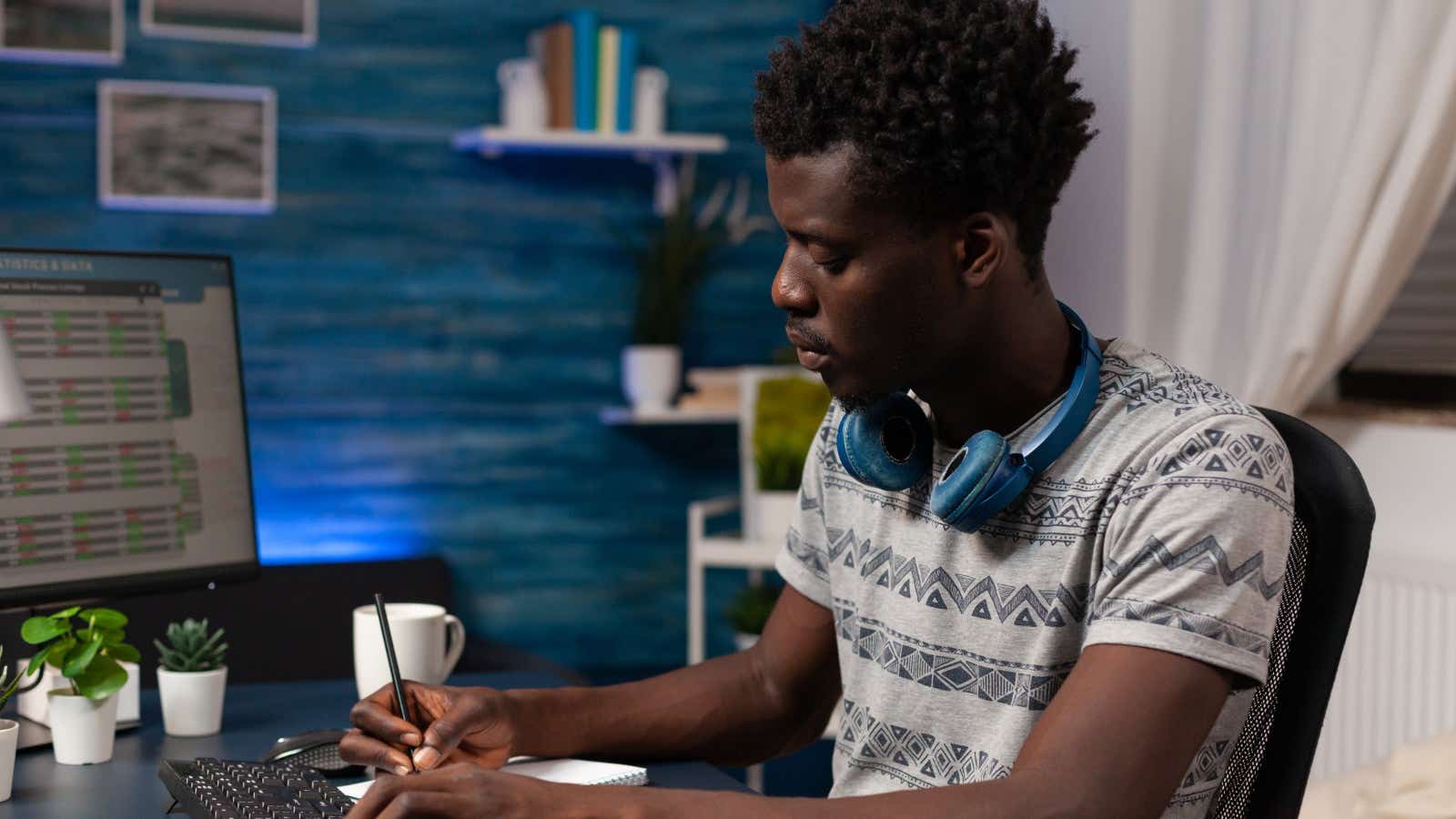 With our demand for broadband speed constantly increasing, but our need to keep costs down still at an all-time high, value for money is essential to look for with broadband.
To make sure you can get the most out of your broadband for the best price, you'll need to consider which parts of the service matter to you the most - whether it's customer service, internet speed, connection reliability or another part of a broadband service. That way, you can compare prices from the best-suited broadband providers for your needs.
Read on to learn how to find great value for money with your broadband.
How to find the best value broadband for you
Great value doesn't just mean cheap. While it's important to find the right price for your budget, you'll also need to make sure the service you get is good enough for your needs. So the cheapest or most basic deal might not be suitable for you.
This means you should focus your search on packages that can handle everything your household uses the internet for. It'll mean you can comfortably browse a range of relevant offers that match your budget.
Here are a number of things you should consider in addition to cost:
You'll need to choose an internet speed that accounts for everyone in your home. If there are multiple people streaming TV, gaming or working at home, then you'll need fibre broadband speeds of at least 30Mbps. But for a much smoother experience all day, you might want to go for 60Mbps or more. If there are a number of people streaming in 4K or sending large files throughout the day, you may want to look for an internet speed of 100Mbps or above, provided they're available to your home.
Some brands are better known for their reliable connection than others. Even some of the faster broadband providers aren't necessarily known for their consistency. So if you really need a reliable internet connection with minimal outages, find out which providers rank best for it in our 2023 broadband customer survey.
Everyone values good customer service. But if you want to make sure you're supported as much as possible with any queries or issues you have with your broadband, a provider with great customer service would have great value for money for you. Learn all about how to find good customer service for your broadband with our guide.
If you're already an avid TV watcher - especially of premium content like Sky Sports, Sky Cinema, Sky Atlantic or TNT Sports - a broadband and TV bundle might bring the most value to you. It'll let you join up both services into a single monthly bill, which is usually cheaper than paying separate providers for both services. Similarly, if you use your landline a lot for UK or international calls, you can choose between a number of home phone packages to add to your broadband as well. But with Wi-Fi calling, FaceTime and WhatsApp now so popular, you might find that using your mobile for those calls may be cheaper than a landline calls package.
Which provider has the fastest internet speed for the cheapest price?
One useful way to judge a broadband provider's value for money is by checking the internet speed it offers per every £1 it charges.
We've done the maths to determine which Uswitch providers have the fastest speeds for the cheapest price. This will help you understand who has the best value for the speed on offer.
UK broadband providers ranked by Mb per pound
| Provider | Average speed (Mbps) | Average monthly price (£) | Average Mb per pound |
| --- | --- | --- | --- |
| Gigaclear | 383 | 25.55 | 15 |
| Community Fibre | 342 | 24.08 | 14.19 |
| Hyperoptic | 326 | 27.42 | 11.89 |
| KCOM | 412 | 39.21 | 10.52 |
| Cuckoo | 436 | 46.26 | 9.42 |
We first measured the average internet speed (in megabits per second) supplied by every broadband provider available on Uswitch. Then we compared that speed to the average price they charge per month and divided that down to what each provider offers for £1's worth.
It shows how much internet speed you could get for the lowest price. So, according to the study, a provider that offers 10Mbps per £1 would have double the value for the speed it offers than a provider offering only 5Mbps per £1.
Broadband providers with great value for money
According to our 'megabits per pound' ranking, the fastest internet speeds for the cheapest price are 10-15Mbps per £1 charged each month.
So, for one of the top-performing providers, £20 a month would get you an ultrafast internet speed worth 300Mbps, on average. That works out as much better value than a provider who only supplies half that speed for £1.
Just ensure you check the exact speeds and prices on offer from these providers when shopping for a new deal. This study was to show average value, not the actual speeds you could get for a specific price.
Here's more information about the top providers in our study.
Gigaclear
Full fibre broadband provider Gigaclear finished first place in our speed vs price study, offering 15Mbps per £1 it charges monthly.
Gigaclear is a rural provider that serves thousands of harder-to-reach properties across the UK. While its coverage isn't as wide as large providers, it can offer speeds of up to 900Mbps to areas that haven't previously had a good broadband connection.
Community Fibre is a London-based full fibre provider, connecting over one million properties in the capital.
At 14Mbps per £1, its prices are also notably low for the ultrafast speeds it offers, which puts it second-highest in our study. Like Gigaclear, it provides up to gigabit broadband speeds for homes that previously didn't have a full fibre connection.
Hyperoptic
Hyperoptic is a very well-known full fibre provider, with its network mostly available in urban areas or new build neighbourhoods.
It offers 12Mbps of internet speed for just £1 per month, making its service remarkably cheap for the customer experience it provides. It also doesn't charge any mid-contract price increases for the duration of your fixed term, so you'll know your initial monthly cost won't change until your contract is up. 
KCOM
KCOM is a full fibre provider serving most homes in Hull and East Yorkshire. It's the fourth provider available on Uswitch with over 10Mbps of internet speed per £1 charged per month.
While several smaller broadband providers are increasing their reach across the area, KCOM currently connects over 90% of Humberside to ultrafast and gigabit broadband speeds.
Cuckoo
Gigabit speeds and flexible contracts are offered by Cuckoo, a broadband provider supported by full fibre network Giganet.
It offers just over 9Mbps of internet speed for every £1 spent per month, which makes it the fifth-best value provider available on Uswitch. However, if you want to opt for one of Cuckoo's 30-day rolling contracts, you may have to pay quite a bit more for its ultrafast speeds since they come with an expensive upfront fee.
Why isn't my provider here?
None of the biggest broadband providers in the UK finished towards the top of our study. The top five positions were taken up by smaller full fibre providers, many of whom offer considerably low monthly prices for ultrafast speeds.
These providers - also known as 'altnets' - don't have nationwide coverage, but more than 100 are available locally in a range of rural and urban regions across the country. And their coverage is expanding rapidly.
By the end of 2025, at least 85% of UK homes should be able to access a gigabit-speed connection. So if an altnet isn't available at your home yet, there's a good chance one will be soon.
Broadband postcode checker
See what internet speeds are available and compare prices for any postcode in the UK.
Why do smaller providers have better value for money?
There are a number of reasons why smaller broadband providers are often both faster and cheaper than the larger, more widely available brands.
Here's why you might find more value for money with them:
They run their own network
Many of these providers are called 'altnets' because they own an alternative network to Openreach, the nationwide broadband network that services most broadband connections.
Since they own their own infrastructure, they can set their prices to attract customers in their areas. Providers relying on Openreach must pay wholesale costs to use the network. And since they'll have their own business costs to deal with, this can drive their prices up for customers.
Smaller providers often don't have to pay a wholesaler to deliver their broadband service. So that cost is taken out of their expenses, and they can therefore offer cheaper prices to customers.
They don't have mid-contract price rises
Once again, because many of these providers manage their own networks, their prices aren't impacted as much by rising industry costs.
While their expenses will still increase with inflation, they won't necessarily have to pay higher prices to a wholesaler like Openreach because they're already running their broadband network.
As a result, many smaller providers use this opportunity to keep your prices fixed for the duration of your contract and won't raise your prices by the inflation rate each year.
They're open for business!
Smaller providers often have lower price points because they simply make very attractive offers for customers looking to switch.
While it can seem a little daunting to leave your current broadband provider, it's always important to check if you could get a better deal elsewhere. And nowadays, smaller providers often offer a lot more value for money than some of the bigger names.
These brands offer fast, reliable, dependable broadband services that thousands of customers enjoy. They're just as trustworthy as the larger providers, especially since they mainly offer full fibre broadband, which has a much more consistent connection than older connections that still rely on copper phone lines.
Make sure to check your postcode to see which broadband providers are available at your home. There will likely be a wide range of speeds and prices, many of which will be competitive with any offer you receive from your current provider.

Our best broadband deals
Search on Uswitch to find the right broadband package for you.