Therefore, it's no surprise that the world's biggest car brands make some serious money, with an estimated 56 million vehicles sold globally last year (despite the effects of the coronavirus pandemic).
To try and put all of that into some perspective, the car insurance experts at Uswitch have taken a look at how much the world's biggest car brands make every hour, minute, and second, and the results are quite something.
The world's highest-earning car brands in 2020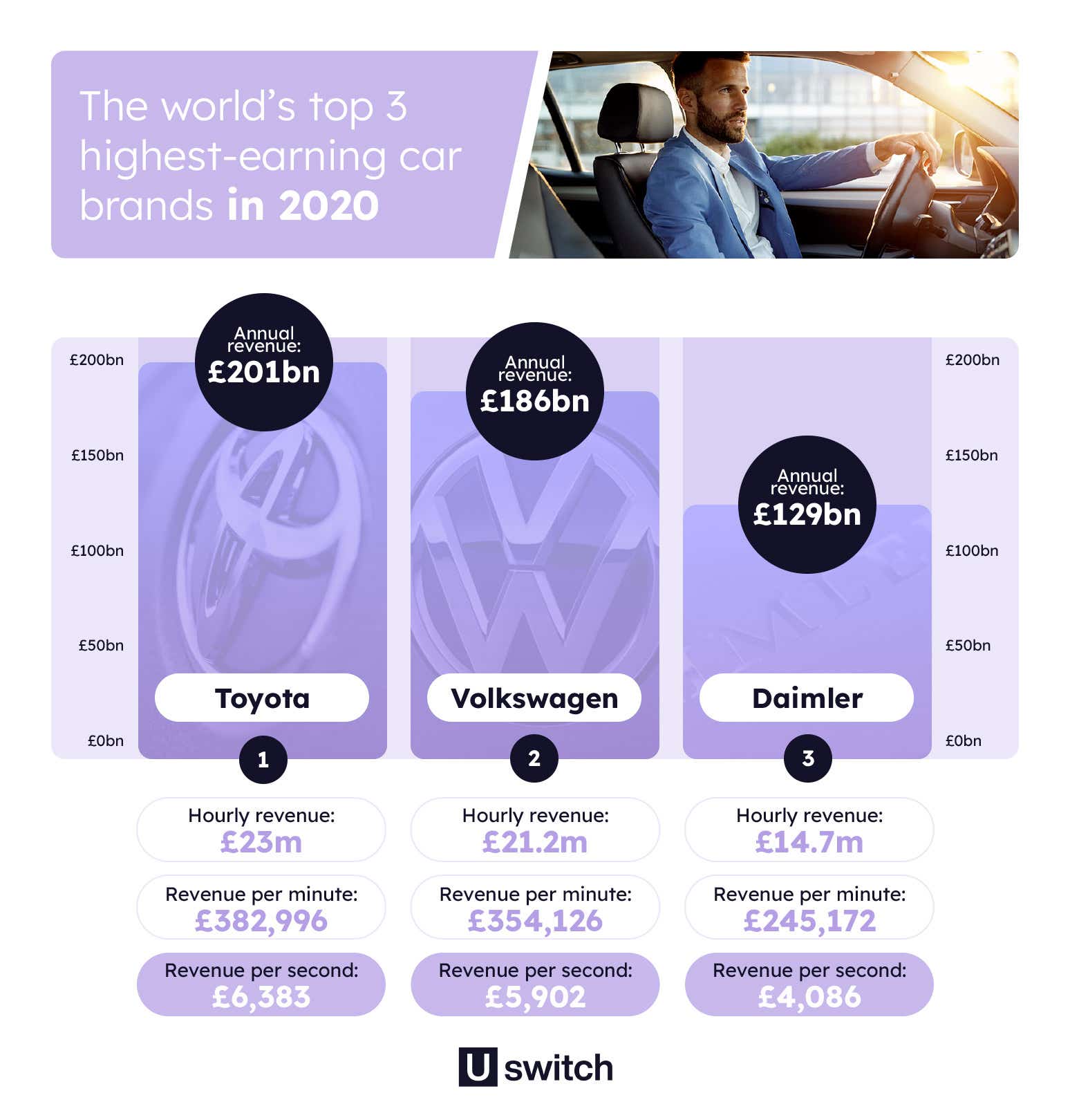 1. Toyota
Annual revenue: £201bn
Hourly revenue: £23m
Revenue per minute: £382,996
Revenue per second: £6,383
Beating Volkswagen to the top spot is the Toyota Group, which primarily encompasses Toyota itself, and Lexus. 
They made an incredible £201bn in 2020 making them one of the biggest automobile companies in the world. 
Popular right across the world, and renowned for their reliability and affordability, Toyota's revenue breaks down to £23m each hour, over £380,000 a minute, and over £6,000 every single second!
2. Volkswagen
Annual revenue: £186bn
Hourly revenue: £21.2m
Revenue per minute: £354,126
Revenue per second: £5,902
Not far behind Toyota is the Volkswagen Group, with annual revenue of £186bn. VW's portfolio of brands is extensive and includes Audi, Škoda, Porsche, SEAT, Bentley, and Lamborghini.
Volkswagen also generates a significant amount of money from its commercial vans and other vehicles, as well as motorcycles under the Ducati brand, giving them an hourly revenue of £21.2m, and bringing in £354,126 each minute and £5,902 every second.
3. Daimler
Annual revenue: £129bn
Hourly revenue: £14.7m
Revenue per minute: £245,172
Revenue per second: £4,086
Daimler AG is the brand behind Mercedes-Benz and other smaller brands such as Smart Automobile and is worth £129bn a year.
Based in Germany, Daimler is amongst the biggest manufacturers in the world and generates revenue of £14.7 million an hour, just under a quarter of a million each minute and over £4,000 a second.
The highest-earning car brands 2016-20
Of course, 2020 was a real anomaly of a year for all sectors, which was the same for the motoring trade, so we've also taken a look at the average revenues across each of the past five years, to get a better understanding of the best performing brands.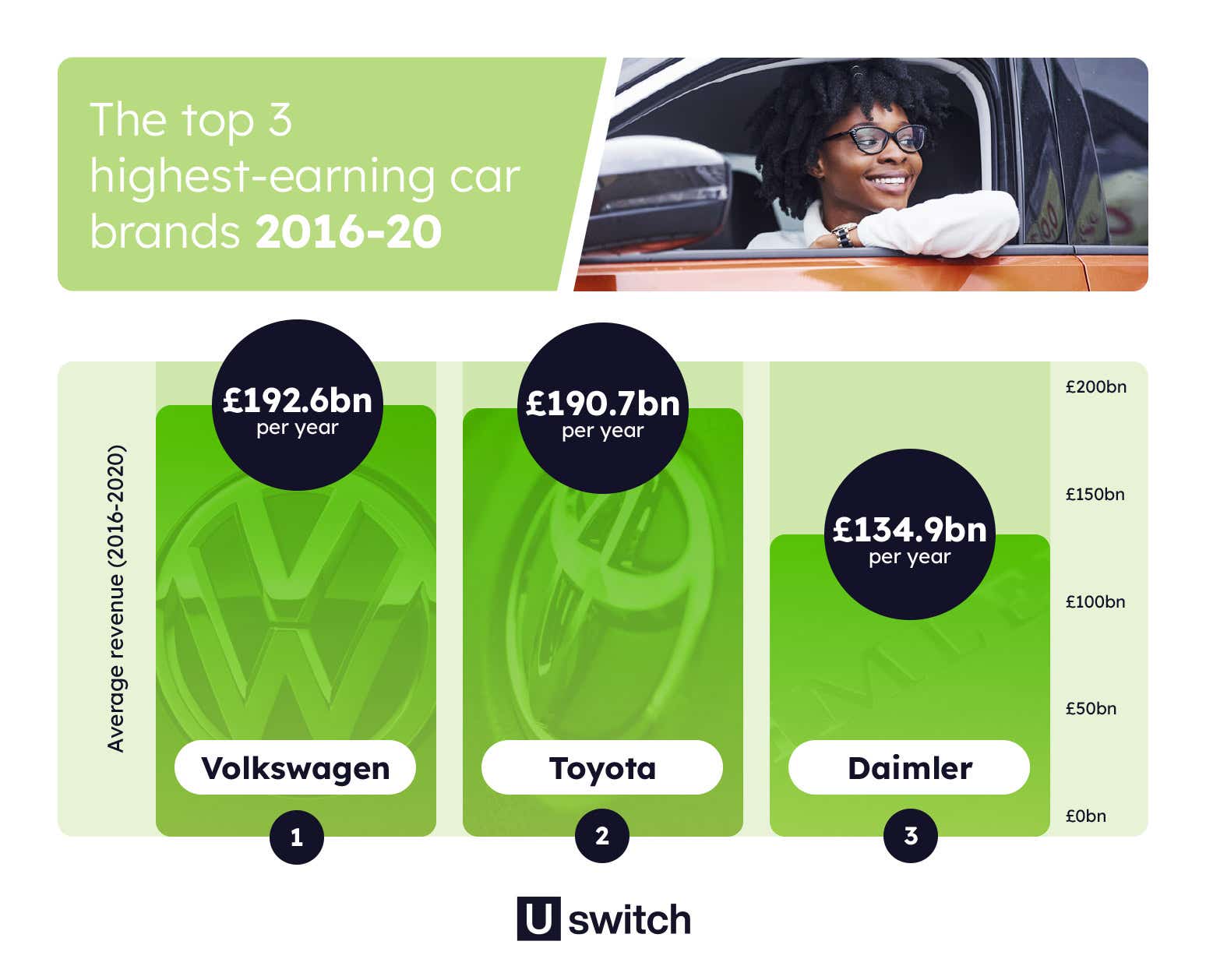 1. Volkswagen - £192.6bn per year
Despite being second in 2020, Volkswagen actually just pips Toyota to be the highest-earning car brand on average across the last five years, with an average income of £192.6bn per year. The coronavirus pandemic had a clear impact on the brand, with annual revenue dropping by £21bn between 2019 and 2020.
2. Toyota - £190.7bn per year
Toyota came in second when we look at average revenue over the last five years, with just over £190bn a year, but interestingly, they were one of the few brands to actually see revenues continue to rise in 2020, up from £199bn to £201bn.
3. Daimler - £134.9bn per year
As was the case with 2020 earnings, Daimler came in third place, with an average revenue of £134.9bn between 2016 and 2020. Daimler's revenue has actually dropped in each of the last two years, down from £144bn in 2018 and £141bn in 2019.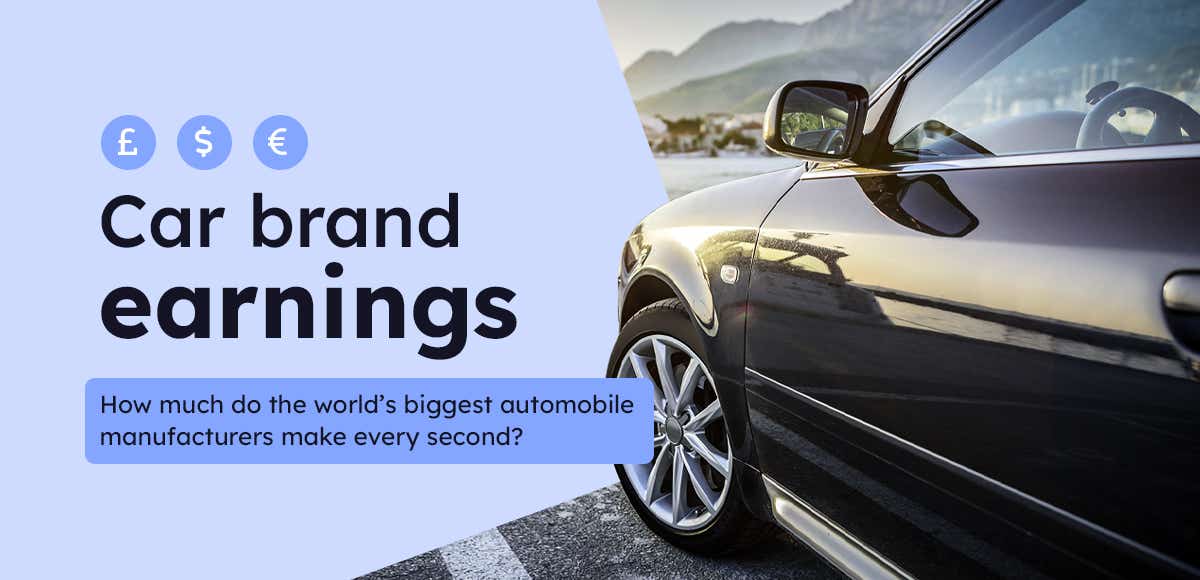 The world's best-selling car brands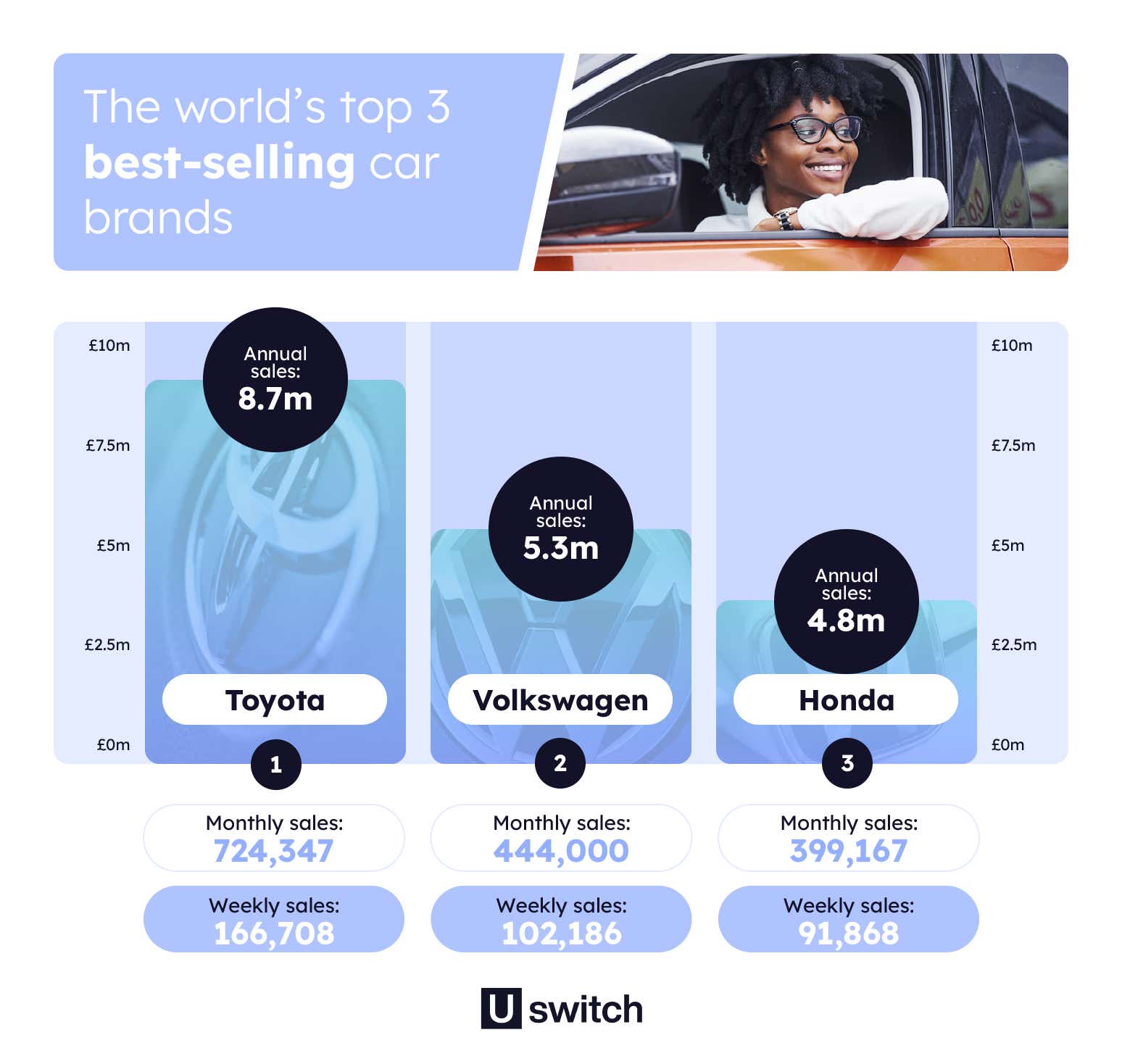 1. Toyota
Annual sales: 8.7m
Monthly sales: 724,347
Weekly sales: 166,708
As well as having the highest total revenue, Toyota also sold the most vehicles in 2020, with 8.7m in total, which breaks down as 724,347 a month and 166,708 a week, the most by some margin globally. The Japanese manufacturer's best selling models include the Corolla, RAV4, and Camry.
2. Volkswagen
Annual sales: 5.3m
Monthly sales: 444,000
Weekly sales: 102,186
Volkswagen comes in second place when it comes to the number of vehicles sold, at 5.3 million in 2020.
Among VW's best selling cars are the Polo, Golf, Passat and Tiguan, and they average sales of 444,000 a month, and over 100,000 each week.
3. Honda
Annual sales: 4.8m
Monthly sales: 399,167
Weekly sales: 91,868
Honda's sales for 2020 totalled 4.8m, which equates to just under 400,000 each week and over 90,000 each week.
The Japanese brand is best known for models such as the Accord, Civic and CR-V and regularly produces some of the most fuel-efficient vehicles.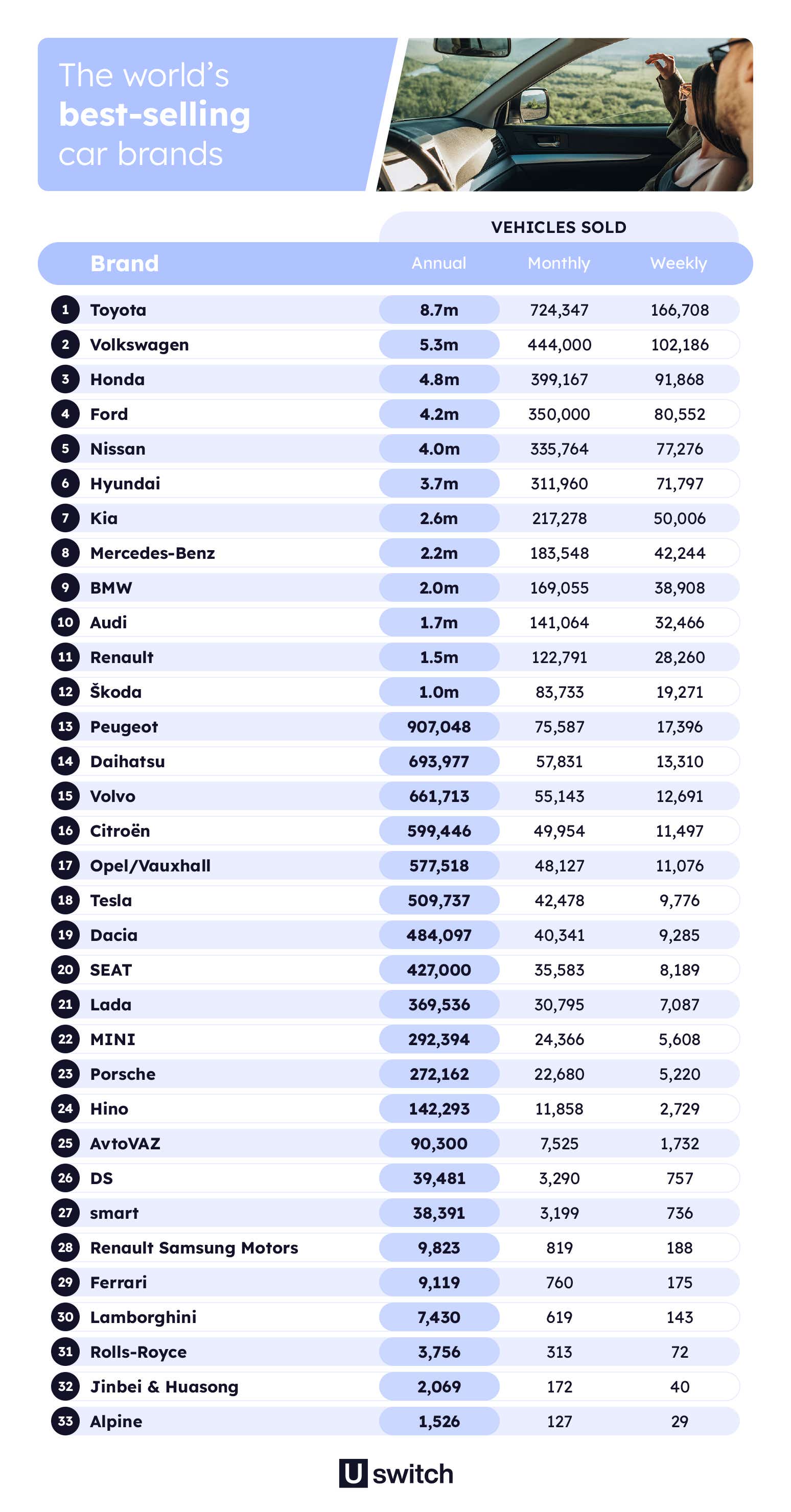 For quick car insurance cover, take a look into hourly car insurance policies. These are especially useful for insuring young drivers who's yearly policies may be more expensive.