While some people like to pass the time on their daily commute by reading a book or catching up on some last-minute work, many of us like to spend the time listening to our favourite songs.
Interested in finding out which songs are the most popular for commuting, Uswitch scraped raw data of more than 45,000 songs to uncover each track's relative popularity by taking the number of appearances across 200 'commuting' playlists and Spotify's general "track popularity". This allowed us to find the most popular songs and reveal the most common artists and albums*.
We can reveal that this is the ultimate commuting playlist – whether you travel to work by train, bus or car.
Top 25 most popular commuting songs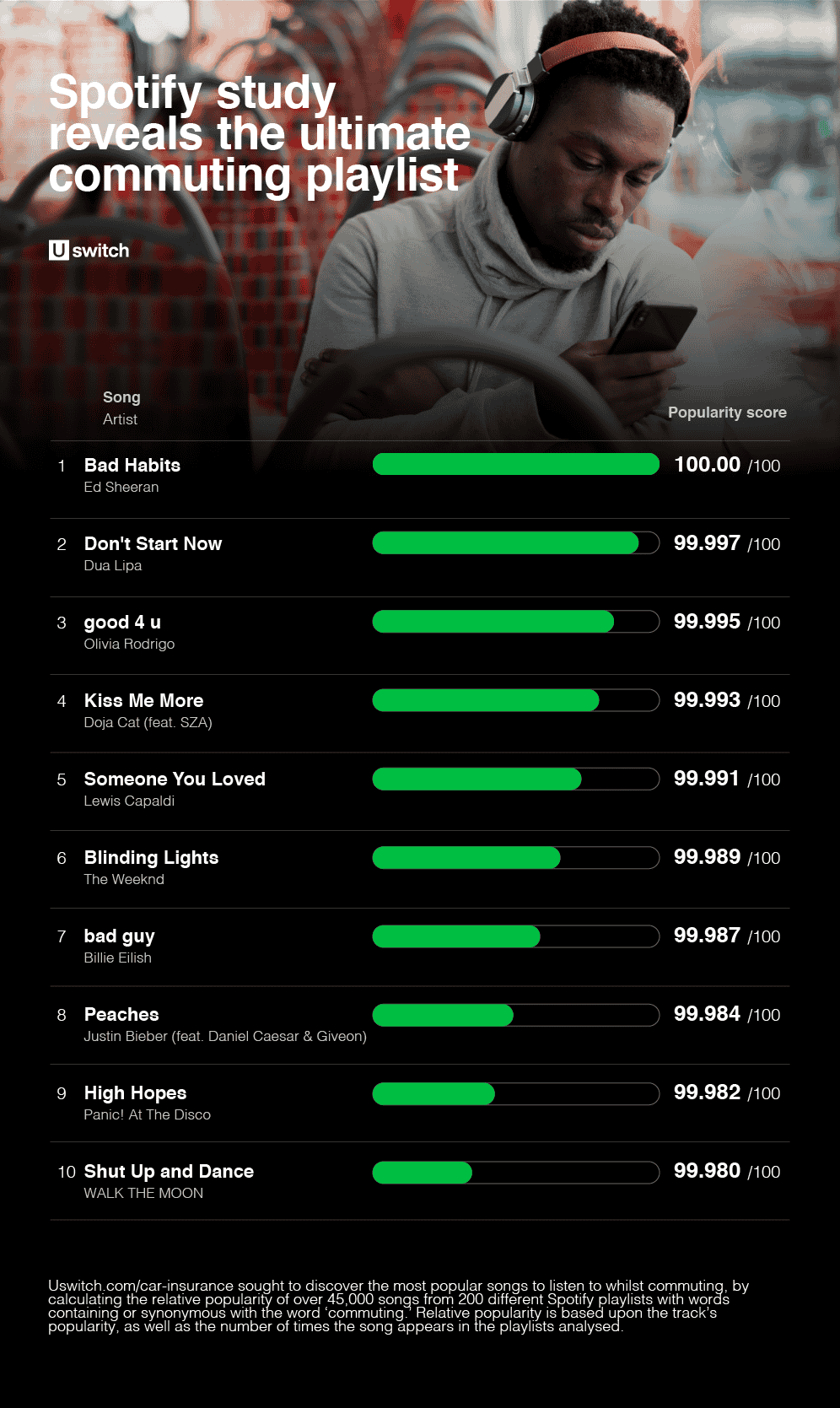 Our analysis reveals Ed Sheeran's Bad Habits is the perfect addition to your commuting playlist. The song's high energy and steady tempo has a popularity score of 100 out of 100 and is found on 22 playlists analysed.
Don't Start Now by Dua Lipa is also among the most popular commuting songs, with a near-perfect popularity score of 99.997 out of 100. If you're someone who struggles to wake up in the morning (or needs a pick-me-up after work), this song will certainly lift your mood with its poppy mix of danceability and high energy.
Olivia Rodrigo's good 4 u is a song sure to have you singing (or shouting) on your commute to and from work. The record-breaking song, which has a fast tempo, has received a popularity score of 99.995 out of 100, appears on 22 playlists and has a high song rating by Spotify themselves.
The ultimate commuting playlist has a mix of happy and sad songs
As part of our analysis, we also assessed the 'valence' of a song – how happy or sad a track sounds. Tunes with lower valence tend to sound more negative, whilst those with a higher rating are more uplifting and positive.
The tracks with the highest valence in the top 25 most popular commuting songs are:
Kiss Me More by Doja Cat and SZA

Leave The Door Open by Bruno Mars, Anderson .Paak and Silk Sonic

Levitating by Dua Lipa and DaBaby
On the other hand, if you'd prefer a slightly sombre ride to and from work, opt for songs with a lower valence, such as:
Circles by Post Malone

Heat Waves by Glass Animals

Someone You Loved by Lewis Capaldi

Blinding Lights by The Weeknd
The most popular commuting albums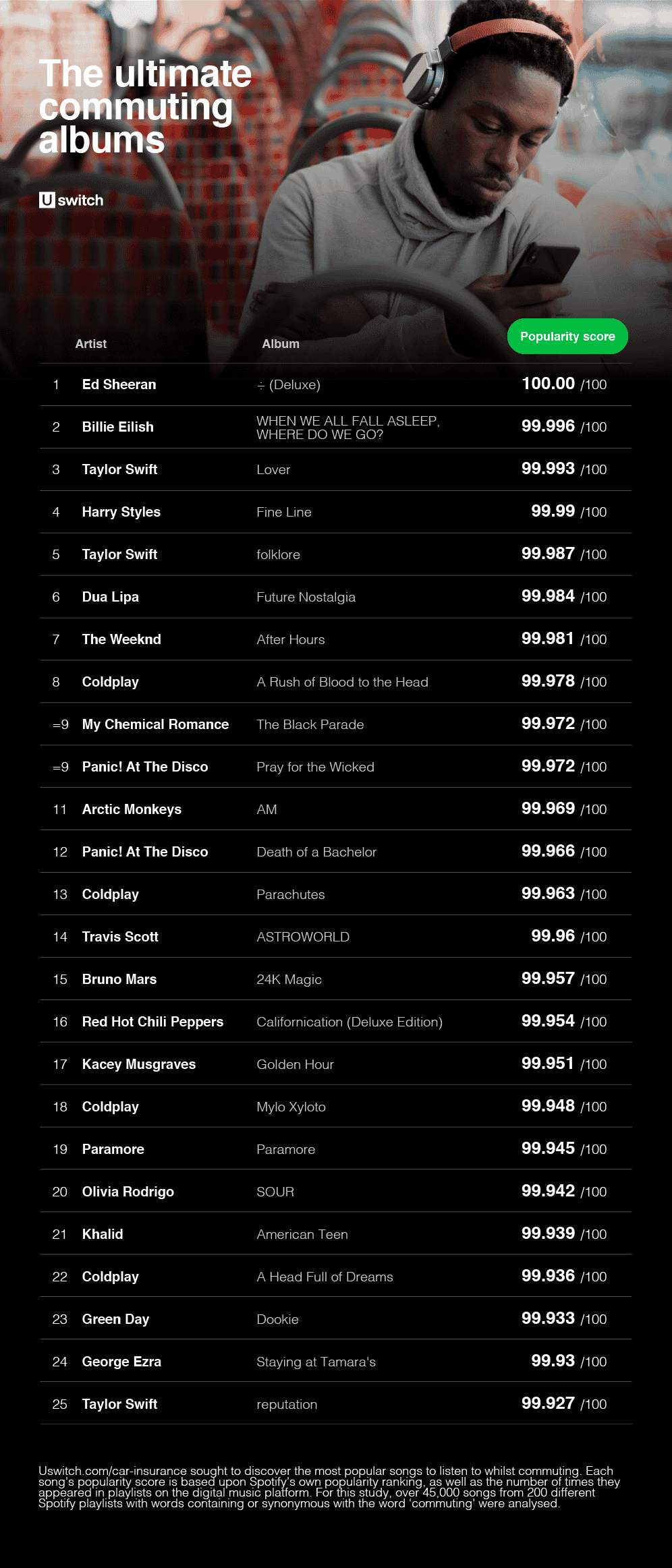 When it comes to the most popular commuting albums, Ed Sheeran has once again secured the top spot. His third studio album, ÷ (Divide), has a popularity score of 100 out of 100 after making 68 appearances on commuting playlists. The album has a low tempo – around 91 BPM – which is perfect for gently easing you into the day.
Similarly to Divide, Billie Eilish's album When We All Fall Asleep, Where Do We Go? has the perfect combination of calming beats and catchy tunes. Described as electro and synth-pop, this album appears on 60 playlists and has a popularity rating of 77 from Spotify too.
Taylor Swift and Harry Styles both released albums in 2019 – Styles with Fine Line and Swift with Lover. Both albums have very similar tempos and average volume, making these musical offerings a great choice if you're looking for a boost on your morning or evening commute. However, whilst Lover appeared on 72 playlists, Fine Line made it into just 45.
Albums making more than 40 appearances on users 'commuting' playlists Spotify include A Rush of Blood to the Head by Coldplay, The Black Parade by My Chemical Romance, and Pray for the Wicked by Panic! At The Disco.
Dua Lipa and The Weeknd are said to have led the airwaves in 2020, which seems to have filtered into our own playlists too. The relative popularity of both albums makes them among the top 10 most popular on Spotify, with Dua Lipa's Future Nostalgia featured on 35 commuting playlists and After Hours from The Weeknd on 38. With data showing these albums have a high "danceability" rate, be warned you may find yourself shoulder shimmying or tapping your feet whilst listening.
Make sure to compare car insurance before your renewal to carry on enjoying your favourite commuting playlists.
*Methodology:
Uswitch.com/car-insurance sought to discover the most popular songs to listen to whilst commuting.

An initial seed list of over 45,000 songs was gathered from a collection of 200 commuting playlists found on Spotify. Only playlists with titles containing words synonymous with commuting were selected for this study.

The collection of songs and their respective artists and albums was facilitated by the Spotipy Python Library, which was used to interface with the official Spotify API. This was also used to determine Spotify's popularity of each song – which they state: 'is calculated by an algorithm and is based, in the most part, on the total number of plays the track has had and how recent those plays are. Generally speaking, songs that are being played a lot now will have a higher popularity ranking than songs that were played a lot in the past.'

Following the data collection, the information regarding artists was pre-processed and joined into a new variable – relative popularity. This is a weighted average based upon Spotify's general 'track popularity' and the number of appearances each track has through all 200 playlists.

Once the top songs were obtained, it was then possible to extend the analysis to the albums and the artists present in the playlists by adding their popularity and calculating the weighted average.

Subsequently, the PERCENTRANK formula was used to give the relative popularity of each song, artist, and album a score out of 100. All data was then ranked in descending order by their total score.

Data was collected on 15/9/21 and is subject to change.