Pros
Cameras are sure to impress photography enthusiasts
Excellent battery life
Great performance
Cons
Appeals to a niche market
21:9 display will divide opinion
Software is bloated
The Sony Xperia 1 IV largely picks up where last year's Xperia 1 III left off, with improvements to screen, battery life and performance. The biggest improvement comes in the shape of its camera array.
The Xperia 1 IV is, according to Sony, the world's first phone with a continuous optical zoom lens, with the handset also boasting a telephoto zoom that offers an 85-125mm equivalent zoom range.
For photographers that shoot a lot of content, it's also one of the remaining handsets on the market to feature a microSD slot - and one of the few to rock an old-school 3.5mm headphone jack.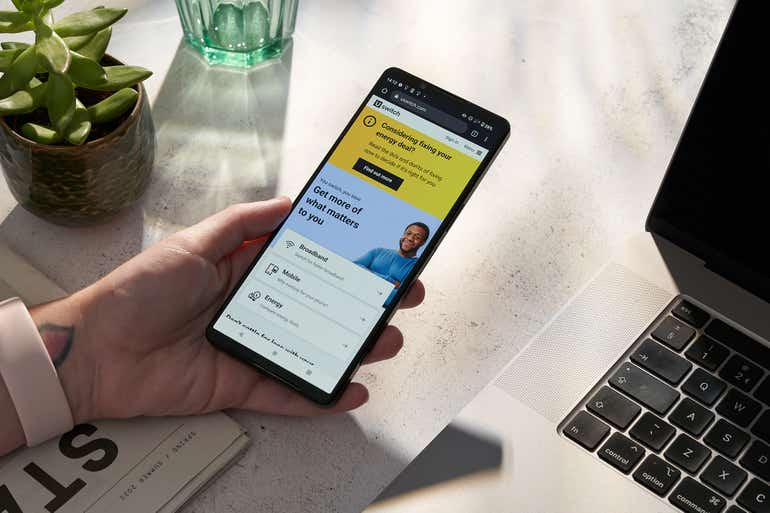 There's no doubt this smartphone will strongly appeal to users of other Sony devices, such as Alpha cameras, thanks to its three different camera apps and a plethora of manual controls.
With such extravagant photography credentials, it, unsurprisingly, costs a good chunk of cash. The Sony Xperia 1 IV starts at £1,299 in the UK, making it just as pricey as the latest flagships from Apple and Samsung. Let's dive into the details and see if it's worth the money.
First impressions and design
Sony's latest flagship continues to stand with its distinctive tall and thin form factor that accommodates its equally distinctive 21:9 display.
The handset's narrow profile makes it easier for even those with small hands to grasp it comfortably. Although you may have to stretch a bit to get your thumb right to the top of the screen.
To make navigating the screen even easier, Sony has implemented a one-handed mode. You can double-tap the home button to effectively blank out around 40% of the screens.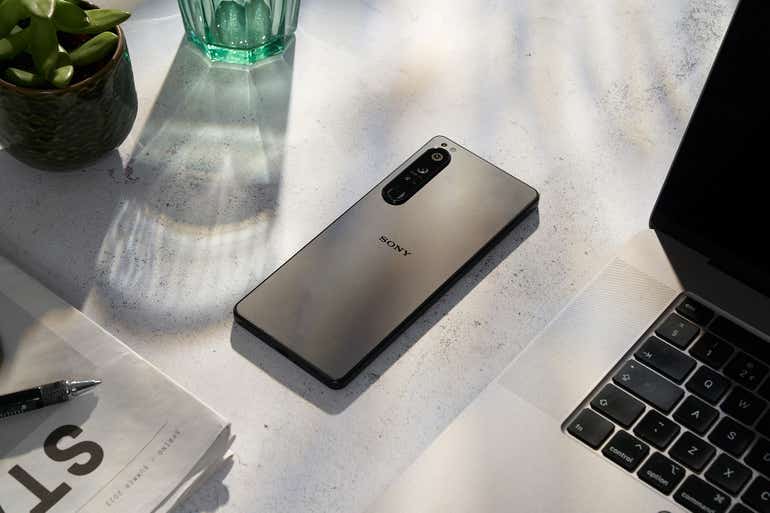 Although the narrow profile of the Xperia 1 IV is sure to turn heads, the handset's all-black frame and sandwiched between two slabs of glass gives the handset a classic, pared-back feel. It feels plenty tough enough too – there's Gorilla Glass Victus on both sides, along with IP68 dust and water resistance.
The edges of the phone hide a good range of buttons and ports, although the Google Assistant button seen on last year's Sony flagship has been canned.
Now you'll find a power button and volume rocker on the right edge, with the former incorporating a fingerprint sensor, alongside a dedicated button for launching the camera.
The USB-C port, microSD slot and SIM caddy are on the bottom, while the top edge houses a 3.5mm headset jack.
Screen
The Sony Xperia 1 IV packs a 6.5-inch OLED display that delivers an impressive 4K resolution (3840 x 1644, 21:9, 643ppi), though last year's Xperia 1 III had the same specification.
The screen delivers stunning clarity and detail with a 50% boost in brightness that sees the screen remain crystal-clear even in direct sunlight.
However, it's worth noting that the 21:9 aspect ratio - while great for gaming and watching Netflix - may not appeal to everyone.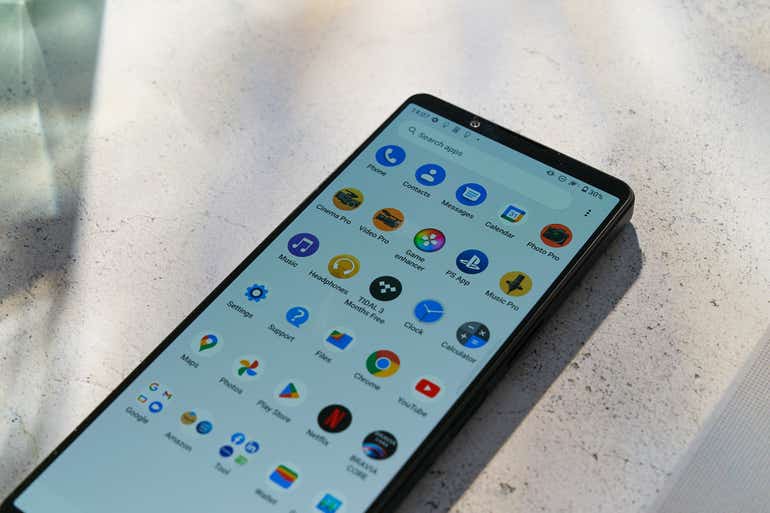 The handset features the same 120Hz refresh rate as its predecessor, which makes scrolling and swiping buttery smooth. However, there's no LPTO support on the Xperia 1 IV, which means there's no dynamic refresh rate switching.
While by no means as chunky as the bezels on the iPhone SE, for example, the Sony Xperia 1 IV's bezels are certainly thicker than other premium rivals. Especially ones with curved glass like the Samsung Galaxy S22 Ultra.
On the plus side, these bezels mean there's no need for a notch or punch-hole cutout at the top of the screen, leaving room at the top for some punchy stereo speakers.
Camera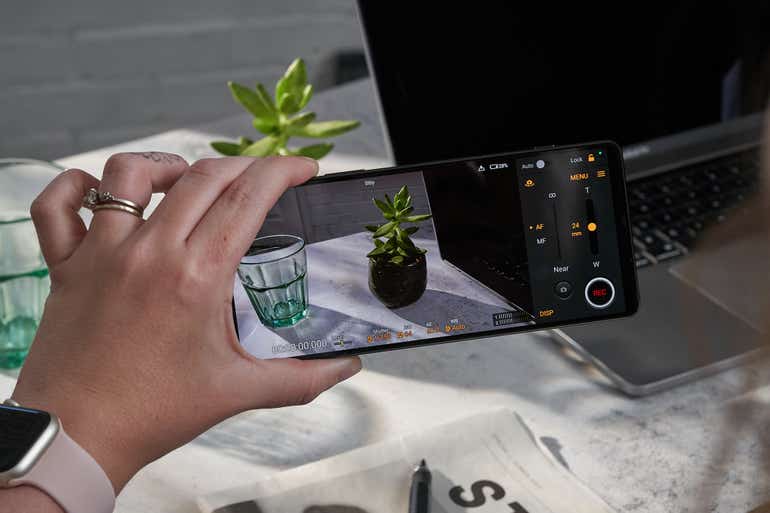 The Sony Xperia 1 IV is marketed as a smartphone for photography professionals, offering a range of enthusiast-grade features that you won't find on your average Android smartphone.
Taking cues from Sony's Alpha digital camera series, the handset features tools such as continuous optical zoom, an OIS-stabilised telephoto lens, and three separate camera apps.
There's Photo Pro (pro-level settings and basic photography), Video Pro(for YouTubers and content creators) and Cinema Pro (complex features for cinematic footage).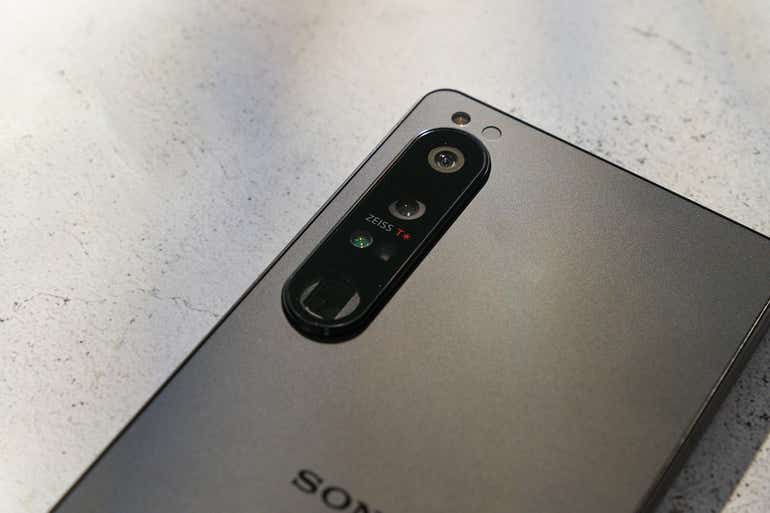 These apps have been modelled on Sony's Alpha camera interface which means experienced photographers will feel right at home. Though less experienced users - like myself - might find the array of settings overly complex.
The hardware is just as impressive - and complex - on paper. The Xperia IV features three rear cameras, all with the same resolution: 12MP f/1.7 wide angle (82°); 12MP f/2.3-f/2.8 telephoto (28°-20°); and 12MP f/2.2 ultra-wide angle (124°).
In addition to the three lenses is a time of flight (ToF) sensor, which detects depth to help with focus and portrait modes, while the front camera is a 12MP f/2.0 unit with an 83° field of view.
There's no denying that the camera system on the Sony Xperia 1 IV is excellent.
The main shooter captures detailed, crisp images in both natural and artificial light, delivers natural-looking colours and true-to-life white balance and avoids the oversaturation that's common on other devices. However, we did find that colours look somewhat flat compared to identical images shot on our iPhone 13 Pro.
Where the Xperia 1 IV starts to struggle is in dim conditions. The handset continues to lack a dedicated Night mode, and can't perform the same miracles in low light situations as the iPhone 13 Pro, Samsung Galaxy S22 Ultra, and Pixel 6 Pro.
This will unlikely be an issue for an experienced photographer that understands the ins-and-outs of the device's comprehensive manual settings. But it's clear that's who this device has been designed for, rather than those after a simple point-and-shoot experience.
Performance and battery life
Sitting at the heart of the Sony Xperia 1 IV is the Snapdragon 8 Gen 1, which until recently was the most powerful chip on the market and has become the standard for Android flagships in 2022.
As you'd expect, this means performance is excellent; the Xperia 1 IV breezed through everything we threw at it, and typical usage feels impressive. However, we did find that the phone was prone to overheating after long gaming sessions.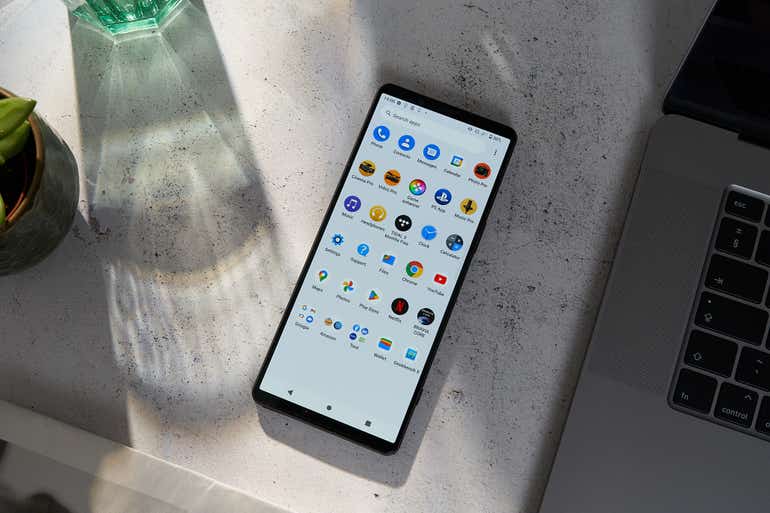 Alongside the processor you'll find 12GB RAM and either 256GB or 512GB of storage, expandable further via microSD if necessary. This latter point makes the Xperia 1 IV a great option for anyone wanting to easily expand storage, as few other Android smartphones support this feature.
In Geekbench 5, the Sony Xperia 1 IV scored 1,167 in the single-core test, and 3,339 in multi-core. This puts the handset on par with the likes of Samsung's Galaxy S22 Ultra and the Asus ROG Phone 5s Pro.
The battery weighs in at 5,000mAh, compared to 4,500mAh in the Xperia 1 III. As you'd expect, battery life is decent, and we found that the phone will easily last-all day without a hitch.
We were slightly disappointed with the charging speeds on offer. The Sony Xperia 1 IV supports 30W wired and 15W wireless charging, and, unfortunately, there's also no charger in the box. These are fairly average speeds, and a long way behind the super-fast speeds offered by the likes of Oppo or Xiaomi.
On the software front, the Sony Xperia 1 IV ships with Android 12 out of the box, topped with Sony's custom interface and apps, as well as some features typically reserved for Google's own Pixel handsets.
We were somewhat overwhelmed with the number of pre-installed apps, from Tidal and Booking.com to Sony's own dedicated apps for headphones, music, and, well, everything else. Thankfully there's the option to not install these apps on setup.
Value and verdict
The Sony Xperia 1V is a unique device that offers some big benefits. Gamers will welcome its 21:9 screen aspect ratio, while the handset's extensive camera features are sure to win over influencers and photography enthusiasts. However, novice smartphone photographers may find themselves overwhelmed by the multitude of settings.
It's worth noting that it's an expensive device, too – the Sony Xperia 1 IV starts at £1,299 in the UK, putting it on par with its most premium competitors.
One thing is for sure, you'll be hard-pressed to find another smartphone like it.
Get a great deal on a Sony Xperia smartphone today.
Was this article helpful?