How do I compare iPhone 14 Plus deals?
With the iPhone 14 range, Apple introduced a new, larger iPhone to accompany its standard handset, the iPhone 14 Plus.
This means you can get a larger screen and a longer battery life without upgrading and paying out for the more professional, more expensive Pro model.
The iPhone 14 Plus comes with all the great new features of the iPhone 14 but with a larger 6.7-inch screen.
The option to have a bigger screen and larger battery in a standard, less expensive model is brilliant, especially if you enjoy watching videos or playing games on your iPhone and want to make full use of that stunning OLED screen.
Even with the launch of the newer iPhone 15 Plus, the 14 Plus is a great smartphone packed with features and a stunning and impressive screen.
iPhone 14 Plus: features and specifications
6.7‑inch Super Retina XDR display with 2778x1284-pixel resolution at 458 ppi
Weight: 203g
Dimensions: 160.8mm x 78.1mm x 7.80mm
Dual-lens rear-facing camera system with 12MP Wide and 12MP Ultra Wide cameras
Three storage options: 128GB, 256GB and 512GB storage
Five colourways: Product Red, Blue, Purple, Starlight and Midnight
Also available: iPhone 14, iPhone 14 Pro, iPhone 14 Pro Max
What's the difference between the iPhone 14 Plus and iPhone 15 plus?
The iPhone 15 Plus has the same upgrades to its specifications as the iPhone 15, so there are a few differences between the newer models and the 14 Plus.
The iPhone 15 Plus runs on the A16 chip, while the 14 Plus runs on its predecessor the A15, meaning a fair increase in processing power. The iPhone 15 Plus also has an upgraded camera setup and now features a 48MP main camera.
In addition to new colours and the inclusion of the Dynamic Island feature, the iPhone 15 Plus of course features USB-C charging, compared the iPhone 14 Plus still using lightning cables.
iPhone 14 Plus: availability and price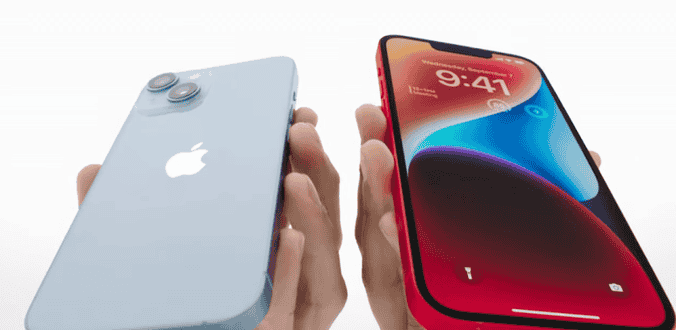 The iPhone 14 Plus was announced alongside the rest of the iPhone 14 line at Apple's launch event on 7 September 2022.
The price of the iPhone 14 Plus differs depending on how much storage you want in your device. The iPhone 14 Plus costs:
£799 for 128GB of storage
£899 for 256GB of storage
£1,099 for 512GB of storage
How good is the iPhone 14 Plus display?
The iPhone 14 Plus has a 6.7-inch display and is available in five colours: blue, purple, midnight, starlight, and product red, all beautifully constructed of aero-space grade aluminium.
And with ceramic shield costing, you can be confident that your new iPhone 14 Plus will give years of use.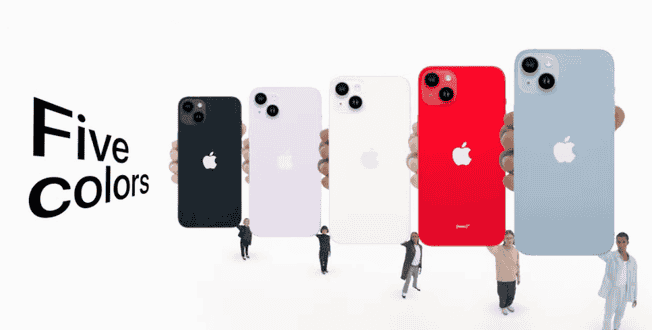 The iPhone 14 Plus takes full advantage of the larger screen, featuring a custom Apple OLED display. The Super Retina XDR display gives you bright colours, crisp contrast and smooth motion on the screen.
How good is the iPhone 14 Plus camera?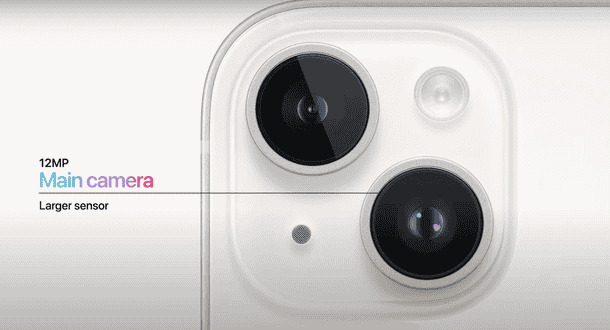 The iPhone 14 Plus features the same camera setup as the standard iPhone 14 model. It has a 12MP main camera with a large sensor to capture more light and more detail in your photos than previous models.
You'll be able to capture clear-as-crystal photos in low light thanks to the fast f/1.5 aperture, which also creates stunning portrait photos with a flattering bokeh effect and shallow depth of field.
The iPhone 14 Plus' front-facing camera is a 12MP TrueDepth camera with an f/1.9 aperture. It features a new autofocus feature that allows you to focus on multiple distances. So every selfie and group shot will be perfectly in focus.
How good is the iPhone 14 Plus for video?
The iPhone 14 Plus has improved stabilisation when filming video with its new Action Mode. So you can do away with other equipment like a gimbal and record smooth and steady footage wherever you are.
How long does the iPhone 14 Plus battery last?
The larger size of the iPhone 14 Plus means that in addition to a larger screen, there's also room for a heftier battery.
The iPhone 14 Plus battery has a capacity of 4,323mAh, which is the same as the iPhone 14 Pro Max. External testing found that the 14 Plus didn't last as long as the Pro Max, most likely due to its more energy-efficient display.
You can expect to get around 16 hours of web browsing and just over 19 hours of video playback on a full charge.
What's the difference between the iPhone 14 Plus and iPhone 14?
The only difference between the iPhone 14 and the iPhone 14 Plus is the size of the device. This in turn means that the 14 Plus has a bigger screen – 6.7-inch vs the 6.1-inch iPhone 14 screen. And it has a larger battery capacity – 4,323mAh vs 3,279mAh for the iPhone 14.
iPhone 14 Plus: contract options
Check out all the different ways you can sign up for an iPhone 14 Plus pay monthly contract:
Can I get an iPhone 14 Plus with no upfront cost?
Plenty of networks have iPhone 14 Plus deals with no upfront cost, including O2, Three and Vodafone. These tend to be 24-month contracts and, as you'd expect, have a higher monthly price than those with upfront costs.
Can I get the iPhone 14 Plus with unlimited data?
There are unlimited 5G data plans for the iPhone 14 Plus on almost all the major UK networks, including O2, Three and Vodafone.
Check out our free mobile data calculator to get a clearer idea of how much data you'll use each month.
What's the cheapest iPhone 14 Plus deal available?
The cheapest way to get the iPhone 14 Plus is to pay as much upfront as possible, not only does this make your monthly payments lower, but will make the overall costs of your contract lower, too.
Author: Ray Ali Last updated: 18 September 2023