Pros
Whopping battery
Great versatility and wireless charging support
Incredible build quality
Graphene batteries improves lifespan massively
Cons
Quite pricey for a powerbank
Aluminium body makes it rather weighty
As great as the power banks in today's world are, they always seem to be empty when you need them the most. Well, there are a few reasons for that… Firstly, they have low charging capacity to start with. And secondly, they take hours to charge themselves, which all becomes a bit much. If you're running late for your trip with your friends and it lets you down when you need it most, it can be a real deal-breaker.
Many of these problems have been solved by fledgling brand Chargeasap, which uses graphene-composite technology to enable power banks to be charged quickly and cleverly at far lower temperatures.
The company is offering two unique models of power bank, known as the Flash Pro and Flash Pro Plus.
According to Chargeasap, these power banks can surpass the usual slower, bulkier and less visually appealing ones.
So let's go over everything you need to know about the Chargeasap power banks.
What is a Graphene-composite battery?
Chargeasap is a company that uses Graphene-composite batteries in their power banks.
These batteries last four times longer than the traditional lithium batteries. And they can even control and monitor the temperature, due to a thermistor installed within them.
Even though charging speed is the main key highlight of these devices, this ensures safety remains a priority.
About Chargeasap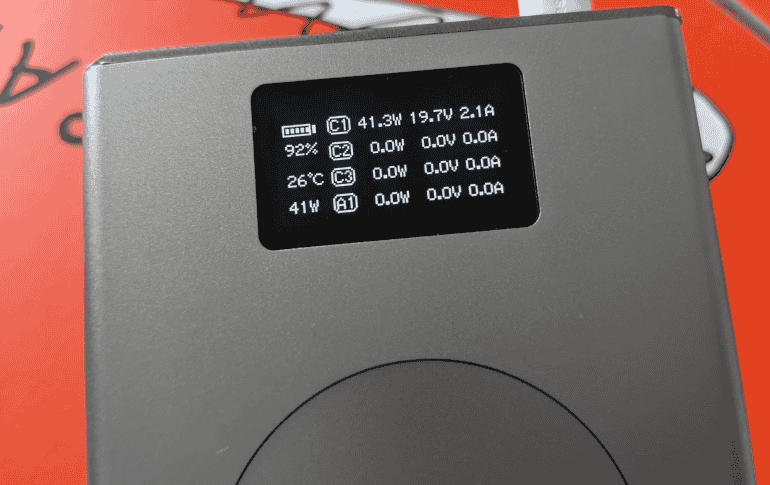 Chargeasap provides power banks that can charge up to five or six devices, depending on the model.
Moreover, they contain a 1.3-inch OLED panel, constantly displaying real-time information including battery temperature and input and output readings for various metrics.
The best part about Chargeasap's power banks is that they can charge phones while getting charged at the same time.
When we talk about raw functionality and performance, Chargeasap offers two power banks known as Flash Pro and Flash Pro Plus.
Differences Between Flash Pro and Flash Pro Plus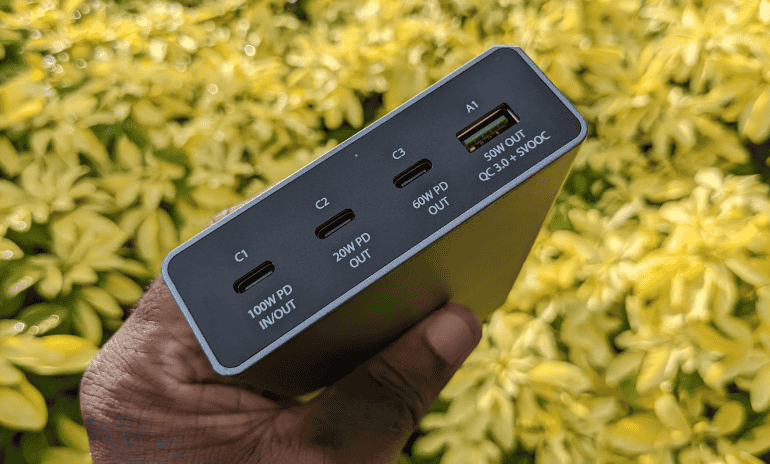 The main difference that you're going to notice between the Flash Pro and the Flash Pro Plus will be the device type. Flash Pro is primarily aimed at Android phone owners, whilst the Pro Plus is all Apple.
They both also have different colours of aluminum housings as Flash Pro comes in black colour and Flash Pro Plus comes in a fetching matte gray. Both devices have a total of 4 USB ports with three of them being USB-C 3.0 PD ports, allowing for 100W, 60W, 20W and 50W USB A speeds.
All of them contain a quick charge mode and can easily charge your Android or iOS devices at a rapid rate of knots.
Another major difference arrives in the form of the Flash Pro being home to a single Qi charging pad that supports up to 15W for Android and iPhone at 10W.
The Pro Plus also comes equipped with a MagSafe pad that can charge the latest iPhones at 15W while the Android or older Apple devices at a cap of 10W.
Moreover, the additional circular magnetic Apple Watch charger latch onto devices and charge at 5W.
This sets if firmly apart from the Flash Pro which is not wireless compatible with Apple devices at all, due to running off Qi charging and a single-coil technology.
Another distinguishing element is the price – the Flash Pro comes in at $299 (around £250), while the Pro Plus is a bit more at $319 (£265).
Are the Flash Pro and Flash Pro Plus good?
Yes, they allow you to charge a number of devices quickly and efficiently. But even though they have a charging speed far superior to lithium-polymer batteries, their actual capacity is far lower than the market.
So you can expect the power banks to have an actual capacity of around 17,000mAh instead of the purported 25,000mAh.
However, this is still pretty great, as you can charge a plethora of devices from phones to your laptops and all manner of devices.
According to Chargeasap, their power banks will only lose around 12mAh per day over 395 days.
This is because of the natural drain of batteries over time, and unfortunately Chargeasap power banks are not exempt from the laws of physics...
Build quality and aesthetics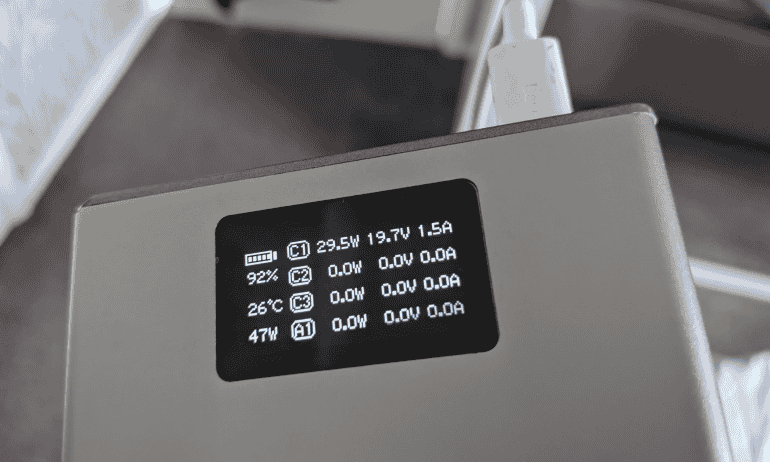 Alongside great performance, you'll be amazed to see the impressive build quality on these hefty devices.
However, fingerprints are bound to be on the device and gripping issues are common with Flash Pro and Flash Pro Plus.
However, due to their unique batteries, the power banks don't get too warm and with that gorgeous OLED display, it pales in comparison to the upside of such a powerful, portable companion.
Price is a major factor, however, as starting out at close to £250 these power banks are quite the investment.
The aluminum housing is quite durable and from an aesthetics point of view, ChargeASAP power banks have managed to marry strong looks with exceptional performance.
Final verdict
While the ChargeASAP's power banks have their pros and cons, their high performance output more than makes up for their unwieldy nature or overly fingerprint-friendly designs.
It is one of the best and most premium power banks that you can buy today, boasting a lifespan of four times more than normal lithium batteries.
If you're a power user looking for a power bank to match your pace, you'll be impressed with what both the Flash Pro and Pro Plus have to offer.
Was this article helpful?