Pros
Great design
Overpowered charging speeds
Fast processor
Great display
Cons
Mediocre battery life
Mediocre fingerprint scanner
No alert slider like previous models
Outdated cameras
The "T" models in OnePlus' lineup used to be a cool alternative to their flagship efforts – home to innovation or a novel design tweak that kept the brand on people's lips.
Looking at the new OnePlus 10T through this lens, it's interesting to note that there are a number of areas where the 10T bests its forebears, but a few where it seems to lose its way too…let's take a closer look.
OnePlus 10T Display & Design
The starkest similarity between the OnePlus 10T and 10 Pro will be their lines and overall aesthetic, they clearly share much of the same DNA.
The 10T retains almost the same square camera array, the glass rear along with the cute OnePlus logo. But if you were to zoom in a little, there have been some minor changes - one of which upset all the OnePlus enthusiasts.
In the 10T, the company decided to get rid of their popular Alert Slider on the device's side - allowing you to change from loud to silent at the flick of a thumb - a OnePlus mainstay since the original and a certified fan favourite.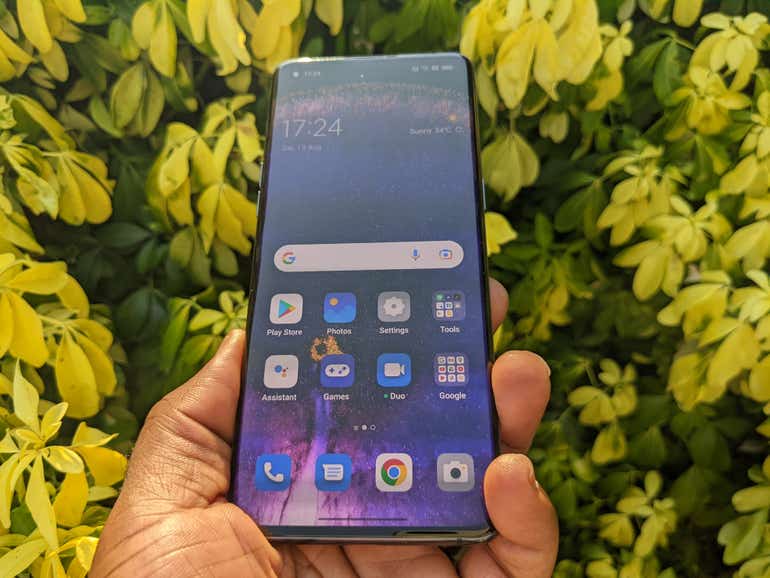 This may not be a dealbreaker, but OnePlus was known to offer innovative and impressive features that Android competitors simply weren't delivering…it's a small, but marked change from the OnePlus of old to see it go.
Elsewhere, the OnePlus 10T has a flat display instead of a curved edge which is a little less pleasing to hold from an ergonomics perspective.
The front camera has been moved to the center instead of the top-left, immediately making sense when thinking about aesthetics.
Overall, OnePlus rarely disappoints with design and the 10T is no exception. It's beautiful, premium, and maintains an air of class to it.
OnePlus 10T Processor & Specifications
Right off the bat, the OnePlus 10T delivers on its reason for being – boasting powerful specs, thanks to the Snapdragon 8+ Gen 1 processor.
It is the best on the market from a tale of the tape - more powerful than the OnePlus 10 Pro - and when you pair it up with 8, 12, or 16GB RAM, things get crazy.
Pair that with their own HyperBoost Gaming Engine to get the most out of the most graphically intensive games, the OnePlus 10T shows its true colours in the arena.
According to OnePlus, their phone can run up to 30 apps simultaneously without closing any of them – a claim which largely holds true when it comes to testing. These aren't screenshot thumbnails when scrolling through recent apps, many do spring back to life from exactly the state you left them.
The phone comes with 128GB or 256GB storage which Is a bit of a shame given some competitors are already offering 512GB as a variant at the top end.
Looking at software, the OnePlus 10T is running their proprietary Android 12 offshoot in the form of OxygenOS, an operating system which is becoming more like Oppo's Color OS every day.
Hardly surprising – and a decent interface - given they come from the same BBK stable, but to lose another key aspect of what makes OnePlus phones stand out in this unification does take the sheen off the 10T's user experience somewhat.
The phone does not come with a memory slot but it does have blazing fast UFS 3.1 storage to transfer data safely and at pace.
OnePlus 10T Cameras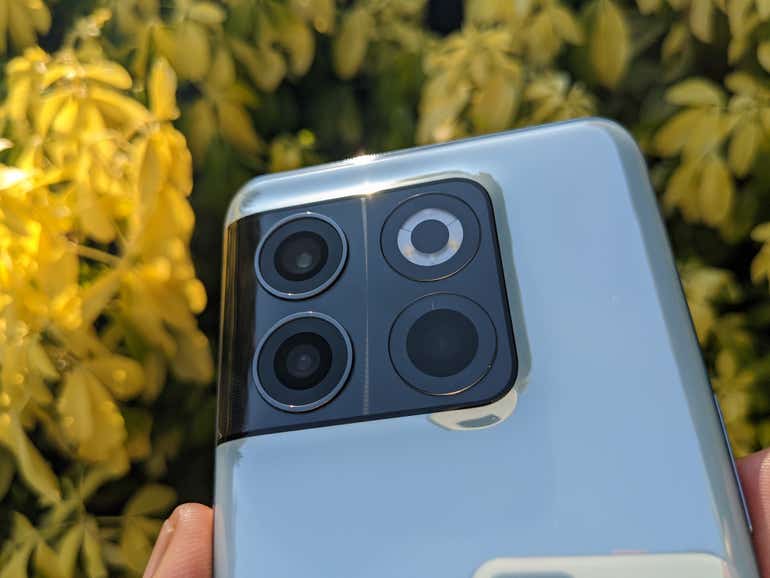 Now let's talk about cameras. The cameras on the OnePlus 10T are solid efforts, but an immediate difference from the OnePlus 10 Pro is that Hasselblad is out – no leaning on lauded photography credentials here.
The 50-megapixel main sensor uses the Sony IMX766 – passable, but usually found in mid-tier Oppo phones and OnePlus' own Nord 2 5G…a meaningful downgrade from the flagship.
Moreover, there's an 8-megapixel ultrawide and a 2-megapixel macro sense which disappoint slightly in terms of both speed of capture and clarity of resultant images.
Pictures will turn out more oversaturated but for social media use, it is great. The front camera contains a 16-megapixel effort - fine and softening the overall picture of the 10T in the imaging stakes.
When we talk about video, this device can shoot up to 4K at 60FPS from the back camera and 1080p at 30FPS from the front camera.
One area where we'd expect a device of this caliber to run rings around competition, so to see quality merely on par was a bit of a surprise…but to be expected given priorities lay elsewhere.
OnePlus 10T Battery & Charging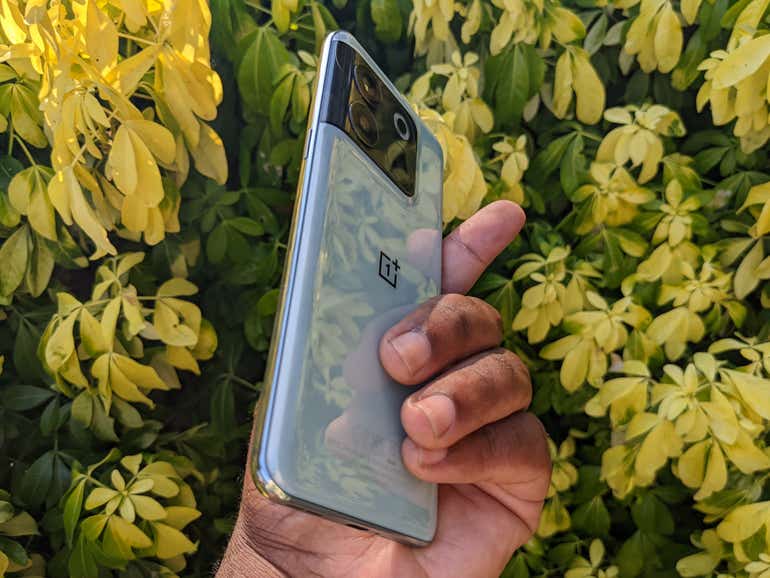 OnePlus has always had great battery life, and the 10T continues the bloodline of delivering impressive core specs, and innovation where it counts.
The phone comes with a 4800 mAh battery, ideal for day-to-day usage - even inclusive of gaming.
What takes things to another level is the charging capabilities of the OnePlus 10T – boasting 150W fast charging that can charge the phone from empty to full in just 19 minutes…and it does just that.
It seems absurd upon first charge, but it becomes almost addictive to put it more than through its paces of a day of heavy use, safe in the knowledge you can be back up to full power in a scant 20 minutes.
This makes us rethink the whole battery situation since, on top of having a great battery life, the charging speed is more of a blessing for all phone users. In other words, the phone should last you all day without you having to run for a charger.
The absence of features like wireless charging as a consequence are rendered moot, given just how rapidly it can charge via the main. It's not an exaggeration to say that it can ruin subsequent smartphone experiences, when you're spoiled by such ridiculous charging rates.
Naturally the phone gets a bit warm when conducting this alchemy, but nothing to call the fire brigade about by any means – truly groundbreaking stuff in the smartphone space from the 10T.
Pricing & Release Date
The phone starts at £629 for 8GB RAM and 128GB storage, with the top-end model of the OnePlus 10T will launch at £729 for 16GB and 256GB of RAM and storage respectively.
All in all, the maxed-out version is the most expensive one but it still doesn't break the bank like the pro version. The phone was launched on August 3rd, however, it is going on sale on August 25 in Europe and it will be released on sale in September in the US.
Final Verdict
All in all, the OnePlus 10T is a solid device with a lot of unique quirks of its own. The phone comes at an unbelievably great price tag, handily beating many devices in its price range. However, the mediocre camera is a bit of a black mark on an otherwise spotless record.
Despite losing the iconic alert slider, it bears enough of the hallmarks to call itself a OnePlus.
The 10T is still a symbol of the interesting evolution the brand continues to go through, and a demonstration that innovation still beats in their heart.
Was this article helpful?