Colour Palettes of The World's Most Famous Road Trips
Whilst 2020 has been a year for staying at home, if you're like us you'll be itching to hit the open road again and discover somewhere new. Whether you're looking for domestic travel inspiration, or have wanderlust for places further afield, you've reached the right destination to be virtually blown away.
From the bright blue seas in Australia, to the giant green mountains of Scotland, using HEX Picker software, Colour Thief, we've analysed and subsequently colour matched the landscape colours of some of the world's top-rated road trips. Think Dried Tobacco rock formations, Butterscotch sand, Moon Rock mountains and Melon sunsets. So, grab your road trip snacks, fasten your seat belt, turn up the radio and set your sat nav to the USA because first, we're heading to Route 66.
Route 66, USA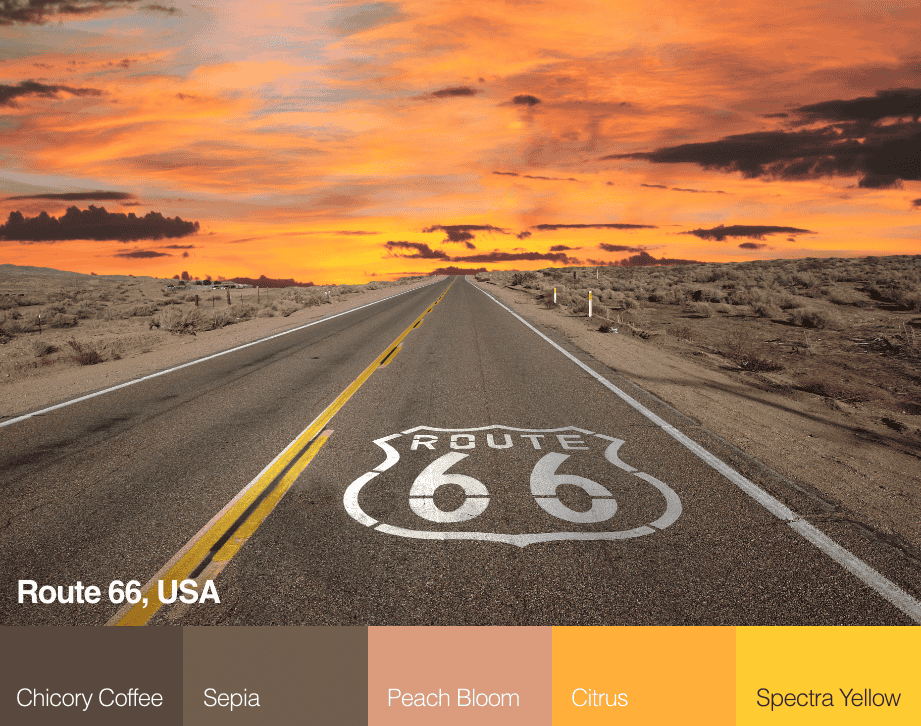 Connecting Chicago to Los Angeles across 2,400 miles, Route 66 is infamous across the world for passing through 8 states, treating you to a wealth of American culture along the way. Skirting the Mojave Desert, you'll discover pantone colours of Sepia, Peach Bloom and Chicory Coffee. If you time it right, you'll even watch the sky turn to Citrus and Spectra Yellow hues. Taking approximately 3 weeks for adventurers to complete, you'll want to make sure you've got some extra camera batteries packed.
Gobi Desert, Mongolia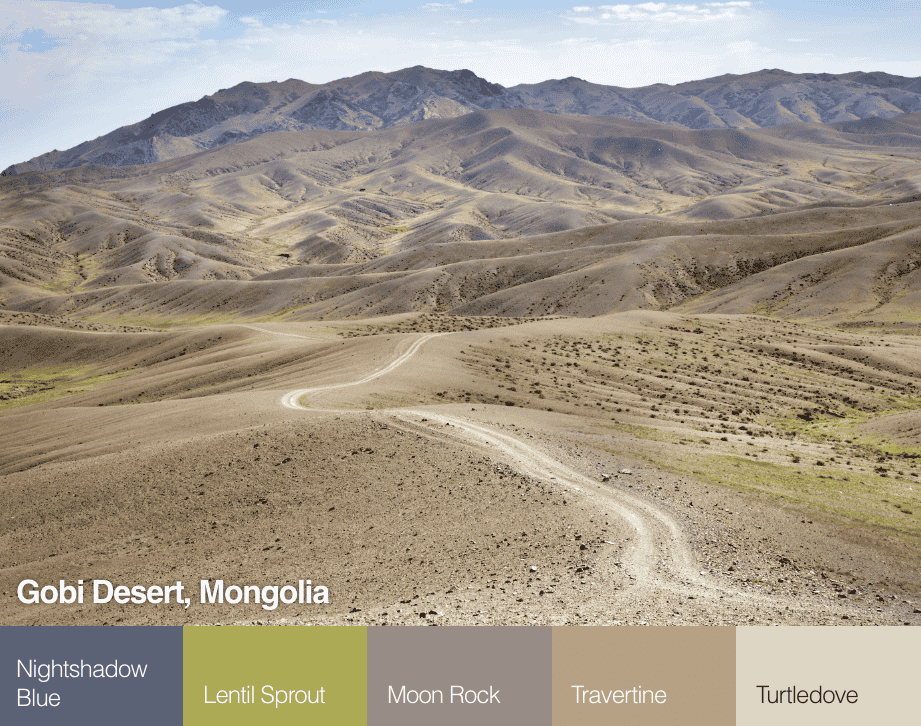 Starting and ending in Mongolia's capital, Ulaanbaatar, the week-long Gobi Desert road trip is filled with sand dunes, mountains, valleys. With enough camel cheese to last a lifetime. Notably famous for being Asia's largest desert and a hot spot for dinosaur fossils, every inch of the Gobi Desert is like a work of art painted in Moon Rock, Lentil Sprout, Turtle Dove and Travertine.
South Island Circuit, New Zealand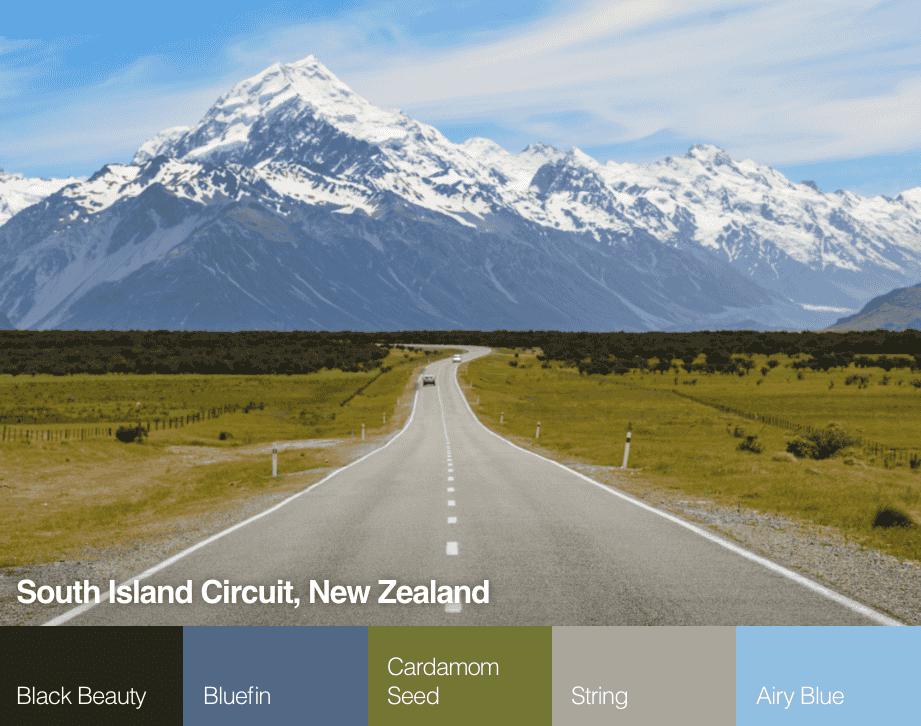 Arguably the perfect destination for thrill seekers, the South Island Circuit in New Zealand is not all about bungee jumps, sky dives or the world's biggest canyon swing. Home to spectacular mountains and volcanos, a road trip around New Zealand's South Island is set to be a visual treat. Comfortably this road trip can take 2-3 weeks, where you can discover hues of String, Black Beauty and Airy Blue in the mountains, or Cardamom Seed and String lining the winding roads.
Uyuni Salt Flats, Bolivia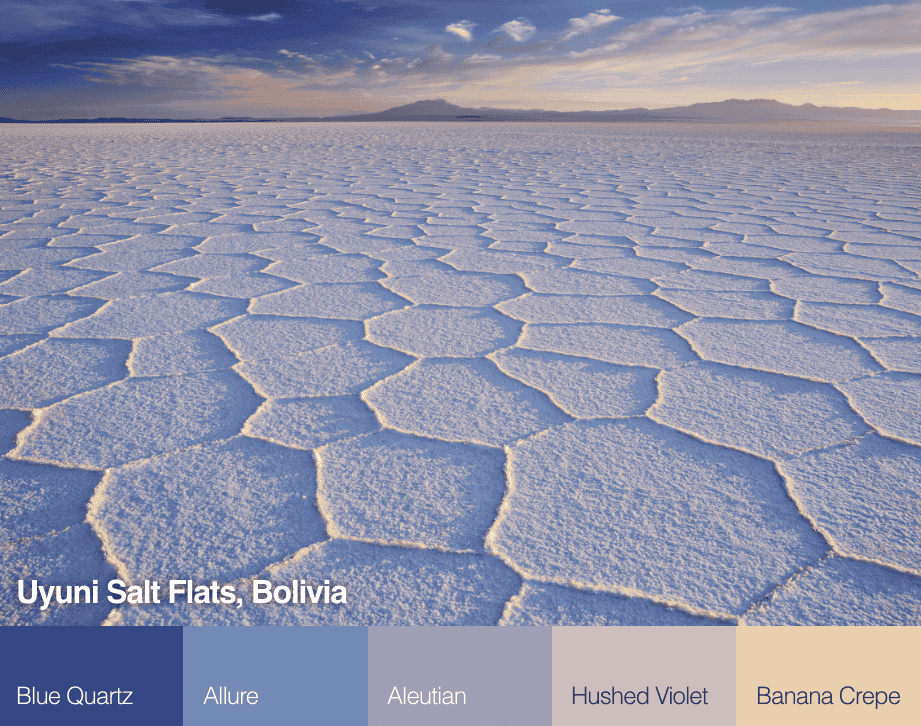 Uyuni Salt Flats in Bolivia, also known as Salar De Uyuni, is the world's largest salt flat at roughly 4,000 miles long. During the dry season, the salty floor cracks and creates a jigsaw with pinches of Blue Quartz, Allure, Hushed Violet and Aleutian. Whereas, if you arrive in the rainy season, you'll be treated to a glass-like lake with near perfect reflections of each visitor. Be sure to look up too, and be treated to a sky full of Banana Crepe. You'll need a four wheel drive (4WD) for this one, or hop on a local tour.
Iceland Ring Road, Iceland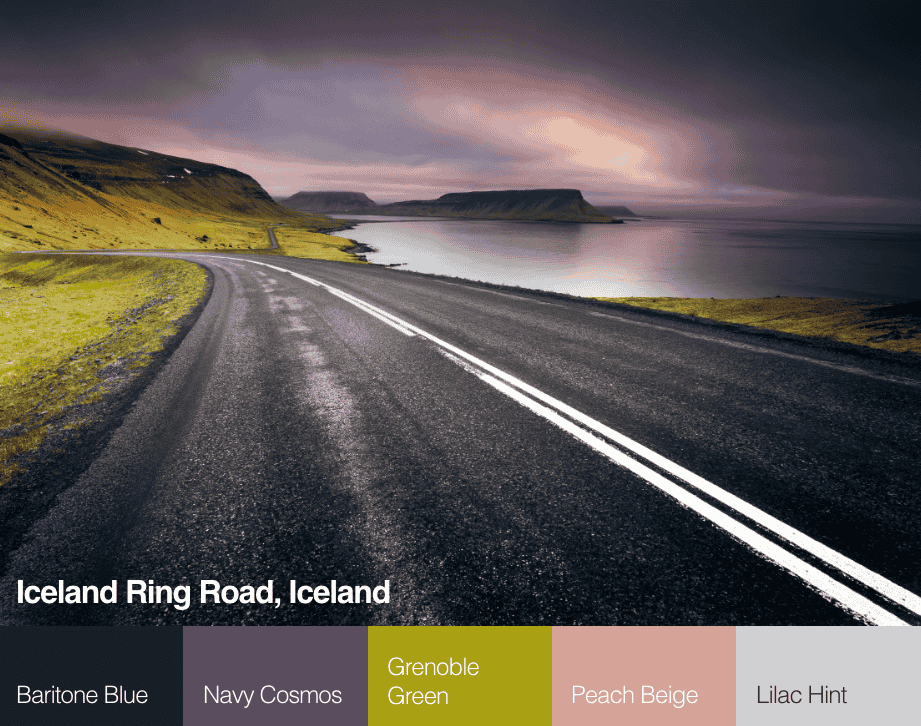 Did somebody say play 'Jaja Ding Dong'? Circling 825 miles of Iceland's breath-taking country, the ring road explores lava fields, waterfalls, cascading mountains and fjords. Cruising under a Peach Beige sky, the Grenoble Green mountains topped with Navy Cosmos and Baritone Blue will leave you in awe. Although this road-trip is accessible all year round, it's recommended to drive in summer to avoid harsh conditions.
Atlantic Road, Norway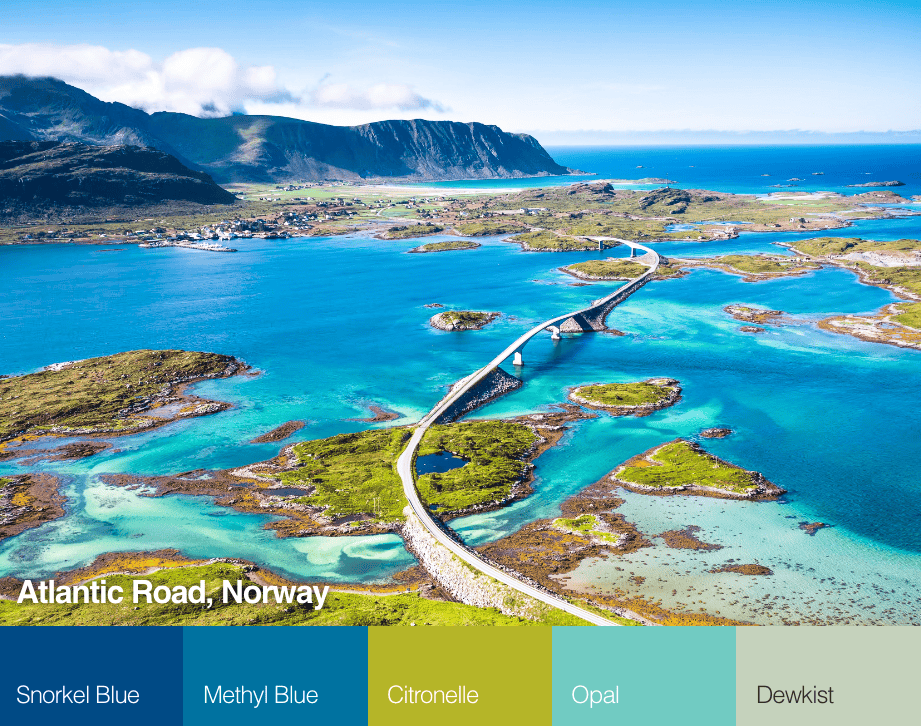 Splashed with Snorkel Blue, Opal, Citronelle and Methyl Blue, it's no surprise the Atlantic Road in Norway is dubbed 'The Road in the Ocean'. Some sections of the road resemble a roller coaster, with twists and dips over the sometimes-intruding waves. This five-mile stretch should be taken at a leisurely pace, stopping at designated points to admire the colourful coastline and breathe in the salty air. But if that isn't enough, continue down the road to explore the further seven bridges.
Great Ocean Road, Australia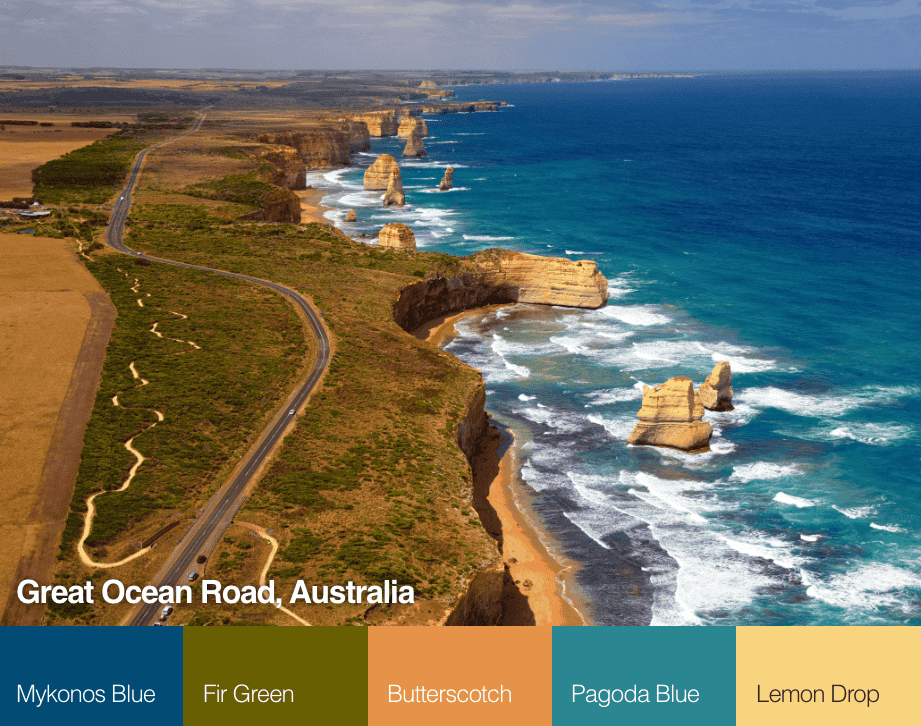 Say G'Day to 150 miles of sun kissed beaches, which fringe Australia's Great Ocean Road. Taking an easy three days to complete, you'll find this coast drenched in Pagoda Blue, Butterscotch and Mykonos Blue with touches of Lemon Drop when you meet the 12 Apostles. Stopping at popular seaside towns like Lorne and Torquay, you'll need your surfboard (or bodyboard for the less experienced riders) to make the most of their gnarly waves. Make sure you also take a detour in-land, you might spot your first kangaroo bouncing along the Fir Green landscape.
Badlands National Park, Highway 240, USA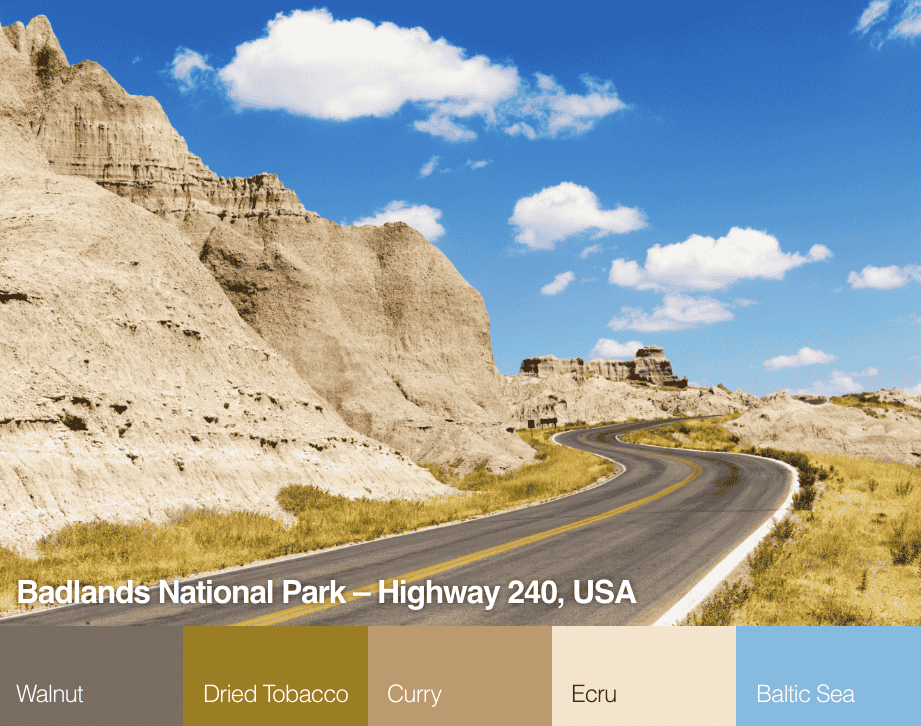 We're (virtually) jetting back to America now. Badlands National Park to be precise. This short drive is a 39-mile loop, but since it took 75 million years to be what it is today it's worth taking your time to see all 16 attractions. Crusted with Ecru, Curry and Dried Tobacco rock formations, this road-trip is one like no other, and is home to North America's most endangered animals. Drive with the roof down to truly appreciate the scenery and Baltic Sea sky.
North Coast 500, Scotland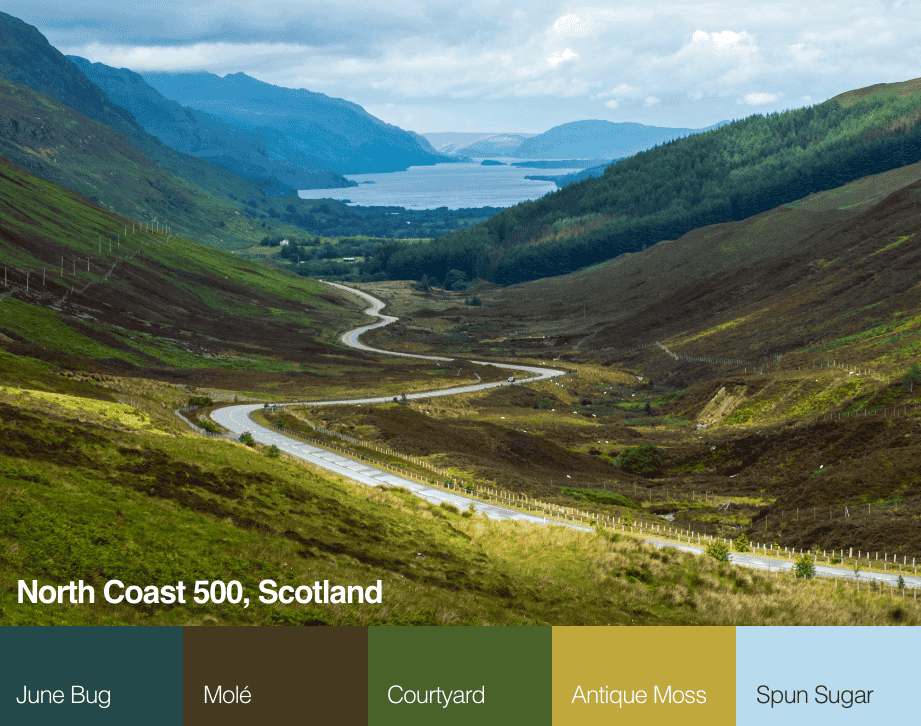 If you live in the UK you needn't go as far as New Zealand to hike mountains or get your adrenaline fix. 516 miles of the North Coast 500 can give you just that, over five fun-filled days in Scotland. Between your time spent in whisky distilleries, white water rafting or spotting Puffins you will wind your way through a patchwork blanket of Antique Moss, Courtyard and Molé. And if you look up, the sky is airbrushed with hues of Spun Sugar and June Bug.
Transfagarsan Highway, Romania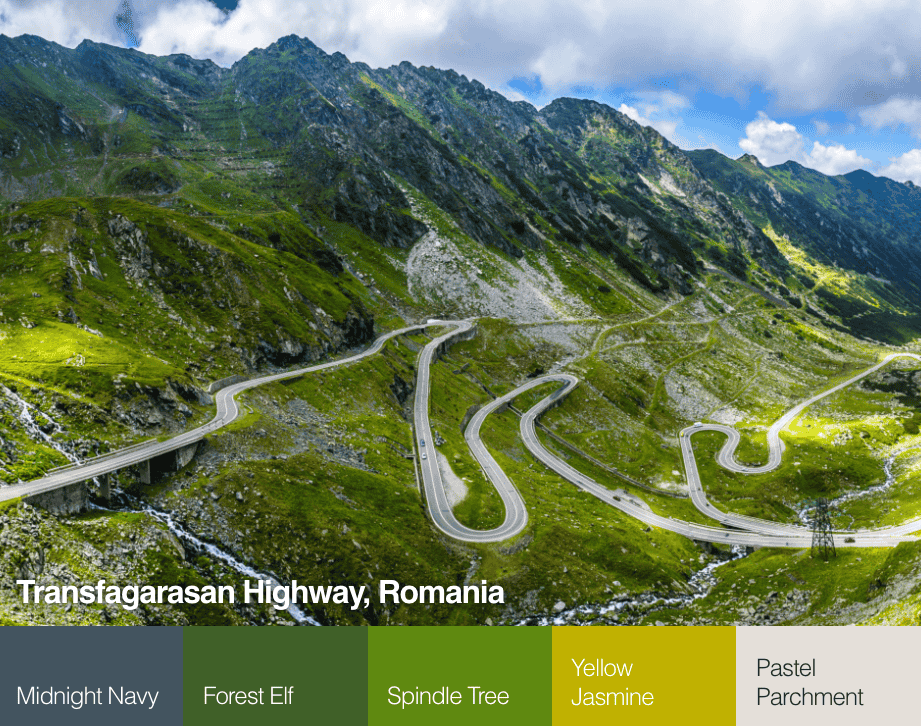 You may need your travel bands for this one. The Transfagarasan Highway is 93 miles of spectacular winding roads, which snake through the towering Romanian mountains. Take a postcard picture during summer to capture Yellow Jasmine, Spindle Tree, Forest Elf and Midnight Navy. This famous section of the highway will take no time at all, but we recommend a couple of days for this road trip, from Cartisoara to Bascov as there's plenty to do along the way.

Major wanderlust? Now's the time to ensure your car is ready for your next road trip. Compare car insurance and breakdown cover quotes with our helpful comparison tools today.