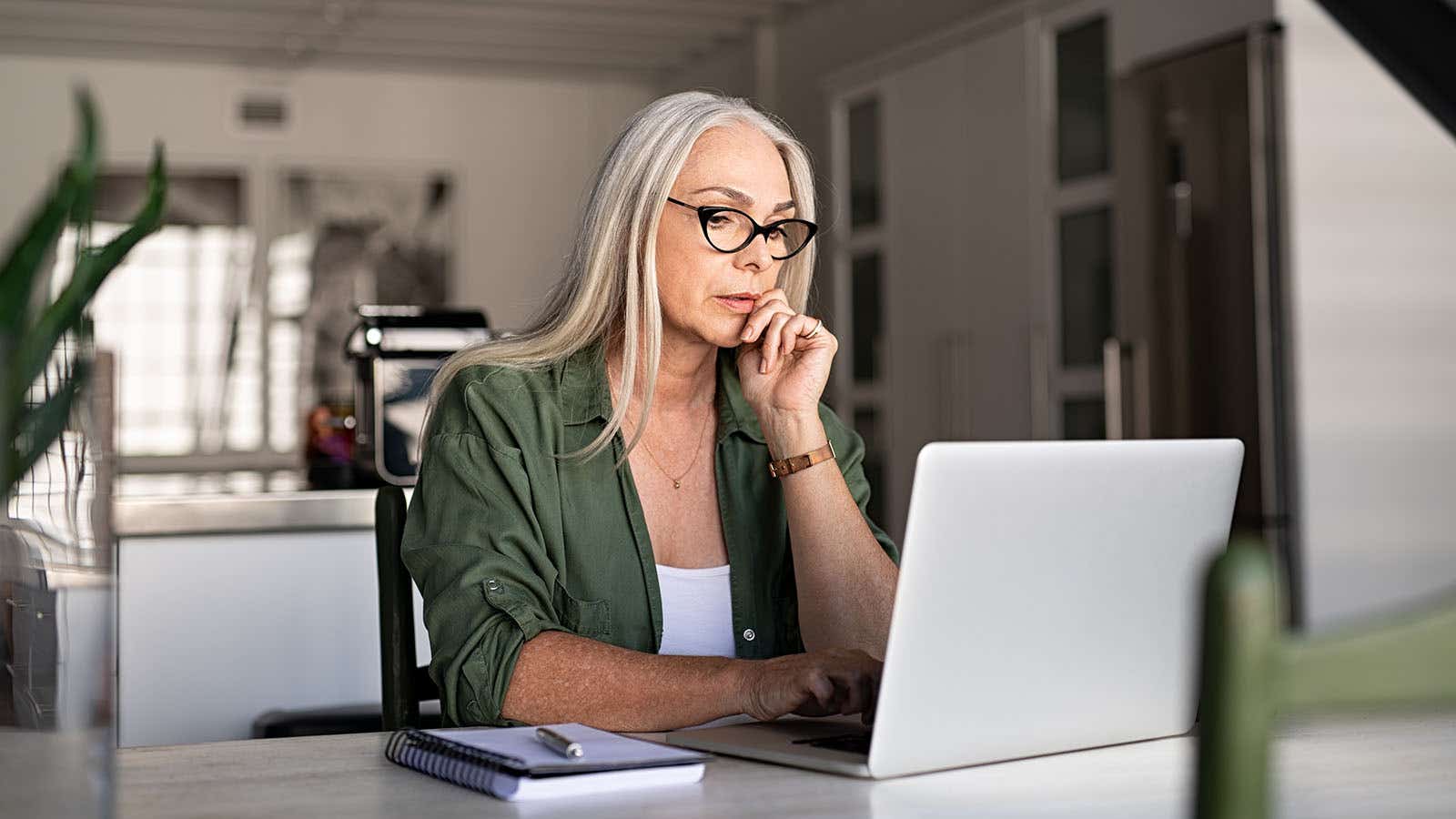 Broadband and TV provider Sky increased prices by an average of 8.1% for almost all of its customers in April 2023.
This was a noticeably lower price hike than most other broadband and TV providers, who had price hikes of around 14%.
And unlike those providers, Sky actually allowed customers to cancel their broadband contract for free as a result of the increase. However, the deadline to do this after the 2023 price hike has now passed.
Unfortunately, the same policy doesn't apply to Sky TV customers, due to the terms and conditions you have to agree to when you sign up for that service.
Read on to learn all about Sky's April 2023 price increase.
Sky price increase 2023 - who is affected?
Sky's broadband and TV price increase affected the vast majority of its broadband and TV customers.
This means that all Sky broadband and TV customers should expect their prices to go up from in April 2023, with two main exceptions:
Sky Broadband Basics social tariff customers

Any Sky Stream and Sky Glass TV customers who signed up on 18th October or afterwards
Learn more about Sky's broadband social tariff, and see which other providers offer them.
Sky started notifying its customers of the price increase from the 16th February, but likely stopped sending these messages out in March. So any affected customers would have had a 30-day window to cancel their contract for free, but that window is likely now over.
Find out which providers do and don't have mid-contract price rises. Or if you plan to switch your broadband, take a look at some of our latest broadband deals.
Our best broadband deals
Search on Uswitch to find the right broadband package for you.
When did Sky prices go up?
From the 1st April 2023. All customers who are affected by this price hike will see their first increased monthly rate when they receive their April monthly bill.
How much was the 2023 Sky price increase?
If you currently pay for a broadband, TV or home phone service from Sky, your bill likely went up by about 8.1% - that's the average increase amount reported by the provider. That's about £5-6 per month or £67.20 per year.
Here's how an 8.1% price increase affects your bills, depending on how much you currently pay on a monthly basis:
| Current monthly cost | 8.1% increase | Annual extra cost |
| --- | --- | --- |
| £25 | £2.03 | £24.30 |
| £35 | £2.84 | £34.02 |
| £50 | £4.05 | £48.60 |
| £75 | £6.08 | £72.90 |
What can Sky customers do if their prices increase?
If you're affected by Sky's price increases, you would have been allowed to leave your contract early without paying a cancellation fee - but only within 30 days from the date you were told.
Most broadband and TV providers don't let you leave your contract early after a price increase, so this could be your opportunity to find a better deal. But just be mindful that other providers increase their prices annually too, so you might still be faced with one next year if you switch to a provider that does.
Not all is lost though - you could still offset the price rise by opting for a cheaper monthly price on your next deal. Just make sure you don't choose an internet speed that's too slow for your needs.
There are also some providers that don't increase their prices mid-contract at all. So if deals from any of these providers are available at your home, you might be able to secure a consistent price for the duration of your contract.
Broadband postcode checker
See what internet speeds are available and compare prices for any postcode in the UK.
Can I cancel my Sky contract if it increases my prices?
If you contact Sky to cancel your contract within 30 days of receiving notice of a price increases, you shouldn't be charged any additional fees. However, Sky has included the following caveat in its T&Cs:
Prices may increase and services may vary, including during the minimum term. We will let you know about any material changes and your options before we make them.

In your minimum term, Sky TV prices may increase once every 12 months by up to 10%. These limits do not apply to other Sky services.
This means that, unfortunately, if you have a TV contract with Sky, you won't be allowed to end your contract early without penalty after a price rise. So be sure to view your contract via the MySky page to check if this applies to your Sky account.
Should I stay with Sky?
If you have a TV contract added to your Sky broadband subscription, you might have a tough decision to make. Other broadband providers like BT and Virgin Media offer equally comprehensive TV services, but if you're loyal to Sky TV it might make sense to stick with its broadband service too.
Also, Sky's price increase was noticeably lower than most other providers, so it might not be worth switching to another provider if you want your bill to stick as close as you can to the initial monthly price.
However, if you're been looking to leave Sky for a while and your contract is approaching an end, now might be the perfect time to switch. You may soon be able to change providers straight away, at no extra cost.
Uswitch broadband provider reviews
Read our expert reviews of all of the UK's biggest broadband providers.
Sign up for our latest broadband offers and expert advice
Get more expert insights, browse our latest exclusive offers and find money-saving deals from Uswitch.
Why is Sky increasing prices?
Unlike most other providers, Sky doesn't include a set annual price hike in its terms and conditions, and its price hike for 2023 was actually noticeably lower than the 14% other brands have incurred.
But that doesn't stop Sky from upping its prices almost every year, despite displaying a specific monthly fee to customers before they sign up. So why do they do this?
The two main reasons Sky issues a yearly price increase is roughly the same as other providers:
Both of these drive the cost of business up on a yearly basis, which is why it often sends part of that cost onto customers in the form of price hikes. But this still puts customers in a difficult situation.
Under this process, there's no way of telling what the inflation rate is going to be in a year's time - so customers who agree to a certain monthly price don't know how much they'll be paying per month by the end of their contract.
It has also meant that customers have had to stomach a high price increase of over 8% - an amount that hardly anyone expected to be paying 18 months ago when they signed up.
Sky has done better than other providers with decoupling its price increase from inflation, given its 2023 increase is lower than the 10.5% CPI rate in January. But it will still be an unwelcome sting in a time when prices remain very high across for other services.
No contract broadband deals
Take a look at our latest no contract and monthly rolling broadband deals.
Sky end of contract price hike
An annual price hike while you're mid-contract isn't the only increase to your bills you should be aware of. Once your contract ends, Sky will likely increase your monthly prices by a huge 30-40% if you don't switch or re-contract to a new deal.
Broadband providers are allowed to significantly increase your bill once your contract ends, because your agreed period with them has finished, and you're free to find a new broadband deal with just one month's notice.
However as a result, providers now must inform their customers when their contract is coming to end. So make sure to watch out for a notification from Sky that tells you that your fixed-term is finishing. Once you receive that message, you can start looking for new broadband deals.
How to switch broadband
Switching broadband is a lot easier than you'd think. Read our step-by-step guide to finding a new broadband deal
Here's an example of what that an end of contract notification may look like: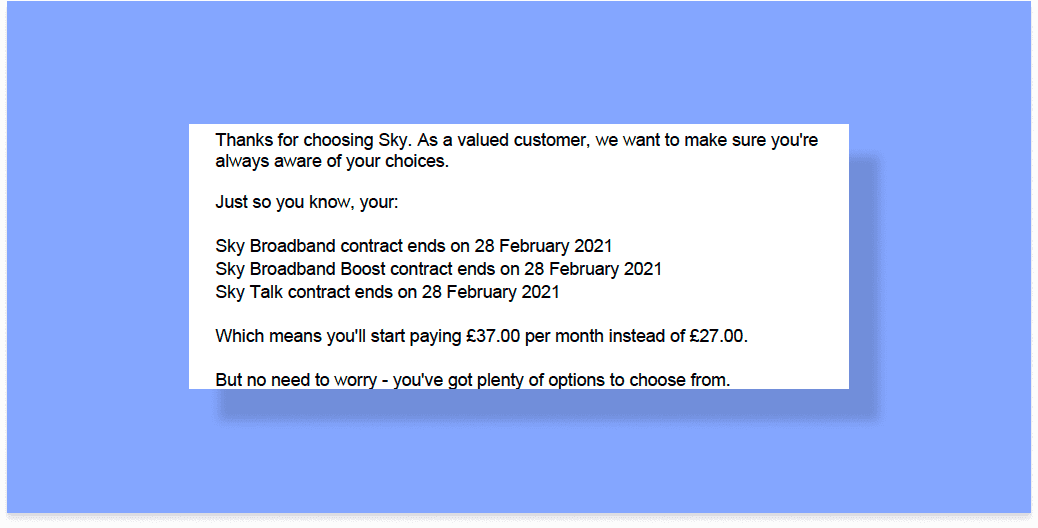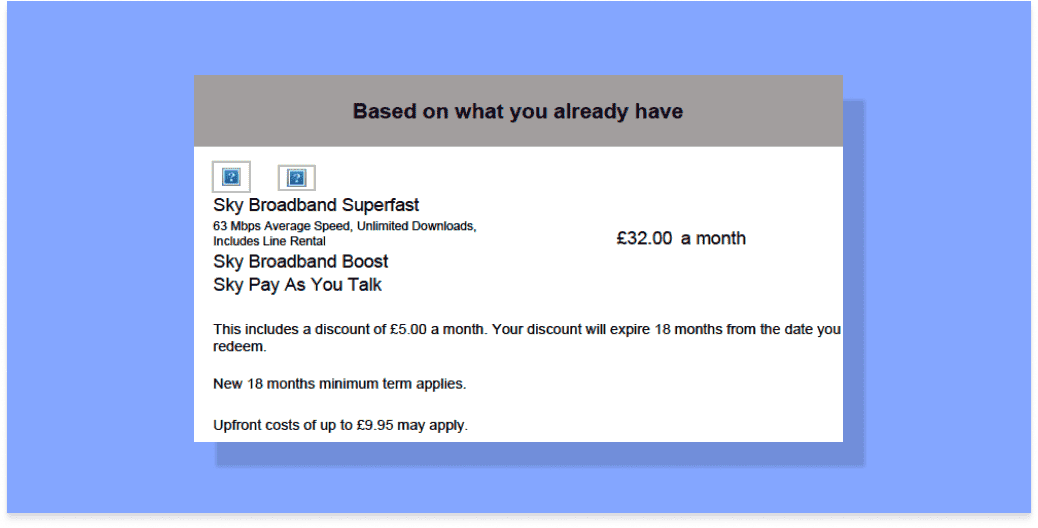 Make sure you avoid an expensive price hike from Sky by checking when your contract is due to end. You can find this on your My Sky account online, or potentially by checking one of your bills.
This way, you can plan when to find a new broadband deal so you aren't stung with higher out of contract prices.
While switching can save you money, you might still want to stay with Sky if you're happy with your service — especially if you're subscribed to one of Sky's TV packages — but that doesn't mean you have to stay silent.
If you want to let Sky know you're unhappy with the price increases, or if you'd like to try to haggle a better deal, you can contact Sky in several ways:
Phone (Sky cancellation contact number): Sky's complaints line is 0330 041 3875. Calls to this number are free for Sky Mobile and Sky Talk customers; however, charges may apply if you're calling from a different provider.

Online chat: You can reach Sky Experts on live chat for free between 8:30am and 9pm, seven days a week.

Twitter: The @SkyHelpTeam account is available from 8am to 10pm on weekdays and 9am to 9pm on weekends.
Thinking of switching broadband provider?
Broadband and TV deals
Take a look at the latest TV and broadband packages on Uswitch.