Sky has announced that it will be increasing its broadband and TV prices by around £43 per year for millions of customers on 1 April 2022.
It comes during a time when the cost of living has skyrocketed, with inflation reaching its highest point in decades and other household bills like energy also seeing significant price hikes.
However, Sky is one of the few broadband providers that doesn't include annual inflation-based price increases in its contract terms and conditions. So it's likely that, if Sky is increasing your monthly rate, you could be within your rights to leave your contract early and switch to a new broadband deal without paying an early cancellation fee.
The provider has started informing each of its customers how much their bills are increasing by. If you haven't had any emails or letters yet, then don't worry — Sky needs to allow at least 30 days' notice before the price hike takes place.
Read on to learn more about the price increase, whether you're affected by it, and if you're eligible to switch to a new broadband or TV deal. Plus, find out about Sky's out of contract price hike, which could put your bills up even higher.
Compare broadband and TV deals
April 2022 Sky price increase — am I affected?
If you're currently paying for a broadband, TV or home phone service from Sky, your monthly plan will see a price increase of around 5%. That's roughly £3.60 per month, or £43 per year.
In addition, Sky hasn't officially announced an exemption for vulnerable customers either, so the vast majority of Sky customers will likely be affected by this price hike.
The amount your Sky bill is set to increase by will depend on how many Sky services you subscribe to and which plan you have. For example, if you pay for both Sky broadband and Sky TV, or you have a faster Sky broadband connection, you will likely see a higher increase than someone on fewer, cheaper services.
If you're included in Sky's price rises, the provider will communicate this increase to you via email or by post at least 30 day before the increase is due to happen.
How much is the 2022 Sky price increase?
Here are the Sky services that we know are increasing in price from 1st April.
Updated 27 April 2022
| Sky service | Monthly price increase | Original monthly price | New monthly price |
| --- | --- | --- | --- |
| Sky Signature TV Package | £1 | £26 | £27 |
| Sky HD | £1 | £7 | £8 |
| Sky Cinema | £1 | £11 | £12 |
| BT Sport | £1 | £27 | £28 |
| Sky Broadband Essential | £2.50 | £25 | £27.50 |
| Sky Broadband Superfast | £2.50 | £28 | £30.50 |
| Sky Glass with Superfast Broadband | £2.50 | £56 | £58.50 |
Sky Talk home phone prices are expected to rise a month later on 1st May, with a per-minute charge increase from 20p to 22p.
There have been no price increases announced for the following Sky services so far:
Sky Multiscreen

Sky Ultimate (TV add-on which gives Netflix)

Sky Sports

Sky Kids

Sky Ultrafast Broadband

Sky Ultrafast Plus Broadband
What can Sky customers do?
If you're affected by Sky's 2022 price increases, you should be allowed to leave your contract early without paying a cancellation fee. This means that, once you receive your notification, you'll be able to search for a new broadband deal that offers prices you prefer.
Ofcom regulations state that you're allowed to break your contract penalty-free if your provider increases subscription higher than what was agreed when the contract was signed.
If you contact Sky within 30 days of receiving notice of any price increases, you shouldn't be charged any additional fees. However, Sky has included the following caveat in its T&Cs:
Prices may increase and services may vary, including during the minimum term. We will let you know about any material changes and your options before we make them.

In your minimum term, Sky TV prices may increase once every 12 months by up to 10%. These limits do not apply to other Sky services.
Be sure to view your contract via the MySky page to check if this applies to your Sky account.
To learn more about the switching process, read our guide to switching broadband providers.
Compare broadband and TV deals
Sky out of contract price hike
An annual price hike while you're mid-contract isn't the only increase to your bills you should be aware of. Once your minimum contract period ends, Sky will likely increase your monthly prices by a staggering 30-40% if you don't switch or re-contract to a new deal.
Broadband providers are allowed to significantly increase your bill once your contract ends, because your agreed period with them has finished, and you're free to find a new broadband deal with just one month's notice.
However as a result, providers now must inform their customers when their contract is coming to end. So make sure to watch out for a notification from Sky that tells you that your fixed-term is finishing. Once you receive that message, you can start looking for new broadband deals.
Here's an example of what that notification may look like: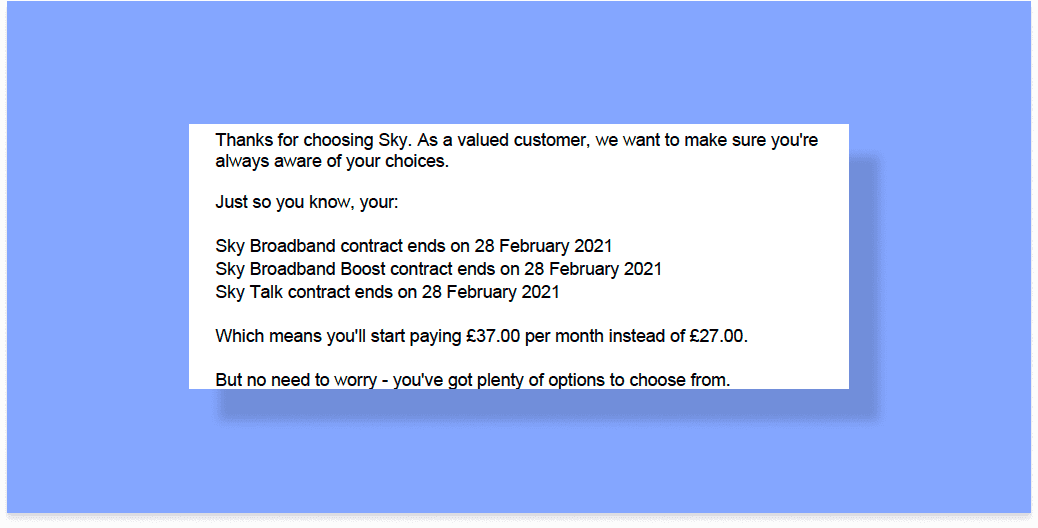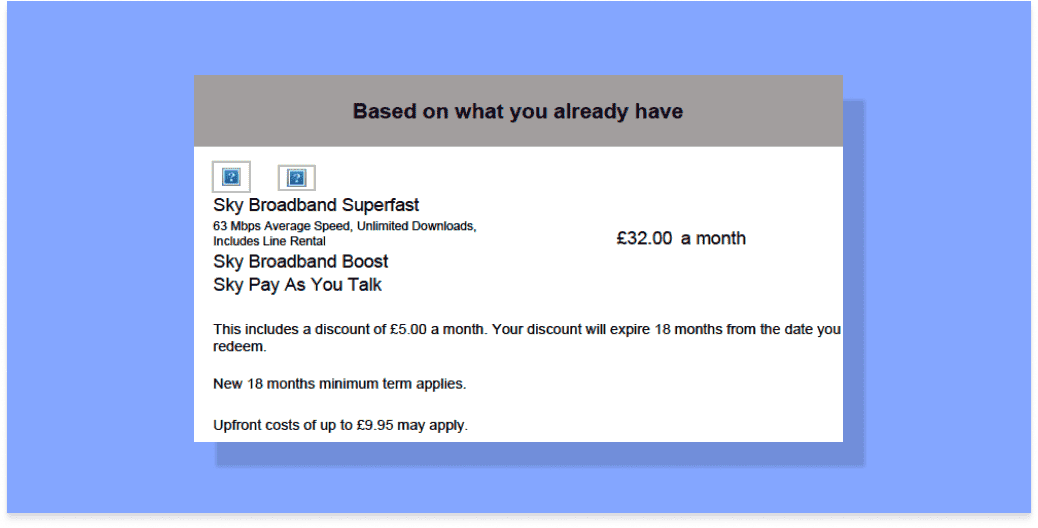 Make sure you avoid an expensive price hike from Sky by checking when your contract is due to end. You can find this on your My Sky account online, or potentially by checking one of your bills.
This way, you can plan when to find a new broadband deal so you aren't stung with higher out of contract prices.
Compare broadband and TV deals
While switching can save you money, you might still want to stay with Sky if you're happy with your service — especially if you're subscribed to one of Sky's TV packages — but that doesn't mean you have to stay silent.
If you want to let Sky know you're unhappy with the price increases, or if you'd like to try to haggle a better deal, you can contact Sky in several ways:
Phone: Sky's complaints line is 0330 041 3875. Calls to this number are free for Sky Mobile and Sky Talk customers; however, charges may apply if you're calling from a different provider.

Online chat: You can reach Sky Experts on live chat for free between 8:30am and 9pm, seven days a week.

Twitter: The @SkyHelpTeam account is available from 8am to 10pm on weekdays and 9am to 9pm on weekends.
Thinking of switching broadband provider?