If you need a van to move to a new house or to transport equipment an annual van insurance policy might be too expensive. A cheaper solution would be to borrow or hire a van and take out temporary van insurance, which is sometimes called short-term van insurance or even one-day van insurance.
Compare temporary van insurance
Search for a range of short term van insurance quotes and deals with Uswitch and money.co.uk*
What is temporary van insurance?
Temporary van insurance provides drivers with the means to legally drive a large van on public roads. The cover is designed for people who only need to use the van for a specific purpose, such as moving home, and can be hired for up to a month. This makes it considerably cheaper than employing a removal firm. 
Why would I need temporary van insurance?
If you're borrowing a van, or using a van hire company, you must have some insurance in place. However, even if your current car insurance allows you to drive another vehicle there are things to consider. 
For example:
does your policy only provide third party cover? 

if so, is this good enough? considering you'd be behind the wheel of a much bigger vehicle. 

does your current policy wording place a cap on the size or weight of the vehicle you're borrowing or hiring?

would you welcome more thorough cover that provides for breakdown or accidental damage?
Reasons to take out temporary van insurance
Different benefits of temporary van insurance come into play depending on your circumstances. For example:
Borrowing from a friend and taking out temporary van insurance
If you're borrowing a van from a friend, you could arrange to be added to the owner's insurance policy as a named driver. However, if you're involved in an accident this may affect their no claims bonus. 
your own van insurance policy means you are covered without impacting on the owner's no claims bonus

temporary van insurance is likely to be a simpler option if you only plan to drive the van on a one-off basis
If you are already covered using a car insurance policy 
You may also be covered if you have 'driving other cars' cover on your main insurance policy. 
However, this type of cover is becoming less common, and where it's in place it's likely you'll only be covered for third party damage when you drive the van. 
this means the insurer won't pay out for any damage to the vehicle you're driving, so the van's owner could face a hefty repair bill that you'd probably be expected to pay 

there are also exclusions in place for many policies - barring people under a certain age, typically 25, or from certain professions (for example, builders) 

temporary van insurance offers comprehensive cover without putting the van owner's no claims bonus at risk if you need to make a claim
Other reasons you may need temporary van insurance
You need a van to move things: Temporary van insurance might also be best if you plan to transport equipment, or if you want to share the driving on a longer job in a friend's van.
You want to test drive a van: Temporary van cover can also come in handy if you plan to purchase a van and want to take one for a test drive, or for driving your new van home before securing an annual insurance policy.
What does temporary van insurance cover?
Temporary van insurance typically provides protection for policyholders driving vans weighing up to 3.5 tonnes. Policies typically offer cover for accidental damage, breakdown, commercial and domestic use and windscreen damage. The driver is covered when driving in the UK and the EU. 
In the event of an incident, such as a breakdown a replacement vehicle is often, although not always provided, as can personal accident cover. In all cases check what's covered under policies you search for and compare terms and conditions among the competition to ensure you make the right choice.  
Do I need temporary van insurance if I hire a van?
If you don't have the option of borrowing a friend's van you may decide to rent one from a hire company. In this case, vehicle insurance will usually be included within the hire price. 
However, check that the level of cover isn't just third party and note you may need top up your cover to comprehensive car insurance with an additional short-term van insurance policy.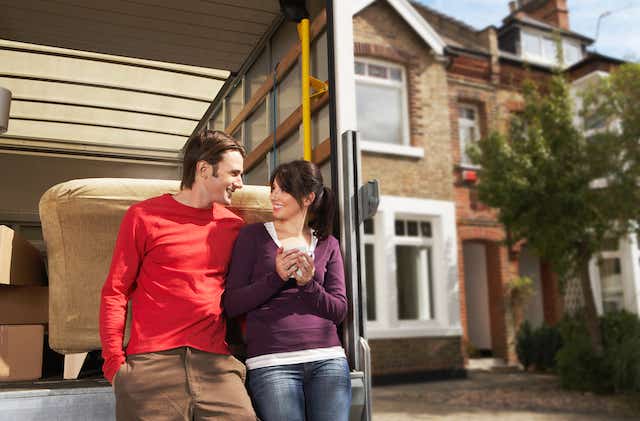 How long can I get temporary van insurance for?
If you're borrowing a van, you must have insurance. It's a legal requirement to have insurance before getting on the road, whether you're driving a car or a van. 
Temporary van insurance can come in particularly useful if you are moving home.
Rather than a standard annual policy, temporary van insurance means you can get short term cover, typically from at a day to a month. However, some will offer cover for as short a period as an hour.
How much does temporary van insurance cost?
If you can borrow a van from a friend, buying short-term insurance could be cheaper than hiring. The price will depend on how long you want to be covered, your licence type, your postcode and your driving experience. 
The cost will also depend on the following:
The cost of your cargo: Exactly what you're using the van for and the cargo you are carrying will also be key. You will only be insured for the purpose of the trip and cargo you tell the insurer you'll be carrying.
The excess you set: Like an annual insurance policy, you'll have to pay an excess if you need to make a claim, and can select the voluntary excess you wish to pay. You may be able to cut the cost of your policy by opting for a higher excess fee, but be realistic and make sure you can afford to pay this charge if you need to make a claim.
What do I need to get a temporary van insurance quote?
To compare temporary van insurance and buy a policy, you'll need:
the van's registration number (or the make and model if you're not sure of the licence plate details)

to provide details of your driving history and licence type to hand, as well as your name and address details

permission from the van owner before getting behind the wheel

to inform the insurer of when you want the insurance to kick in
FAQs
Can everyone get temporary van insurance?
Drivers aged 19 to 75 can be covered by temporary van insurance, but those under 21 or even 25 may need to shop around as fewer insurers will provide cover for relatively inexperienced drivers.
When might I find it difficult to get temporary van insurance?
You may find it more difficult to get temporary van cover if:
you've had several recent car insurance claims or more than six points on your licence

you're unemployed or if you work in certain professions such as entertainment, taxi or delivery services — these restrictions will usually be listed on the terms and conditions when you get a quote

the value of the van exceeds a limit (normally £45,000) 
Are certain types of van excluded from temporary van insurance?
Yes. Generally speaking, terms and conditions for temporary van insurance typically restricts the type of van in the following ways:
it must not have a gross vehicle weight (GVW) of more than 3.5 tonnes. This is the total weight with all passengers and cargo included

it has an engine capacity of no more than 3999cc

it must not have more than eight seats

it can't be a HGV. Other vehicles such as refrigerated vans are also excluded
Do I need to be a UK resident to get temporary van insurance?
You must have a current permanent UK address. Also, if you're looking to cover a van that'll be used to transport cargo abroad the van must be picked up and dropped off in the UK. It can't be exported by someone else.
Compare temporary van insurance
Search for a range of short term van insurance quotes and deals with Uswitch and money.co.uk*
Read more …
The temporary van insurance comparison service is provided by money.co.uk, which is a trading name of Dot Zinc Limited, registered in England (4093922) and authorised and regulated by the Financial Conduct Authority (415689). Registered address: The Cooperage, 5 Copper Row, London, England, SE1 2LH. By using this system you are agreeing to our Terms and Conditions and Privacy Policy.