Just like the housing market, the UK private rental market has been volatile in 2023. With everything from Covid-19 to the cost of living crisis affecting costs in recent years, rent has been one of the many aspects of day-to-day life that has accelerated for many people. 
With the state of the economy preventing millions from being able to afford their own mortgages, the trajectory of the rental market could play a pivotal role in the lives of many people across the UK for years to come.
Our research collates the latest UK private rental statistics for 2023, to analyse trends, assess how rents have changed over time, and make predictions about the coming years.  
Quick overview of private rental statistics 2023
Almost a fifth (19.1%) of UK homes are privately rented, as of 2022.

The median average cost of rent in England was £825 in March 2023 – a 3% rise from October 2022.

London residents paid at least 50% more for rent on average than anywhere else in the UK, with average costs of £1,500 per month.

The average UK tenant spends around two-fifths (39.1%) of their monthly income on rent.

The annual change in UK rental prices was +5.3% in July 2023.
How many people private rent in the UK?
With the cost of buying a house unattainable for large sections of the UK population, the demand for rental properties has understandably increased. In 2000, 10% of homes in England were privately rented. By 2017, this had more than doubled. 
As of 2022, this figure dropped slightly, to around 19.1%, meaning the overall number of privately rented properties in the UK stood at just over 4.6 million.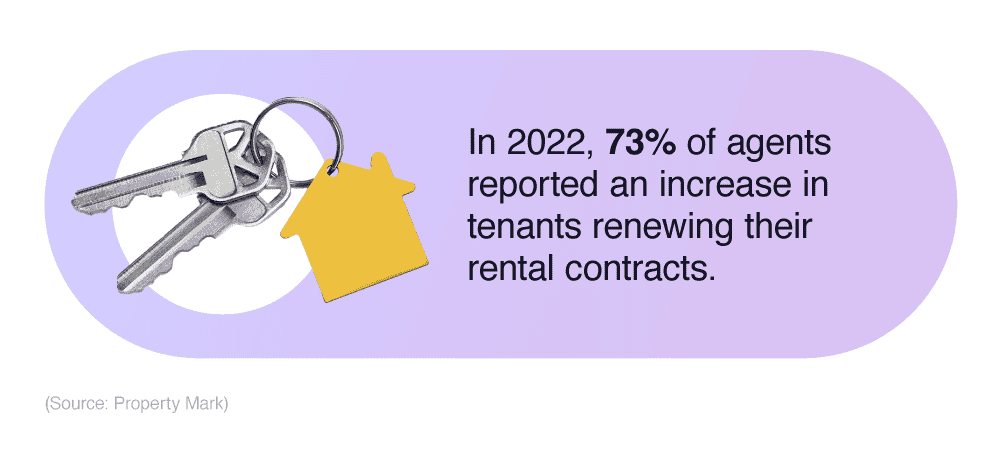 According to a 2022 report by Property Mark, 73% of agents reported an increase in the number of tenants renewing their rental contracts over the last year. 
Furthermore, an average of 127 new prospective tenants registered per branch within the last 12 months, yet only an average of 11 properties per branch. Given this lack of stock on the rental market, it's little surprise that tenants are choosing to stay in their current accommodation rather than move. 
In addition to this, around six in 10 (62%) of Property Mark's member agents reported month-on-month increases in rent prices in June 2023. This is a substantial reduction from the 82% recorded in June 2022, but more than double the pre-pandemic average of 34% between 2015-19. 
They also discovered that the number of new tenant registrations rose to a new average peak of 118 per member branch in June 2023. There has been a general upward trend in these figures since February 2022, when just under 80 new registrations were taking place on average per branch. The figures for June 2023 represent a rise of around 4% from May 2023, and a 27% increase from June 2022.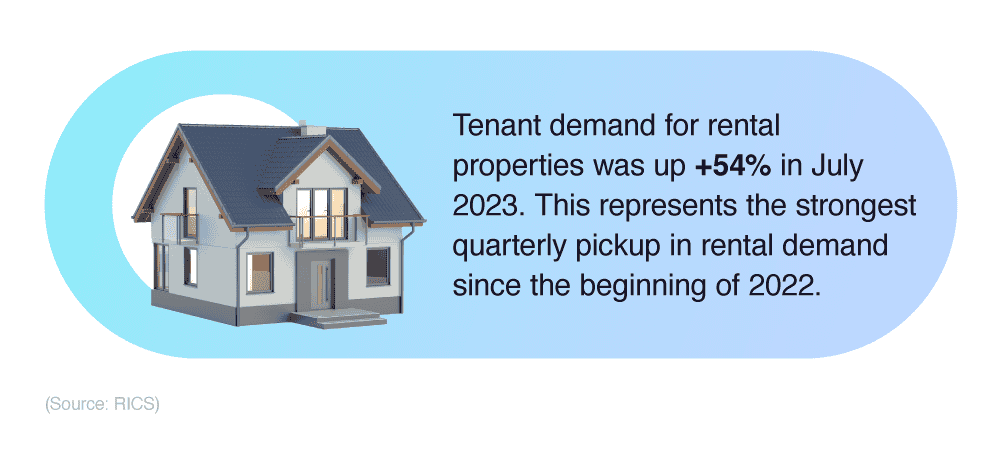 Members of Property Mark reported an average of 9 properties available to rent in June 2023 per branch. This is an improved picture from an average of five rental properties per branch in February 2022, but a drop of 19% from June 2022. This is a long way short of meeting the current demand for UK rented accommodation. 
According to the RICS Residential Market Survey, tenant demand is continuing to rise in 2023, with 54% of respondents reporting an increase in the three months leading to July. This represents the strongest quarterly pickup in rental demand since the beginning of 2022.
With regards to supply, a net balance of -30% of new landlord instructions was reported for July 2023. As a result of the mismatch between supply and demand, almost two-thirds (63%) of respondents expect rental prices to increase in the following three months – up from 55% in Q1 2023.
What is the average cost of rent in England?
The latest private rental statistics found that the median average cost of rent in England was £825 between April 2022 and March 2023. This represents the highest figure to date and is a 3% increase on the average recorded between October 2021 to September 2022 (£800).
Which region pays the most for rent in England?
The latest private rental statistics found that London residents paid the most for rent of any region in England, with median average costs of £1,500 per month. This means that tenants in London pay around 50% more than the next most expensive region (the South East) and 130% more than those in the North West.
A regional breakdown of the average cost of rent in the UK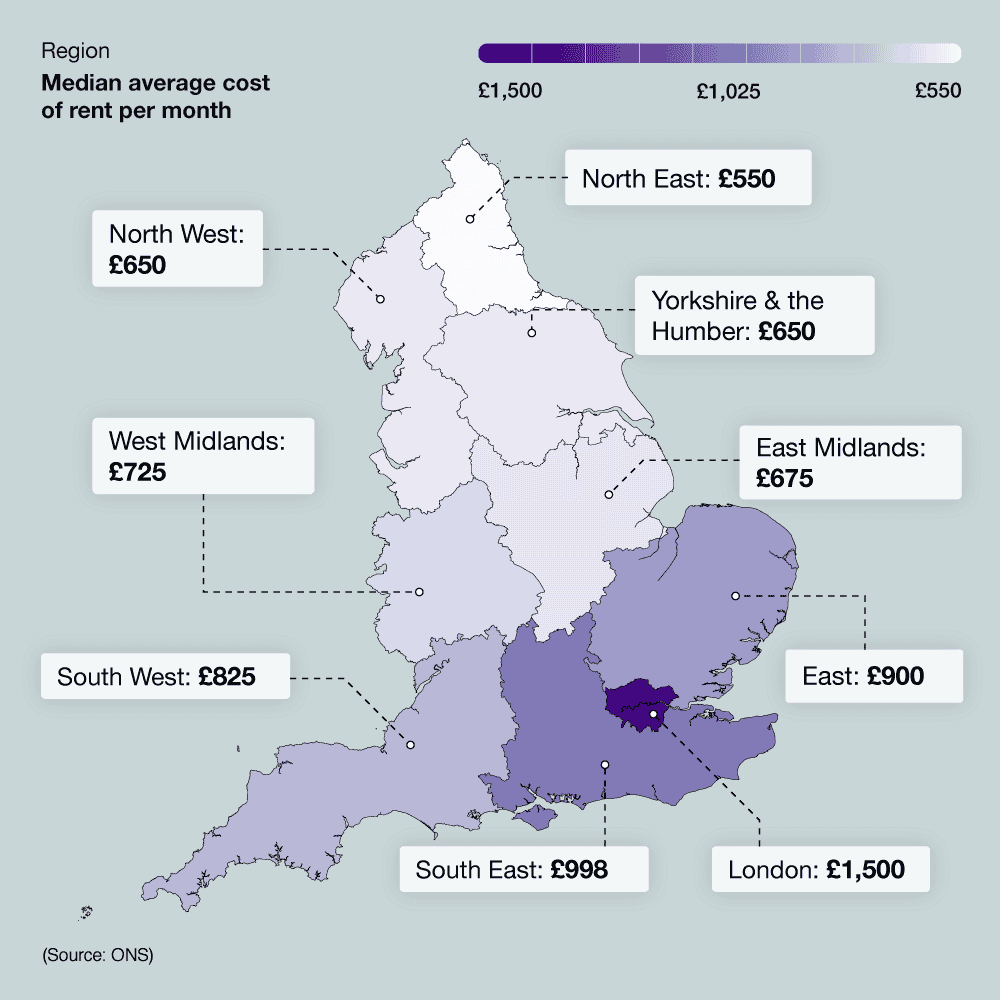 The South East had the next highest average rent (£998), followed by the East of England (£900). These were the only other regions aside from London with average rents of £900 or more. 
At the other end of the scale, the North East has the lowest monthly rents at £550 – 18% lower than any other region. This means that North East tenants pay around 63% less than those in London and 44% less than residents in the South East, on average.
How have rental prices in the UK evolved over time?
The 12-month price change in the cost of private rental charges for UK properties initially was on the decrease between 2016 and 2019, from +2.6% in Q1 2016 down to a low of +0.9% in Autumn 2019. Since June 2021, the annual change in rent prices has rapidly risen from +2.1%, to a peak of +5.3% in July 2023. 
A breakdown of the 12-month percentage change in UK rental prices between 2016 and 2022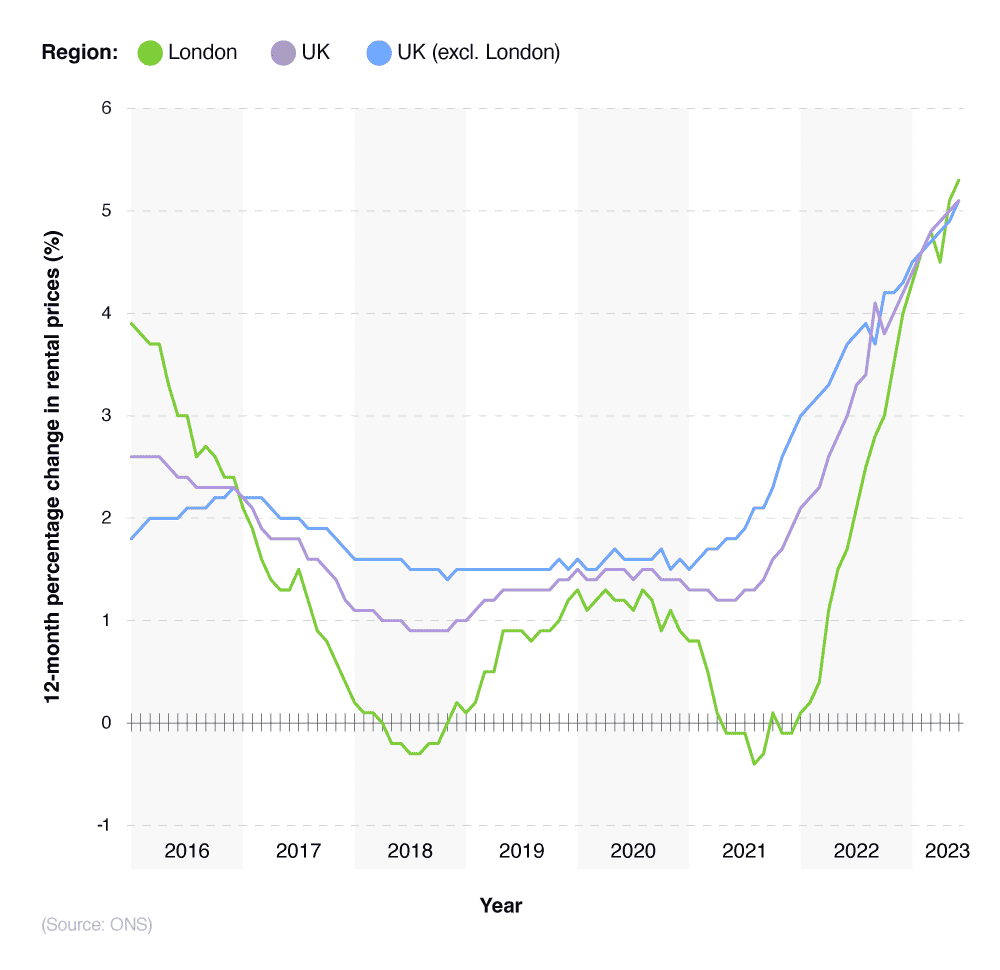 February 2017 was the first time in recent history that annual changes to UK rent exceeded the national average, and remained that way until February 2023. As of June 2023, rent increases for areas excluding London were +5.2% – slightly below the national average.
London, by contrast, has seen major changes over the last seven years. In January 2016, the 12-month change reached a high of +3.9%, before heading on a rapid decline to -0.3% in the summer of 2018. Fluctuations since then have floated above and below 0%. However, since January 2022, they have remained in the positive, and increased rapidly up to +5.5% in July 2023.
A breakdown of the 12-month percentage change in the cost of private rentals in different countries of the UK between 2016 and 2022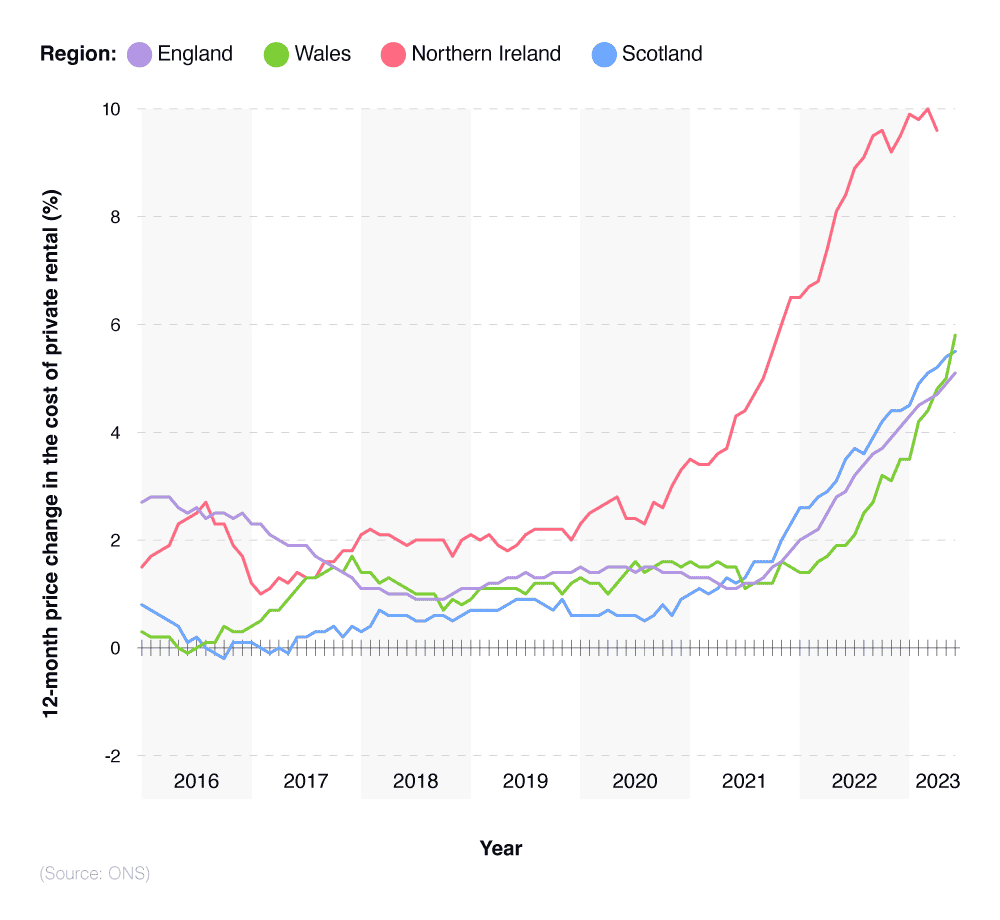 Since 2016, most countries of the UK have remained positive for their 12-monthly change to rent prices. This is with the exception of Scotland, which between September 2016 and May 2017, saw slight fluctuations above and below 0%. 
All four nations have generally experienced low and steady change over the last six years. Since October 2017, Northern Ireland saw the biggest increase in annual rent change and has retained this title ever since. In May 2023, rent was 10% higher in Northern Ireland compared to the previous year. Comparative figures for the rest of the UK were +4.9% (England), +5% (Wales), and +5.4% (Scotland).  
Though Northern Ireland's figures for July 2023 were unavailable, the other three UK nations all experienced further increases, with England standing at +5.1%, Scotland at +5.7%, and Wales at +6.5%.
Which English regions have seen the biggest increase in private rental prices?
Between July 2022 and July 2023, there have been some regional variations in the changes to rental prices. All parts of England have seen growth, albeit at varying levels and rates. For example, London, Yorkshire and the Humber, and the West Midlands experienced the biggest increases, all with year-on-year rises of 5.5%.
A breakdown of the percentage change to annual rent in different parts of the UK throughout 2022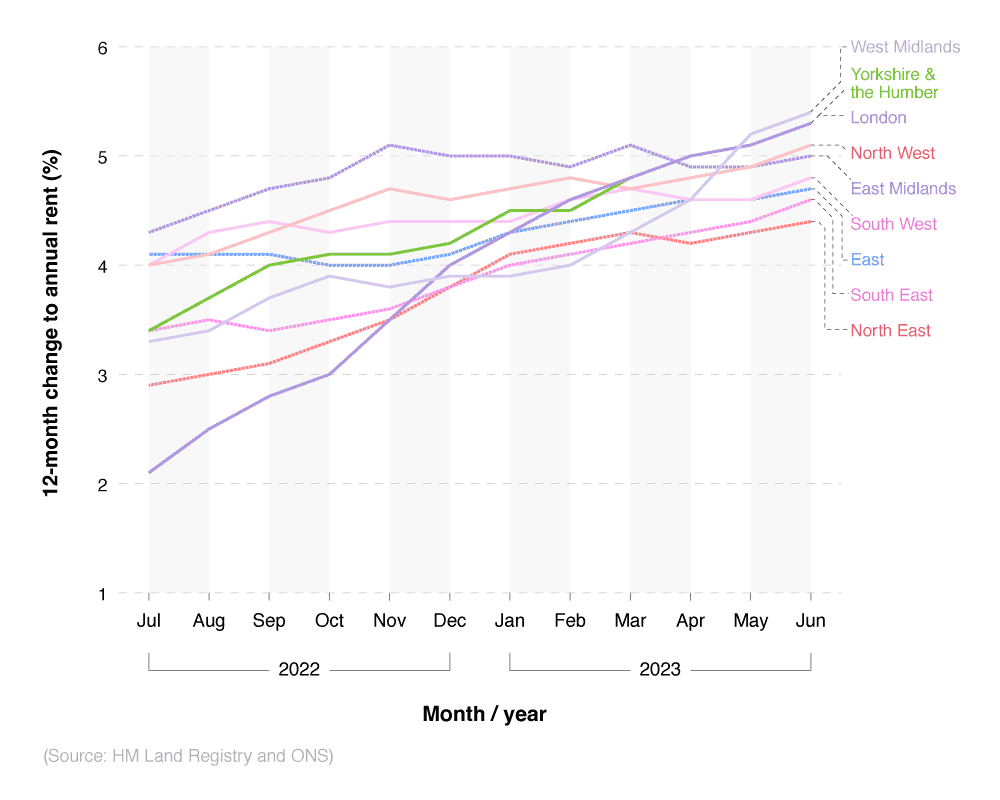 The North East experienced the largest growth in rent over the last 12 months, at +4.6% as of July 2023. This is compared to +4.8% in the East and +4.9% in the South West and East of England. 
Compare our best deals on tenants home insurance and tenants contents insurance to give you the cover you need while renting a home.
UK private rental population statistics
As of 2021-22, ONS figures suggest that 30% of all households in the private rented sector (PRS) included dependent children. This equates to around 1.3 million households.
A breakdown of demographic groups and the percentage of UK landlords who let properties to them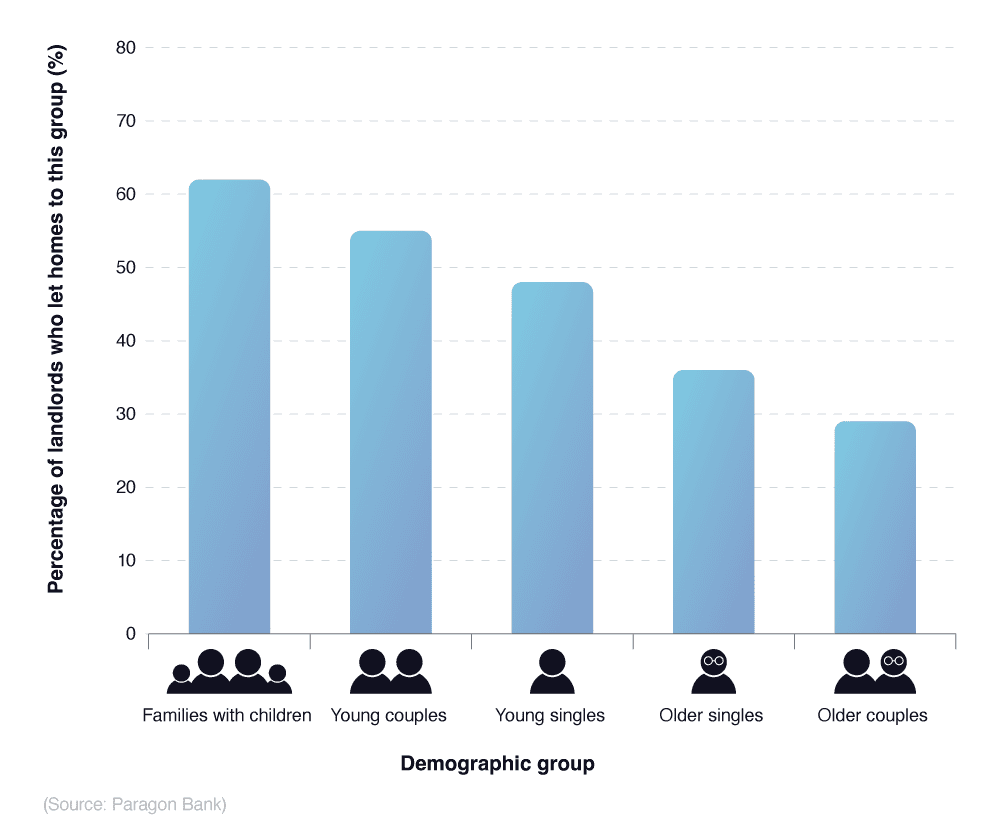 Buy-to-let statistics show that UK landlords are more likely to rent accommodation to families with children, with more than one in six falling into this category. This is followed by young couples (55%) and young singletons (48%). Just over a third (36%) are older, single residents, with less than one in three (29%) coming from the older couples group—the least common. 
A breakdown of different socio-economic groups and the percentage of UK landlords who let properties to them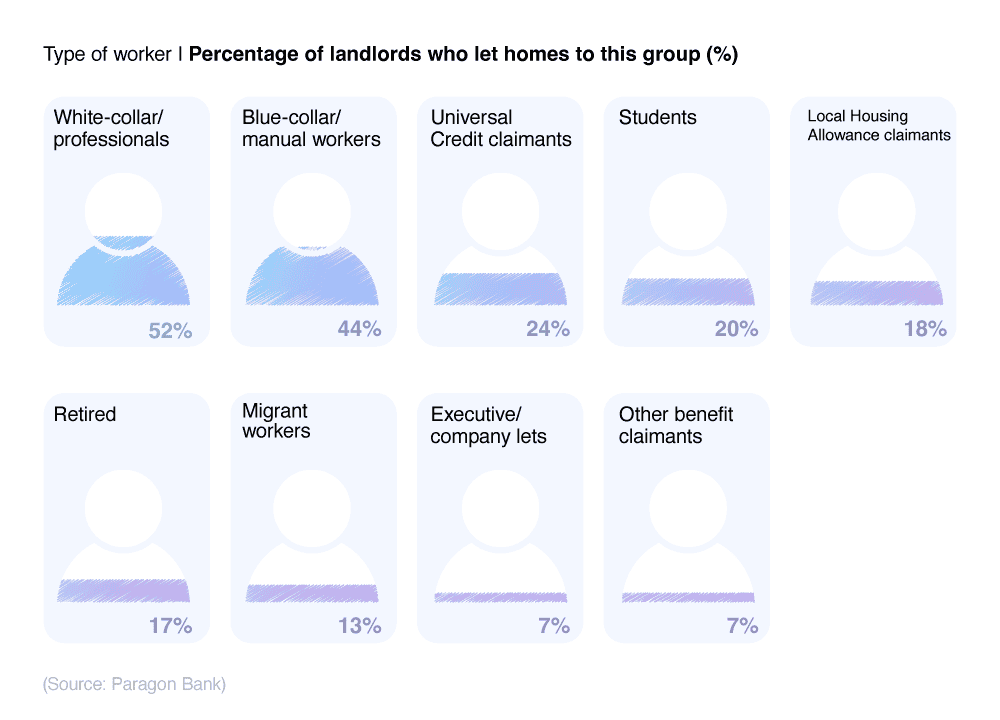 UK landlords also provide homes to a wide range of professions, and socioeconomic groups across the country. More than half (52%) of tenants are from a professional/white-collar background and constitute the most common group. This is followed by manual workers/blue-collar workers at 44%. 
Less than a quarter (24%) of tenants claim Universal Credit, and one in five are from the student population.  
A breakdown of the percentage of landlords who reported having a positive relationship with their tenants
| Response to the survey | Percentage of respondents (%) |
| --- | --- |
| Positive relationship | 91% |
| Neutral relationship | 8% |
| Negative relationship | 1% |
(Source: Paragon Bank)
An overwhelming majority (91%) of UK landlords surveyed feel they have a positive relationship with their tenants. This might help to explain why 88% of landlords said they felt they had been very/extremely flexible with tenant requests. 
Approved requests that were reported by landlords included:
Reducing rent during the COVID-19 pandemic 

Upgrading broadband to meet the needs of tenants 

Fitting new, high-end kitchen at tenant's request 

Adding a vegetable patch during Covid-19 lockdown

Wavering 18 months worth of rent during COVID-19 and agreeing on a flexible repayment plan over the following two years. 
8% felt the relationship they had with their tenants was neutral, and just 1% felt they had a negative experience with those renting their property. 
When asked if tenants were happy with their current arrangements, Paragon found that the overwhelming majority (81%) were pleased with the property, and 85% were satisfied with their landlord. Tenants most appreciated not having the responsibility for repairs, maintenance, buildings insurance and/or ground rent costs. 
A breakdown of the percentage of UK landlords who allow their tenants to keep pets
| Response to the question: "Do you allow tenants to keep pets?" | Percentage (%) of landlords |
| --- | --- |
| Yes, in some circumstances | 48% |
| Yes, in all circumstances | 13% |
| No | 39% |
(Source: Paragon Bank)
Around six in 10 (61%) of landlords surveyed said they allowed pets in their properties in some description. However, only 13% said they always allow tenants to keep animals. Just under half (48%) said they did, but only in some circumstances. Almost one in four UK landlords said they never allow renters to keep pets. 
A breakdown of issues faced by UK landlords and the percentage who said they have had to deal with it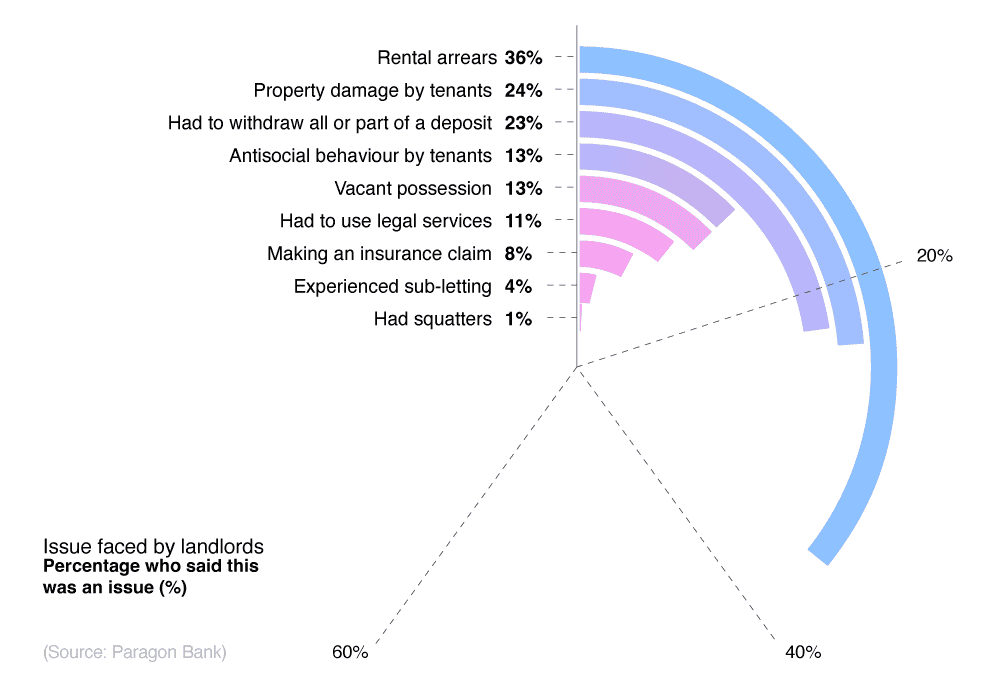 According to buy-to-let mortgage stats obtained from Paragon, over a third of UK landlords (36%) experienced rental arrears within the last 12 months. This was the most common issue faced by the landlord population within the last year. 
Almost a quarter (24%) dealt with property damage by tenants, followed by 23% who had to withdraw all or part of a deposit. 
13% had to either deal with antisocial behaviour from tenants or were in possession of a vacant property since 2021, with just over one in 10 (11%) forced to use legal services within the last year. 
How does the private rental market in the UK compare with the rest of Europe? 
The latest UK private rental statistics found that the average UK tenant spends 39.1% of their monthly income on rent – 11% more than the average across the continent. 
This means that UK citizens spend more of their wages on rent than any country in Europe, with Spain (39%) spending at least 3% less of their monthly income. 
A breakdown of the average amount of monthly income spent on rent in the UK vs other European nations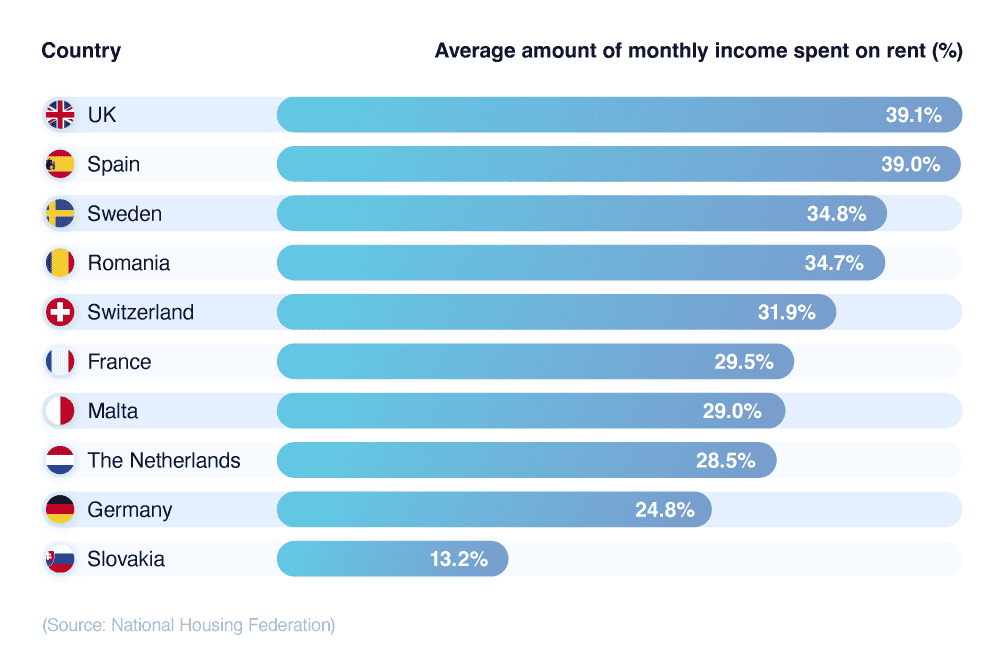 At the other end of the scale, tenants in Germany spent an average of just 24.8% of their monthly income on rent – more than 14% less than those in the UK. Slovakia had the lowest wages-to-rent ratio of anywhere in Europe, with an average of 13.2% at least 10% lower than any other country. 
Looking for expert advice on the best ways to save for a mortgage? Our comprehensive mortgage guides section has advice on this and more. 
Private rental FAQs
What do you need for private rent?

The requirements for renting an accommodation can vary from landlord to landlord. Typically, most landlords will require documents that show your income and/or employment status, alongside copies of an identification document like a passport, birth certificate, or provisional licence.

Other common documentation landlords may require include credit references and employment or character references.



What percentage of people are private renters?

In 2022, the overall number of privately rented properties in the UK stood at just over 19%.
Are private rents increasing?

Private rental prices increased sharply across the UK throughout 2022, with the average 12-month price change of rent across the UK standing at +5.3% in July 2023.
How can I reduce the cost of renting?

There are a number of options when renting a property that could help you reduce your monthly outlay. Renting a home with one or multiple flatmates is an effective way to divide your monthly outgoings and take away some of the financial burden. Renting an unfurnished property can be another good way to reduce your rent, while negotiating a break clause in your contract can give you an out if costs are getting unmanageable. 

If it's not possible to reduce your monthly rent, then switching your provider on household bills like gas and electricity to a cheaper provider is another way that you may be able to reduce your expenditure. You can find out more about switching your energy provider in our comprehensive guide.
How to save for a home deposit while renting?

As rent prices continue to rise, saving for a home deposit can feel unrealistic for many. Despite this, there are numerous ways you can monitor your finances more effectively as you attempt to get on the property ladder. 

Savings accounts can be instrumental in helping you monitor your monthly spending and ensure you're keeping aside the money you need to save for a deposit. Certain savings accounts like Lifetime ISA's come with specific financial benefits that will help you save for a deposit quicker should you meet the terms of the account.