Pros
Premium, flashy design
Sharp, vibrant display
Advanced camera system
Cons
It's expensive
Too big for some
Similar specs to its predecessor
The Galaxy S23 Ultra is Samsung's latest do-it-all flagship. This premium handset boasts a 6.8-inch AMOLED screen, a best-in-class stylus experience, a powerful Qualcomm processor, and a mammoth quad camera setup that includes an impressive 200MP main sensor.
These specifications mean the Samsung Galaxy S23 Ultra is one of the most feature-packed Android smartphones on the market, as few others offer this level of functionality or flashiness - except, perhaps, last year's Galaxy S22 Ultra. The Galaxy S23 offers a virtually identical design to its predecessor, and also features the same display size, battery capacity, and 25W charging speeds.
Predictably, the Galaxy S23 Ultra is also one of the most expensive Android smartphones on the market, with a starting price of £1,149 in the UK (going up to £1,499 for the 1TB version).
Samsung Galaxy S23 Ultra: Design and display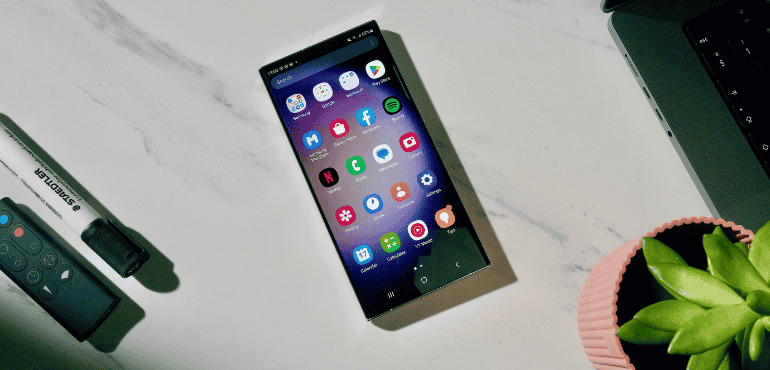 The Samsung Galaxy S23 Ultra has been given a minor makeover compared to last year's model. The curved display is a little bit flatter, which means you can now use the built-in S Pen to doodle and note-make up to the edges of the display. The handset itself also feels somewhat boxier, which makes it easier to hold with a firmer grip.
Saying that, those with smaller hands may still struggle as there's no denying the fact that the Galaxy S23 Ultra is a very big and heavy phone. At almost 80mm wide and with a heft of 234g, we found it tricky to grasp comfortably with one hand, and impossible to squeeze into a skinny jean pocket.
Thankfully, for those moments it slips out of our grasp, the Galaxy S23 Ultra is IP68 rated for dust and water resistance so it can survive a dip in water up to 1.5 metres deep for 30 minutes.
Another of our favourite design features on the Galaxy S23 Ultra is the built-in S Pen stylus, which you'll find stowed snugly in the bottom bottom left corner of the handset. You simply push it inwards to release it from the chassis, and then you can use it for on-screen note-making, doodling, and as a remote camera shutter button.
We're also fans of the Galaxy S23 Ultra's colour variants. We reviewed the pastel-hued lavender model, but the handset is also available in cream, green, and black.
Inside the Galaxy S23 Ultra's chassis you'll find the same pocket-stretching 6.8-inch screen as last year's model, complete with the same 3,088 x 1,440 pixel resolution, 1750 nit brightness, and 120Hz refresh rate. However, Samsung has made a slight tweak to the adaptive refresh rate which can drop as low as 1Hz to help conserve battery life.
Beyond the specs, the S23 Ultra's Super AMOLED display looks great, with saturated colours and deep blacks. We also found it one of the most easily legible smartphones to use in direct sunlight thanks to its super-high peak brightness levels.
You'll also find a fingerprint sensor baked into the display, which we found easy to set up and nippy to use. The Galaxy S23 Ultra also has Face Unlock technology facilitated by the front-facing camera.
Samsung Galaxy S23 Ultra: Camera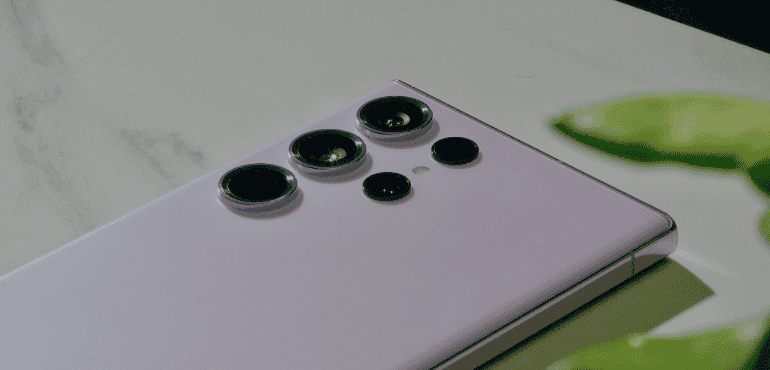 Samsung has been keen to talk up the Galaxy S23 Ultra's whopping 200MP main camera lens, which is the first 200MP sensor to feature in its flagship smartphone lineup.
However, while impressive - on paper, at least - it's worth noting that the Galaxy S23 doesn't shoot at 200MP by default. Rather, it uses pixel-binning, a technology that combines 4×4 areas of pixel squares into one larger pixel area that improves detailing, particularly in low light. These default shots weigh in at 12.5MP, but this can be increased to 50MP and 200MP.
The Galaxy S23 Ultra's main 200MP sensor is paired with the same lenses you'd find on last year's model, a 10MP telephoto lens, a 10MP 10x periscope zoom lens, and a 12MP wide-angle lens. Around the front you'll find a 12MP selfie camera, which on paper is a downgrade compared to the 40MP front-facing lens on last year's Galaxy S22 Ultra.
The main sensor is, naturally, the star of the show, though we didn't notice a major jump in quality compared to the S22 Ultra's 108MP primary lens. Picture quality is as impressive as you'd expect for a phone at this price point; images are vibrant and detailed complete with Samsung's signature saturation of blue skies and green grass, and the handset doesn't show any sign of struggling in flat or low-light conditions.
However, the improvements Samsung has made to Space Zoom are also impressive. While somewhat gimmicky, Samsung has made it so that super zoomed-in photos - such as images of the moon - look far sharper than those shot on last year's model and give the Google Pixel 7 Pro's camera a run for its money.
Samsung Galaxy S23 Ultra: Performance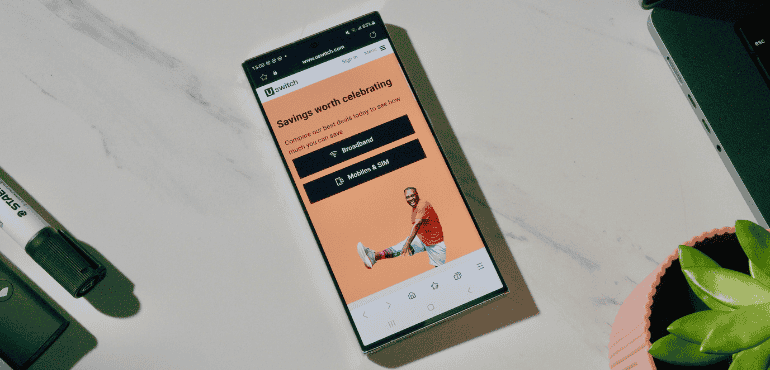 While, until now, the Galaxy S23 Ultra has shown minor upgrades over last year's model, there are some bigger changes under the hood. While Samsung's flagships have long opted for the company's own Exynos chips, the Galaxy S23 Ultra boasts the new 'Snapdragon 8 Gen 2 Mobile Platform for Galaxy' that Samsung and Qualcomm have collaborated on.
According to Samsung, the chip - which is set to reach a higher clock speed than other phones, such as the OnePlus 11 - delivers 51% better NPU performance, 41% better GPU performance and 33% greater CPU performance compared to its own previous efforts.
This is certainly true if benchmarks are to be believed. In Geekbench 5, the Galaxy S23 Ultra racked up a multi-core score of 4,896, which is one of the best we've seen from an Android smartphone, topped only by the iPhone 14 Pro's A16 chipset.
The new chip impresses in real-world performance, too; the Galaxy S23 was slick and smooth, and showed no signs of slowing down no matter what we threw at it - be it hardcore multi-tasking or prolonged gaming. For those likely to do the latter, it's worth noting that Galaxy S23 Ultra has a larger vapour cooling chamber than the Galaxy S22 Ultra, so you should see stronger sustained performance along with less heat.
Elsewhere under the hood, the Galaxy S23 Ultra packs either 8GB or 12GB RAM, 256GB, 512GB or 1TB storage, and a 5,000mAh battery.
While this is the same capacity battery as the S22 Ultra, Samsung claims to have made the phone more efficient thanks to the inclusion of a Qualcomm chip. Our battery tests show these claims to be true; we found the Galaxy S23 Ultra lasted approximately 13 hours when viewing high-resolution video, and easily lasted two days when used more sporadically.
We weren't so impressed by the charging options. While rival devices now offer blazing-fast 80W and 100W fast charging speeds, Samsung is sticking with the same 45W fast charger for the Galaxy S23 Ultra. What's more, as with most Samsung phones, there isn't a 45W charger included in the box.
Samsung Galaxy S23 Ultra: Value and verdict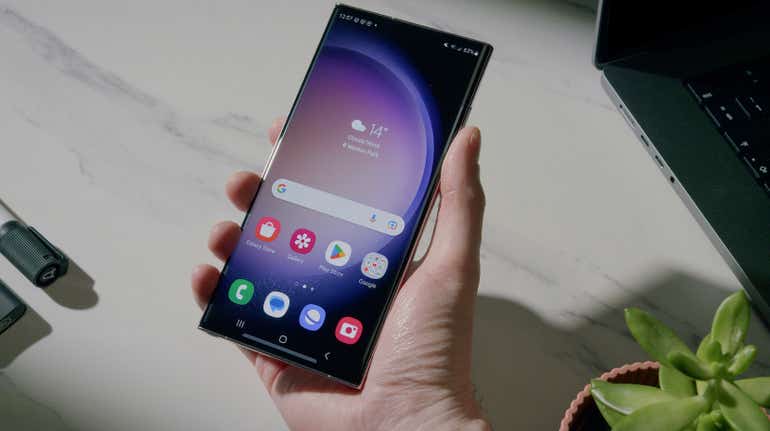 If you're in the market for an Android smartphone that does it all and more, there's no looking past the Samsung Galaxy S23 Ultra. The do-it-all flagship is among the flashiest on the market, and is arguably the most feature-packed thanks to its bundled stylus, quad-camera setup and impressive under-the-hood credentials that make it an ideal device for mobile gamers.
However, it's worth noting that the phone offers mainly minor upgrades over last year's model, so if you're looking for something a little more affordable, last year's Galaxy S22 Ultra may be a better choice. Similarly, if you're not fussed about the handset's built-in S Pen credentials, the slightly less premium Galaxy S22 Plus could work for you.
Here in the UK, the Galaxy S23 Ultra has a starting price of £1,149, increasing to £1,499 for the 1TB version.
Was this article helpful?