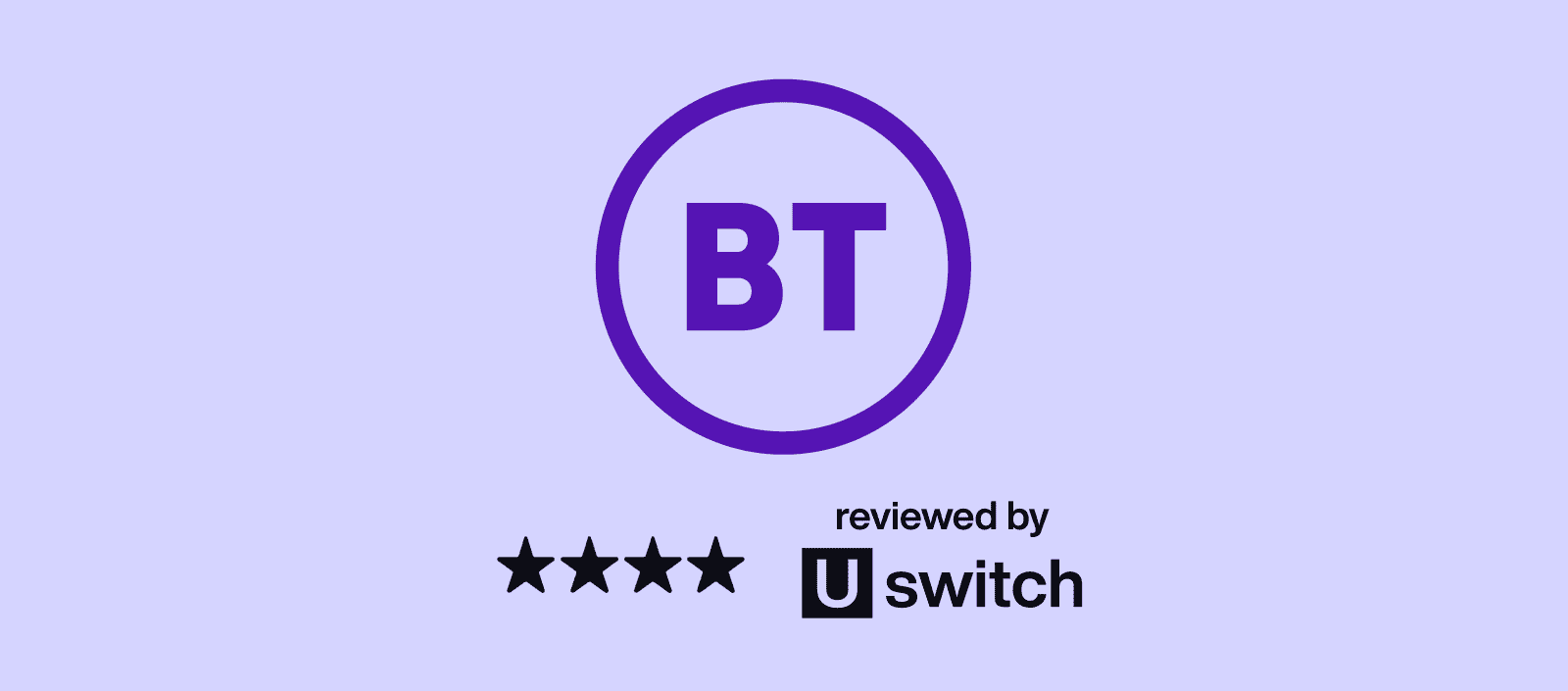 BT is the largest and most well-known broadband provider in the UK, with around ten million customers nationwide. It has a huge reputation amongst customers, and the services it offers are premium and packed full of high-quality features.
But how do its customers really feel about their experience with BT? And what's it like to be subscribed to one of its broadband packages? Read on for our review of BT broadband.
BT broadband customer ratings
| | |
| --- | --- |
| Customer service | 3.72 |
| Value for money | 3.66 |
| Internet speed | 4.01 |
| Reliability | 4.08 |
| Home equipment | 4.10 |
| Setup/Installation | 4.16 |
| Communication | 3.85 |
| Billing | 4.07 |
| Total contract price | 3.66 |
Pros and cons of BT broadband
Pros
 Reliability

 Great TV and mobile bundle options 

 Quick and easy set up
Cons
 Speed in certain areas

 Customer service call wait times

 Expensive compared to smaller providers
About BT
BT is the UK's biggest broadband and landline provider, and it also owns other UK telecom providers like Plusnet and EE. It even owns Openreach - the most well-established broadband network in the country that powers many of the biggest providers in the country. But the two companies have operated separately from each other for quite some time to improve competition in the market.
BT is usually a little more expensive than most other providers. But it offers some of the highest-quality services in return, including exclusive TV access to the Champions League through its popular add-on, TNT Sports.
Product focus: BT Fibre 1 Broadband
Fibre 1 is one of BT's most popular deals, thanks to its wide availability across the country.
I live with my partner in a three-bed terrace, we regularly stream TV shows and one of us regularly works from home. The Fibre 1 package is largely capable of doing what we need it to, but its speed does sometimes hold us back.
In speed tests, our connection usually hits the 36Mbps average speed promised for this package. But we sometimes struggle to use more than two devices at once with that connection speed.
BT's Stay Fast Guarantee gives us a bit of a cushion, where it will fix any connection issues that affect our speed within 30 days, or let us claim back £20. But for two fairly heavy users of the internet, we're often just left wanting a faster package.
Coverage
BT broadband deals range across a few different types of broadband. Its most popular deals are Fibre Essential, Fibre 1 and Fibre 2, which rely on Openreach's superfast network and are available to 97% of the UK.
The provider also offers much faster ultrafast deals via its Full Fibre 100, Full Fibre 500 and Full Fibre 900 packages. But for now, their coverage is a fraction of the above fibre deals because they require an installation at every individual home to work. The ultrafast network is growing very quickly, though, as it's part of the country's ramped-up effort to get full fibre to as many homes as possible by 2025.
However, while full fibre is the gold standard of broadband, most households can still get on just fine with a superfast connection. You'll likely still be able to enjoy a great experience from these deals, which is very handy since they're a lot easier to access.
Learn about all types of broadband available in the UK with our guide.
BT broadband speed
While BT offers a wide range of speeds depending on where you live, the speed of our BT package isn't quite up to the standard we need.
Our Fibre 1 package is advertised as a 36Mbps connection, which sometimes isn't enough to handle two heavy internet users. But it's the fastest BT deal that's available in our area, so it's our best option unless we switch to another provider.
For the most part, we're able to do what we want online, but our connection does sometimes struggle to handle quite simple activities. For example, it'll sometimes buffer during streaming if one of us is also using a laptop. Or if I'm on a video call and my partner is using his laptop, the video quality of my call will sometimes be very poor.
Knowing that other providers can offer faster internet speeds in our area means we're quite tempted to look elsewhere for a better connection when our contract comes to an end.
We often use the Uswitch broadband speed test to make sure our connection is as good as it can be. Try it yourself for a clear view of the internet speed you're currently getting.
BT speed options
While our home can only achieve speeds of 36Mbps with BT, the provider has some much faster connections available in other areas. Here's a list of all the broadband packages on offer from the provider, as well as their average internet speeds:
BT Fibre Essential: 36Mbps

BT Fibre 1: 50Mbps (36Mbps in select areas)

BT Fibre 2: 67Mbps

BT Full Fibre 100: 150Mbps

BT Full Fibre 500: 500Mbps

BT Full Fibre 900: 900Mbps
Want to browse fibre deals from a range of UK providers? Take a look at our fibre broadband page.
Browse our range of fibre deals
Choose between our wide range of fibre broadband deals on Uswitch.
Connection reliability
We've had very few outages during our time with BT, so we can almost always trust it to provide a consistent connection for us, despite the relatively slow speed of our package.
BT uses the very well-established Openreach network — which is one of the most reliable broadband networks in the country — for all of its packages. So it's no wonder we appear to have fewer broadband outages than some of our friends who are on other providers.
We're also reassured by BT's Stay Fast Guarantee, a minimum internet speed guarantee that BT will monitor to make sure we're getting the speed we're paying for. We don't have to pay anything for it, and we get to claim back £20 if BT can't get our internet speed to the level it promised.
Thankfully, we haven't had to use it so far. Our main issue is still the speed of our package. But it certainly eases our fears of losing internet connection for important things, like work meetings.
If your internet seems to be a lot slower than the promised speed you're paying for, it's important to check whether your home setup could be improved first.
Customer service
We've had an okay experience with BT's customer service overall, but I do often find myself visiting the website instead of making a phone call. Calls have at times taken up to an hour, which is very time-consuming, especially when I'm trying to work from home at the same time.
Thankfully, the Contact Us section of BT's site is easy to use and makes it clear where to go for different types of issues. But it can still be a hassle trying to get a hold of a real person to talk to.
One particular issue I needed a good customer service response for was when I moved home mid-contract. After waiting a long time to speak to someone on the phone, the representative was very helpful and efficient.
After moving home, we encountered another issue, where the previous owner's Virgin Media connection had caused our line to become faulty.
It once again took about an hour to speak to someone at BT. But when we eventually reached them, our issue was resolved efficiently. They organised for an engineer to fix the line within a few days and supplied us with a dongle to get online in the meantime. The engineer then arrived on time, and only took 30 minutes to get everything working again.
Learn which broadband providers are considered to have the best (and worst) customer service, according to complaints made to Ofcom.
Uswitch broadband provider reviews
Read our expert reviews of all of the UK's biggest broadband providers.
BT bundle options
While we only have a landline included in our broadband package, BT is one of the best providers to go to if you want to bundle your broadband with other services. It has a wide range of TV, landline and mobile phone options that could help you collate more of your telecom bills into one monthly payment.
TV
BT's TV packages work through your existing broadband connection. This means that, unlike other providers, you don't have to install a satellite dish, aerial, or a special cable to get it to work.
While BT doesn't have much of an Entertainment offering itself, its packages contain some of the best Sky TV channels, including Sky Atlantic, Sky Max, Sky Showcase, other channels through its sister company NOW, and a basic Netflix subscription.
Those who want to pay a little extra also get a NOW Cinema Membership and exclusive access to US cable TV channel AMC. So if you want to watch modern TV classics such as Breaking Bad, Mad Men, Better Call Saul and The Walking Dead, then you get this as an option too.
But the biggest draw for BT TV is TNT Sports (formerly known as BT Sport). It's a direct competitor to Sky Sports and has exclusive access to some of the biggest football competitions, including UEFA Champions League and a number of Premier League matches each week. Its Big Sport add-on also includes all eleven Sky Sports channels too, so you can access all of the major sporting events you like.
In our case, we don't need to fork out for pay-TV, given that we're happy to just stick to streaming services. But whenever we speak to BT, they do try to upsell us to one of its TV packages, which can get annoying. Even with a three-to-six-month free trial, we wouldn't really see the use for one.
Search for more broadband and TV deals from other providers.
Landline
We bundle a landline with our broadband connection and have never had any issues. The cost is only slightly higher per month, and it's absolutely worth it for getting in touch with friends and family members, especially those who only use a landline.
We're aware that BT has started to replace copper landline cables in its network with fibre ones. It's run into some issues with certain customers so far, where they've been left without a landline connection for a long period of time while the cables change over.
BT briefly paused the switchover to improve the process and ensure people aren't cut off. So as long as it works smoothly for us and lets us stay in touch with certain members of our family, we're not too concerned about when our property is due for the update.
Take a look at our best broadband and home phone plans.
Mobile
BT owns EE, one of the biggest mobile networks in the country. It uses EE's network for its own BT Mobile services, offering a number of mobile phone and SIM only contracts.
If you have BT broadband, you can enjoy a discount on all BT Mobile SIM only deals. So it pays to bundle these services together if you're already paying for a separate mobile contract.
You can compare the latest BT Mobile deals right here with Uswitch.
Setup, installation and equipment
The process of getting set up with our BT Fibre 1 connection was nice and simple. Even when we needed an engineer visit, the process has been seamless and convenient.
Moving home and keeping the same connection went very smoothly, too, even with the slight hiccup caused by our new home's previous connection. We were offline for 24 hours while it was set up, but this was down to the installation date we set. And it was on a Saturday, so we didn't have to worry about working from home.
Learn more about what to do with your broadband when moving house.
BT Smart Hub 2 review
Our Smart Hub 2 router has largely performed well for us in our time with BT, but there's one bedroom in our three-bed terrace that the Wi-Fi signal just doesn't reach.
Thankfully, it's not one we ever use the internet in, but it sometimes poses a problem for guests who stay over. We don't view it as a big enough issue to buy a Wi-Fi booster, but homes larger than ours might start to struggle with this router alone.
Our best broadband deals
Search on Uswitch to find the right broadband package for you.
Value for money
BT's prices are a little higher than some other providers, but that's mainly because of the top-quality services it offers.
You can absolutely get broadband and landline services at a lower price point than BT's Fibre 1 or Fibre Essential by opting for a different provider. But cheaper deals don't always come with things like the Stay Fast Guarantee, or the option to add premium TV services like BT does.
Given the fairly slow speed on our package, we're not sure we find BT's Fibre 1 product to be great value for money. Especially when you consider that we could get faster internet speeds for a lower monthly price with some of the smaller providers. They might not come with BT's impressive reliability, but for a faster speed and better price, it looks like it'll be worth it for us.
BT price rises
BT increases its monthly prices for almost all customers annually in the Spring. The amount it hikes broadband bills by is the rate of CPI announced each January, plus an additional 3.9%. And it doesn't let you leave your contract as a result of these increases.
This has led to quite a sting in 2023, with the CPI rate at a massive 10.5%. As a result, BT is raising our prices by 14.4%, which is a monthly increase of around £4 on our package.
14.4% is a significant price hike for millions of BT customers, especially some BT broadband and TV customers who will see monthly bill hikes of up to £10. And it's particularly frustrating since we aren't able to leave our contract for free as a result.
Learn more about the mid-contract price hikes for broadband and mobiles in 2023.
Broadband social tariffs from BT
If you receive Universal Credit or another type of financial support from the government, you could qualify for one of BT's social broadband tariffs. These are heavily discounted broadband packages that offer the same speed as BT's usual connections at a more affordable monthly rate.
BT's social tariffs are:
Home Essentials 1: 36Mbps | £15 per month

Home Essentials 2: 67Mbps | £20 per month
Take a look at all the low-income broadband social tariffs on offer from UK providers.
If you don't qualify for a social tariff but you're still looking to cut down on your outgoings, find out how to save money on your broadband bill.
Should you choose BT?
With all the products and services BT offers, it can be very easy to stick with the provider and enjoy a high-quality, reliable experience for the foreseeable future. You'll get access to some of the best customer care, connections and content on offer from any broadband provider in this country.
But that experience does come at a cost. And especially in the current economic climate, many people are now wondering whether these top-drawer services are really worth the top-drawer price they charge. You could just as easily get by with a cheaper broadband provider and a couple of streaming services instead.
Essentially, BT is great for people who:
Value consistency over speed

Enjoy watching the biggest TV shows and sports competitions

Want a smooth, hassle-free experience

Are willing to pay the extra few pounds a month for these things
If you could take or leave some of the above points and you're just after a simple broadband connection that's fast enough for what you need, there might be some cheaper options from other providers.
However, if you're after the most premium, comprehensive experience with your broadband, you likely won't go wrong with BT.
Browse broadband deals from BT
Take a look at our latest and greatest BT broadband offers on Uswitch.