Contactless payments have become the norm since Covid. The maximum amount you can spend on contactless card has risen to £100 but, one quick and convenient way to make a contactless payment is to use the 'Apple Pay' payment system on your iPhone or Apple Pay on your Apple Watch. If you use biometric verification, such as your fingerprint or facial scan, there is no upper limit.
So how does Apple Pay work, and how do you set it up?
Compare Credit Cards
You need a compatible credit card or bank account to use Apple Pay - find a credit card you could use with Apple Pay
Apple Pay brings the convenience of swiping contactless payments with your iPhone and Apple Watch.
It means you can pay for items worth more than the £100 contactless card limit using either of these Apple devices. This could be useful if you're out and about without your wallet, or you want to make a contactless payment that is more than the £100 maximum allowed on a debit card.
Many shops and stores are now asking if people can pay by contactless due , and Apple Pay is an alternative to getting out your contactless card. However, some retailers are choosing to restrict the amount you can spend to the same £100 limit used for contactless cards.
How does Apple Pay work?
Apple Pay is very simple to use. It stores credit and debit cards digitally on your iPhone and Apple Watch. It's easy to set up and is a convenient alternative to using a contactless card when you're shopping, or paying for goods or services online.
As you usually have your phone or watch with you, even if you don't have a physical wallet it's also convenient for unexpected or emergency payments whenever you need it. Also, because the verification for your Apple Pay account requires touch ID or facial recognition, you can use it as many times as you like.
This is different from a contactless card where you're asked to put in your PIN number after you have used contactless a number of times - this is done to ensure that you have possession of the card and that it's not being used fraudulently.
Paying with Apple Watch is just as straightforward. In order to pay with Apple Watch you just have to double-click the side button and hold the display of your Apple Watch near the contactless reader.
When you feel a gentle tap that's your signal that the contactless payment has been recognised and made.
What banks are on Apple Pay?
Apple Pay launched in the UK in 2015, but it's now very widely used and accepted with banks. Using the Apple Pay function on your iPhone or Apple Watch is just as secure and easy as using a card. Apple Pay also works on the entire Transport for London (TFL) network, which makes it a very quick and convenient way to travel in the capital.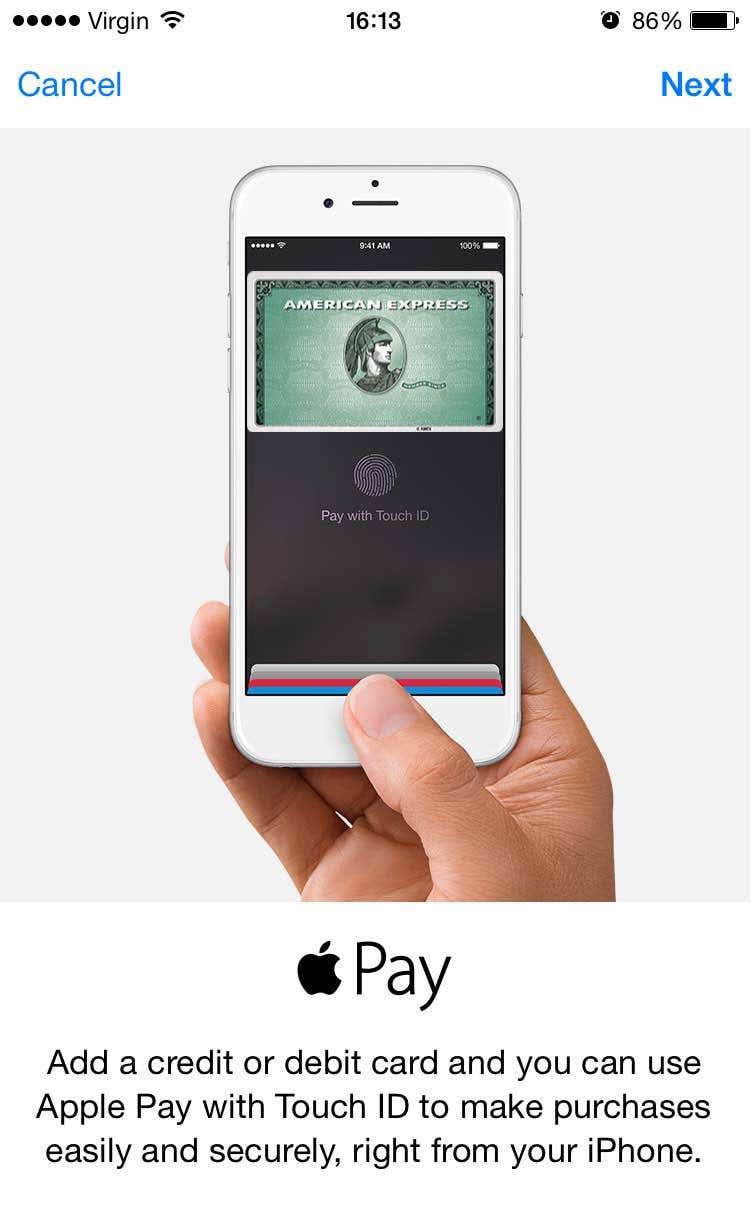 Apple Pay – How it works
Apple Pay is a new way of paying for goods with your phone instead of your card or physical money.
The technology works by registering an existing bank card to your iPhone.
How to set up your Apple Pay
On your iPhone find the Wallet app, and tap the + on the right-hand side.

You can place your card inside a frame to automatically enter your card details. Or you can enter them manually, adding your name, card number, expiry date and security code.

You bank will send you a verification number by email or text to confirm that you want to set up Apple Pay.

Now your card is stored on your Apple device within your Apple Wallet or on your Apple Watch.
Just like your actual wallet, you can add multiple cards to your Apple Wallet, so you can pay with different cards on the same phone.
Using Apply Pay for purchases
When you come to pay, just use the touch ID or facial recognition on your phone

Hold your iPhone close to the contactless reader

Your payment will be authorised via your Apple Wallet.

With the Apple Watch you need to double click the side button and hold your watch close to the terminal.
With both the Apple iPhone and the Apple Watch the Apple Pay technology works just like contactless payment once your card is added. 
Where can I use Apple Pay?
Apple Pay works exactly like a contactless payment card, but as you have to use your thumbprint or facial recognition to open the app on your phone, there's no limit as this is considered as good as entering your PIN.
You can use Apple Pay at contactless payment terminals as you would with any contactless payment card. It's very widely accepted in the UK and abroad.
What are the benefits of Apple Pay?
The main selling point of Apple Pay is simply convenience. By registering your cards on your iPhone, Apple hopes to eliminate the need of carrying a wallet around with you, and ultimately, of carrying cash.
That could also mean greater security. You don't have to worry about losing your wallet, and even if your phone is stolen, Apple's fingerprint and facial recognition ID systems should stop criminals from using Apple Pay on your phone even if your phone is lost or stolen.
What are the alternatives to Apple Pay?
The major alternatives to Apple Pay is Google Pay (formerly known as Android Pay) for Android phone users. It uses the Google mobile payments system and works in a similar way to Apple Pay.
It's a contactless payment and you can add credit and debit cards to Google Pay. Like Apple Pay through Apple iPhone and Apple Watch, there's no maximum payment for using your Google Pay app, which means that you're not limited to the £100 payment using contactless cards at a contactless terminal.
Compare Credit Cards
You need a compatible credit card or bank account to use Apple Pay - find a credit card you could use with Apple Pay