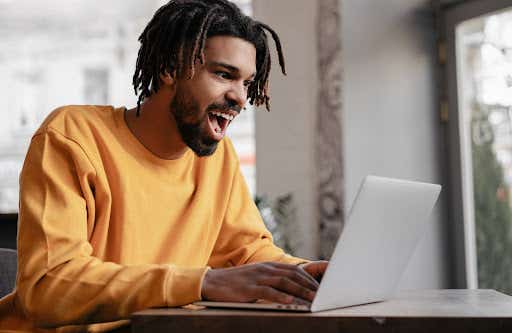 Our study tested participants playing three different classic computer games: Outrun, Duck Hunt and Tetris. Each player's performance was measured based on how much caffeine they had consumed before playing, and which type of music was playing in the background during the game. 
One thing these games all have in common is that you need steady and reliable Wi-Fi, which you won't have without the best broadband deals. Uswitch always recommends superfast broadband for gamers, and there are many cheap broadband options. 
The gaming study highlighted that 3 in 4 people aged 18-35 play games more than 3 hours per week.
How music affects gaming performance
Music had a huge impact on scores, with those listening to classical music seeing a 44% improvement on scores playing Tetris versus games played with no backing music at all. Those listening to more upbeat Techno music also saw a 39% increase in their scores whilst playing the game Tetris.
When playing Outrun and Duck Hunt, techno music had no impact on performance whatsoever, and classical music only improved scores by 1-2%. 
The impact of stimulus on performance
How caffeine affects gaming performance
Caffeine had the biggest impact of all when playing Tetris, with over half (54%) of players reporting an increase in game scores after consuming it. The study showed that caffeine (coffee specifically) can improve peoples' reaction times by 11%, compared to those who had consumed no caffeine that day. 
When playing Outrun and Duck Hunt, however, caffeine only improved scores by 1-2%. 
Due to Tetris' requirement for high level cognitive function such as spatial awareness, manipulating shapes, seeing patterns, strategy etc. compared to other games, it's evident that music and caffeine would have a bigger influence on performance with these types of games.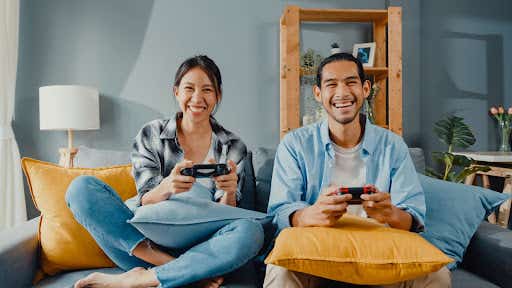 Gaming performance in men vs. women 
Whilst listening to techno music, women appear to perform better than men when playing Tetris. When looking at the average points and reaction times between men and women however, men appeared to perform between 5-13% better than women.
There's no doubt that music and caffeine can both have a significantly positive impact on gaming performance for both men and women. Ensuring you have superfast broadband or ultrafast broadband will help game performance even more, as it helps to avoid loading times, glitches and buffering.
The higher the quality of the graphics of the game, the more bandwidth you will require, especially if you're playing live with friends. So ensuring your broadband speed is top notch is important if you're an avid gamer.
To check your broadband speed, we would recommend using the broadband speed test, which will tell you your upload and download speed. You can then compare your speed with what else is available in your area, to see if you're able to upgrade to a faster connection. 
Max Beckett, broadband expert at Uswitch says: 
"Nothing's more frustrating than a glitchy, jumpy gaming experience. 

If you enjoy gaming online, a strong and reliable broadband connection is essential to make sure you can do so smoothly. And if you want to game more competitively, you'll want a fast broadband package to ensure you get the edge over your opponents.

Plus, with the biggest video games now weighing in at a huge 100GB in size, a speedy connection will mean you'll only have to wait an hour or so to download it. That's compared to a whole day of waiting on slower broadband speeds.

However, before you choose a broadband deal, you should always make sure that you're not paying more for a speed that you don't need. So if you aren't too concerned about download times or competing with others, a standard fibre connection should do just fine."

Creative Commons