The UK's most-used streaming platform
Now original content is also a huge part of streaming platforms, there is even more competition to be the best. Netflix came out as the most-used streaming platform for the UK respondents we surveyed, at a whopping 49%, while only 3% subscribed to the newer Disney Plus. The most popular place for Amazon Prime is in Northern Ireland. The popularity of these streaming services has surged even further over the past year due to the pandemic — more people than ever are now dependent on these sites for their entertainment and downtime. Our research reveals 49% of the people surveyed admitted they are now watching more online TV due to lockdown and 34% have actually started a new subscription to an online TV service since the restrictions began. If you've ran out of streaming content but don't want to add another paid monthly subscription to your collection, check out how you can get streaming services for free in the UK. Take a look at the report below to see the UK's favourite shows by city, the most rewatched shows across the country, and the public's opinion of online TV streaming.
The UK's favourite shows
From Game of Thrones to Breaking Bad, there is always an argument for the best TV show, but which series comes out on top? Take a look below at the top TV shows in each of the top UK cities.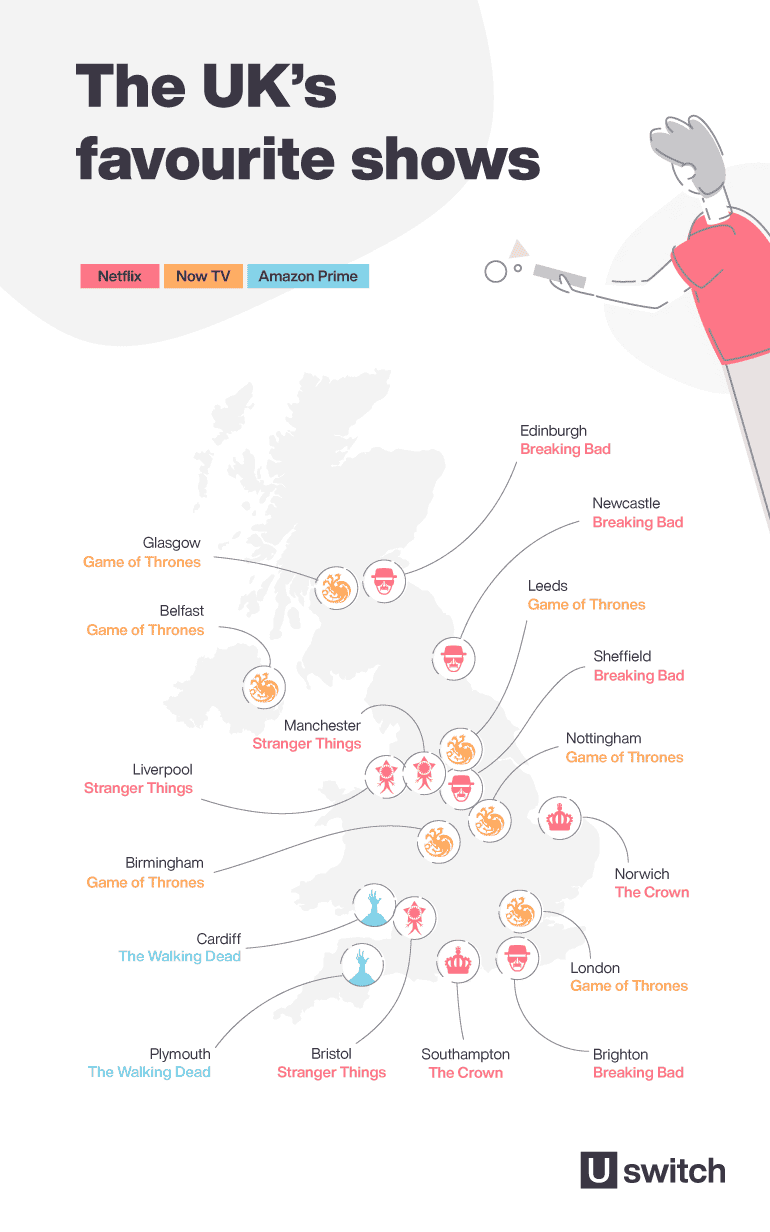 Map showing the UK's favourite TV shows by city
The UK's most rewatched TV series
Are you a Friends fan or a Simpson's supporter? We all have a series that we could watch over and over again, but which show comes out on top? The chart below shows which TV series has been rewatched the most.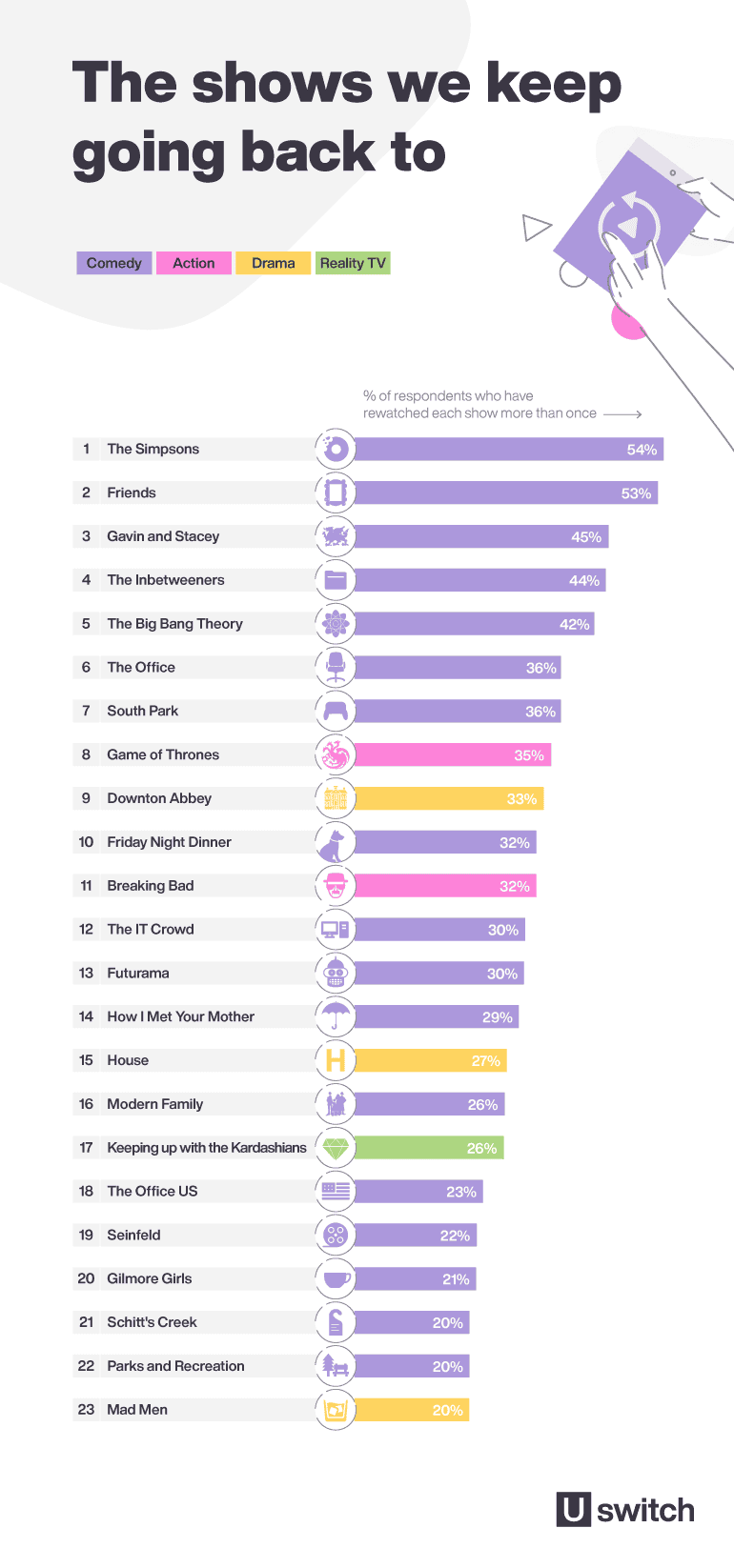 Infographic showing the shows we keep going back to
The number of UK households have Netflix accounts
26% of UK respondents told us they only watch TV online and 44% confirmed they were subscribed to more than one streaming service. Find data below showing how many households in the UK have Netflix accounts.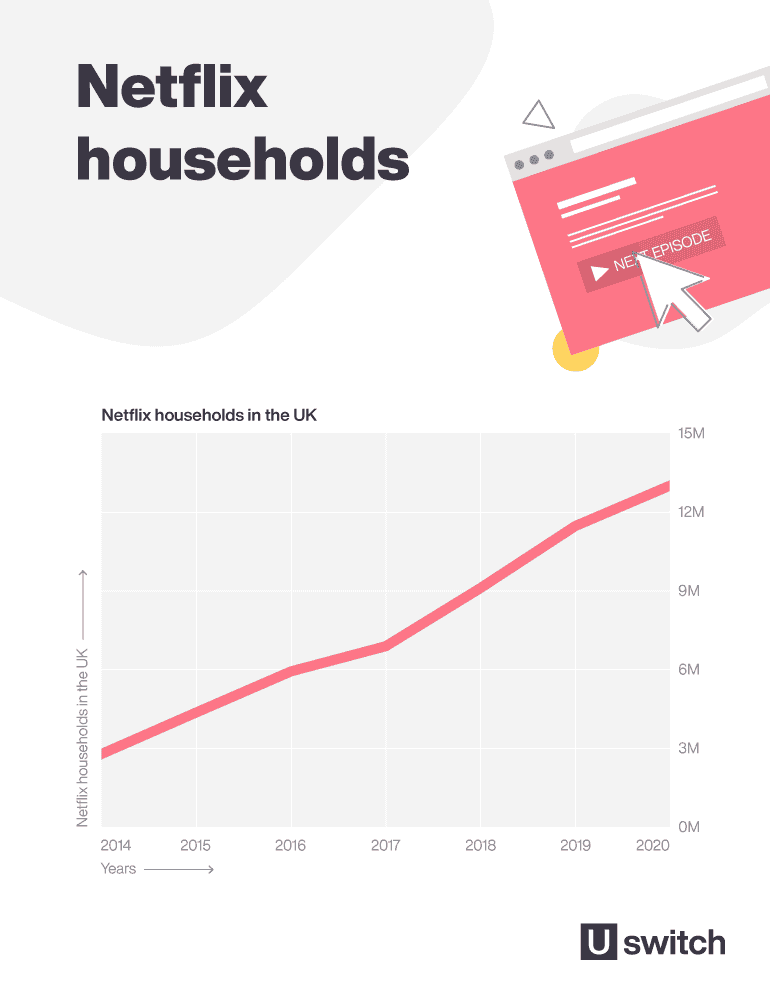 Graph showing watch of Netflix in the UK
The UK's streaming confessions
We all have a bit more time on our hands right now and fewer ways to find entertainment for the time being, so who can blame us for watching more TV? Some may be guilty of spending too long scrolling through the homepage for inspiration and some have done the unforgivable and secretly watched an episode without their partner! Find out who is embracing the Netflix binges the most and even watching while working.

Infographic showing streaming habits by demographic
If you are guilty of binging an entire series in one day you'll need to have a great broadband connection and TV package. Check out our TV and broadband deals to compare the best deals available to you.
Methodology:
The research was conducted by Censuswide with 2,001 general consumers (nationally representative) between 11.01.21 to 13.01.21. Censuswide abide by and employ members of the Market Research Society which is based on the ESOMAR principles. UK Netflix households was pulled from Statista. Data correct as of January 2021.