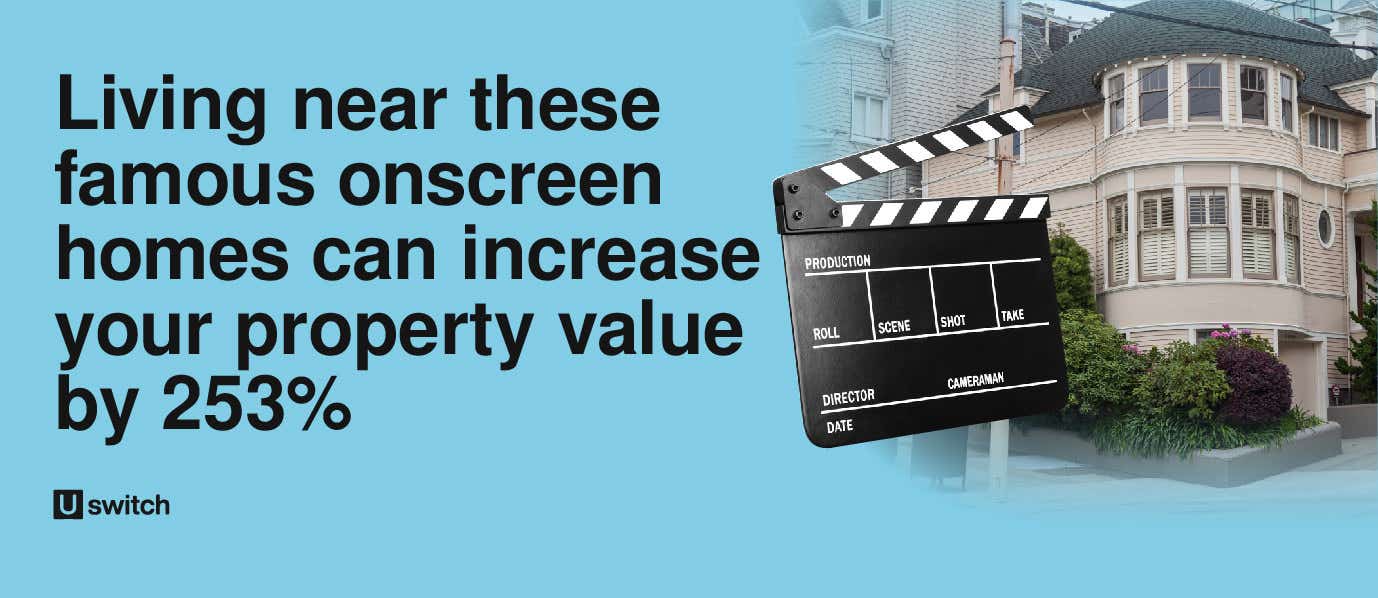 From the famous Fresh Prince of Bel-Air mansion to the suburban childhood home of Harry Potter, films and TV series have revealed some iconic properties. But, as these familiar homes have become tourist attractions, has fame affected property prices in the surrounding areas?
Intrigued by the concept, mortgaging experts at Uswitch delved deep into research to determine whether property values are affected by nearby TV and movie filming.
The top 10 movie homes with the biggest effect on property prices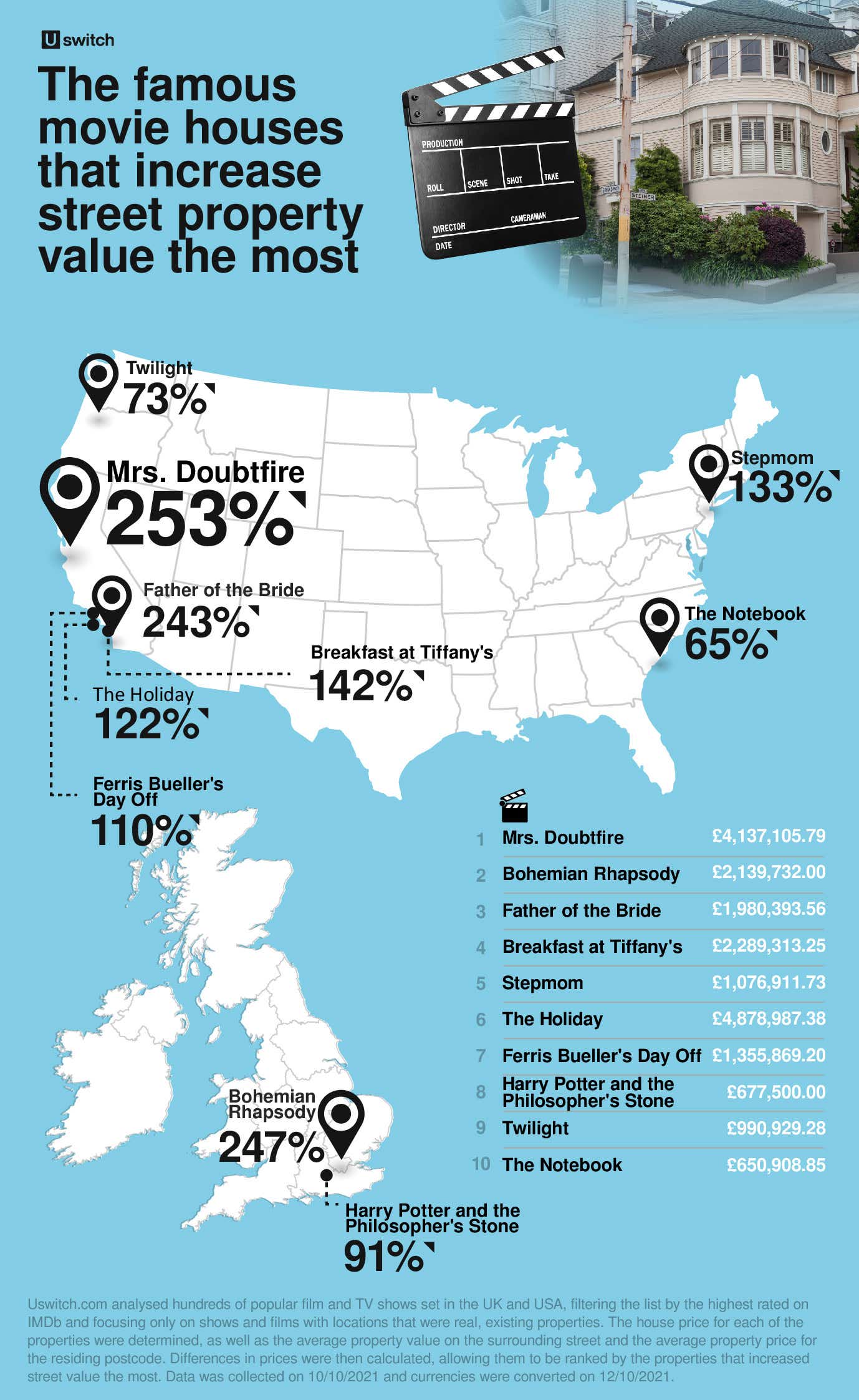 1. Mrs. Doubtfire
The movie home that has the biggest effect on property prices is from the family-favourite movie, Mrs. Doubtfire. Located along Steiner Street in San Francisco, the beloved Hillard home, made famous by Robin William's unforgettable character, has increased nearby property value by a whopping 253%.
The difference between property prices in the area is estimated at £2,967,708, based on homes in Steiner Street (estimated at £4,137,105) compared to the average property price in the postcode area (estimated at £1,169,397).
2. Bohemian Rhapsody
The star-studded cast of the 2018 musical drama, Bohemian Rhapsody, set up camp in the UK's Surbiton for a week of filming at private property, Garden Lodge. Located in Ashcombe Avenue, Garden Lodge posed as Freddie Mercury's famous Kensington home and is estimated to have increased property prices in the area by 247%.
If you want to buy a home on Ashcombe Ave, you may need to fork out £2,139,732. That's £1,523,635 more than other properties in the postcode area (estimated at £616,097).
3. Father of the Bride
Set in the affluent area of California's San Marino, the Banks' charming family home was actually filmed on El Molino Ave in California's Pasadena.
Thanks to the filming of Father of the Bride, property value along this now-famous street has increased by 243%. Here, the estimated price for a neighbouring property is £1,980,393—that's £1,403,024 more than the average postcode area value of £577,369.
4. Breakfast at Tiffany's
Holly Golightly's brownstone townhouse set in swanky Manhattan exists in real life at 71st Street, New York. Property prices in the area have been boosted by an impressive 142% thanks to its feature in Breakfast at Tiffany's.
If you're looking to sell in Holly Golightly's street, you might make £1,340,515 more than your postcode pals, as properties in 71st Street are estimated in value at £2,289,313 compared to £948,797 for homes in the surrounding area.
5. Stepmom
Featuring real-life friends Julia Roberts and Susan Sarandon, the third star of the award-winning movie, Stepmom, is their stunning home. Located in Nyack, New York, 'Glenholme' is situated within 1.5 acres of land and has increased property value by 133% since the movie's release.
Glenholme (also featured in The Bounty Hunter) and properties in this street are estimated at a value of £1,076,911. Other homes within the postcode area are estimated to cost £614,280 less, at an average value of £462,630.
6. The Holiday
Cherished Christmas rom-com, The Holiday, features two desirable domestic locations, but we were particularly struck by Cameron Diaz's Californian condo. Shot in Orlando Rd in San Marino, the impressive home has boosted local property prices by 122% since the movie's release in 2006.
Orlando Rd properties are now estimated to be worth £4,878,987, which is significantly pricier than properties in the general area (estimated to be worth £2,191,795). If you're looking for that Californian dream house, expect a £2,687,191 difference in property prices, depending on where you want to settle.
7. Ferris Bueller's Day Off
The Bueller residence has had several onscreen reincarnations (including Red Dragon and Not Another Teen Movie), but none are quite as charming as the original appearance in the eighties hit, Ferris Bueller's Day Off.
Although set in Chicago, the movie was shot in Long Beach, California. The movie-famous property on Country Club Dr has boosted property prices in the street by 110%, fetching an estimated £712,304 more than other streets in the area (£1,355,869 compared to £643,564, respectively).
8. Harry Potter and the Philosopher's Stone
The exterior of the infamous Dursley residence in Privet Drive is, in fact, located in the United Kingdom in Winkfield Row, Bracknell. Featured in the first Harry Potter film, the Philosopher's Stone, the property has since racked up next-door house prices by 91%.
If you're looking to neighbour Potter's adoptive family in Picket Post Close, you may have to fork out £323,805 more than other roads in Winkfield Row, which are £353,695 estimated value (properties in Picket Post Close are estimated at £677,500).
9. Twilight
The Cullen's tree-clad dwelling in the vampire-themed movie, Twilight, has inspired a 73% price increase on next-door properties. Known as Hoke House and set within the franchise in Forks, Washington, this sleek glass house is actually located in NW Quimby Street, Portland.
Prices in NW Quimby Street are now estimated at £990,929 since the release of Twilight, which is £417,178 more than the area's average price of £573,751.
10. The Notebook
We all fell in love with the mansion Noah built for Allie - that gorgeous lakeside house that provided several pivotal scenes in The Notebook. Apart from being a highly romantic setting, the property, located on Wadmalaw Island, has increased property value in the area by 65%.
Sell up next door to Noah and Allie in Martins Point Rd, and you're likely to make £257,374 than others in town (£650,908 compared to £393,534 estimated property values).
The top 10 TV show homes with the biggest effect on property prices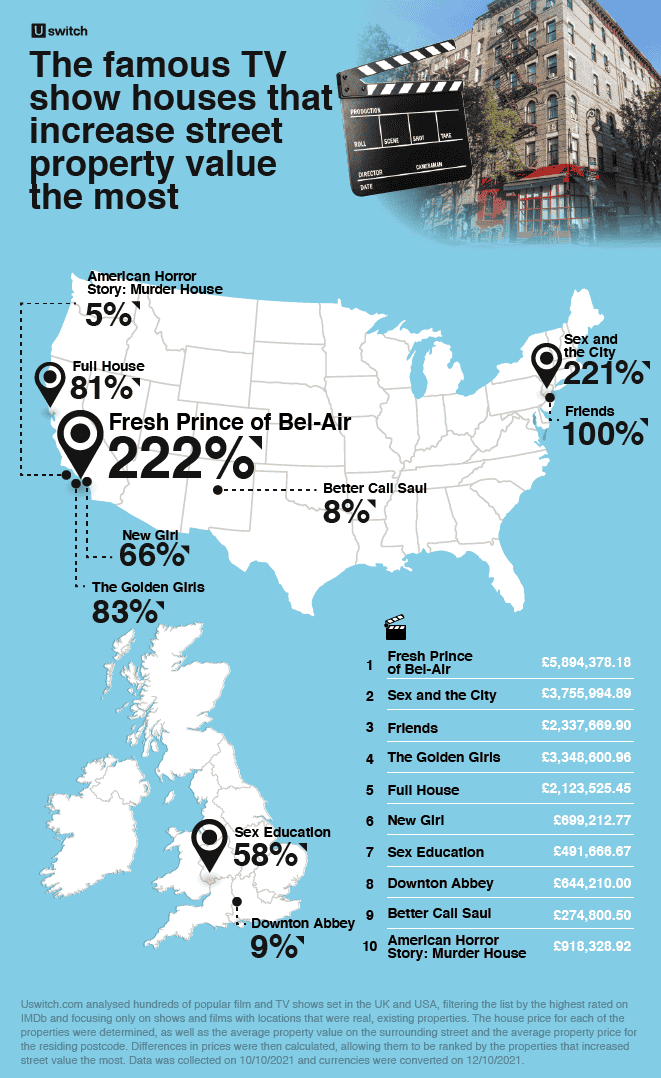 1. Fresh Prince of Bel-Air
The Bel-Air mansion has boosted property prices along North Bristol Avenue in Los Angeles by a tremendous 222%. The Fresh Prince, Will Smith, brought attention to the iconic mansion at the start of the nineties, and Airbnb recently welcomed fans to stay there to celebrate its 30th birthday.
If you're looking to reside next door to the Bel-Air mansion permanently, you'll need £5,894,378 for a property in North Bristol Avenue. That's £4,062,978 more than homes in the wider postcode area, which are estimated at £1,831,399.
2. Sex and the City
Residents of Perry St., New York, have witnessed a massive property value increase of 221% since the success of Sex and the City. Set in fictional 73rd street on the Upper East Side, Carrie Bradshaw's glamourous apartment with those iconic real-life exterior steps set the scene for many happy (and tragic) scenes with Mr Big.
Properties in Perry St. are now estimated at £3,755,994, which is an incredible £2,586,546 more than other New York apartments, which are estimated to cost £1,169,448.
3. Friends
Considering that Friends is one of the most-watched shows ever, with Friends: The Reunion breaking Sky One's audience records in May 2021, it's surprising that Bedford St. hasn't ranked higher.
The famous shot of the six-storey building that poses as the exterior of Monica's apartment has increased property prices in Bedford St. by a tidy 100%. You can sell up here for an estimated £2,337,669, which is £1,168,100 more than the area's estimated average of £1,169,569.
4. The Golden Girls' House
Much-loved American sitcom The Golden Girls wouldn't be the same if it were set anywhere other than the charming fictional home on Richmond Street in Miami, Florida. This iconic one-storey house has helped boost property prices in its true location, N Saltair Ave.
You could sell up on N Saltair Ave for 83% (£1,520,303) more than other roads in the area, raking in an estimated £3,348,600 as a neighbour of The Golden Girls' onscreen home. Other properties in the postcode area are estimated at £1,828,297.
5. Full House
The San Fran Victorian house and its iconic red front door featured in the opening credits of the American sitcom, Full House, is arguably one of the most recognisable TV homes around. Perhaps that's why it's affected nearby property values by 81%.
Debuting the Olsen twins' first TV appearance at just six months old, the filming of the Full House home on Broderick St. and its neighbouring properties are now estimated to fetch £2,123,525. This is £953,955 more than other homes in the area, which are estimated at £1,169,569.
6. New Girl
You definitely wouldn't have to look on Craigslist anymore to find the loft apartment Jess moves into on New Girl. Her apartment, Apartment 4D, is famous enough now to rake in an estimated £699,212, increasing property values in real-life location, Traction Avenue, by 66%.
Properties in the wider postcode area are estimated to be £278,094 less than Jess' loft and are valued at approximately £421,118.
7. Sex Education
The filming of Sex Education took place along the picturesque River Wye that weaves through England and Wales. One of the show's focal points is Jean and Otis' home, which is a real-life holiday let: The Chalet.
Located in Symonds Yat East of Herefordshire, the recognition of The Chalet is estimated to have increased nearby property prices by 58% (estimated at £491,666). In fact, if you purchase next door to The Chalet, you may fork out £132,436 more than for a property in the wider postcode area (estimated at £359,230).
8. Downton Abbey
Since the quintessential British drama Downton Abbey first hit our screens in 2010, you'd be hard-pressed to find anyone who doesn't recognise the Crawley family's stately home from the show.
Filmed at Highclere Castle in Newbury, the success of Downton Abbey has increased the value of close-by properties by 9% (estimated in value at £644,210). If you're looking to move close to the famous stately home, you may have to pay £54,959 more than other properties in the postcode area, which are valued at a lower £589,251.
9. Better Call Saul
Breaking Bad's successful spin-off, Better Call Saul, features several locations throughout the series. But one of the most notable is the depiction of Saul's own home in Ohama in the first episode.
Saul's property resides in real life in Vassar Drive (also listed as Cutler Ave, due to the building's location), but it's made a small impact on the neighbourhood. Prices have increased by 8% (£20,322), where the estimated postcode average is valued at £254,478, and properties in Vassar Drive are estimated at £274,800.
10. American Horror Story
Rounding off the top 10 TV shows that increase property value is American Horror Story. The infamous murder house, Rosenheim Mansion, has reportedly increased nearby property value by 5%.
Filmed at Westchester Place in Los Angeles, nearby properties have gained an approximate £44,564 over the general postcode area homes (£918,328 for those nearest to Westchester Place, compared to further afield properties, estimated at £873,764). When looking for a new home, it's worth researching your potential new area to learn about the neighbourhood and to determine the cost of living. Before purchasing a property, always ensure to compare mortgages and check out the latest mortgage statistics in order to find the best deal for you.
Methodology
Methodology:

Uswitch.com sought to determine if property values in a specific area are affected by the presence of a property used as a filming location.

First, Uswitch.com compiled a list of 500 popular films and TV shows set in the UK and USA. They then scoured IMDb to discover the best rated-rated films and TV shows, narrowing down the list. The UK and USA were used exclusively as these two locations were optimal spatial ranges for freely accessible data.

Next, Uswitch.com picked out the filming location of the main property for each film/show and researched the property address. Reverse-geocoding was then implemented on to the coordinates of each famous property to accurately secure the location.

Using in-house metrics along with data acquired from Zoopla (UK) and Realtor (US), they were then able to collate historical price information for the property and surrounding properties. Given that only property prices by streets and postcodes were required, these were amended to match between addresses.

To calculate whether house prices were affected by the film or TV show, the difference between street price and postcode price was calculated, which allowed for the percentage increase or decrease to be discovered.

Several high rated films and TV shows were removed from the study due to having no effect on house prices: Breaking Bad, The Shining, Black Mirror: Bandersnatch, 10 Things I Hate

About You, Silence of the Lambs, and Bridget Jones's Diary. Cruella was excluded due to the absence of a residential property.

All data were amalgamated and ranked in descending order, allowing Uswitch.com to rank the TV show or film with the effect on property price.

Data was collected on October 10th, 2021 and are correct as of then.

Currencies were converted on October 12th, 2021, using XE.com.