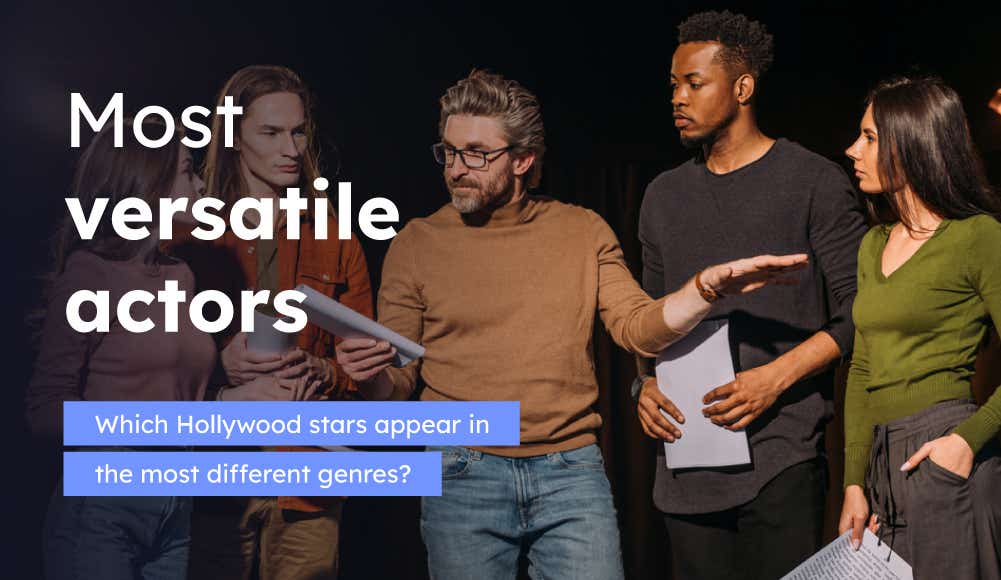 We all know about those actors who seem to slip into a completely different skin with every different film they shoot. Some of their colleagues, on the other hand, appear to have a particular talent for their specialist genre, or they may have been pigeonholed and typecast by the industry.
While there isn't necessarily a right or wrong way to make your name, it's undeniable that some actors have tried their hand at more genres than others over the years.
But which are the actors who have appeared in the most different genres? And who has carved out a well-defined niche instead?
If you want to check out some of the impressive work of these actors be sure to compare broadband deals to ensure you get the best streaming experience, or you even want to consider upgrading to ultrafast broadband.
Most genre-diverse actors in Hollywood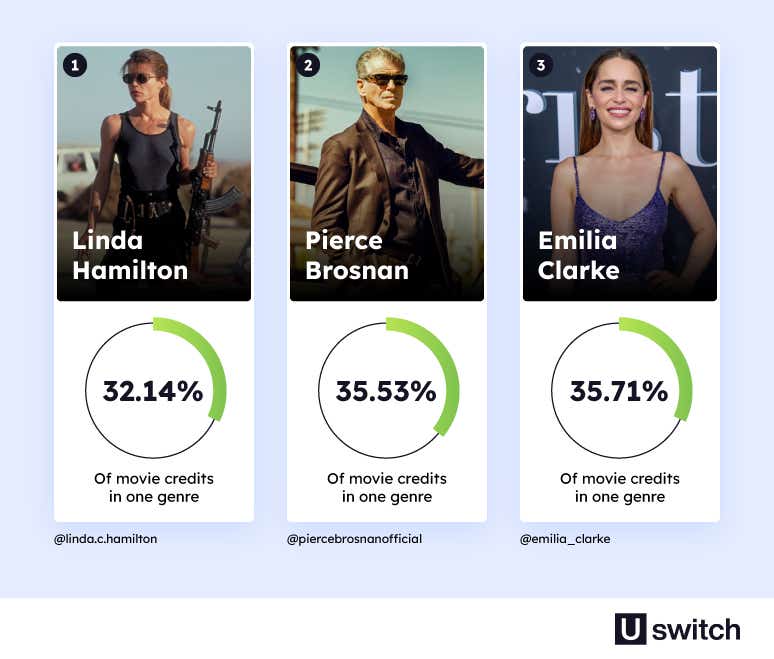 1. Linda Hamilton - 32.14% of movie credits in one genre
Despite being best known as one of the first female action stars, Terminator's Linda Hamilton has the most versatile filmography of the actors studied.
While action is indeed her most common genre, it only accounts for just under a third of her filmography. To put that into context, one genre usually accounts for at least 50% of an actor's repertoire, while some stick to one genre almost 100%.
The rest of her films are spread out across multiple genres such as drama, comedy, and horror.
2. Pierce Brosnan - 35.53% of movie credits in one genre
Another actor who is instantly associated with one particular character, Pierce Brosnan has had a very varied career outside of James Bond.
His most common genre is drama but it accounts for just 35.53% of his total films. Other roles have included comedies such as Mrs. Doubtfire and musicals like Mamma Mia!.
3. Emilia Clarke - 35.71% of movie credits in one genre
Not far behind Pierce Brosnan is Emilia Clarke, previously known from Game of Thrones but now moving into the world of movies.
Interestingly, she played a younger version of Linda Hamilton's character in Terminator Genisys. 
But, as well as appearing in another sci-fi franchise (Star Wars), she has also appeared in romance films like Me Before You and Last Christmas.
Most genre-specific actors in Hollywood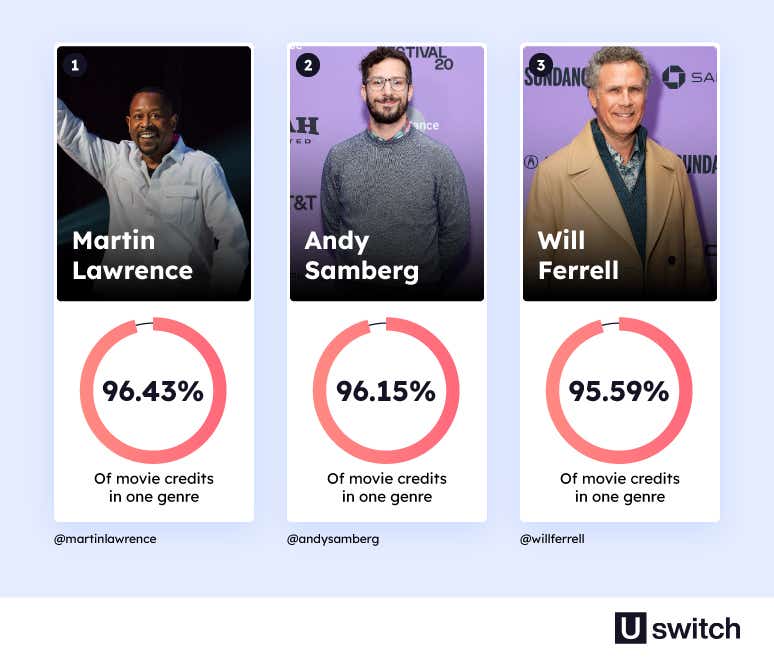 1. Martin Lawrence - 96.43% of movie credits in one genre
The list of actors who have mastered one particular genre is largely filled with comedians who have tackled few dramatic roles in their careers.
Topping the list is Martin Lawrence, who has 28 films in his filmography, just one of which isn't a comedy (an upcoming thriller called Mindcage).
2. Andy Samberg - 96.15% of movie credits in one genre
Another comedian is in second place, with 96.15% of Andy Samberg's movies being comedies.
As well as live-action comedies such as Hot Rod and Palm Springs, he has also appeared in several animated family comedies too.
3. Will Ferrell - 95.59% of movie credits in one genre
Like Andy Samberg, Will Ferrell started out on TV on Saturday Night Live before making a name on the big screen.
He's appeared in some of the biggest comedy films of the 21st century such as Elf and Anchorman but has rarely taken on more dramatic roles.
The stars most associated with each genre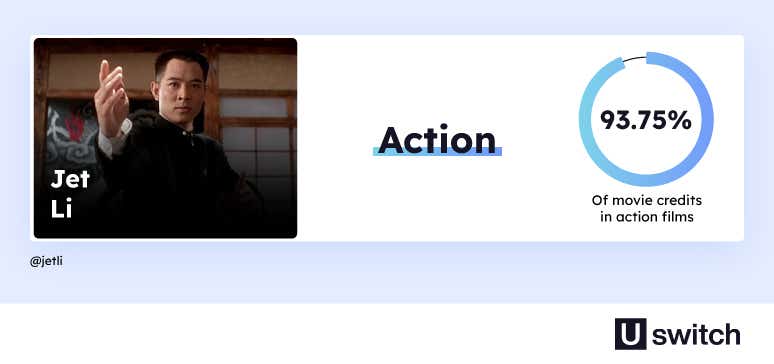 Action: Jet Li - 93.75% of movie credits in action films
Looking specifically at different genres, the actor who appears in action films the most is Jet Li, with over 93% of his films falling into this genre.
The rest of the top ten reads almost like the cast list of an upcoming Expendables movie. Action movies make up over 80% of the filmographies of the likes of Chuck Norris, Jackie Chan, and Jean-Claude Van Damme.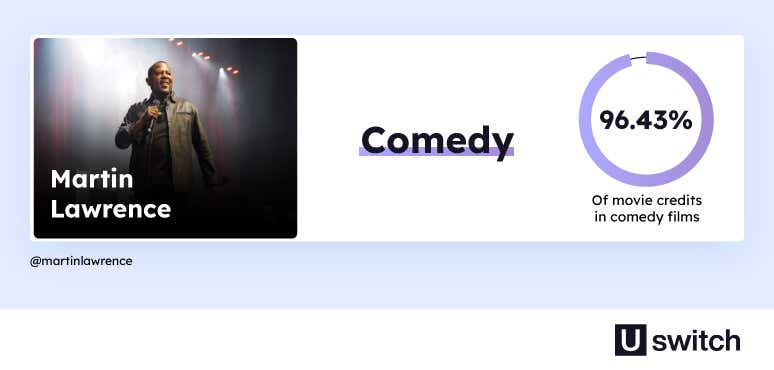 Comedy: Martin Lawrence - 96.43% of movie credits in comedy films
As we've already established, comedy actors are the most likely to stay in their lane and stick to what they know.
As well as those that have already been covered, other actors who haven't strayed far from their comedic roots include Adam Sandler and Kevin Hart.
Horror: Lance Henriksen - 38.46% of movie credits in horror films
While the likes of Courteney Cox and Sarah Michelle Gellar, owe a lot to the horror genre, the actor who appears in it most is Lance Henriksen.
Henrikson played Bishop in the Alien franchise and also appeared in cult horror movies like Pumpkinhead.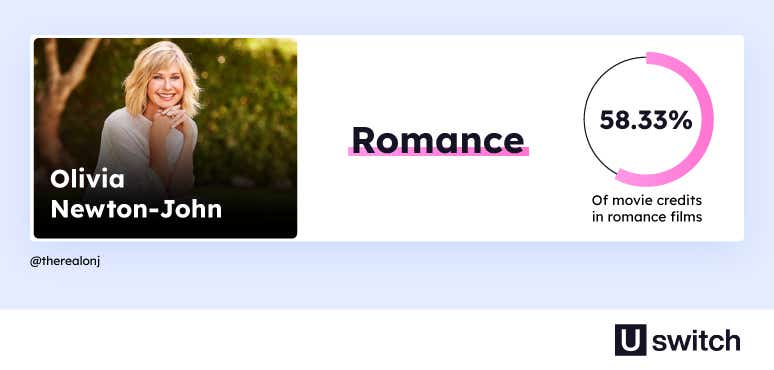 Romance: Olivia Newton-John - 58.33% of movie credits in romance films
The actor with the highest proportion of movies in the romance genre is Olivia Newton-John, with 58.33%.
The most famous of these is of course Grease, but the rest of her acting career has also been dominated by the genre too.
Just three male actors make the top ten for this genre: Jason Segel, Hugh Grant and Ashton Kutcher.
Highest-grossing actors by genre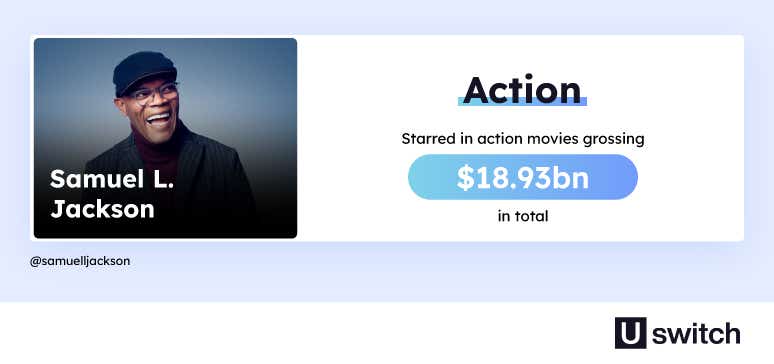 Action: Samuel L. Jackson - starred in action movies grossing $18.93bn in total
Looking at who are the most bankable actors by genre, there's a very clear trend when it comes to action films.
Eight of the top ten have all starred in the hugely successful Marvel Cinematic Universe, with the remaining two also known for their parts in big franchises.
Samuel L. Jackson takes the top spot overall with action films starring him grossing just under $19 billion.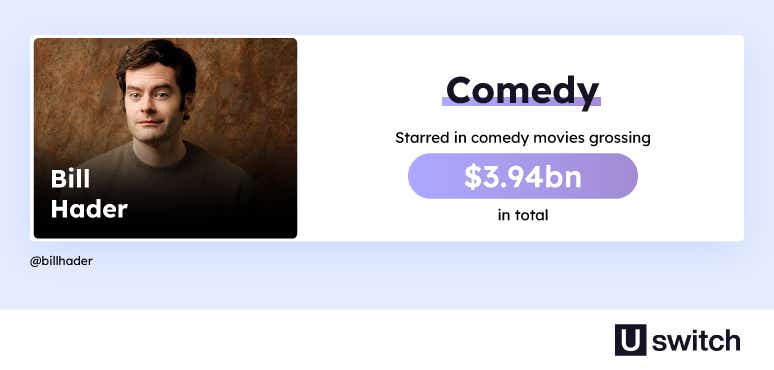 Comedy: Bill Hader - starred in comedy movies grossing $3.94bn in total
In the world of comedy, it's Bill Hader who has pulled in the greatest box office revenue. While he's had roles in successful films like Superbad, Trainwreck and others, it's his role in animated family comedies that bump up the numbers.
Some of his voice credits include huge Pixar hits like Finding Dory, Inside Out and Monsters University.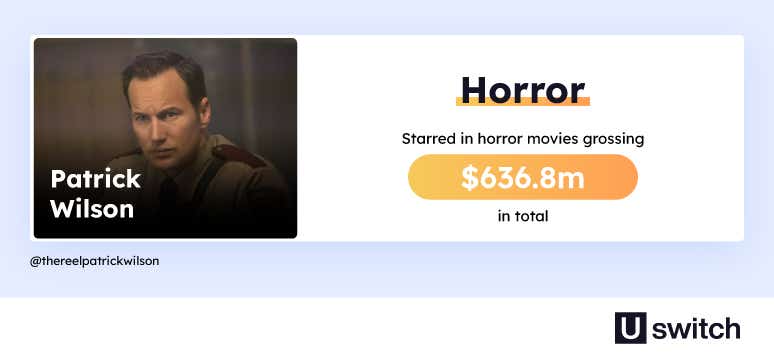 Horror: Patrick Wilson - starred in horror movies grossing $636.8m in total
The term 'scream queen' is commonly used to describe horror actresses, but Patrick Wilson is one of the first 'scream kings'.
As well as playing demonologist Ed Warren in the Conjuring Universe, he also appeared in Insidious 2, all of which had big box office numbers.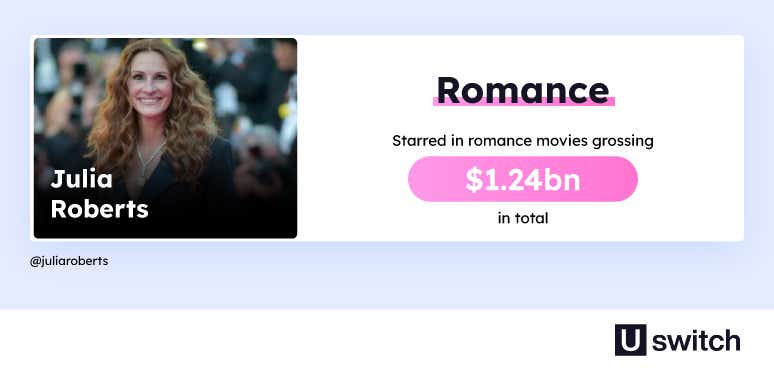 Romance: Julia Roberts - starred in romance movies grossing $1.24bn in total
In the romance genre, Julia Roberts is the bankable star, with her films bringing in over $1.24 billion.
Five of her films in this genre have grossed over $100 million, including Pretty Woman, Runaway Bride, and My Best Friend's Wedding.
Uswitch broadband expert, Catherine Hiley, comments: 

"Many people across the world aspire to be actors, yet only a small percentage end up making it big in Hollywood.

"It's no surprise that actors such as Will Ferrell and Adam Samberg are among the most genre-specific, due to their personalities and abilities being perfectly suited for comedy.

"If you're looking to revisit some of the comedy classics or watch some action packed films in all their glory, Uswitch recommends you switch to fast and reliable broadband, so you can host a movie marathon without having to worry about encountering problems.

"Without a superfast or ultrafast broadband connection, you may suffer playback issues, constant buffering or poor picture and sound quality."

Creative Commons